Fan favorite Kuntz returning as KC 1B coach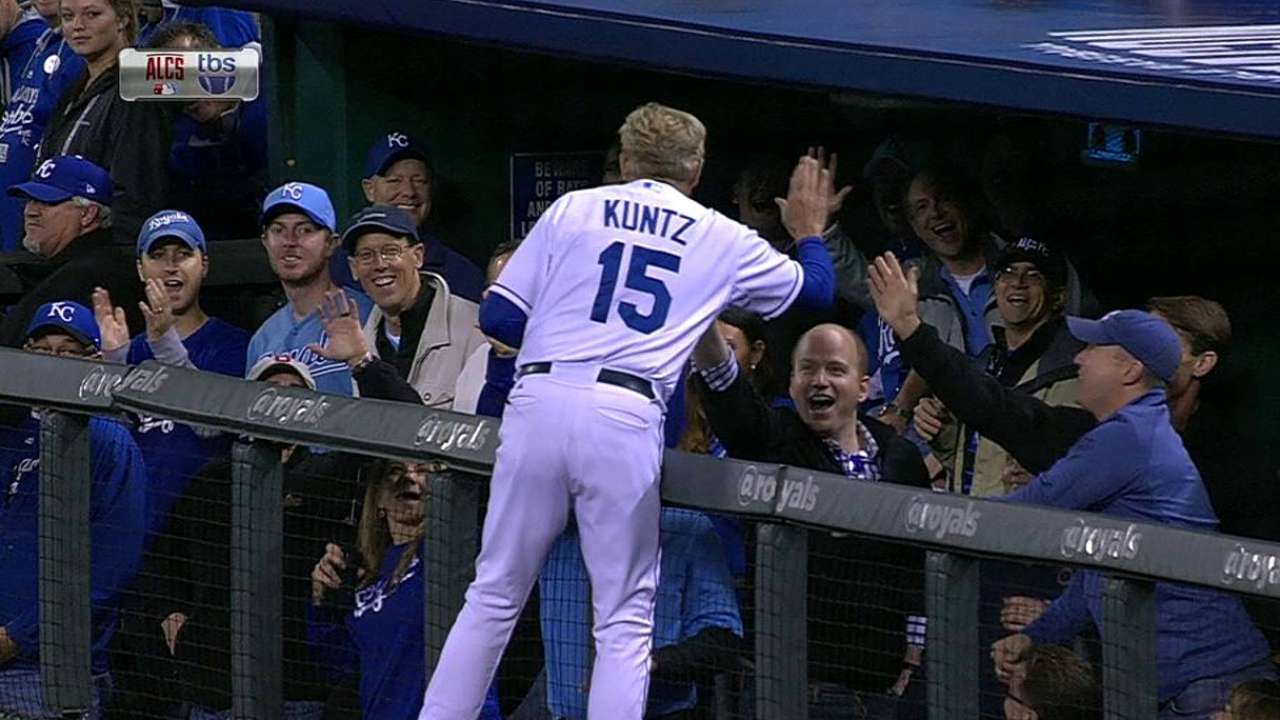 KANSAS CITY -- Royals first-base coach Rusty Kuntz, a fan favorite, had every intention of making 2015 his last season as a big league coach.
Of course, Kuntz said the same thing about the 2014 season. And the '13 season.
But once again, manager Ned Yost and general manager Dayton Moore collectively twisted his arm to come back for another season as the first-base coach.
"They kind of ambushed me," Kuntz said jokingly by phone. "It's really not fair. It was 2-on-1. But I mean, when the guy that hired you asks you to come back, you really can't say no."
So Kuntz, 60, will be back for his fifth straight season, working with the Royals' outfielders and coaching the team up on the basepaths. It's no secret why the Royals' outfield defense and their baserunning are among the league's best.
"He's one of the best coaches around," Yost said at the Winter Meetings. "You bet we wanted him back."
Kuntz is hoping at some point to stay in the organization as a roving instructor. Maybe that will happen after next season.
"I just think there are a couple of programs for outfielders and on baserunning that we could use to implement in the Minors," Kuntz said. "That's my dream job right now."
That dream job will have to wait.
"Being a big league coach is a young man's job," Kuntz said. "When I was 40, I was up for the daily grind. I could do it and attack it. But I'm 60, and it just gets a little harder.
"People say, 'Oh, you're just a first-base coach.' But they don't realize that you get to the ballpark really early, spend about 2-3 hours studying video and the other team's outfield and pitchers, finding all the weaknesses and strengths that you can relay to your players. Then you have the physical part of it where you're hitting fungoes and throwing batting practice.
"Then you have another hour or so going over everything with the players, making sure they understand what's in front of them that night. Then you have the three-, 3 1/2-hour game where you have to execute everything. Then you go over what went right or wrong after the game. You drive home and it's 12:30 or 1 in the morning. And that's just one day. You got 162 of them. Plus, half of that is on the road traveling."
Of course, Kuntz isn't underestimating the tremendous reward at the end of the season -- a World Series title.
"That's what makes it all worth it -- the championship," he said. "Don't get me wrong: It's an incredible honor. And it's a privilege to be working for someone like Dayton. It's a great organization. I'm proud to be part of it."
Jeffrey Flanagan is a reporter for MLB.com. Follow him on Twitter at @FlannyMLB. This story was not subject to the approval of Major League Baseball or its clubs.