Inbox: Will Melancon be traded?
Beat reporter Adam Berry answers fans' questions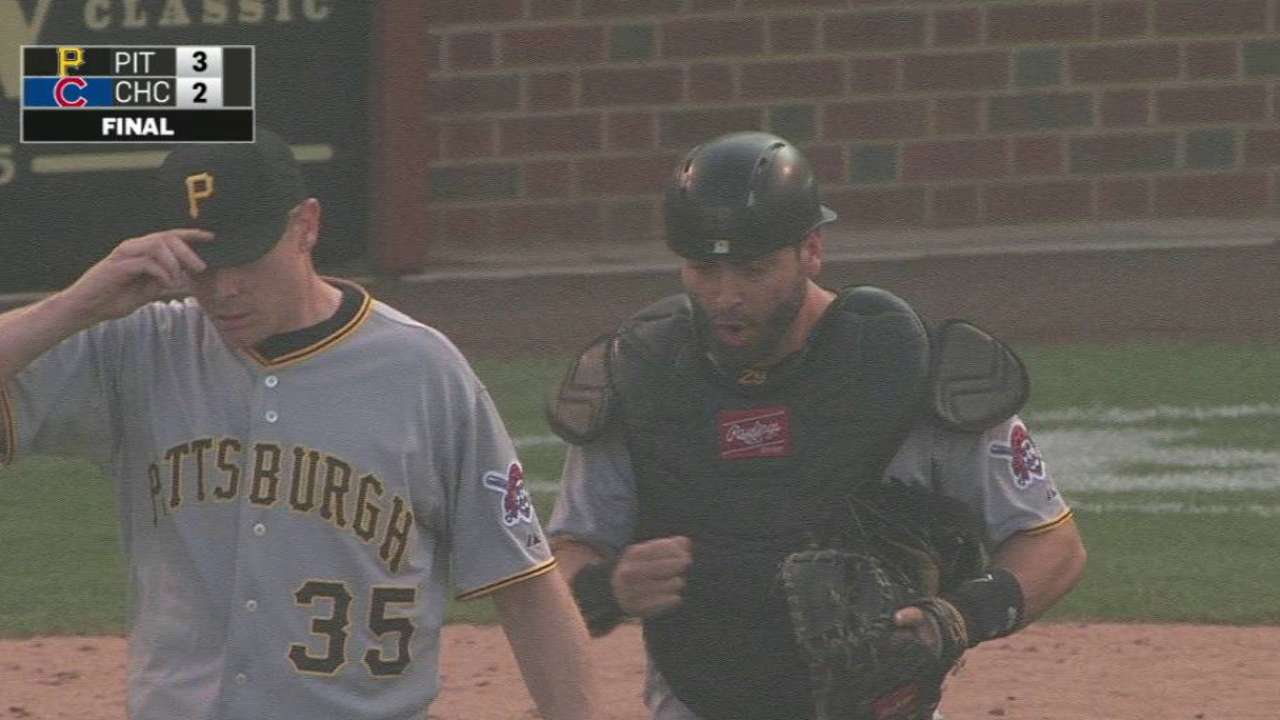 What do you think the chances are we still trade Mark Melancon this offseason?
-- @EmP_iLLuSioN
This question came in shortly after the Charlie Morton trade, which was primarily about creating financial flexibility. The Pirates were essentially committed to paying Morton $9 million next year, with his $8 million salary plus a $1 million buyout. Melancon is projected by mlbtraderumors.com to make $10 million next season in his final year of arbitration.
I asked GM Neal Huntington what the Morton deal means for Melancon's future.
• Submit a question to the Pirates Inbox
"We've never had to trade Mark," Huntington replied. "It's always been [a question of] if we're better with him with us, or if we think it's a better move for the organization to move him elsewhere, and that still applies."
The Pirates may not be actively shopping Melancon, but they won't say no if someone blows them away with the perfect offer. Personally, I expect them to keep Melancon. I didn't feel quite so strongly about that a few weeks ago, given his rising salary and the other areas they needed to address.
They have created some flexibility within their budget by non-tendering Pedro Alvarez and trading Morton, but probably not enough to jump into a bidding war on a multi-year contract for the free-agent starters (Scott Kazmir, Mike Leake) fans seemingly want them to chase. They have filled a few needs with short-term, affordable solutions. Why not reallocate some of that payroll flexibility toward keeping Melancon?
Tony Watson is ready to close, but the Pirates bullpen would once again be one of baseball's best with both Watson and Melancon back in the fold.
How does Ryan Vogelsong compare to Morton?
-- @algiff
They're both coming off down years with a few bright spots -- Morton in his first few starts off the disabled list, Vogelsong in May and parts of June. Morton is younger and only two years removed from a solid 2013, while the 38-year-old Vogelsong's best seasons came in 2011-12.
All things considered, though, their numbers over the last two years aren't terribly different, and Vogelsong will cost at least $4 million less in 2016. Let's take a look.
• Morton, 2014-15: 15-21 record, 4.21 ERA, 49 games/starts, 286 1/3 innings, 3.93 FIP, 1.32 WHIP, 8.0 BB%, 18.1 K%
• Vogelsong, 2014-15: 17-24 record, 4.28 ERA, 65 games/54 starts, 319 2/3 innings, 4.14 FIP, 1.36 WHIP, 8.4 BB%, 18.8 K%
Morton was slightly better, but he pitched less -- and Vogelsong's numbers took a hit from his time as a reliever in 2015. It'll be interesting to see how Vogelsong fares working with pitching coach Ray Searage and in front of the Pirates' defense.
The reaction after news of the signing broke made it pretty clear that Vogelsong wasn't the kind of starter fans were hoping for. But as Huntington pointed out recently, fans may not have been overly excited last spring about a rotation that included A.J. Burnett (coming off an ugly year with the Phillies) and some combination of Morton, Jeff Locke and Vance Worley. Nobody was planning a parade after the J.A. Happ trade, either.
They still won 98 games behind that rotation, and the core of that team is mostly still intact.
The Jason Rogers deal with the Brewers -- what am I missing? The Pirates gave up a young outfielder with many years of club control left for a guy that seems to be a career Minor Leaguer. What gives?
-- Jonathan K., New Florence, Pa.
The full trade was outfielder Keon Broxton and 19-year-old pitching prospect Trey Supak in exchange for Rogers -- two good prospects for a player who, for now, looks like a bench bat.
Rogers, 27, might have been the Brewers' starting first baseman if they had kept him. He wasn't a highly touted prospect by any means, but he earned some recognition as he climbed through the Minor League ranks. Last year, he saw his first extended time in the Majors and hit .296 with an .808 OPS, both solid numbers.
Rogers is also under club control for a number of years, and he's played first base, third base and outfield. The Pirates like his bat and his versatility. A player with his profile is an asset off the bench, especially given their current questions about first base and Jung Ho Kang's injured left leg.
It did seem like a big haul for Rogers, but to get talent, especially controllable players, you've got to give up talent in return. Broxton is a gifted athlete, but it was hard to see him getting much playing time behind Starling Marte, Andrew McCutchen and Gregory Polanco.
Supak could be the bigger loss in the long run. The former second-round Draft pick still has a lot of potential, but he's only 19 years old and has yet to pitch above Rookie ball.
Adam Berry is a reporter for MLB.com. Follow him on Twitter at @adamdberry. This story was not subject to the approval of Major League Baseball or its clubs.