Candelario soaks up wisdom on way to bigs
Cubs' third-base prospect says Montero has been a mentor
Catcher Miguel Montero doesn't just help the Cubs pitchers. He deserves credit for inspiring prospect Jeimer Candelario, too.
Candelario, 22, was one of the most talked-about prospects during the Arizona Fall League and did so well last season that he earned a spot on the Cubs' 40-man roster. He began the year at Class A Myrtle Beach, where he batted .270 in 82 games. He was bumped up to Double-A Tennessee and didn't miss a beat, hitting .291 with five home runs, 10 doubles, one triple and 25 RBIs in 46 games. His on-base percentage at Myrtle Beach was .318, and it improved to .379 at Tennessee.
What was the difference?
"In Double-A, I saw more pitches to hit," Candelario said matter-of-factly.
He also got a boost from Montero, who was with the Minor League team for a few days in August as part of his rehab.
"We had a good time with him," Candelario said of the veteran. "He told us a couple things about baseball and we learned a lot, too."
Sometimes the message can mean more coming from a player than a coach or manager.
"We talked about everything -- the world, baseball, everything," Candelario said of the conversations. "He told us some little details, and we took advantage of it, and it worked. He's a good person. We worked hard together."
Candelario extended those lessons to the Arizona Fall League, where he batted .329 with five home runs, eight doubles and 15 RBIs in 21 games. He was named to the AFL top prospects team.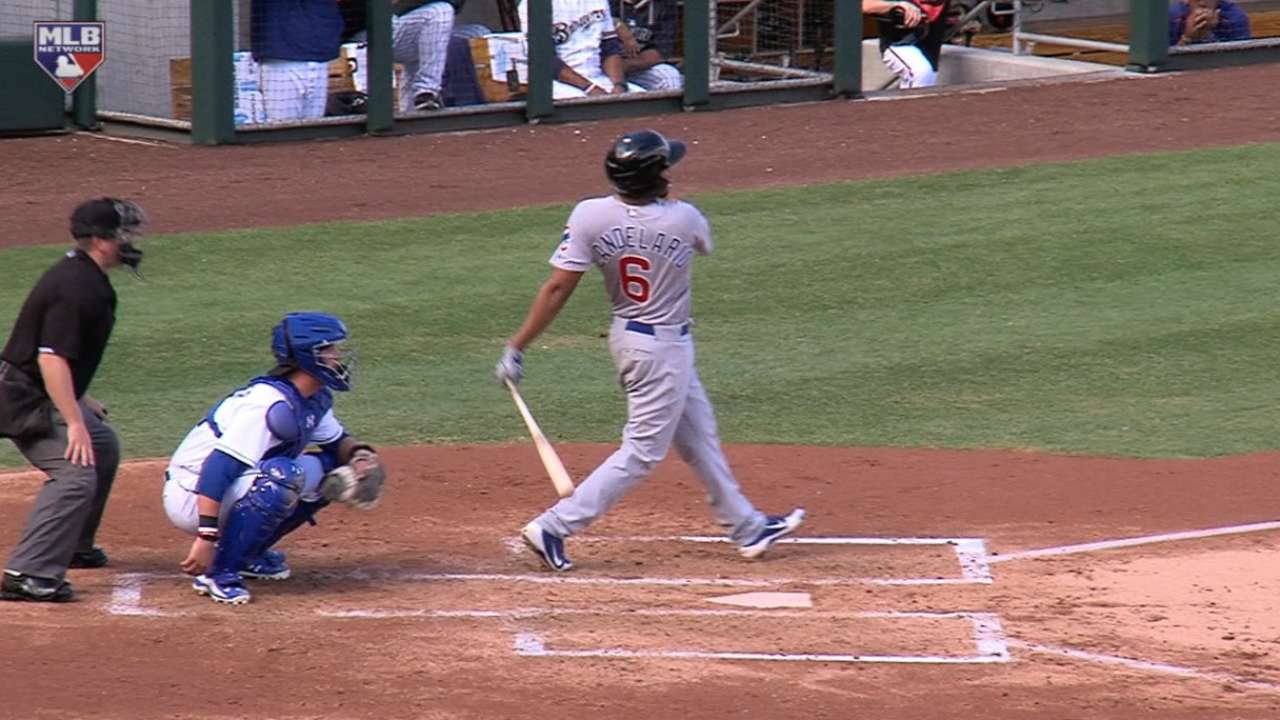 "I'm taking advantage of this," Candelario said before a game in Mesa, Ariz. "There's good talent here. I'm working hard to do the best I can to help the team."
Other Cubs youngsters have the AFL on their resumes, including Kris Bryant, Addison Russell, Javier Baez, Jorge Soler and Albert Almora.
"If you come here and do good, you kind of have a chance next year to get to the big leagues," Candelario said. "I'm going to take advantage of this. The Cubs gave me this advantage."
Candelario kept an eye on the big league team last season.
"I saw those guys working hard and doing the best they could to win a ballgame," Candelario said. "That's what you have to do, is learn how to win and learn how to prepare yourself to get to the World Series. I like this team -- I think next year we have a chance to get to the World Series. They worked hard, they deserved it."
He also saw the photos of the zoo animals at Wrigley Field, one of the diversions coordinated by Cubs manager Joe Maddon. Did Candelario ask Tennessee manager Buddy Bailey if he'd arrange for a visit by a penguin?
"Maybe in the big leagues," Candelario said, laughing.
Getting there is the goal of the young third baseman, who started playing with the Cubs at the age of 17 in the Dominican Summer League in 2011.
"I'm working hard. The Cubs know I'm working hard," Candelario said. "They'll make the decision. They know I can help them win a championship there."
Carrie Muskat is a reporter for MLB.com. She writes a blog, Muskat Ramblings. You can follow her on Twitter @CarrieMuskat and listen to her podcast. This story was not subject to the approval of Major League Baseball or its clubs.