Cubs embrace high expectations for 2016
Chicago has added Zobrist, Lackey and Heyward to exciting young core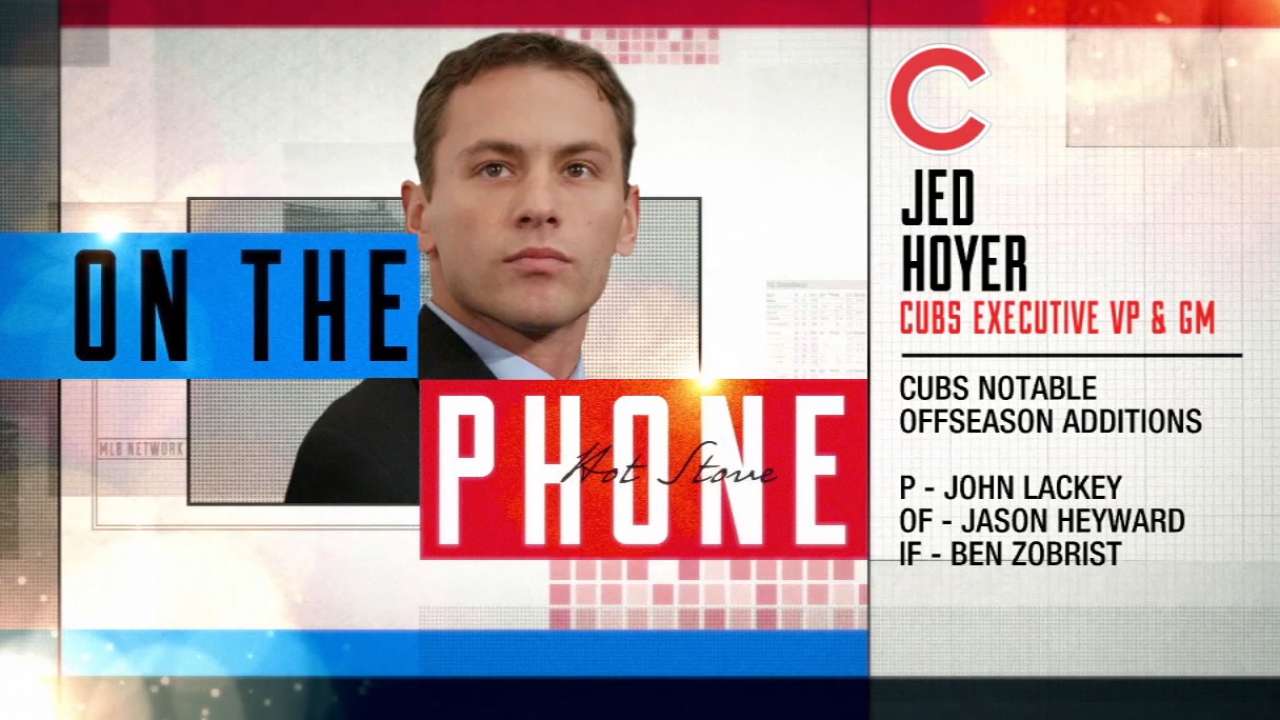 CHICAGO -- The Cubs looked at the 2015 season as one more step in the rebuilding process, knowing the young players would get lots of at-bats and there could be some growing pains. Who could've predicted a 97-win season and a trip to the postseason? Well, maybe manager Joe Maddon. But at the time, he was still learning his way around Wrigleyville.
What can fans expect in 2016? The Cubs don't want to just earn a trip to the postseason, they want to win the National League Central. The offseason was spent finding players like John Lackey, who brings an edge to the rotation, and Ben Zobrist, who can provide veteran leadership to the position players. Then the Cubs made a statement with the addition of outfielder Jason Heyward, who will make the switch from the rival Cardinals to the top of Chicago's lineup.
After the success in 2015, Maddon knows it will be different in '16.
"The target's going to be bigger, and I want us to embrace the target," Maddon said. "The pressure is going to be possibly greater, and I want us to embrace the pressure. The bigger target, the greater pressure, I think, equals a grander chance for success. So I'm all about that, and I definitely will bring that to our guys' attention."
Here are five questions the Cubs will have to answer.
1. Can Heyward play center field?
The Cubs signed Heyward to an eight-year, $184 million contract and want him to start in center field. Of his 781 starts in the outfield, all but 30 have been in right, and those were in center. The transition should not be tough: Wrigley Field has the fourth-smallest center field of any Major League park in terms of square footage (33,500 square feet).
The Cubs may need to insert someone else in center in the bigger ballparks, and they do plan on having Javier Baez get playing time there in winter ball. One of the team's goals this offseason was to improve the outfield defense. Scouts say Heyward, a three-time Gold Glove Award winner, should have no trouble moving to center.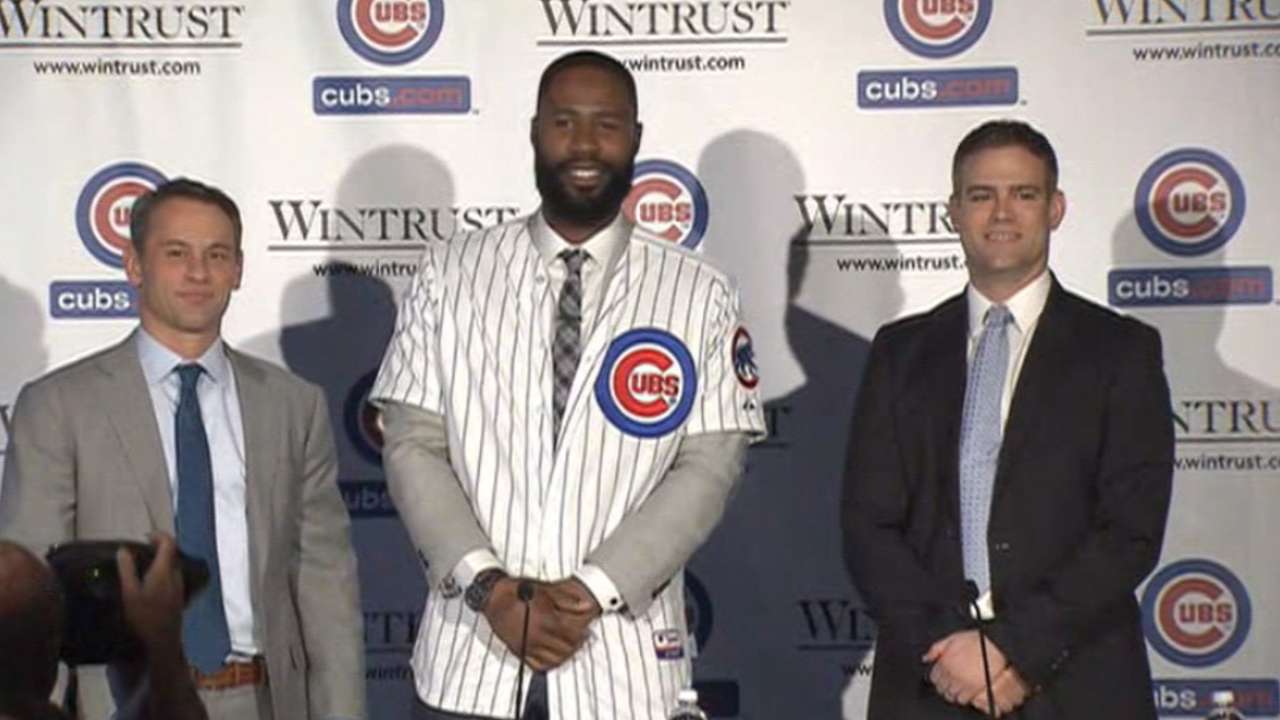 2. Where do Schwarber and Baez play?
Speaking of Baez and Kyle Schwarber, where do they fit in the Cubs' plans? Zobrist is projected as the starting second baseman, which would seem to leave Baez on the bench. Schwarber would like to be catching, but he will likely spend more time in left field. The Cubs want his bat in the lineup as much as possible. Baez could become a young Zobrist, learning to play several positions, which would fit nicely into Maddon's style.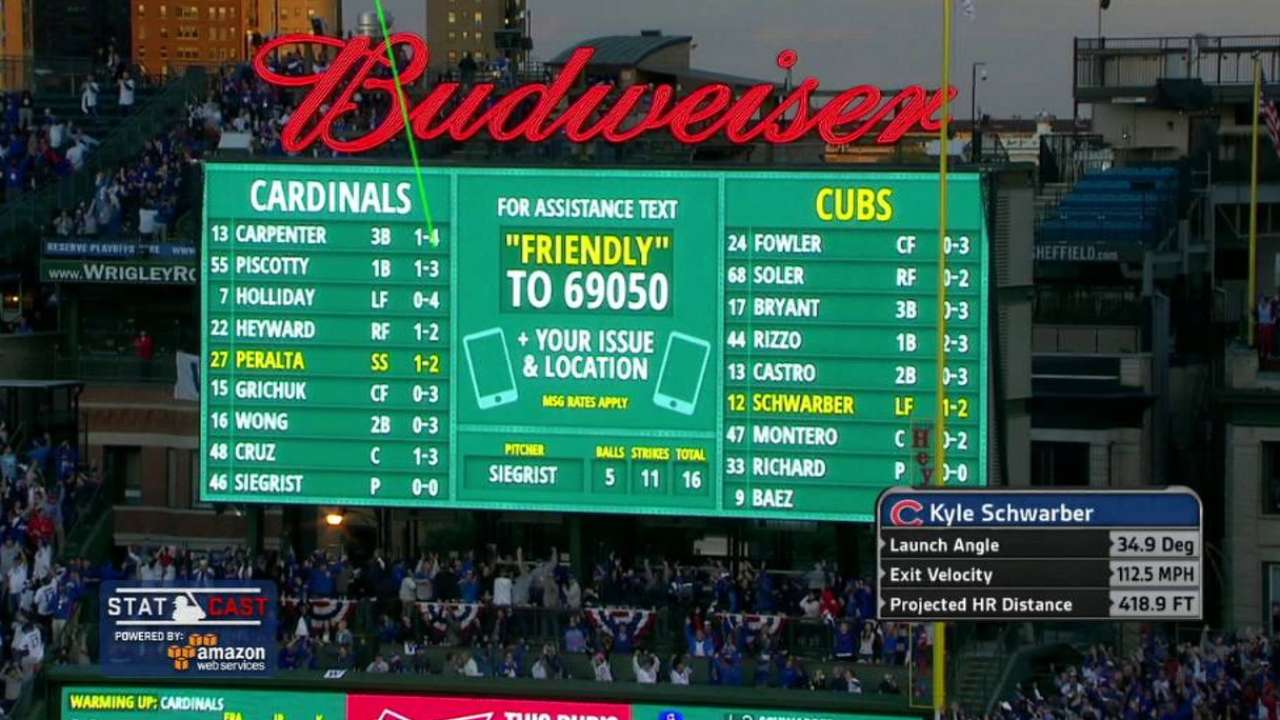 3. What will Arrieta do for an encore?
After throwing a no-hitter at Dodger Stadium, leading the Major Leagues with 22 wins and winning the NL Cy Young Award, what's next for Jake Arrieta? He's certainly sticking to his Pilates/kale offseason workout/diet regimen, which should have resulted in pitchers flocking to his Austin, Texas, home to learn. Arrieta should be the Cubs' Opening Day starter in Anaheim.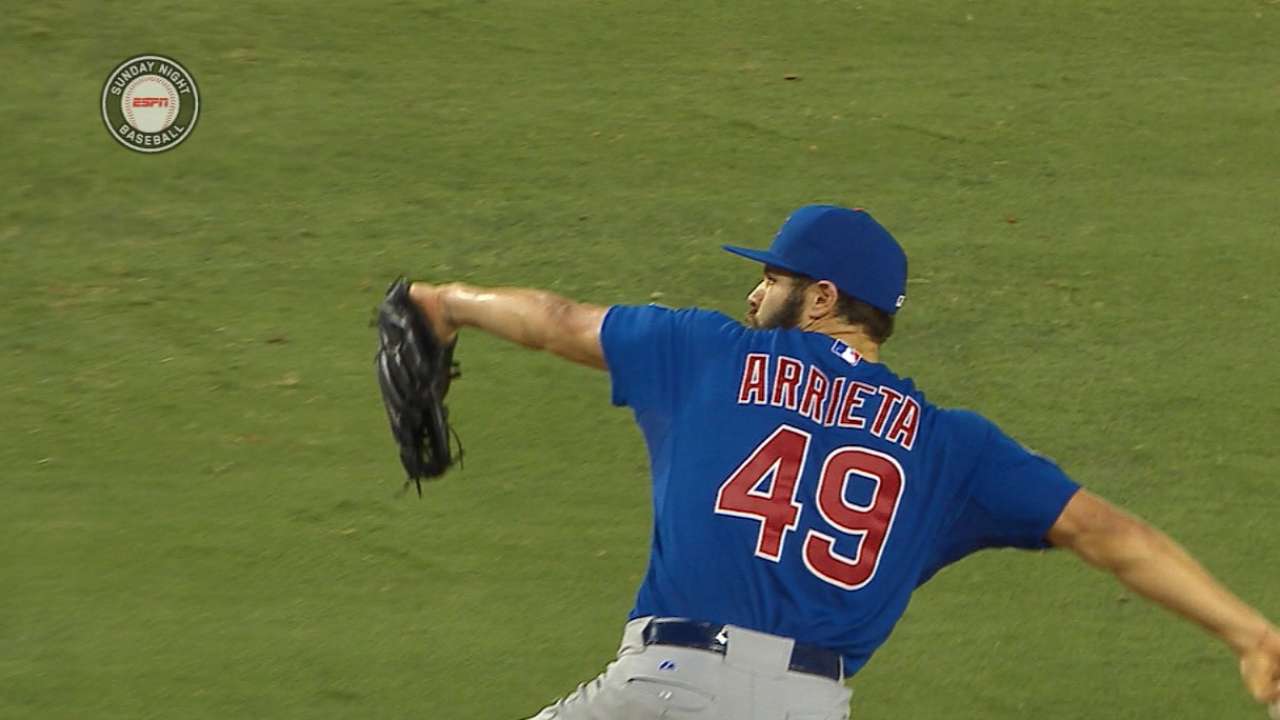 4. How do the Cubs avoid a sophomore jinx?
How do the Cubs' talented corps of rookies avoid a sophomore jinx? Maddon will deliver his formula early in Spring Training. He wants to make sure the young players don't take things for granted and simply believe that they'll have the same success. There's still work to do. Teams will be making adjustments, and the Cubs need to be prepared to adjust back, he said.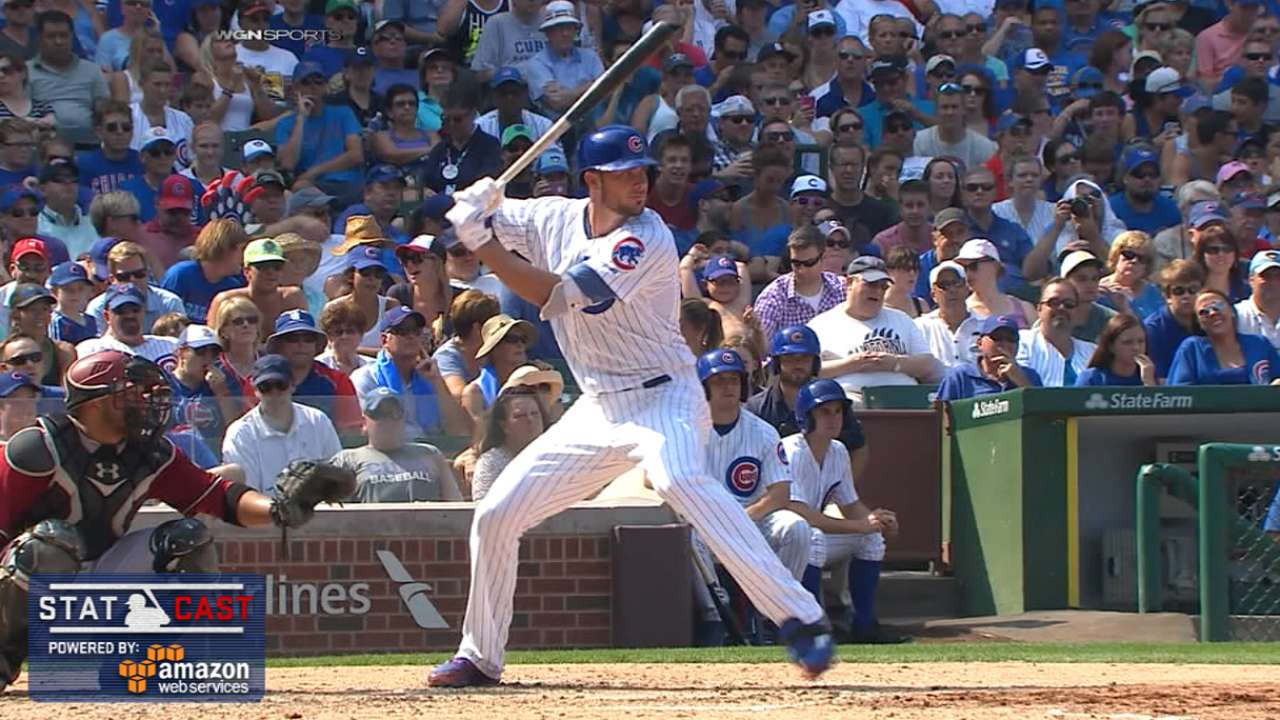 5. What's next?
Cubs players were treated to a magic show in the clubhouse in New York, penguins, snow leopards and a flamingo on the field at Wrigley, plus a pajama party. What will Maddon do in Year 2? Zobrist told a story about how Carlos Pena had arranged for a mariachi band to perform in the clubhouse after a game at Tropicana Field, but the Rays lost that day. It didn't matter to Maddon, who invited the group in. Maddon has made one request for his office in the new 30,000-square foot home clubhouse at Wrigley Field: He wants a cockatoo.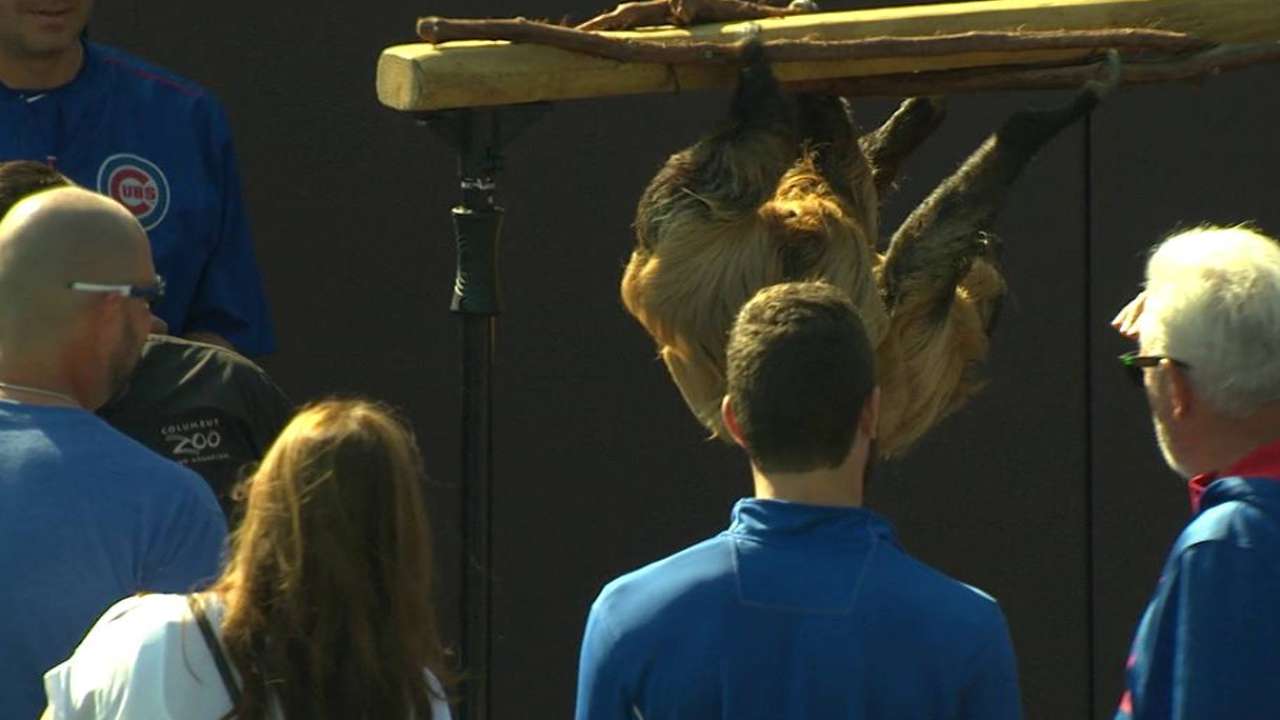 Carrie Muskat is a reporter for MLB.com. She writes a blog, Muskat Ramblings. You can follow her on Twitter @CarrieMuskat and listen to her podcast. This story was not subject to the approval of Major League Baseball or its clubs.