Astro-nomical rise for Houston in 2015
Club ends postseason drought behind Award-winning performances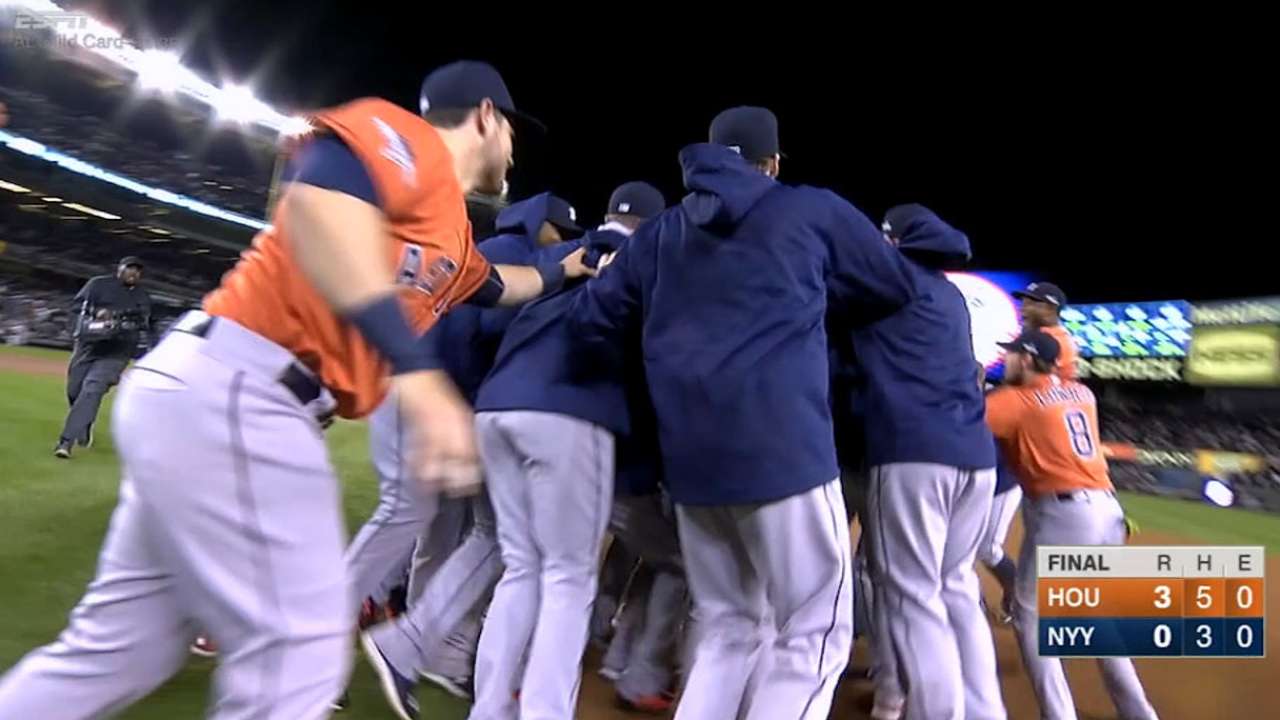 HOUSTON -- The Astros were baseball's biggest surprise team in 2015 and nearly took down eventual World Series champion Kansas City before losing in five games in the American League Division Series. Still, the team's out-of-nowhere rise to prominence signaled the start of what should be a prosperous era for baseball in Houston.
Behind up-and-coming stars like Jose Altuve, Dallas Keuchel, Carlos Correa and Lance McCullers Jr., the Astros had an unforgettable year. They led the AL West for 139 games before faltering in September, but their 16-game improvement in the win-loss standings caught nearly everyone by surprise, as the Astros made the postseason for the first time since the 2005 World Series.
The Astros led the AL in team ERA and hit the second-most home runs in the Major Leagues behind Toronto, proving they were anything but one-dimensional. Their ALDS roster featured 16 players who had never appeared in a postseason game, including four -- Keuchel, Altuve, catcher Jason Castro and infielder Marwin Gonzalez -- who endured through 100-loss seasons.
The mix of veterans, rookies and newcomers all came together under first-year Astros manager A.J. Hinch for an amazing ride. Here are the team's five top moments of 2015:
5. Fiers throws a no-hitter
Right-hander Mike Fiers, acquired with Carlos Gomez in a July trade with the Brewers, electrified Minute Maid Park on Aug. 21, when he threw the franchise's 11th no-hitter, beating the Dodgers. He allowed three walks on a career-high 134 pitches and retired 21 batters in a row following a third-inning walk to Joc Pederson. It was the first no-hitter thrown at Minute Maid Park and the first individual no-hitter by an Astros pitcher since Darryl Kile in 1993.
"I was a little shaky in the first three innings, but I was able to get it together and stop walking guys and start going after guys and throwing the right pitches," Fiers said. "But you don't think, 'OK, this is a game I can throw a no-hitter.' I don't take any game for granted. At any time guys can put a bunch of hits together and put you out of the game, so you've got to bear down on every hitter."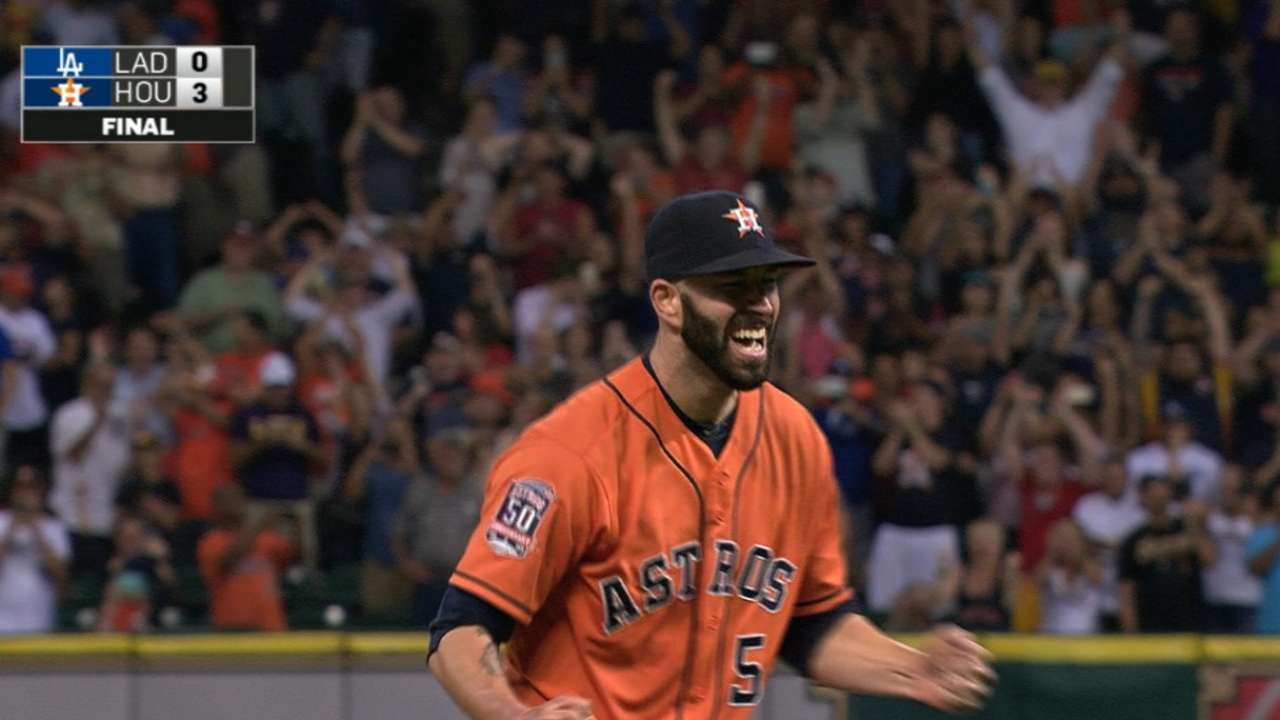 4. Altuve keeps on truckin'
The 5-foot-6 second baseman followed up his AL batting title of 2014 with another terrific season, hitting .313 with 15 homers, 66 RBIs and 38 stolen bases en route to win an AL Silver Slugger Award and his first Gold Glove. Altuve, who set a club record in hits with 225 in 2014, led the AL in hits with 200, becoming the first Astros player to have at least 200 hits in two seasons. He made his third career All-Star Game, starting for the AL at second base.
"He's a spark plug for us at the top of the order, which is no surprise," Hinch said. "He gets as many hits as anybody in the league, obviously. How he goes, we often go."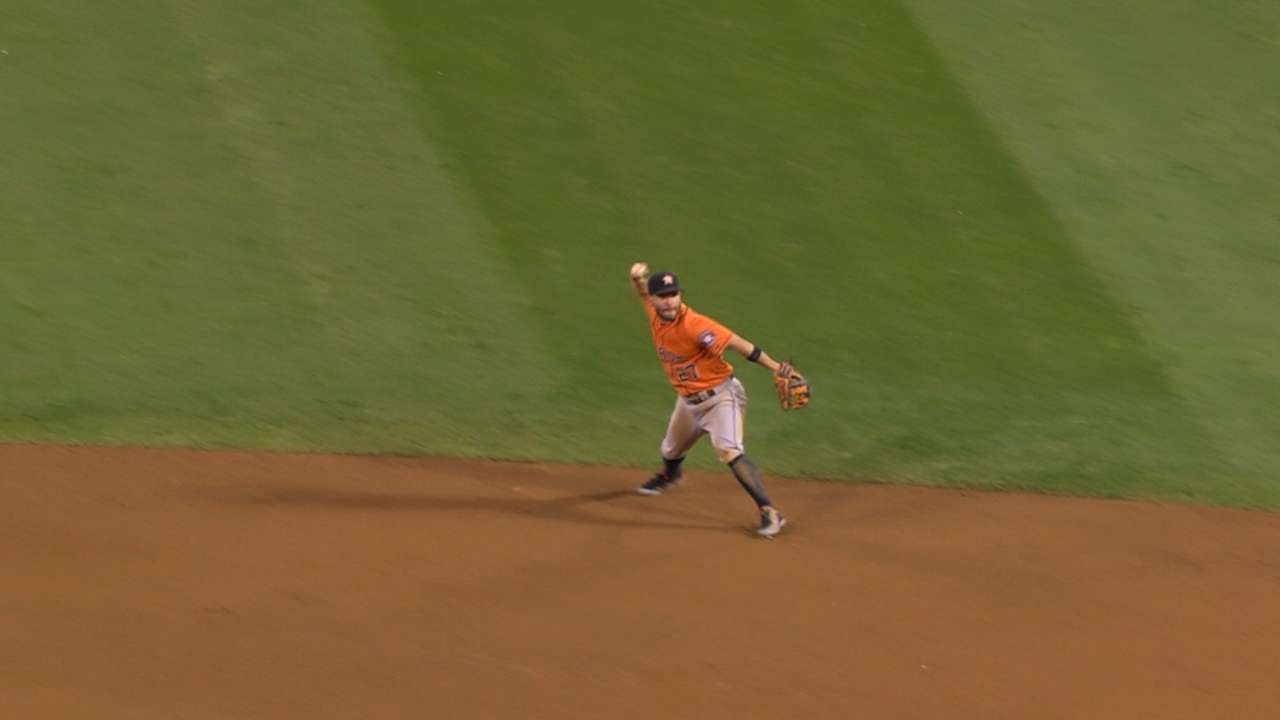 3. Correa wins Rookie of the Year
Correa was voted AL Rookie of the Year by the Baseball Writers' Association of America, edging Indians shortstop Francisco Lindor, 124-109. He garnered 17 first-place votes to Lindor's 11. Correa hit .279 with 22 doubles, 22 home runs, 68 RBIs, 14 stolen bases and a .857 OPS in only 99 games. Among AL rookies, he ranked first in homers, slugging (.512) and OPS, while ranking second in RBIs and on-base percentage (.345) and third in batting average.
"It's like a season I thought would only happen in a dream," Correa said. "If you tell me before the season started this was going to happen, I would not believe you. I started the year in Double-A. A few years back, in 2012, they drafted me with the first pick overall and everybody was saying I was not supposed to be the first pick and was not the best player, but the hard work came through and I've been working hard all these years to be able to get this level and be able to accomplish some things."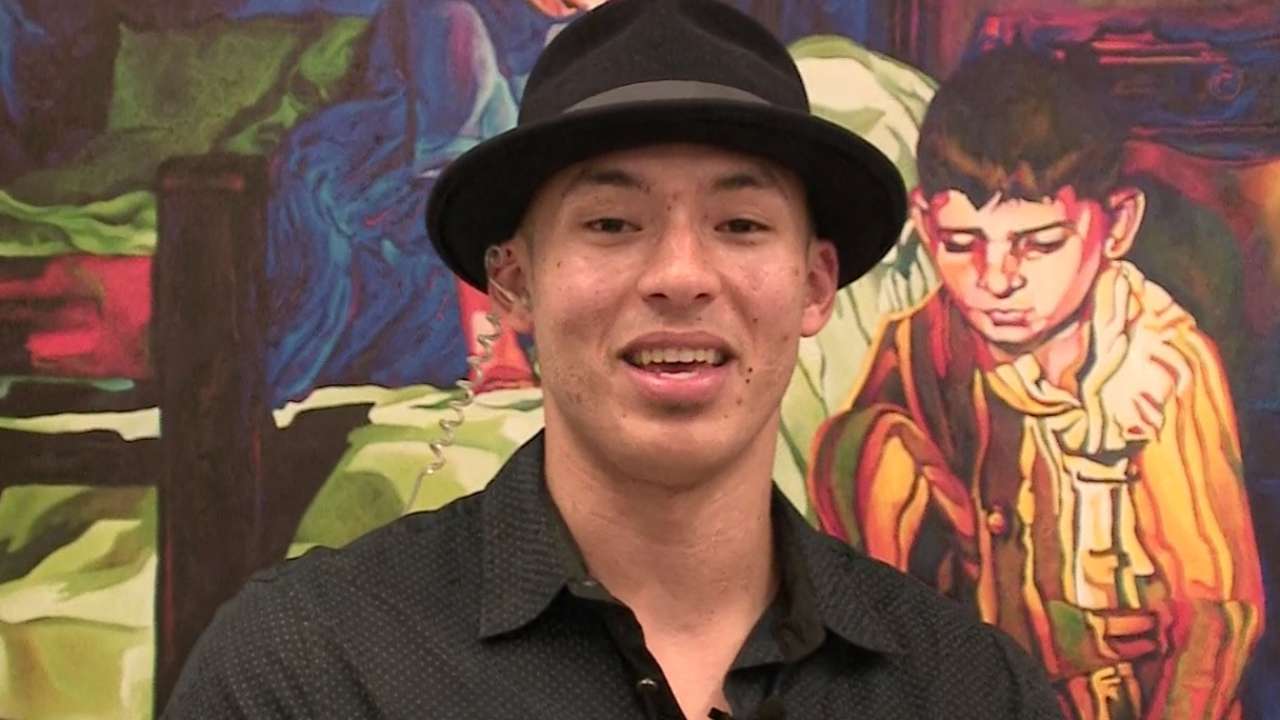 2. Keuchel wins team's third Cy Young
Coming off a breakout 2014 season, Keuchel took his performance to another level in '15 and took home the AL Cy Young Award. He finished with 22 first-place BBWAA votes and 186 points, edging David Price (Tigers/Blue Jays), who had eight first-place votes and 143 points. Keuchel became just the third player in franchise history to win the Cy Young Award, joining Mike Scott (1986) and Roger Clemens (2004).
"I'm thrilled for him," Hinch said. "He's earned every bit of these awards that he's getting and none more so than the Cy Young. From the beginning of the season, with all the Pitchers of the Month awards, to the All-Star Game and then throughout the whole year, he was exceptional in every way and as consistently dominant as any season I've ever seen."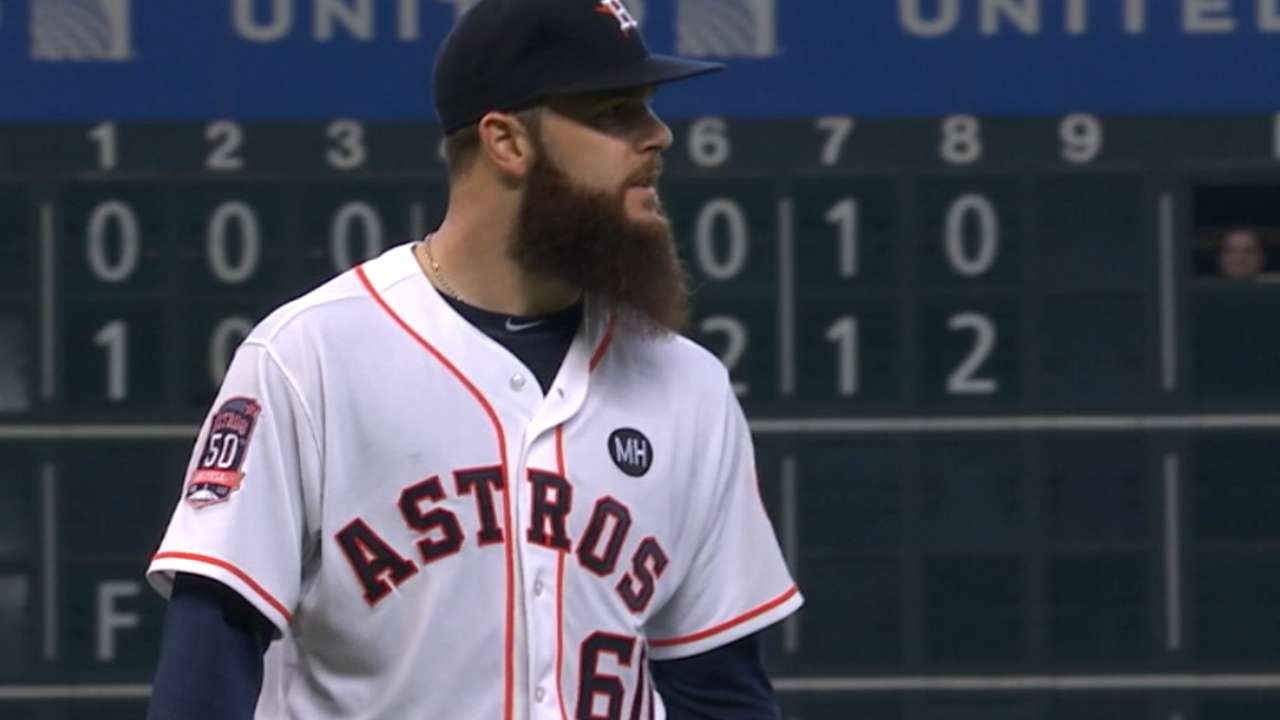 1. Astros advance to ALDS
Not being able to finish off the Royals in the eighth inning of Game 4 of the ALDS certainly was a disappointing ending to the 2015 playoff run, but the Astros' overall accomplishments weren't diminished. The Astros put 10 years of frustration behind them by roaring out to the lead in the AL West in April and staying there for most of the year. Despite fading in September and finishing second in the division to the Rangers, Houston made the playoffs for the first time in a decade and beat the Yankees in New York in the AL Wild Card Game.
"I'm really proud of everything we did," Hinch said. "I'm proud of their effort, I'm proud of their character, I'm proud how we handled adversity. Everything about this team, I'm proud of."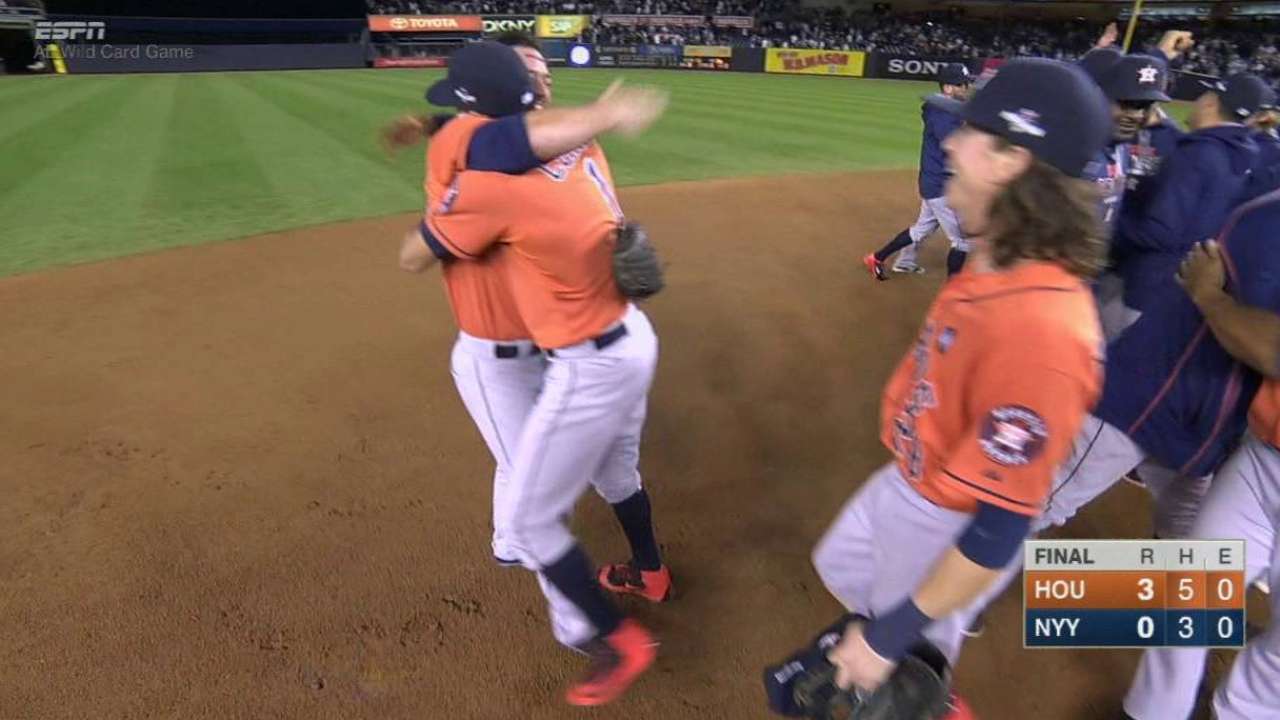 Brian McTaggart is a reporter for MLB.com and writes an MLBlog, Tag's Lines. Follow @brianmctaggart on Twitter and listen to his podcast. This story was not subject to the approval of Major League Baseball or its clubs.