Mariners fall short of high expectations in '15
Iwakuma's no-hitter, solid seasons by Felix and Cruz among highlights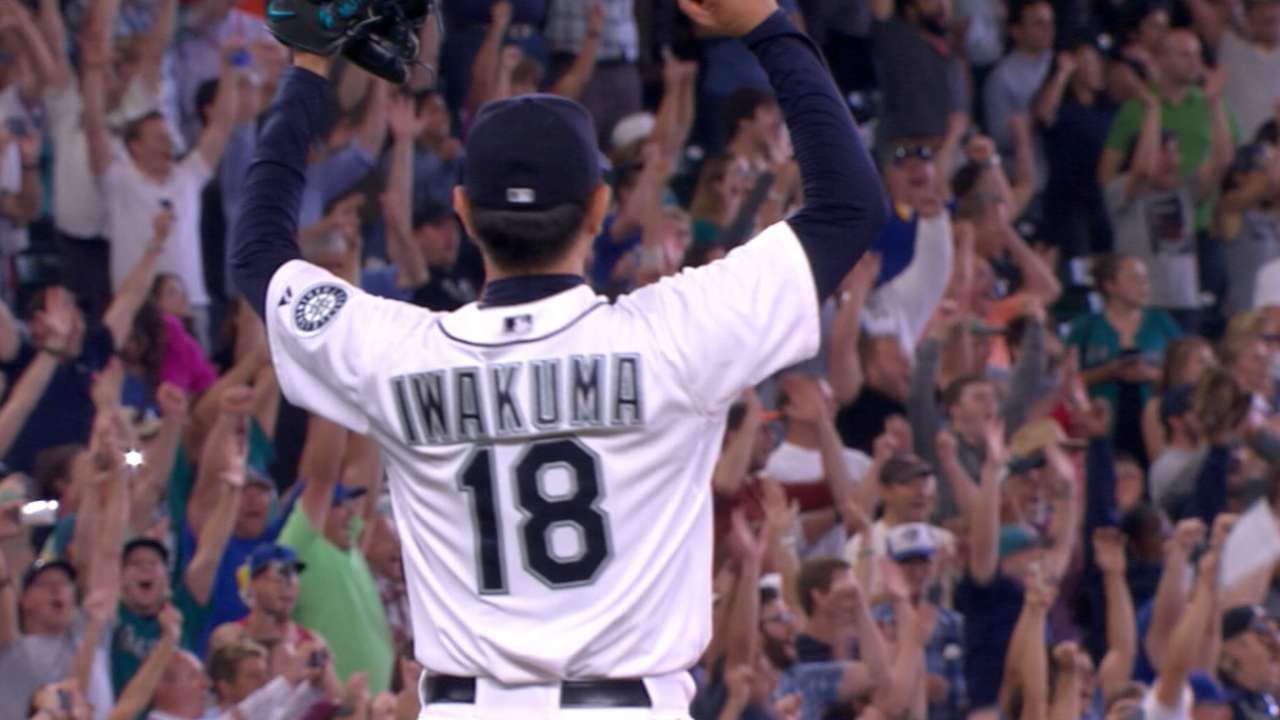 SEATTLE -- Looking back at the 2015 Mariners season, one word comes quickly to mind for nearly everyone involved.
"Disappointing," said Nelson Cruz, despite his own American League All-Star and Silver Slugger performance. "When we left Spring Training, we thought we had what we needed to go all the way. Unfortunately, we lost some tough games, and at the end, they built up. We can come up with some positive stuff. Some young guys came up and did a great job for us. Hopefully next year we can accomplish what we couldn't do this year."
Indeed, a year of high expectations ended with massive turnover in the wake of a 76-86 season. Instead of taking the next step after missing an AL Wild Card berth by one game in 2014, the Mariners never seemed to gain any traction and wound up fourth in the AL West.
General manager Jack Zduriencik lost his job in August, manager Lloyd McClendon was let go in October and new GM Jerry Dipoto had turned over 42.5 percent of the 40-man roster by mid-December.
So while change is clearly the theme going forward, here's a quick look back at five key storylines that defined the 2015 season:
5. A tale of two halves
Robinson Cano's final numbers for the year seem pretty solid: .287 with 82 runs, 34 doubles, 21 home runs and 79 RBIs in 156 games. But the 33-year-old second baseman had to recover from a sluggish start to pull himself up to that level and his early struggles played a part in why Seattle closed out June with a 35-42 record and was already 9 1/2 games out in the AL West.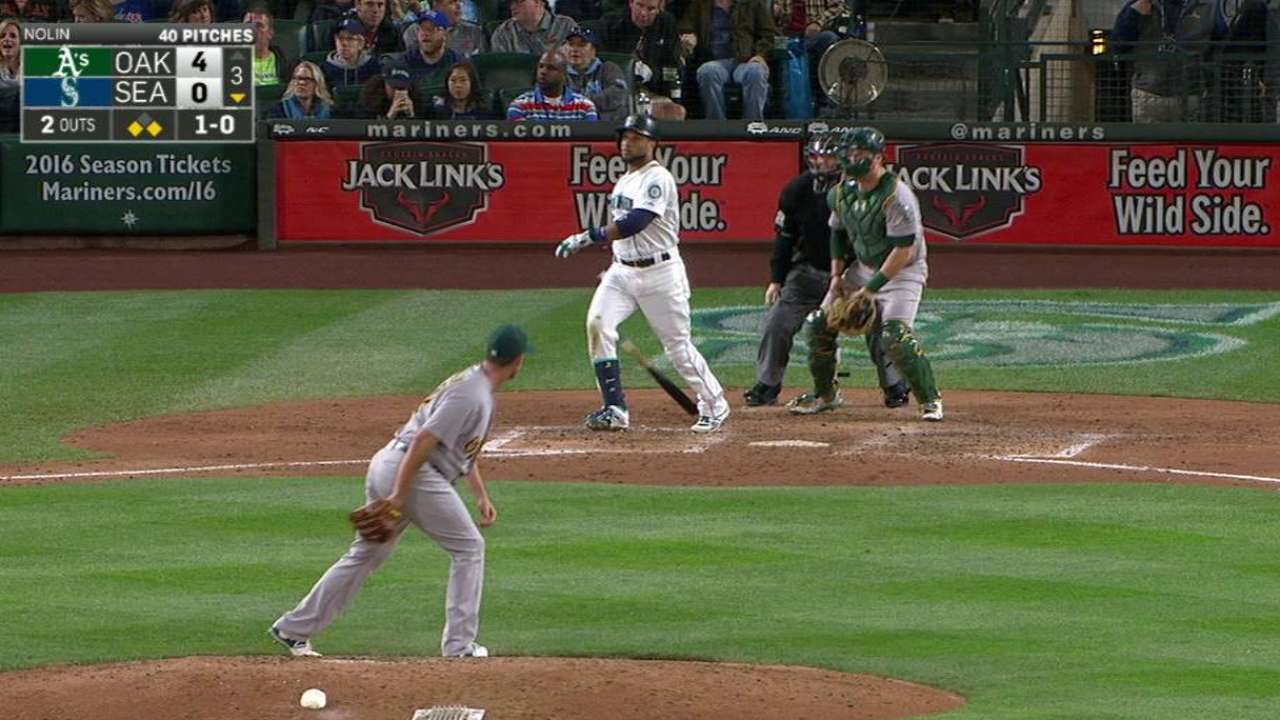 Cano put up a .238/.277/.344 line with four homers and 24 RBIs those first three months and missed out on the AL All-Star team for the first time since 2009. But despite a stomach issue that resulted in a double sports hernia operation at season's end, Cano hit .330/.383/.536 with 17 homers and 55 RBIs in his final 82 games. He helped spark a resurgent offense that saw the Mariners increase their scoring from 3.5 to 4.7 runs per game after the All-Star break and rank among the AL leaders in many hitting categories in the second half.
4. Pass the Rolaids: Bullpen goes south
There seemed to be plenty of blame to go around when it came to figuring out why a team predicted to challenge for the division crown instead couldn't put together more than a single four-game win streak until September. But the biggest difference between 2014 and '15 seemed to be the bullpen, which went from leading the Majors in ERA in McClendon's first year at 2.59 to ranking 25th this past season at 4.15.
After topping MLB in saves in 2014, Fernando Rodney first lost his closer job and then was traded by late July. But he wasn't the lone struggler. Previous stalwarts Dominic Leone and Yoervis Medina were sent down and later traded. Danny Farquhar spent the year on the Triple-A shuttle. Charlie Furbush wound up on the disabled list with a rotator cuff issue after a strong start. Joe Beimel wore down from overuse.
Veteran Mark Lowe stepped in as a first-half revelation, but was traded to the Blue Jays in late July when the season's fate was decided. Rookie Carson Smith had a strong year as a setup man and Tom Wilhelmsen re-emerged as a quality closer in the final month, but both were traded away after the season as Dipoto swept the decks and prepared to start fresh.
3. The King kept rolling
The general impression of many was that Felix Hernandez had a rough season, which tells you as much about the King's expectation level as anything. The Mariners ace went 18-9 with a 3.53 ERA, landed his sixth All-Star selection, finished seventh in the AL Cy Young Award voting and racked up his eighth straight season of 200-plus innings.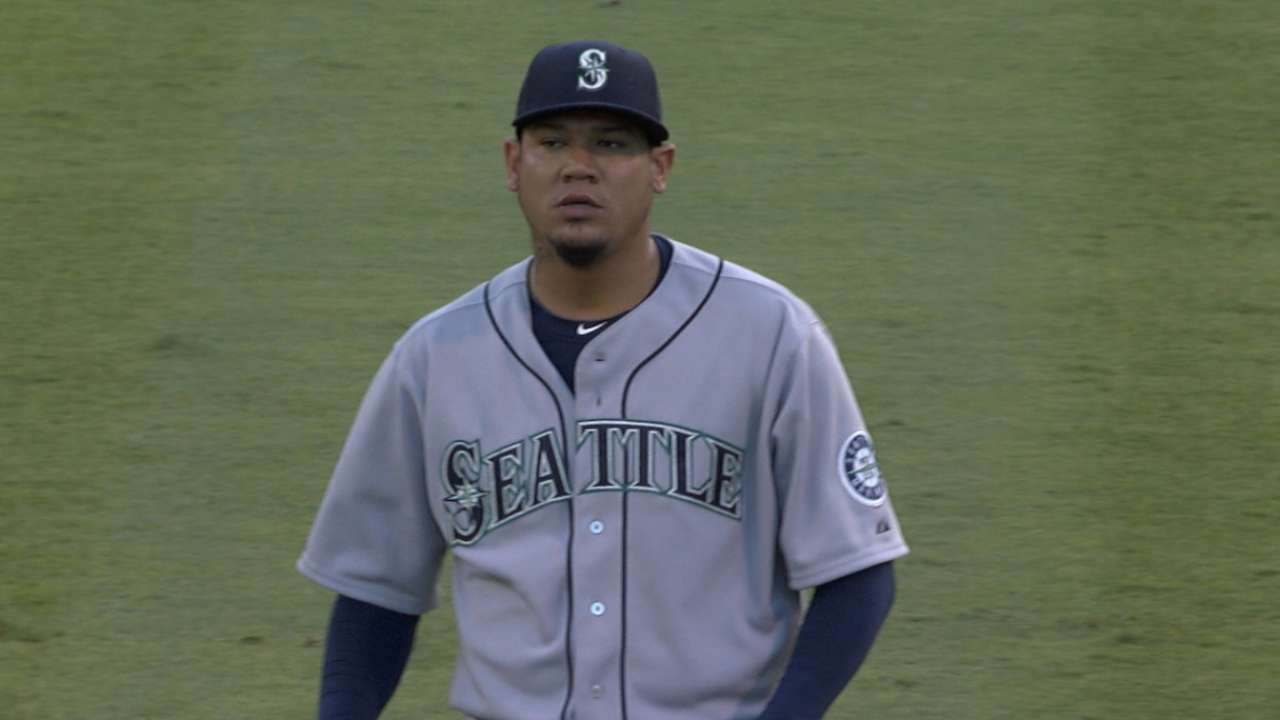 Hernandez became the fourth-youngest player in MLB history to reach 2,000 strikeouts, and his 18 wins were the second-most of his career. And, yet, the ERA was his highest since 2007 and he fell short of 200 strikeouts for the first time in seven years.
"I'm not happy," Hernandez said. "I'm not happy at all. I think I was inconsistent. I know I won 18 games, thanks to the offense, but I can be better than this."
2. No-no for Kuma
One of the beauties of baseball is that even in seasons filled with frustrations, there are always wonderful moments when the stars align and all is perfect. Or near perfect, in the case of Hisashi Iwakuma, who threw the fifth no-hitter in Mariners history on Aug. 12 against the Orioles at Safeco Field.
Iwakuma joined Hideo Nomo as the only Japanese-born pitchers to throw no-hitters in Major League history. Making it even more special, Iwakuma accomplished the feat on a day many of his wife's family members had flown to Seattle from Japan to see him pitch.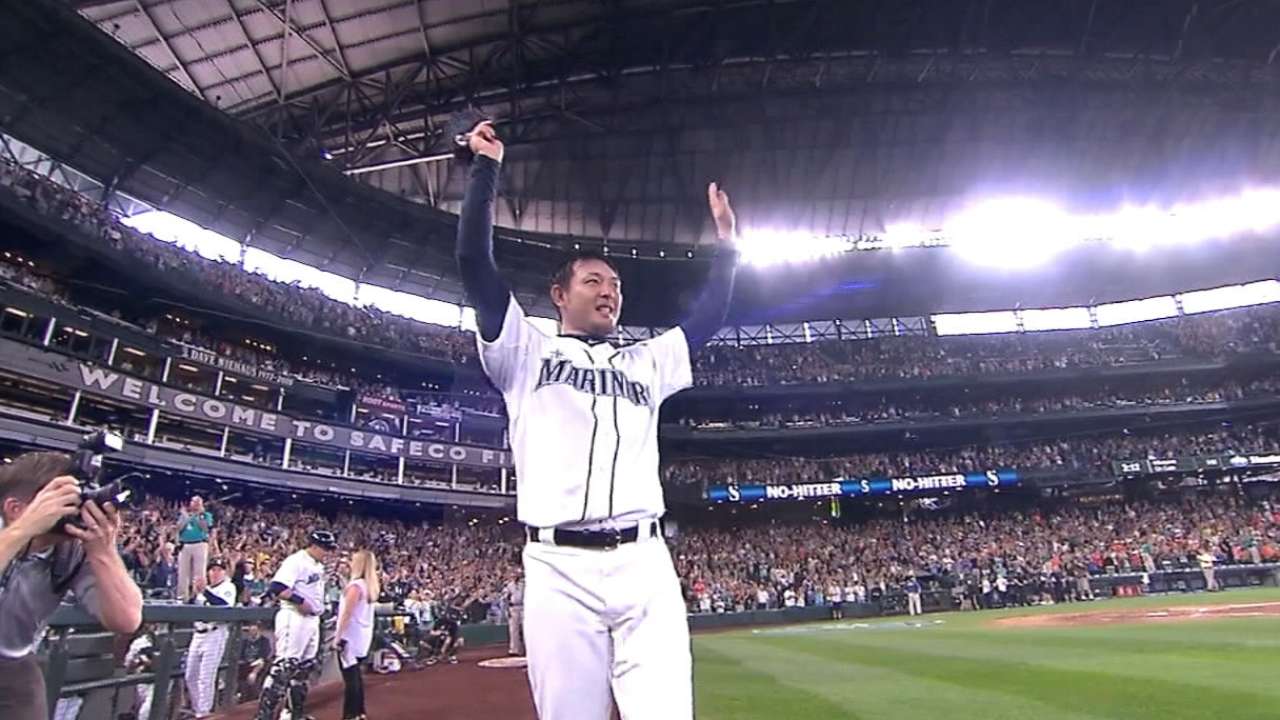 "I felt strong with them being around," Iwakuma said. "And I felt the fans a lot toward the end especially. It means a lot to me accomplishing this in a Seattle Mariners uniform."
1. A boom-ing arrival
One thing that went marvelously right was the free-agent signing of Cruz, who lived up to his "Boomstick" nickname by hammering 44 home runs with 93 RBIs and a .302/.369/.566 line that stands with Ken Griffey Jr. and Edgar Martinez among the best offensive seasons in franchise history.
Cruz wasted no time showing what he could do, homering in five straight games from April 11-15 and earning his fourth All-Star berth with a powerful first half. He homered in five games in a row again from July 31-Aug 4, just the fifth player in MLB history with two five-game streaks in the same season.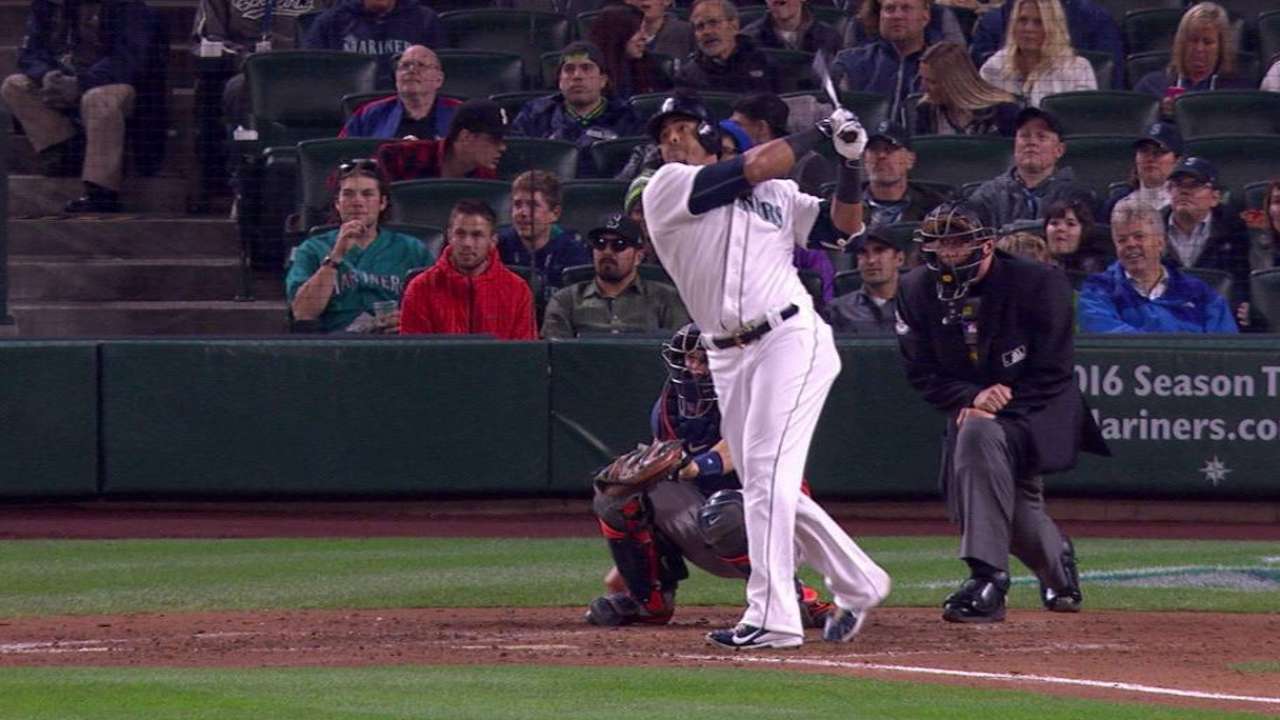 But Cruz was more than just a thumper as he became the third player in franchise history to lead the team in homers and batting average the same season. And he was clutch as well, with 14 game-winning RBIs, including a momentous homer into the fish tank at Tropicana Field to beat the Rays on May 27.
"I was just hoping it would drop where they couldn't catch it," Cruz said that day. And it turned out he hit a lot where they couldn't catch 'em in 2015, finishing second in the Majors in home runs behind former Orioles teammate Chris Davis.
Greg Johns is a reporter for MLB.com. Follow him on Twitter @GregJohnsMLB, read his Mariners Musings blog, and listen to his podcast. This story was not subject to the approval of Major League Baseball or its clubs.