Arrieta, fresh faces carry Cubs in 2015
New ace, rookie sluggers help bring NLCS back to Wrigley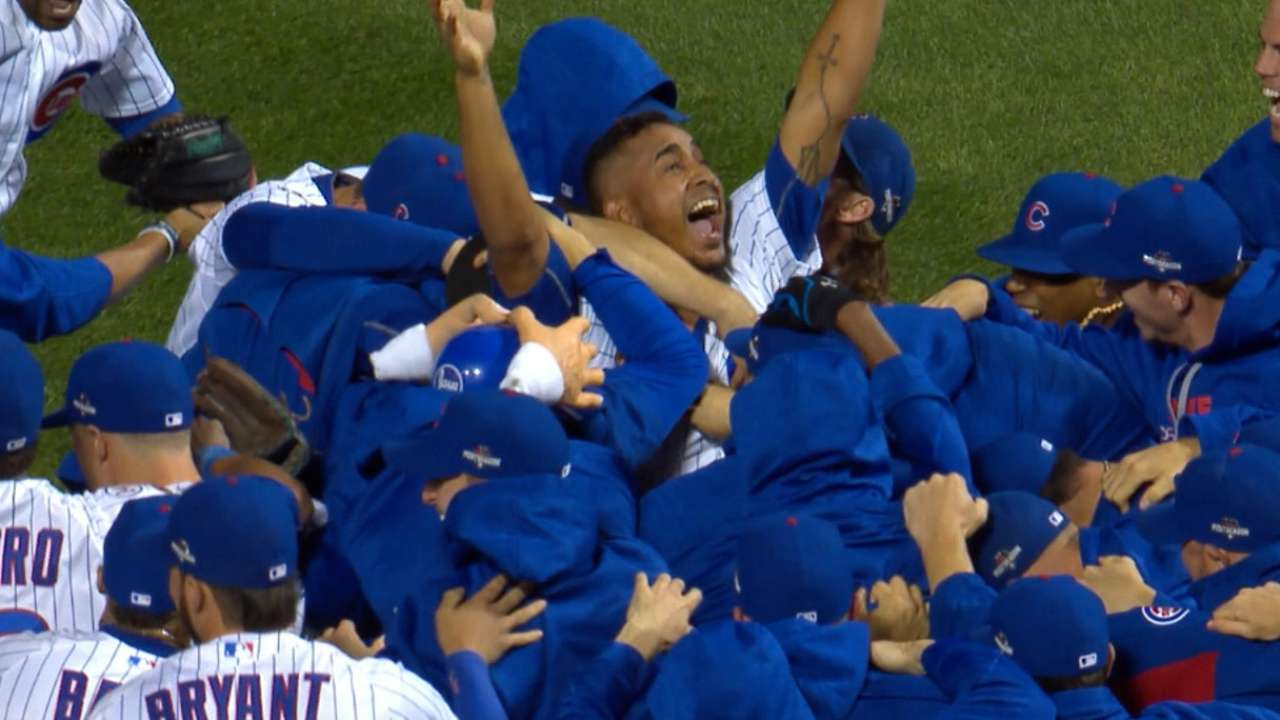 CHICAGO -- The year began on a sad note for Cubs fans with the passing of Hall of Famer Ernie Banks. During a memorial service on Jan. 31, the man known as Mr. Cub was celebrated on what would've been his 84th birthday. Hall of Famer Billy Williams came up with a rhyme to honor his longtime teammate and friend: "I know Ernie would put his stamp of approval on this: 'The Cubs will win as a team in 2015.'"
Little did Williams know how prophetic that statement would be.
Under new manager Joe Maddon, the Cubs won 97 games and reached the postseason for the first time since 2008. They advanced as far as the National League Championship Series, only to get swept by the Mets.
It was a season of fresh faces as rookies Kris Bryant, Addison Russell, Kyle Schwarber and Jorge Soler stepped into the spotlight. And Maddon didn't disappoint in terms of wackiness, beginning in Spring Training when he invited a DJ to liven up the early-morning stretch. The players wore pajamas for a flight home from Los Angeles. A magician, a penguin, a snow leopard and a cheetah stopped by the Cubs' clubhouse.
After losing seasons and talk of rebuilding, the Cubs were relevant and competitive, finishing with the third-best record in the Major Leagues. Here's a look back at some of the highlights from 2015:
Kid stuff
The Cubs used Miguel Montero and Mike Baxter as the designated hitters during a two-game series in Detroit in June. They needed more oomph and gambled on promoting Schwarber, a 2014 first-round Draft pick, for five Interleague games, starting June 17 in Cleveland.
"I like the idea of him getting his feet wet," Maddon said. "I asked him to take mental snapshots and really enjoy the moment, and if he's a little freaked out, it's absolutely normal."
Schwarber wasn't freaked out at all, going 4-for-5 with a triple and two RBIs in his first Major League start and hitting his first home run the next day. He knew he was headed to Triple-A after the short stint, but was called back on July 17 when Montero was injured. He batted .333 in nine postseason games, hitting five home runs, including one that landed on top of the video board in right field and was preserved in a plexiglass case.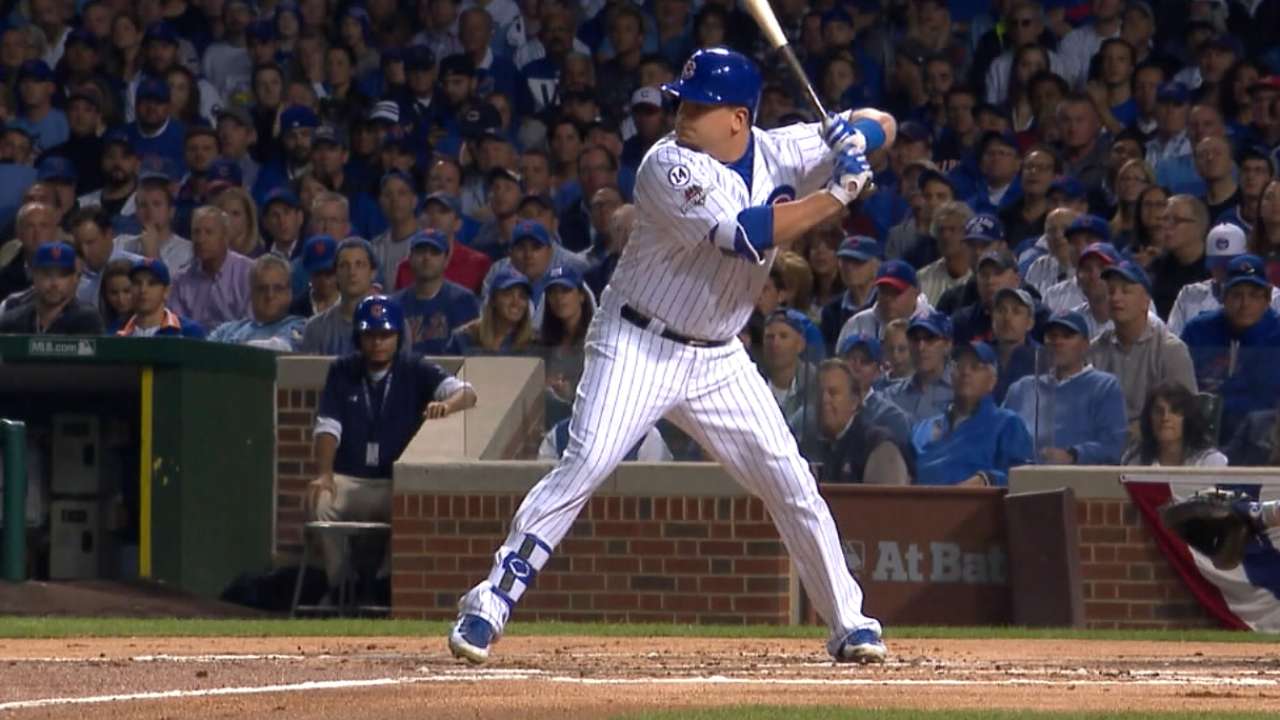 Turning point
The defending champion Giants came to Wrigley Field Aug. 6-9, and the young Cubs posted a four-game sweep, with the rookies driving in 16 of the 22 runs scored. In the first game, Schwarber smacked a three-run homer in the first inning of a 5-4 victory, which moved Chicago a half-game ahead of San Francisco in the NL Wild Card race. Schwarber hit a two-run tiebreaking single and Soler added a two-run double the next day to back Jon Lester in a 6-1 win.
On Aug. 8, it was Bryant's turn, as he hit a two-run homer and drove in another run in a 5-3 win. Jake Arrieta capped the series, combining with Justin Grimm and Hector Rondon on a six-hit shutout. Bryant and Russell each drove in a run. This series was also key because it's when Maddon decided to bench three-time All-Star Starlin Castro and move Russell from second to short.
"It's big," Montero said of the four-game sweep against the Giants. "It builds up a lot of confidence, which I think we've got already. We're playing a good team, man. That's the world champions. You've got to respect that. You can never give up on those guys."
Castro did rebound, and led the NL with a .426 batting average in September. On Dec. 8, he was dealt to the Yankees for pitcher Adam Warren and a player to be named (Brendan Ryan).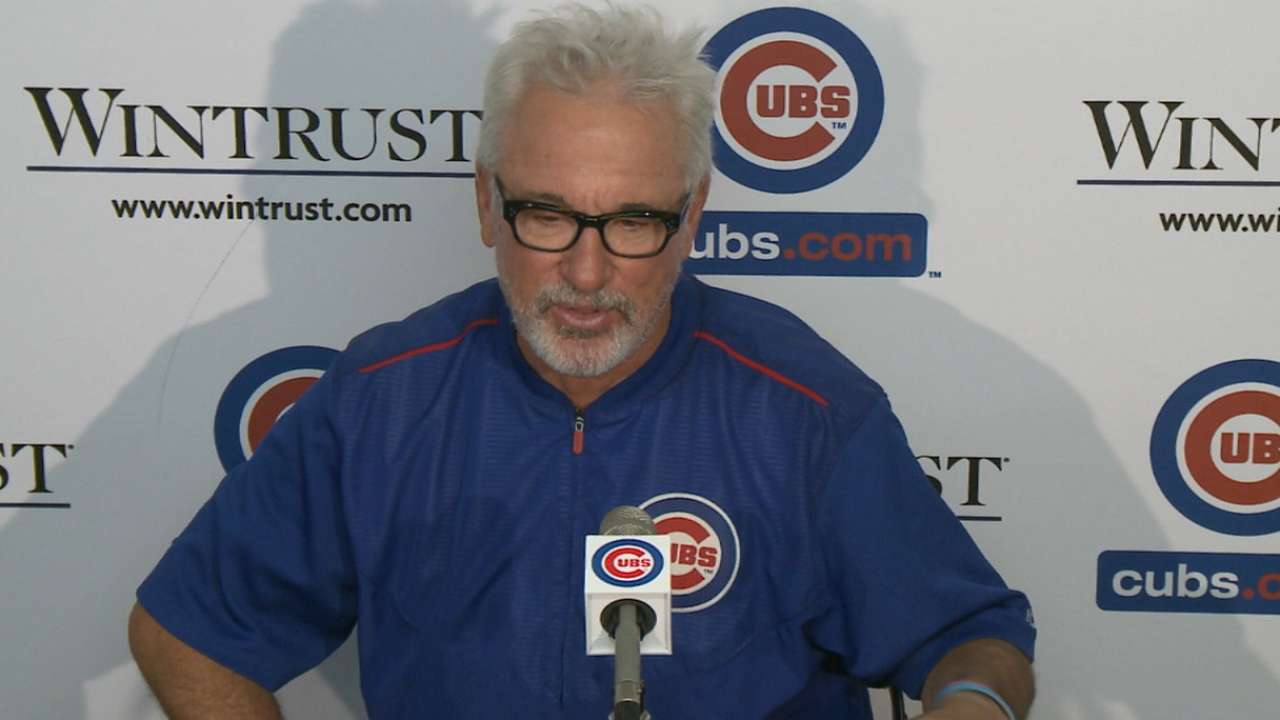 Cy Young week
On Aug. 24, the Cubs faced the Indians at Wrigley Field in a makeup game, kicking off what Maddon dubbed Cy Young week. First up was Corey Kluber vs. Lester, and the Cubs led 1-0 until the Indians' Carlos Santana hit a game-tying RBI single in the ninth. But with two outs in the Cubs' half, Bryant delivered a walk-off home run and was escorted to home plate by high-stepping reliever Pedro Strop, who had been warming up in the bullpen at the time.
The Cubs then traveled to San Francisco and had to face Matt Cain, Jake Peavy, Madison Bumgarner, and went to Los Angeles to deal with Clayton Kershaw. They were 2-4 going into the Aug. 30 game at Dodger Stadium with Arrieta on the mound. And how did he cap the week? With a no-hitter, the first of his career, in a 2-0 victory. And how did Arrieta cap the season? By winning the NL Cy Young Award.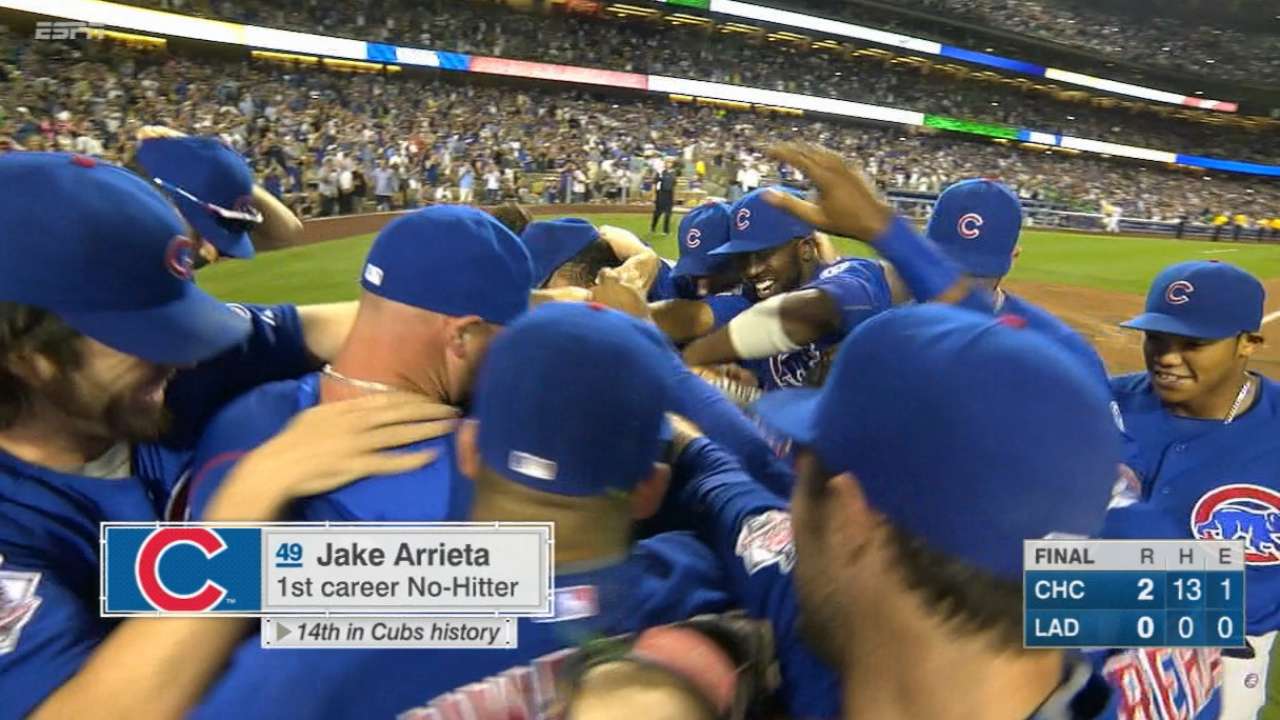 Wild and crazy game
Winning 97 games was good enough to get the Cubs to the postseason, but to advance, they had to take the difficult route of facing the Pirates in the do-or-die Wild Card Game. Arrieta, who led the Major Leagues with 22 wins, got the call and delivered a gem, striking out 11 in a five-hit shutout.
Dexter Fowler and Schwarber each homered off Pirates ace Gerrit Cole, with Fowler finishing with three hits and three runs. Cubs players said they'd never heard a crowd as loud as the 40,889 at PNC Park that night.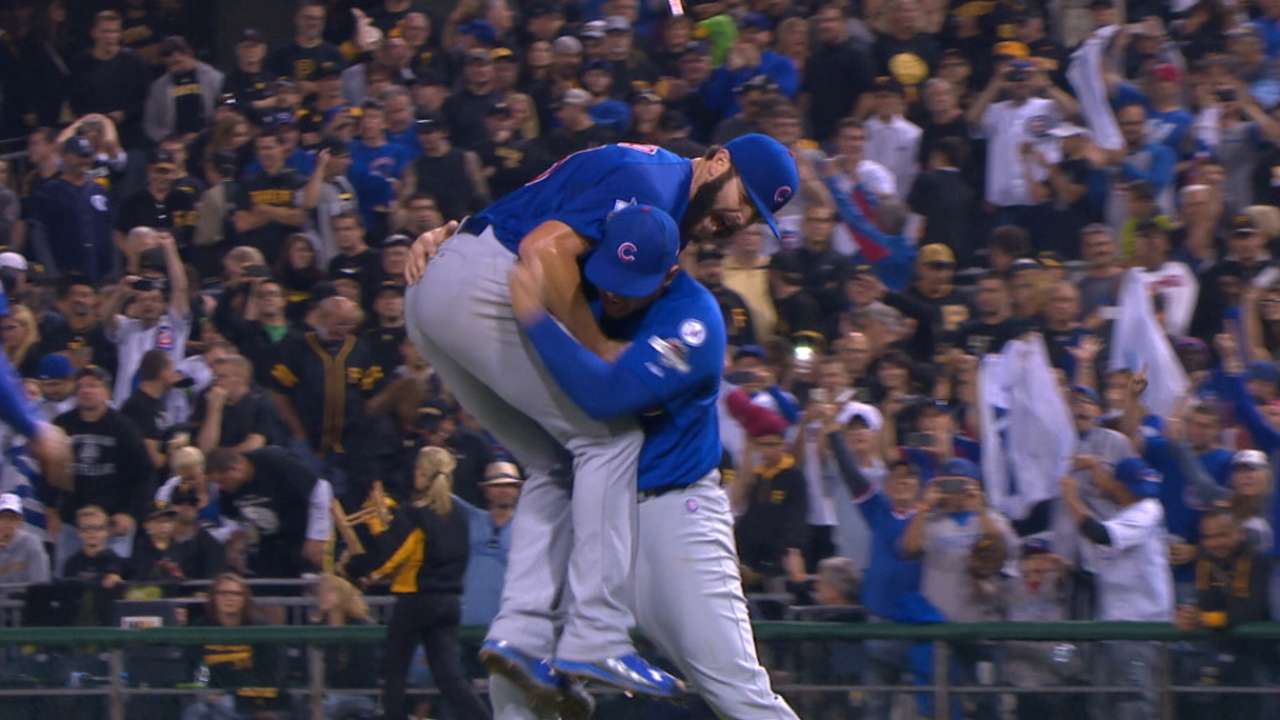 Rival Redbirds
The Cardinals had spoiled Opening Day and Lester's Cubs debut with a 3-0 win at Wrigley Field. Then the Cards took three of four in a series at Busch Stadium, May 4-7, and swept the Cubs in St. Louis, June 26-28. But in the next two matchups, the Cubs won two of three, including Sept. 7-9 at Busch, and were five outs away from completing a sweep of the first-place Cardinals in the last game but blew a two-run lead in the eighth. The Cubs players were obviously miffed after the loss.
"Most of the time, you'd be effusive -- 'We won two out of three,'" Maddon said. "We had a chance to go three out of three and we failed. Ultimately, you'll take the two out of three, but I'm happy we're upset that we didn't."
And after saying that, Maddon turned on the music in his office, playing "Philadelphia Freedom" by Elton John. The Cubs then headed to Philadelphia.
Of course, whom did the Cubs have to face in the NL Division Series? The Cardinals. For the first time, the two Central Division rivals met in the postseason, and John Lackey prevailed in Game 1, but the Cubs rallied to take the series, with an impressive showing in Game 3 when Fowler, Soler, Bryant, Anthony Rizzo, Castro and Schwarber all homered. Javier Baez made a statement when he crushed a three-run homer off Lackey in Game 4.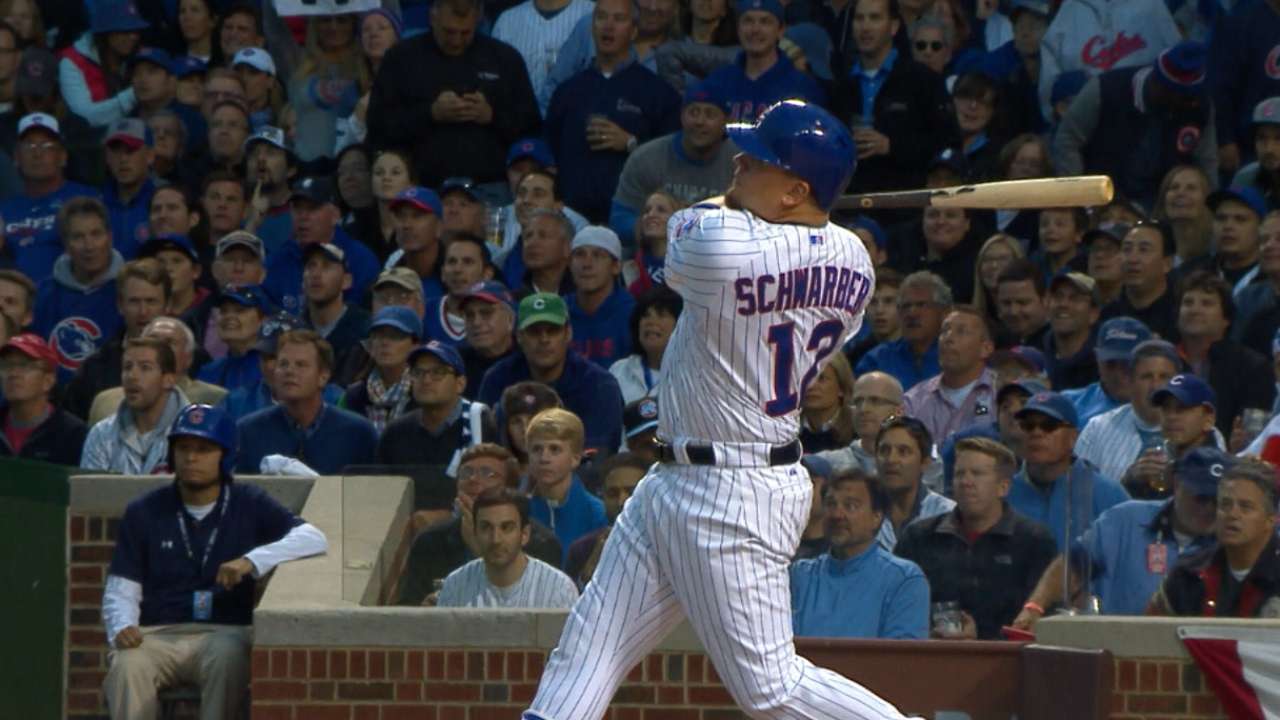 Carrie Muskat is a reporter for MLB.com. She writes a blog, Muskat Ramblings. You can follow her on Twitter @CarrieMuskat and listen to her podcast. This story was not subject to the approval of Major League Baseball or its clubs.