New skipper, fresh start for Padres in 2016
SAN DIEGO -- Before Andy Green agreed to become manager of the Padres in late October, the National League West certainly looked formidable enough.
But by the time Christmas rolled around, the NL West looked like something else entirely.
"Clearly the NL West is becoming like the old [American League] East right now," Green said. "It's a highly competitive division, with moves that are being made throughout. … We are going to have to look at ourselves and assess what ways we can be better."
The Padres might not have made the splashy moves their NL West brethren have -- Johnny Cueto and Jeff Samardzija to the Giants, Zack Greinke and Shelby Miller to the D-backs -- but they shaved some money off the books by moving Joaquin Benoit and Craig Kimbrel, got a lefty bat (Jon Jay) and replenished their farm system.
Assets that general manager A.J. Preller believes can help the team moving ahead or, potentially, can be used to acquire Major League-ready pieces.
But, to be clear, keeping up with the Joneses won't be easy.
But, in general, it's hard to gauge which direction they are going: Rebuild or retool. The next few moves the team will make certainly will give a better indication.
In no particular order, here are five questions that will help dictate whether next season ends differently than the last, a disappointing 74-88 finish.
1. Can they score runs?
Despite a revamped offense, the Padres ranked 10th in runs in the NL in 2015, third in strikeouts and last in on-base percentage -- and that was with now-free agent Justin Upton. It's safe to say the team is looking for a few bats to help it improve. The addition of center fielder Jay brings some balance and a table setter for guys like Wil Myers, Matt Kemp and Derek Norris. But it's clear the Padres need much more help here.
2. Who will fill the bullpen?
Long a strength of the team, the bullpen had a rough time in 2015 -- ranking 13th in the NL in bullpen ERA (4.08).
"It was tough," said Padres pitching coach Darren Balsley. "We're usually known for our pitching, especially in the bullpen."
The trades of Benoit and Kimbrel left two big holes, and if the Padres are intent on moving Brandon Maurer to the rotation, that's three holes. There's work to be done here as well, but Preller is hopeful about two Rule 5 Draft additions -- Josh Martin and Blake Smith. Expect more high-leverage innings for Kevin Quackenbush and Jon Edwards in 2016.
3. What can we expect from a healthy Myers?
The sky is the limit for Myers, who was limited to 60 games last season due to a nagging wrist injury that led to surgery in June. He's healthy now and eager to prove what he's capable of when feeling good. At the time he was first hurt in May, he was hitting .291/.340/.493 with five home runs and 10 doubles, and he had shown great improvement in terms of strike-zone recognition from April to May. In short, Myers could be a legitimate run-producer -- an impact bat -- if he stays healthy.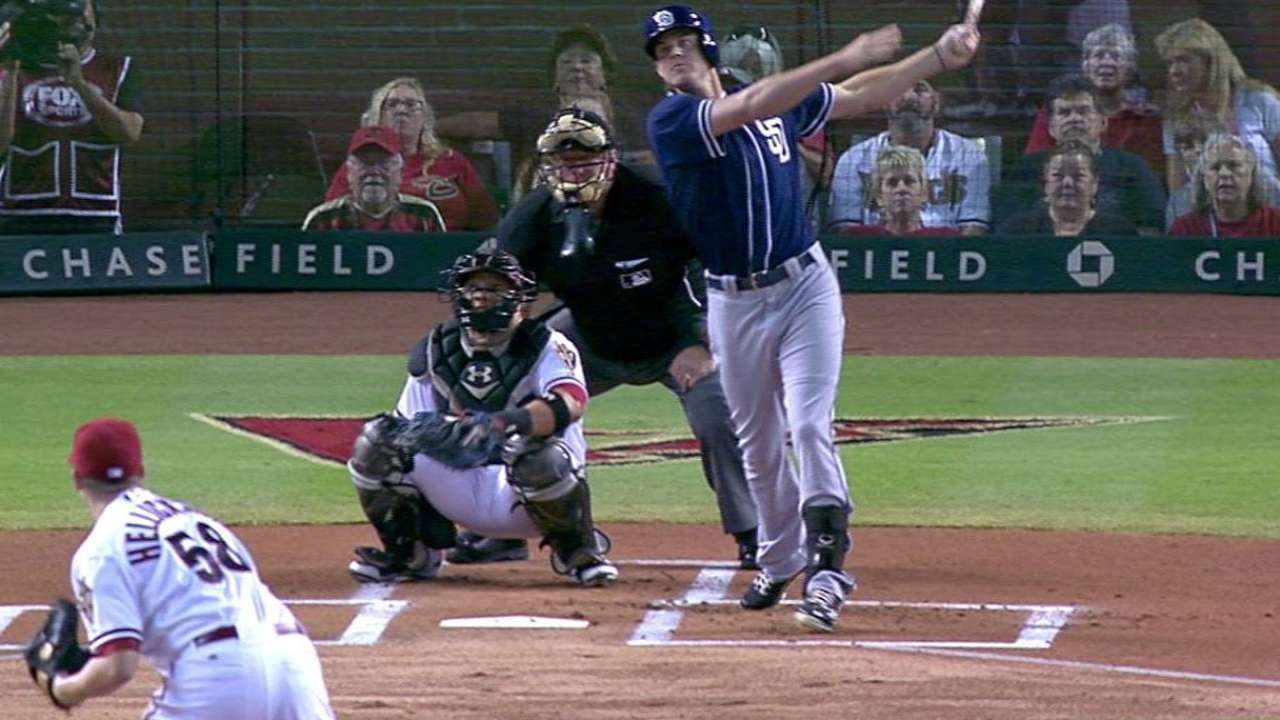 4. What will Green's impact be?
He'll bring a lot of energy, for one. Green won over the Padres during his two interviews with his passion, his baseball acumen and ability to build relationships with his players. He's been a big leaguer (that still means something) and understands adversity from his own days as a player, so he has a lot of relatable skills. A first-time Major League manager, Green will lean on his coaching staff -- bench coach Mark McGwire, pitching coach Balsley and others. It won't be easy, as we have seen with other first-year big league managers. There's a learning curve, but the Padres are certain Green will have a way to reach players and help draw the best out of them.
5. How can they compete in NL West?
Boy, this division is shaping up to be absolutely nasty. The Dodgers, even without Greinke, are dangerous. As for the Giants, they have rotation additions and that every-other-year-thing going for them, and the D-backs, with Greinke and Miller and a top offense, won't go away. The Padres haven't been to the postseason since 2006. It will be a tall order for them to get back.
Corey Brock is a reporter for MLB.com. Keep track of @FollowThePadres on Twitter and listen to his podcast. This story was not subject to the approval of Major League Baseball or its clubs.