No title, but Giants can be proud of '15 effort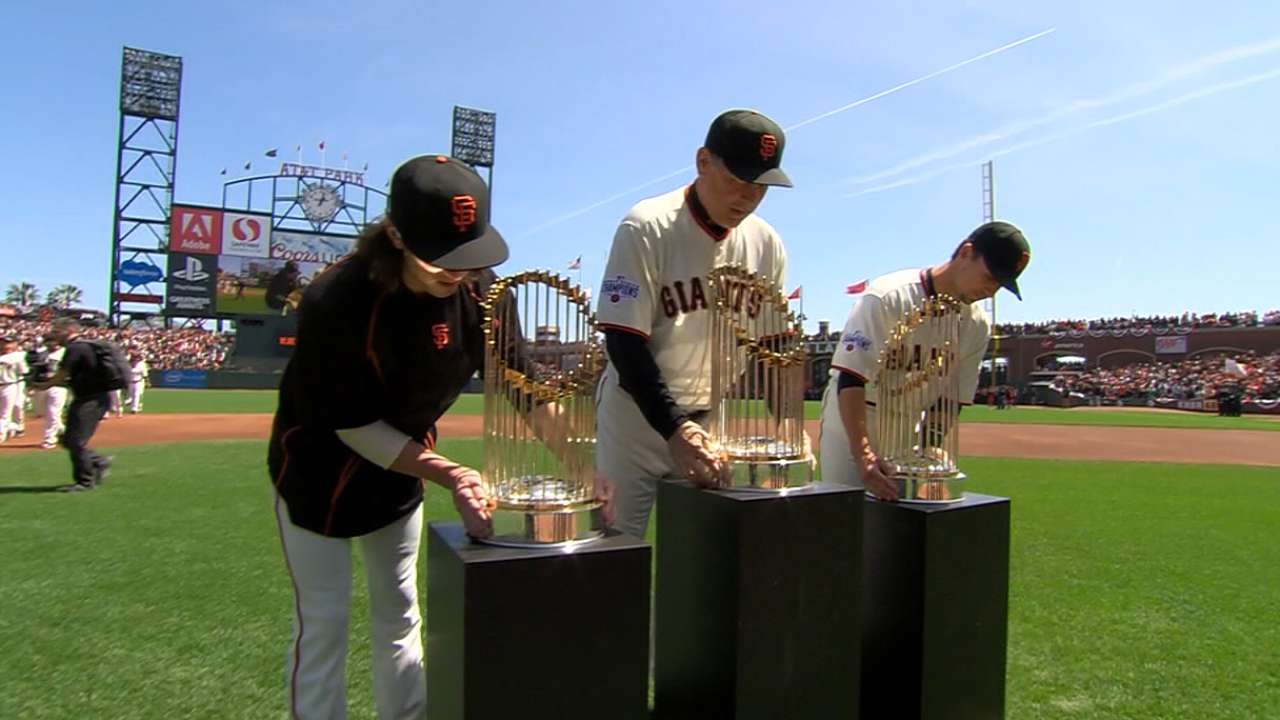 SAN FRANCISCO -- Though the Giants hoisted no championship trophies in 2015, their pride remained aloft.
Very little went as planned for the reigning World Series champions as they finished second to the Dodgers in the National League West, eight games back with an 84-78 record. It marked the ninth time since 1971 that the archrivals occupied the division's top two spots in either order.
The Giants maintained an unfortunate pattern by sustaining five losing streaks of five games or more when they appeared on the brink of gaining control in the division. They displayed this trait immediately, dropping eight games in a row after winning three of their first four. Between May 29 and July 6, they endured three five-game losing streaks. The first occurred when San Francisco led the division by a game; the others struck when it trailed by a game. The Giants couldn't overcome their final skid, when seven consecutive losses beginning on Aug. 28 dragged them from 2 1/2 games behind the Dodgers to 7 1/2.
Considering that Madison Bumgarner was the only starter to spend the entire season in the rotation and that the projected Opening Day lineup played together just once, the Giants actually may have overachieved in producing their sixth winning season in seven years. Manager Bruce Bochy referred to the Giants' numerous injuries after they finally were mathematically eliminated from a postseeason berth in their 157th game.
"With all we had to go through -- you're looking at four concussions and three obliques -- here we are, it's September 29, and we finally got knocked out," Bochy said.
From knocked out to knocking on the door of success, the Giants had a variety of experiences in 2015:
1. Rotation woes
This was not a group that was built to last, with the exception of Bumgarner. Injuries prevented Matt Cain from making his first start until July 2. Jake Peavy made two ineffective starts before he joined Cain on the disabled list. Peavy returned one day after Cain. Tim Hudson recorded a 4.44 ERA, the second-worst of his 17-year career. Hip surgery ended Tim Lincecum's season after 15 starts. Rookie right-hander Chris Heston often looked promising, particularly when he no-hit the Mets on June 9, but ran out of stamina after July.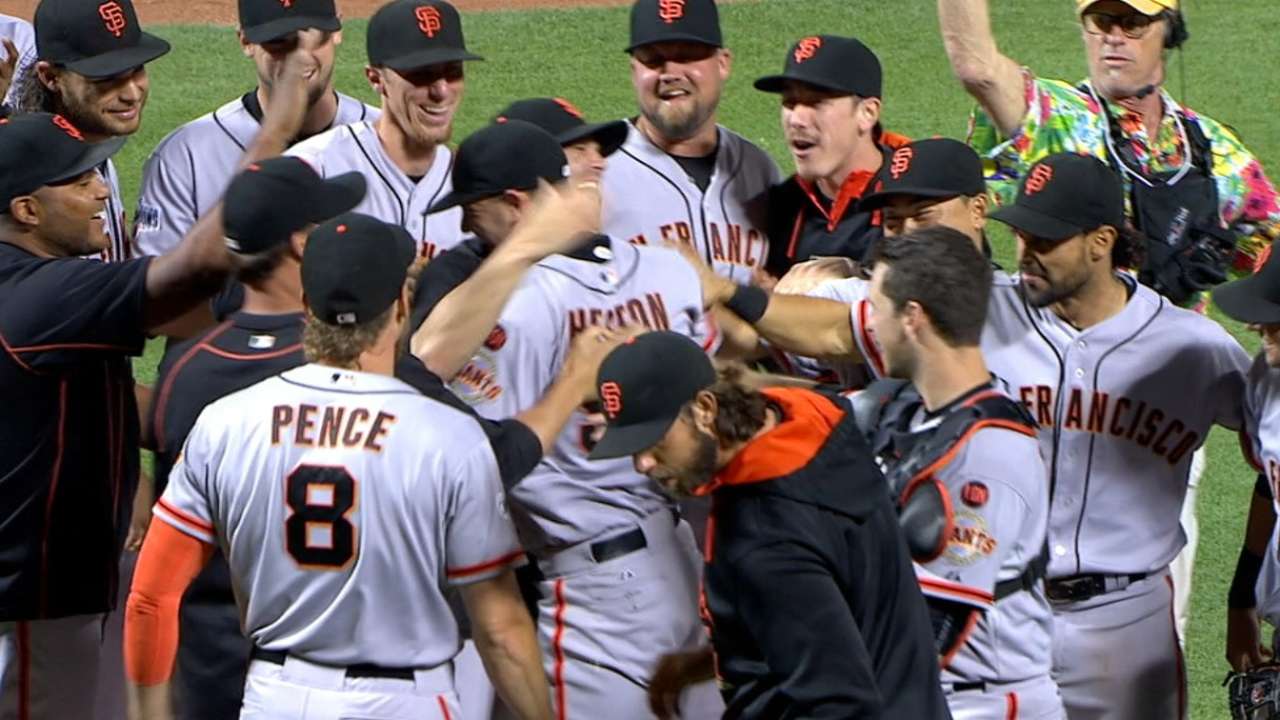 2. Short order
Brandon Crawford sustained the type of season-long performance that many observers had predicted for him. He hit a team-high 21 homers, led all Major League shortstops with 84 RBIs, and played typically spectacular defense, resulting in his first career Gold Glove Award -- the first for the Giants since Omar Vizquel won in 2006. Crawford also made his first NL All-Star team. He probably would have recorded a more prolific season had he not missed 15 games in August and September with a tight left oblique and a tight calf.
3. At their ex-Pence
Hunter Pence proved the value of his presence with his absence. Three trips to the disabled list limited the right fielder to 52 games. The Giants were 34-17 when he started, reflecting his all-around impact on the club's fortunes. Pence was just one of several Giants stricken by injuries, hampering the club's progress. Aside from the aforementioned starting pitchers, Jeremy Affeldt, Nori Aoki, Brandon Belt, Gregor Blanco, Angel Pagan, Joe Panik, Hector Sanchez and Andrew Susac missed significant playing time with various ailments.
4. Still going strong
Bumgarner figuratively thumbed his nose at skeptics who claimed that his record-setting 52 2/3-inning workload in the 2014 postseason would erode his skills and stamina. The three-time All-Star amassed 234 strikeouts in 218 1/3 innings, both career highs, and exceeded 200 innings for the fifth consecutive season. He became the first Giant to win at least 18 games in back-to-back seasons since Gaylord Perry in 1969-70. Bumgarner was equally effective as a hitter, bashing five home runs -- the most by a big league pitcher in a single season since Carlos Zambrano of the Cubs had six in 2006.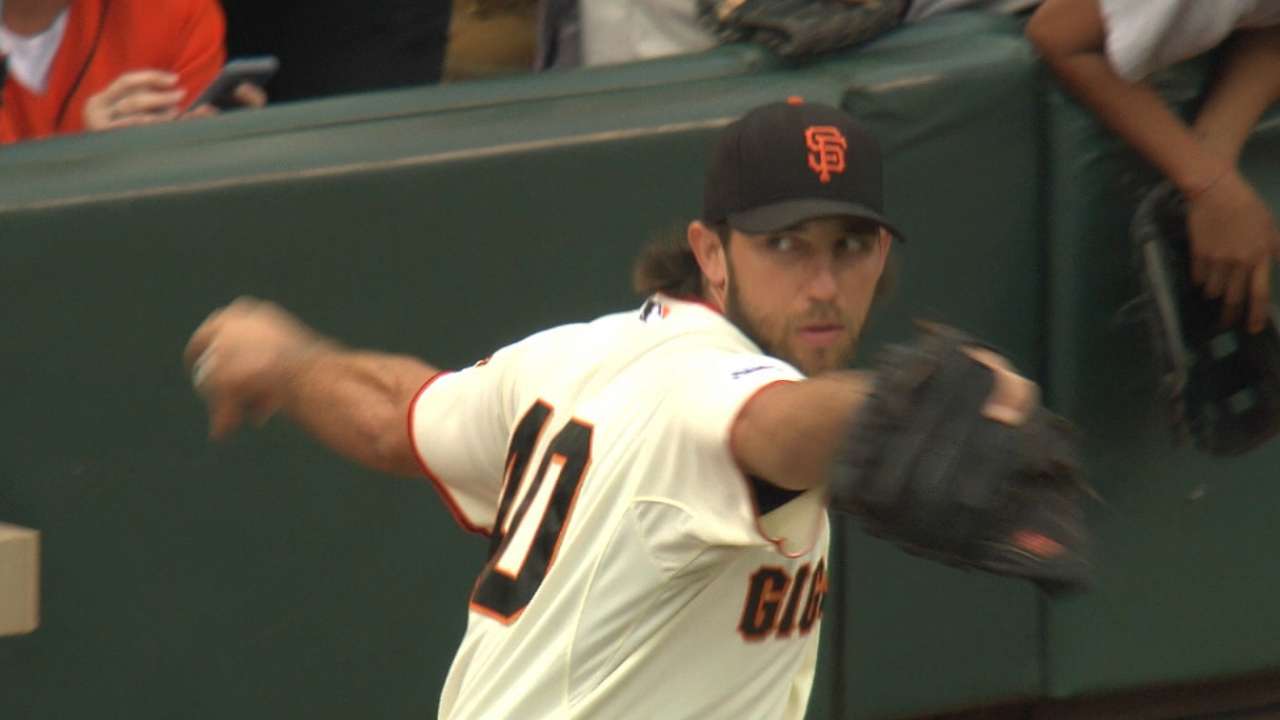 5. Dependable Duffy
It's safe to say that the Giants would have weathered an absolutely miserable season without the contributions of third baseman Matt Duffy. In fact, had last offseason gone according to plan, the Giants either would have re-signed Pablo Sandoval or received a full year from Casey McGehee, who was acquired in a trade from Miami. But Sandoval fled to Boston in free agency and McGehee began the season in a colossal slump, giving Duffy his chance. He responded by excelling on offense and defense -- despite scant experience as a third baseman -- and ultimately finished second behind Chicago's Kris Bryant in the NL Rookie of the Year Award balloting.
Chris Haft is a reporter for MLB.com. Read his blog, Haft-Baked Ideas, follow him on Twitter at @sfgiantsbeat and listen to his podcast. This story was not subject to the approval of Major League Baseball or its clubs.