MLB security boss plays Santa for needy kids
Hendricks dons red suit at annual Winter Wishes event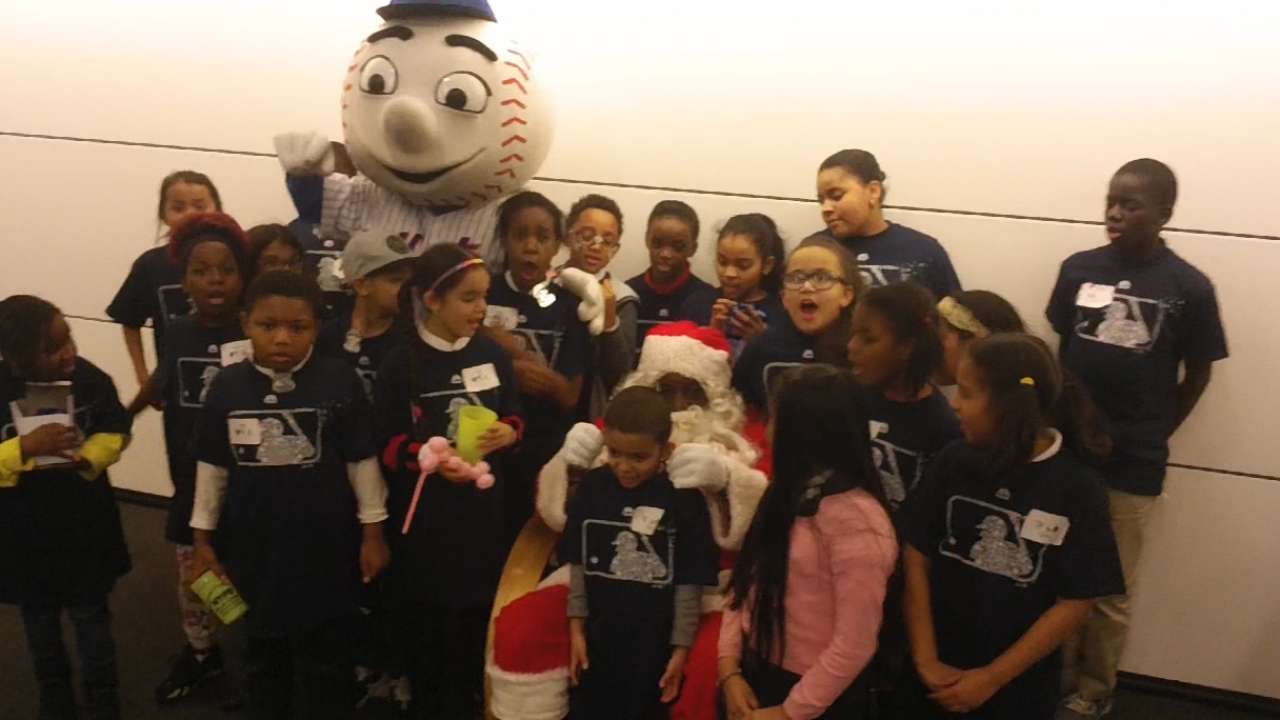 NEW YORK -- Santa Claus had a broad face and a little round belly that shook when he laughed, like a bowl full of jelly.
It was made out of two fluffy souvenir throw pillows, one from the 2015 All-Star Game in Cincinnati and the other from the Royals-Mets World Series.
"It keeps me young," LeRoy Hendricks said while dressing up as St. Nick on Friday night in an annual Christmas tradition. "Kids are happy, I'm happy. And somebody's gotta do it."
That somebody is one of Major League Baseball's top security executives, the large and formidable presence who goes wherever the Commissioner goes. For the last several years at this time of year, he turns into a right jolly old elf and hands out presents to wide-eyed children from underserved communities.
The kids on Friday were from the Children's Aid Society East Harlem Boys & Girls Club. It was part of MLB's annual Winter Wishes program, in which girls and boys write letters to Santa with their gift wishes and MLB employees fulfill those wishes with wrapped presents.
Hendricks was a boy in Harlem. As each child came up to see him, his eyes -- how they twinkled.
"It means a lot. It really, really truly means a lot," he said. "A lot of people don't understand that most of these kids are underprivileged; they come from one-[parent] homes and generally don't get many gifts. So for them to be part of this -- and of course the Boys & Girls Club, which Major League Baseball sponsors -- is very rewarding. It's rewarding to me, to see these kids happy."
Even though being a New Year's Eve baby often meant he had to open a Christmas and birthday gift as a package deal, Hendricks said. "Santa Claus was everything" way back when. A bundle of toys he had flung on his back, and he looked like a peddler just opening his pack.
"Cap guns," he recalled. "Back in our day, we used to get the cap guns with the caps and whatnot. But you can't give the kids guns anymore. That was our thing. Because remember when we grew up, it was always Westerns. So cap guns were my favorite."
Santa's appearance was preceded by a 33-year veteran of the New York Police Department, who came with lots of toys himself and a message to all the kids: Police are your friends, they "help those who can't help themselves," and remember "stranger/danger."
McGruff the Crime Dog was there with the NYPD vet -- appropriate in a world where Fred McGriff the Crime Dog once roamed. A magician was there to entertain the kids, there was food, and there was Mr. Met. And there was David Giordano, director of the Children's Aid Society. Giordano was 13 when he joined the Boys & Girls Club there, and he has been a part of kids' growth there ever since.
Wishes, indeed.
"This is really a special night," Giordano said. "Many of our kids are trapped by the corners of the communities they live in. So just to get them out and experience something new allows kids to see that there is something beyond the four corners of the streets of their neighborhood. It allows them to dream, and one of the things that's really important is that we have kids dream. What is their dream? What do you want to become?"
In real life, Hendricks has a job that many would consider a dream come true. He has three grown children (one even bigger than he), and he proudly adds that there are five grandchildren. One of them, a 2-year-old, was at the "Kids Day" holiday party earlier in the day at the MLB offices, and he said wearily, "That's why I'm sitting down."
The kids saw him sitting down and they were happy. No one really knows whether he will be actively guiding a miniature sleigh and eight tiny reindeer a handful of nights in the future.
"If you can put a smile on a child's face, that's the experience in itself," Santa said. "The way this world is today, and the stuff we have to go through just to make a kid happy, to make a kid understand that somebody cares about them, and I give all the credit in the world to the employees of Major League Baseball, because they go out and they buy the gifts that the kids ask for. All I do is facilitate."
Mark Newman is enterprise editor of MLB.com. Read and join other baseball fans on his MLB.com community blog. This story was not subject to the approval of Major League Baseball or its clubs.