MLB contingent wraps trip by thanking Cuba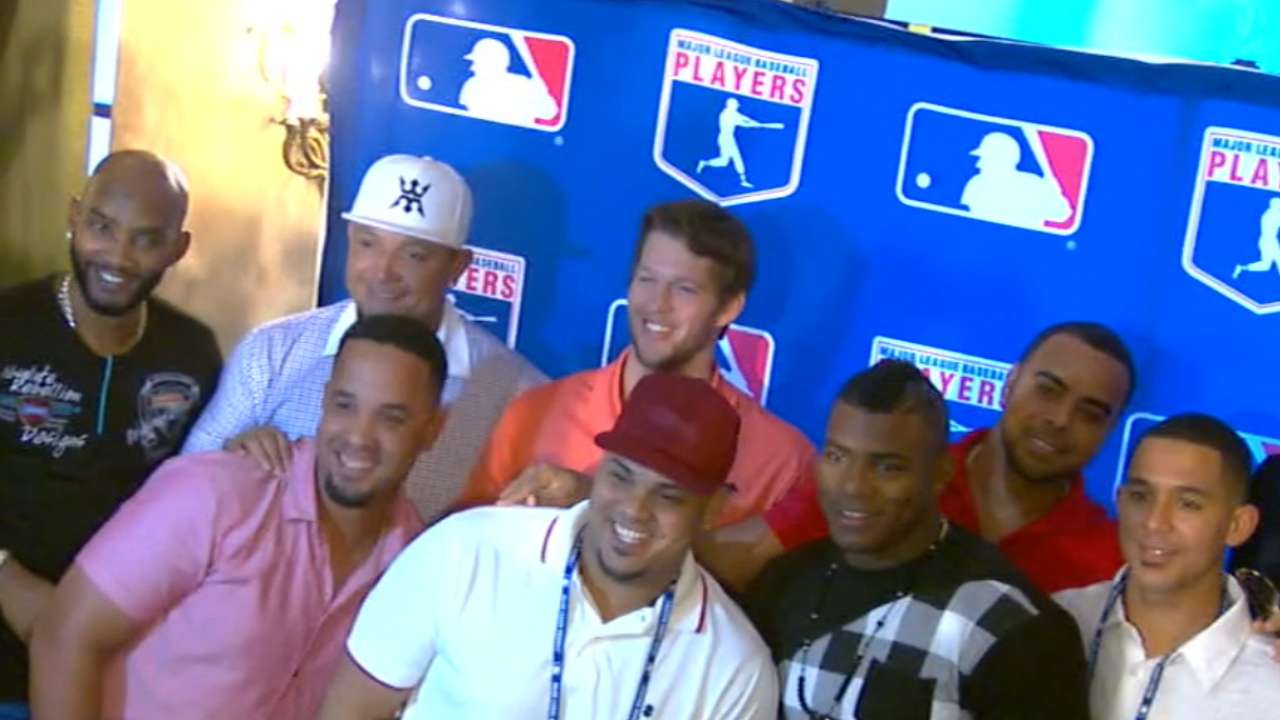 HAVANA -- Perhaps the most telling, significant part of Major League Baseball's momentous return to Cuba was convened at the very last minute, just before boarding a return flight to the U.S., in the terrace section of an otherwise barren airport, away from the fans and the spectacle and the majority of the media.
MLB chief legal officer Dan Halem, Players Association executive director Tony Clark and Yasiel Puig, just three years removed from fleeing this country, held a short, intimate, impromptu ceremony for Antonio Castro, son of Fidel and vice president of the Cuban Baseball Federation.
Halem turned to Castro and said, "We hope to be back very soon." Clark chimed in by saying they "remain very optimistic that this opportunity, this year, leads to opportunities in the future to continue to develop that relationship." And Puig talked about how players "felt really welcomed here," a previously unfathomable sentiment for a Cuban-born player under his circumstances.
"After your words, I don't think there's a lot left to say," Castro told the group in Spanish. "The only thing that comes to mind is that when the will is there to do something and dream of something and make it reality, you accomplish it.
"You can count on our support and our cooperation to build this bridge, so that it can be a strong bridge."
It'll take far more than baseball for the U.S. and Cuba to truly normalize relations, a pursuit that officially began one year and one day ago Friday, when President Barack Obama announced that the U.S. would restore full diplomatic relations with Cuba. Now two governments need to come together, a trade embargo needs to be lifted.
But the theme of this goodwill tour, which marked MLB's first stop here in 16 years, hinged on baseball serving as a common ground between two nations with an extensive history of embitterment. And that perhaps through the game, harmony can be reached, logistics can be worked out and those dangerous defections could be abolished.
Throughout the week, Castro personified the most encouraging sign of progress, largely because of what his last name had long represented.
He appeared engaging, supportive and involved, snapping pictures of the players and even holding their belongings while they signed autographs. A lifelong baseball enthusiast, Castro freely made small talk with Halem, traded baseball stories with Hall of Famer Joe Torre, now MLB's chief baseball officer, and constantly laughed and joked with Puig.
On Thursday -- the same day an agreement that would allow U.S. airlines to operate regularly scheduled commercial flights to Cuba was reached -- Castro told the media that his organization is working with MLB "on a new relationship, one based on respect, where baseball is the language spoken."
On Friday, in an impromptu ceremony just before this trip wrapped, he received a baseball signed by each of the eight players who participated, then repeated his favorite English phrase.
"Like they say in the United States, 'Well done,'" Castro said. "We did it. The happiness that we created, in my mind, is most important. Today, at least, we can sleep in peace. Tomorrow we'll get to work again."
Alden Gonzalez is a reporter for MLB.com. Follow him on Twitter @Alden_Gonzalez and Facebook , and listen to his podcast. This story was not subject to the approval of Major League Baseball or its clubs.