Rodriguez enjoying time with family during holidays
PITTSBURGH -- Sean Rodriguez is back with the Pirates, re-signed to a contract that will keep him and his family in Pittsburgh for another year. After spending the previous five seasons in sunny St. Petersburg, Rodriguez proved to be a natural fit in the Pirates' clubhouse -- and the Rodriguez family quickly came to enjoy Pittsburgh.
While Rodriguez will spend the summer and fall in Pittsburgh and on the road, he and his family -- wife Giselle, daughters Sofia and Vanelope, sons Sean Jr. (nicknamed "GoGo") and Zekiel -- enjoy their winters back by the Gulf of Mexico, in the warm weather of Florida.
While taking his family on a trip to nearby Orlando, Fla., Rodriguez set aside some time to take part in an annual MLB.com tradition, chatting about his offseason and sharing a few holiday memories.
MLB.com: What have you and your family been up to this offseason?
Rodriguez: Just a lot of quality time, that's what we look forward to and what we always talk about once the season's over. We're going to get a lot of family time in, and it's been a lot of that. My daughter [Sofia] started softball this offseason, the first time she's played with a team other than playing with me at home. Nothing crazy. We like taking trips to Orlando for the theme parks over there, Busch Gardens [Tampa] already. Just a lot of time with the kids, a lot of enjoyment.
MLB.com: Growing up, what were some of your family's holiday traditions?
Rodriguez: Every year for Thanksgiving, we would go to my uncle's house and roast a pig. Everybody in the family would go there. Christmas Eve's kind of the same, so everybody would do that. Christmas Day, we'd go eat the leftovers from the night before. That was year in and year out.
MLB.com: How have your holiday plans changed since you and Giselle had children?
Rodriguez: We try to do the same. We try to host anybody that might be in town, whether it's family that moved up from Miami or family from North Carolina and Iowa. If they've got nothing planned, we try to get them to come down. If not, close friends that we might have made. But most of the time, it's just family. Very similar to what I did a lot growing up, but my uncle was the one hosting at his house. We might not roast a pig quite as much, just because the people where I live might not appreciate me roasting one in my backyard.
But we wake up on Christmas Day, all got matching pajamas on. Just little simple things. They're starting to get older, though, so we've got to start getting more creative as they incorporate their own ideas about what they want to do.
MLB.com: What's on your Christmas list? How about the wife and kids?
Rodriguez: I rarely ever put anything on my Christmas list. [My wife] always asks me what I want, and I rarely ever need anything. God's done enough to provide in that department. She's the same way. She never really asks for anything, so I've got to come up with something.
My oldest [Sofia] wants an Easy Bake Oven. My 2-year-old [Vanelope] wanted a shopping cart. Don't ask me how or why, but that's what she chose, and I'm all for it. My youngest [Zekiel] is all about baseballs, basketballs and footballs. We're putting that, a basketball hoop, on Santa Claus' Christmas list. GoGo, my 6-year-old, takes anything and everything.
MLB.com: If you had to buy a gift for a Pirates teammate or coach, who would it be and what would you get them?
Rodriguez: That's a good question. I would get the Pirates a new Gatorade cooler! (laughs)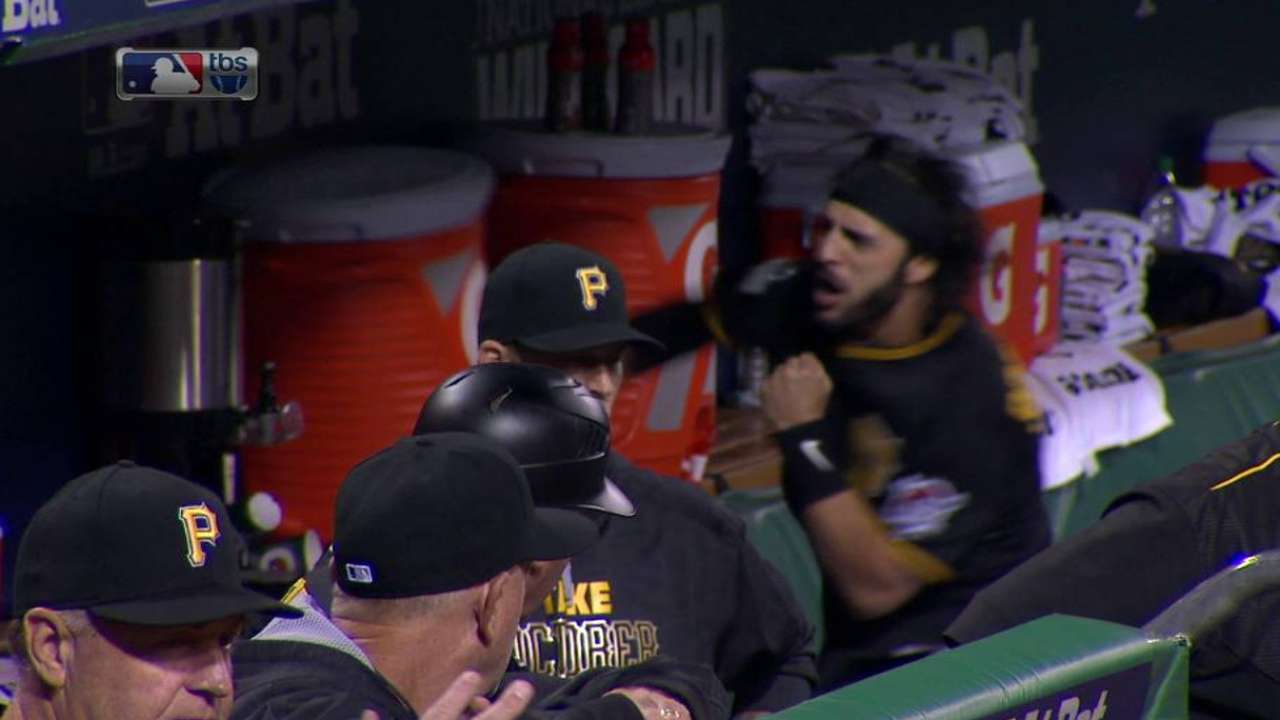 MLB.com: Favorite Christmas movie?
Rodriguez: I grew out of it, but for a long time, it was "Jingle All The Way" with Arnold Schwarzenegger. That was a popular one.
MLB.com: Favorite Christmas song?
Rodriguez: I like 'em all. I like putting XM Radio on in the house the minute the holidays start and letting them play. How about Feliz Navidad? That's not a bad one.
MLB.com: You're a Florida guy, growing up in Miami and living in Tampa now. Do you ever want to have a Christmas with snow on the ground?
Rodriguez: We were in Arizona for a couple. One year we drove up to Flagstaff. It was me and my wife, my two oldest kids, my mom and dad, my sister, her husband and their two kids. One time, we went and did the whole snow thing. I have to say, it was awesome. It was something we can look forward to doing again, but I don't know if I could do it year in and year out. To each his own, though.
Adam Berry is a reporter for MLB.com. Follow him on Twitter at @adamdberry. This story was not subject to the approval of Major League Baseball or its clubs.