Dipoto believes Mariners' rotation ready to compete
With Iwakuma back in Seattle, GM has six worthy starter candidates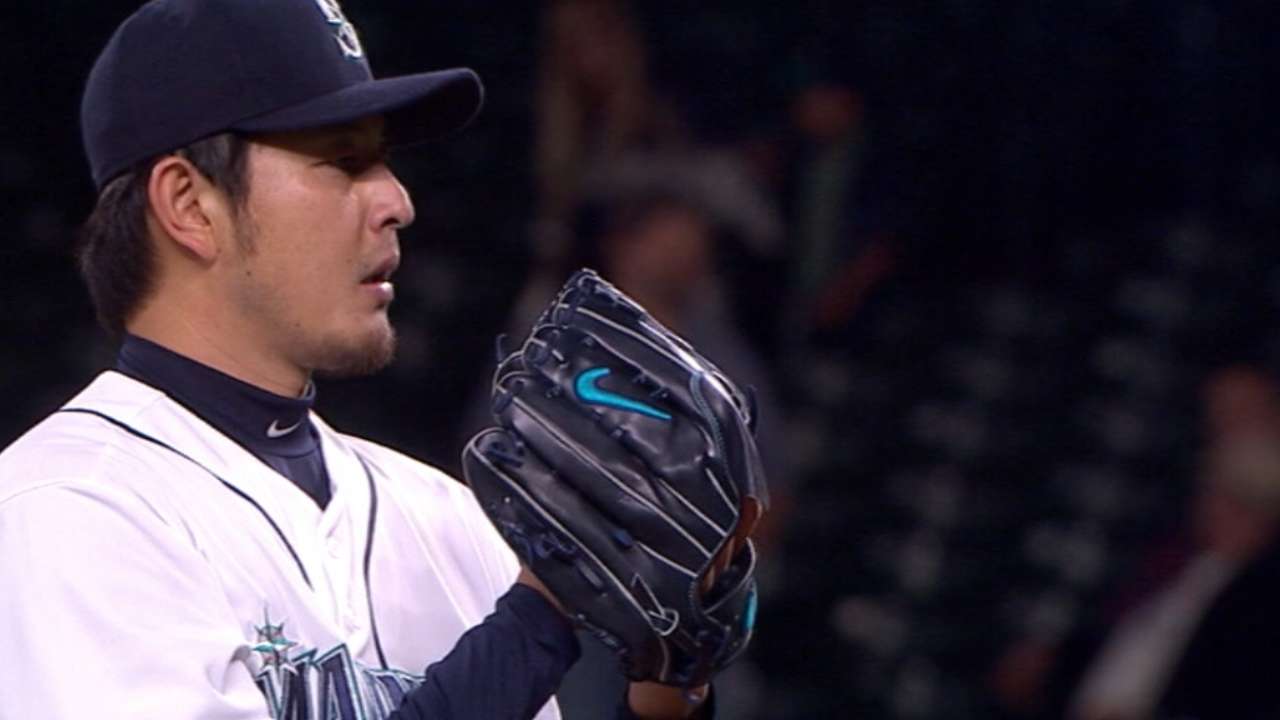 SEATTLE -- Christmas came early for the Mariners in the eyes of Jerry Dipoto with the return of Hisashi Iwakuma. Now the new GM feels his rotation is deep and talented enough to be ready for the rigors of the upcoming season.
Dipoto added veteran lefty Wade Miley in a trade with Boston a day after Iwakuma initially agreed to a three-year contract with the Dodgers on Dec. 6, and the GM now has six legitimate starting contenders, having also acquired right-hander Nathan Karns from the Rays early this offseason.
Led by ace Felix Hernandez, the Mariners' pitching suddenly looks flush with the return of Iwakuma, who has gone 47-25 with a 3.17 ERA over 111 games the past four seasons in Seattle.
"Now if you line up a rotation with Felix and Wade Miley and James Paxton and Taijuan Walker and Nathan Karns and add Hisashi Iwakuma, that gives us the kind of depth and innings we want to get out of our starting rotation," Dipoto said. "We're very happy with that group. I've said from the beginning, if you think you're going to get through the season with five starters, you're fooling yourself. We just built a rotation that works for us, and I'm very happy with the way it lines up."
Dipoto isn't worried about weeding that group down to find a starting five. He's more concerned with adding to the mix to cover a 162-game season.
"I want to have eight or 10 is the real answer," he said. "With those six, you can [also] include guys like Vidal Nuno and Mike Montgomery. We've signed a couple Minor League free agents -- Brad Mills and Donn Roach -- and picked up a couple guys on waivers in Cody Martin and A.J. Schugel who we feel are starting now to stretch us out.
"The average team is going to use 10 starters, maybe 11, at some point during the season. So we want to make sure we're deep enough to handle that. Obviously with the front five that we have going into the season, there'll be a nice competition in Spring Training, which I always think is a good thing, and we'll see how things shake out. But I'm very comfortable that among the six guys we rolled off that we'll put a very strong five-man rotation out there on Opening Day."
Dipoto left the Winter Meetings a week ago saying the heavy lifting was done when it came to the Mariners' roster reconstruction. The club's projected payroll was nearly maxed out at close to $130 million after signing free-agent closer Steve Cishek several days later.
But when the Dodgers opened the door by telling Iwakuma they wanted to renegotiate his deal due to concerns with a physical exam, Dipoto got quick approval from team president Kevin Mather and CEO Howard Lincoln to make a strong offer that will guarantee Iwakuma $12 million in 2016 and could add up to $47.5 million if he stays healthy and pitches full seasons the next two years.
"Sometimes you have to get lucky and you have to have an ownership group that is as giving as this one seems to be," Dipoto said. "From Howard to Kevin to our ownership group, Nintendo of America, it truly took less than five minutes to get everybody on board with this one. It was very easy to communicate, and there was never anything but an 'Absolutely, let's go for it.'
"That part is rare, to have a group that is so fundamentally in line with what they want to do and the people that they trust. As I said from the beginning of my time here, [re-signing Iwakuma] was important for us. Obviously it did not work out the way we intended as we got into the Winter Meetings, but now the situation seems to have righted itself, and we're thrilled with the outcome."
Greg Johns is a reporter for MLB.com. Follow him on Twitter @GregJohnsMLB, read his Mariners Musings blog, and listen to his podcast. This story was not subject to the approval of Major League Baseball or its clubs.