Rangers give former top pick Bush another chance
'The biggest expectations will be off the field,' Daniels said of signing righty to Minors deal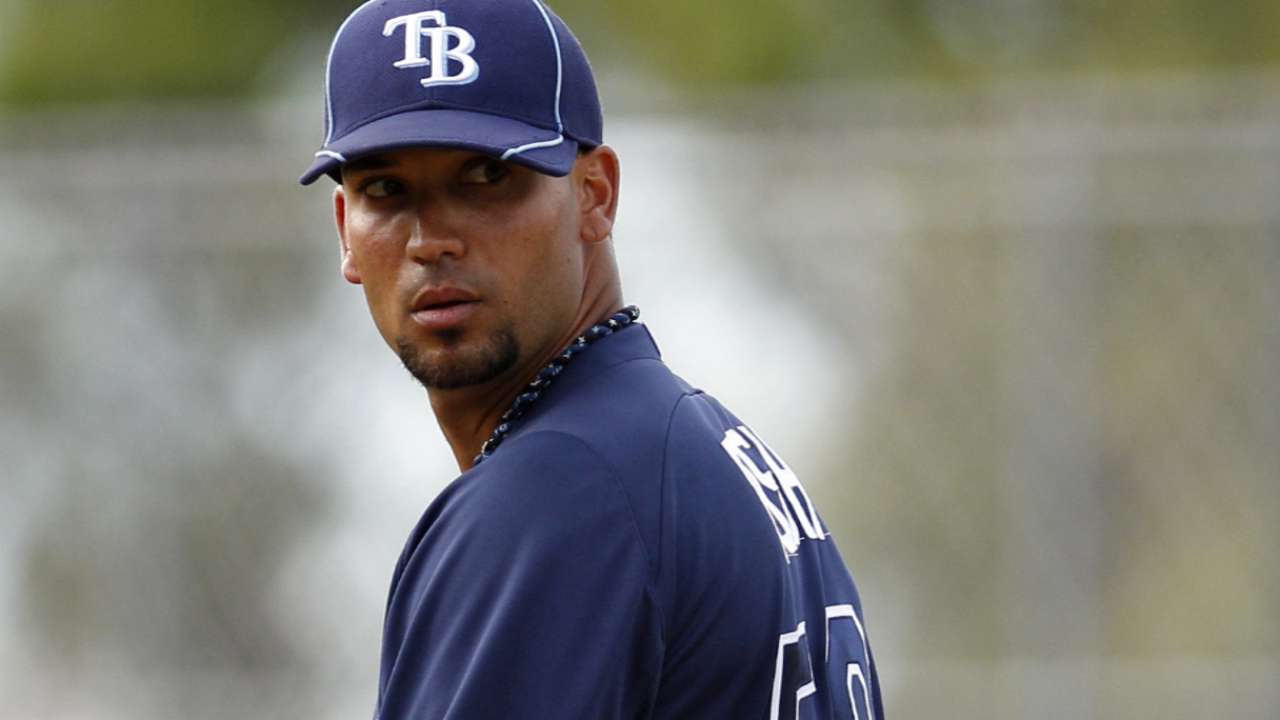 From December 2012 to October '15, Matt Bush spent his days and nights battling the sorrow and regret that he knew he deserved.
But along the way, it dawned on Bush that many of his fellow inmates at the Mayo (Fla.) Correctional Institution were like him -- holders of tremendous physical gifts that were being displayed only during the recreational periods the state of Florida allows.
Maybe this time, Bush will not squander his. The first overall pick in the 2004 MLB Draft by the Padres, Bush allowed alcohol and legal issues to ruin his career until the March 22, 2012, alcohol-related accident -- one that severely injured a motorcyclist -- in Port Charlotte, Fla., led to his sentence. But Bush, still blessed with a fastball that was clocked in the 95 mph range during recent bullpen sessions, signed a Minor League contract with the Rangers.
The Rangers' offer of redemption in the middle of the holiday season does not give Bush an invitation to Major League Spring Training, and it's full of accountability requirements and safeguards for him and the club.
But it's a chance to make a club -- he hopes at the Double-A level -- and actually capitalize on his ability.
"I've seen quite a few people that were tremendous athletes," said Bush, who turns 30 on Feb. 8. "In basketball, a lot of guys in worn-out sneakers with an absolutely horrible basketball did some of the greatest things, like dunking on 12-foot rims. They have all kinds of skills. We played football in there. I played some quarterback. Some of these guys are extremely gifted -- fast, agile. But they're locked away for a long time.
"Some of them told me, 'We're looking forward to seeing you out there. We can't wait to see you make it.' They helped me feel positive about my situation."
Rangers general manager Jon Daniels acknowledged that teams usually don't announce straight Minor League deals with media conference calls like the one arranged for Bush on Friday. But many factors make this case different.
Bush had an underage drinking incident after the Padres picked him, originally as a shortstop. He was in several off-field fights and assault incidents while with the Padres and Blue Jays organizations. The accident occurred after the end of a year with the Rays, during which he showed some promise as a relief pitcher. Bush pleaded no contest to one count of driving under the influence with great bodily injury and was sentenced to 51 months.
While Bush was in prison, Gabe Kapler, now the Dodgers' player development director, wrote a May 5, 2014, story for FOXSports.com during which he talked to the accident victim, Anthony Tufano, who -- despite an incident that would have left him dead had he not been wearing a helmet, yet left him with neck injuries and related issues -- said he hoped Bush would straighten out his life and get back into sports. Bush also apologized in Kapler's story.
Bush, having become more muscular while working out through the boredom of prison, started throwing a baseball during his work-release program. His velocity was such that he had a hard time finding throwing partners. He also studied other pitchers and developed secondary pitches.
Scouts took notice, but after the history, it was going to take more to convince Daniels.
Then Roy Silver, a special assistant in the Rangers' player development program whose real life's work has been counseling and supporting many young people through addiction issues, gave his blessing.
"Roy said, 'If he was throwing 85 [mph] and not 95, and the Rangers and Major League Baseball would not be interested in him, but I'd still be in his life,'" Daniels said. "That spoke volumes."
Bush will have to prove he can handle the rest of life. He is required to attend Alcoholics Anonymous meetings. Daniels said alcohol use and driving -- since Bush's three DUIs in 10 years mean he can't hold a driver's license -- are zero-tolerance issues. Additionally, Bush's father, Danny, must live with him in Spring Training and throughout the season.
"I don't know if I have expectations -- the biggest expectations will be off the field," Daniels said. "We'll be able to help Matt see it through if he takes the steps to get his life going in the right direction. Anything beyond that will be a bonus, so to speak."
Bush said his father's support gives him confidence. He noted that his girlfriend was with him -- which alleviated the loneliness that has always triggered his drinking -- in 2011, when he went 5-3 with a 4.83 ERA and five saves in 36 relief appearances with Double-A Montgomery in the Rays' system.
"My dad has always cared for me, no matter what. All the issues that I'd had, all the struggles, the pain that I've put him and my mom and my family through, as well. I went to his retirement party just the other day, and the people at his work, they say, 'We seem to know all about you.' My dad tells them the good and the bad. I appreciate and see that he cares for me, and I respect him for that."
Bush, who said he hasn't had alcohol since the 2012 accident, is one of three top overall picks from 2013 or earlier to not reach the Majors. Steve Chilcott (Mets, 1966) and Brien Taylor (Yankees, 1991) are the others.
"My future is as bright as I make it," Bush said. "I feel renewed after all the time I served and had time to think things through -- the agony of destroying my life and the lives of others."
Thomas Harding is a reporter for MLB.com. Follow him on Twitter @harding_at_mlb, listen to podcasts and like his Facebook page. This story was not subject to the approval of Major League Baseball or its clubs.