Reds experience roller-coaster ride in 2015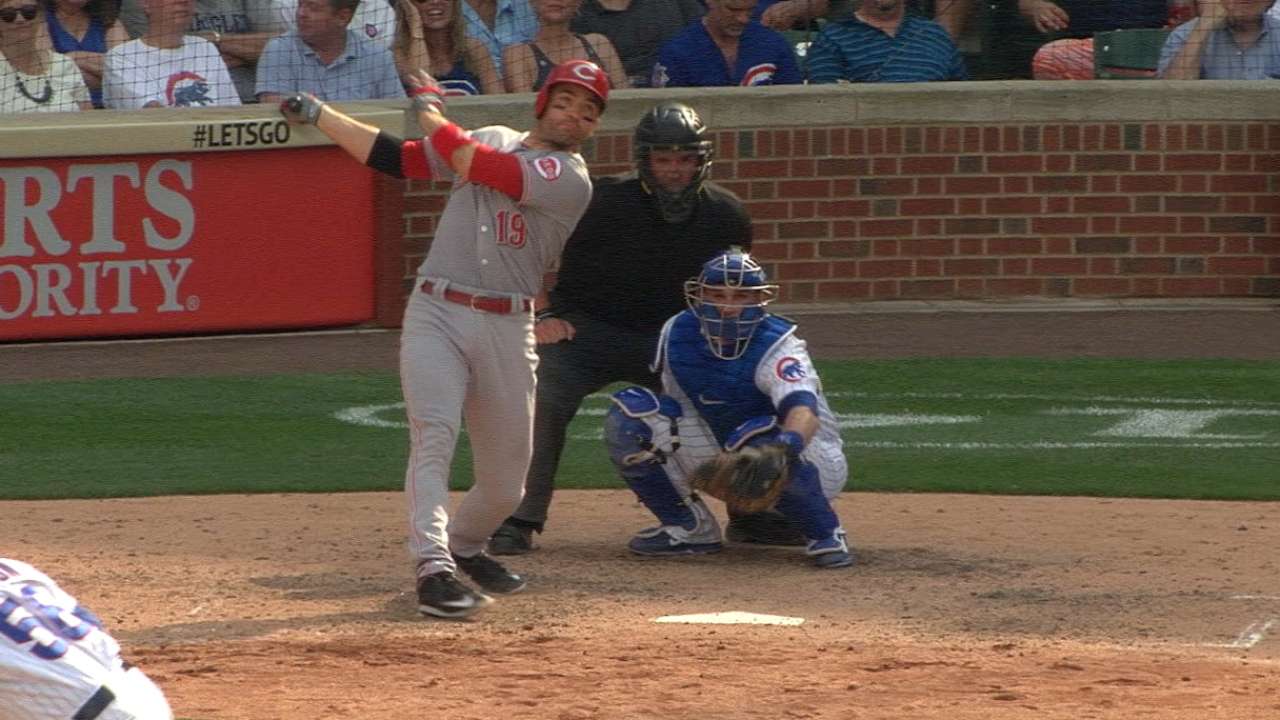 CINCINNATI -- For Reds fans, Reds players and Reds manager Bryan Price, the 2015 season will not be looked back upon fondly -- certainly when only a few years ago, Cincinnati was celebrating division titles. The best hope for all involved is that this was the year of realization for the club that it needed to rebuild so it can start another run of success in the years to come.
The Reds finished 64-98, and earned their first last-place finish since 1983 -- snapping the longest active streak of non-last-place finishes in the four major professional sports.
"We can make excuses about what we have on the field and who is injured and who is affected and who isn't, and in the end, it really doesn't matter," Price said earlier this month. "What matters is you go out and play the game as hard as you can, as prepared as you can, for as long as you can. Unfortunately, sometimes you have to take solace in down seasons if the guys played their tails off."
Price hates the term "silver linings," but there were moments worthy of remembering and players deserving of recognition. The 2015 season saw the resurgence of Joey Votto, Todd Frazier's arrival to the big stage (and subsequent offseason departure), and the emergence of rookies like Raisel Iglesias, Anthony DeSclafani and Eugenio Suarez.
And of course, who could forget the All-Star Game? The Reds, Greater Cincinnati and its citizens made the mega-event a smashing success.
Here are five storylines -- the sweet and the sour -- from the Reds in 2015:
1. Injuries piled up quickly
Only five times in 2015, and 17 times over the past two seasons, has Price had his regular projected starting lineup on the field together. The regular eight did not play together again after April 11. Catcher Devin Mesoraco went down early with a left hip injury that would require season-ending surgery a couple of months later. Shortstop Zack Cozart's strong season came to a crashing halt with a grisly right knee injury from slipping on first base in a June 10 game vs. the Phillies. He needed surgery to repair tears in both the anterior cruciate and lateral collateral ligaments.
On the mound, starting pitcher Homer Bailey, who had just returned from a flexor-mass tendon surgery on his right arm, lasted only two starts because he needed Tommy John surgery on his elbow.
And those were just a few of the players that spent significant time on the disabled list.
2. Frazier delivers signature moment
Cincinnati was already enjoying the buzz of hosting All-Star week, but its most indelible moment came via Frazier one night before the Midsummer Classic. A new timed format to the Home Run Derby created much excitement and the idea that a portion of a timeless sport could have the sensation of buzzer beaters.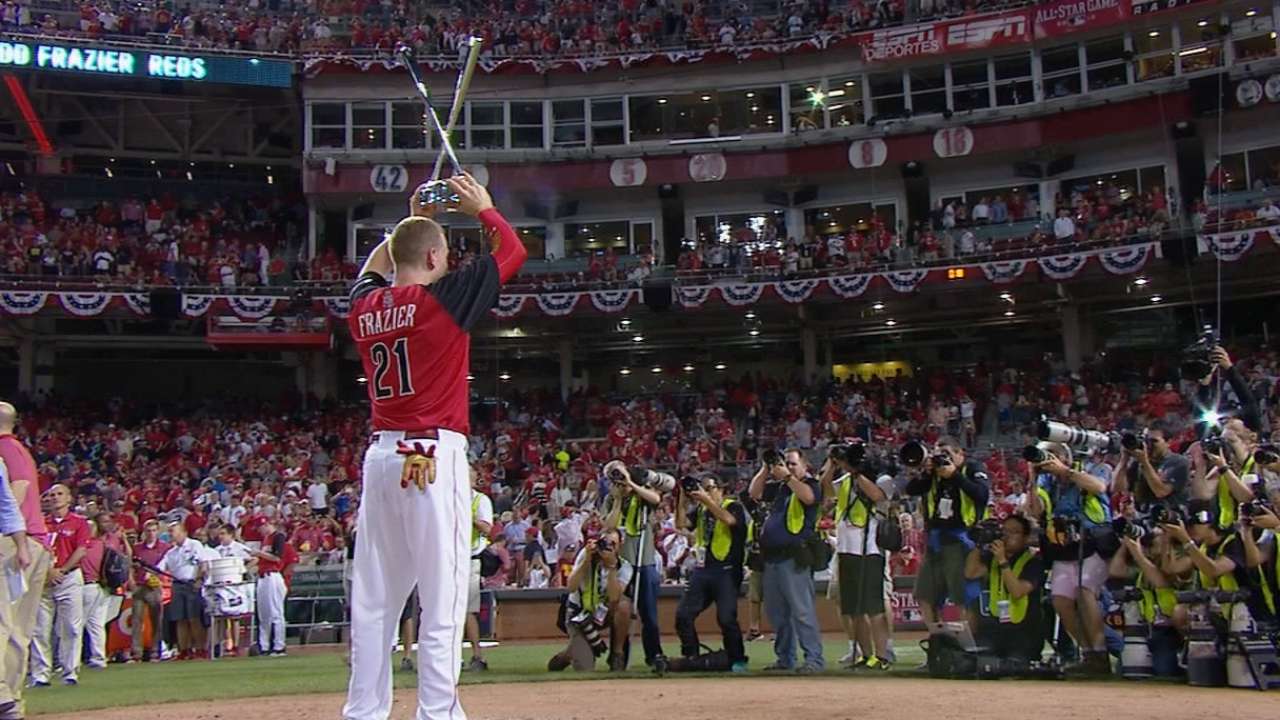 In all three of his rounds, Frazier needed a late rally to advance, including an all-time thriller to defeat runner-up Joc Pederson in the finals for the title. Each time, the home crowd at Great American Ball Park roared with approval -- especially when Frazier's final long ball sailed into the night to become one of the enduring highlights in the park's history.
"Just hearing the crowd roar, call my name, adrenaline," Frazier said after his win. "And those last minutes of each round really picked me up and helped me drive the ball out the park a lot more. It was a lot of fun. I appreciate that a lot."
Of course, there will be no further opportunities for Frazier to make more memories in Cincinnati. He was traded to the White Sox on Dec. 16, which makes his All-Star moment perhaps even more special, and wistful, for Reds fans.
3. Trade winds blowing
The All-Star Game was only two weeks in the rearview when Cincinnati braced itself, finally, for the cold reality. Its season was going nowhere fast and soon-to-be free agents needed to be moved to help seed a rebuild.
On July 26, the Reds traded ace and former 20-game winner Johnny Cueto to the Royals for three left-handed pitching prospects in Cody Reed, Brandon Finnegan and John Lamb. On July 30, rotation-mate Mike Leake was traded to the Giants for a top prospect in pitcher Keury Mella and slugging outfielder Adam Duvall. The club also listened to offers for closer Aroldis Chapman and Jay Bruce before holding off. In an August waiver trade, left fielder Marlon Byrd was sent to San Francisco for a Minor Leaguer.
After the season, president of baseball operations Walt Jocketty and newly elevated general manager Dick Williams revealed they would listen on any trade offers -- including players like Brandon Phillips, Chapman and Bruce. The first domino was Frazier, and the others are likely to follow.
4. Rookies, rookies, rookies
The injuries and trades left the Reds with plenty of holes, and Price had his hands full just putting together a lineup on a daily basis. Nowhere was this more evident than in the starting rotation. Following Leake's final start on July 28, Cincinnati started a rookie pitcher over the final 64 games -- smashing a more-than-a-century-old Major League record. Overall, nine rookies started 110 games for the season -- both were modern franchise records. In addition, nine different players made their Major League debuts in 2015.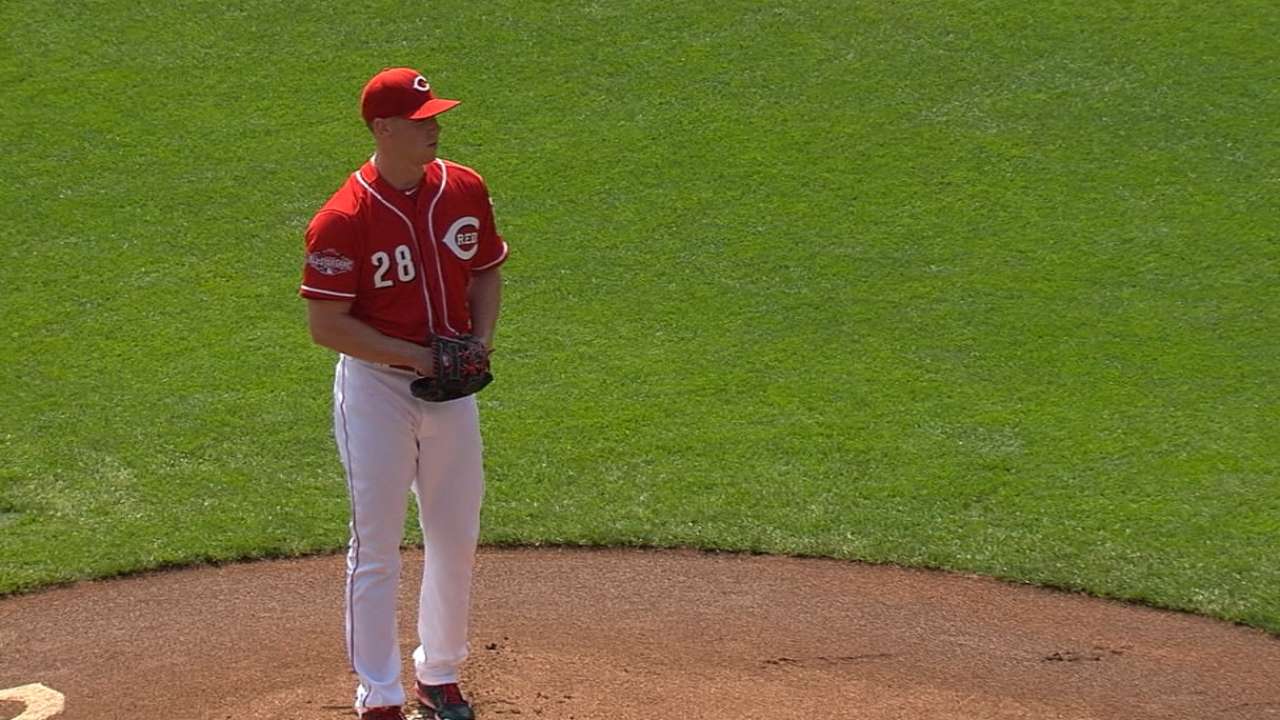 Among the most impressive was DeSclafani, the only starter to make all of his starts for the season. Iglesias, signed as a Cuban free agent in 2014, had some electric moments, including becoming the first Reds pitcher to record at least 10 strikeouts in three consecutive games.
Suarez, who replaced the injured Cozart at shortstop, came up and hit 13 homers in 97 games.
"A lot of these guys got their feet wet and it was awesome that I got a full year under my belt. It was really nice," DeSclafani said.
5. Votto rises again
Following a 2014 season in which left knee and quadriceps issues limited him to 62 games, Votto made it clear in Spring Training that he never wanted his health to be a talking point in the '15 season. Showing full strength from the start, no one needed to bring it up again.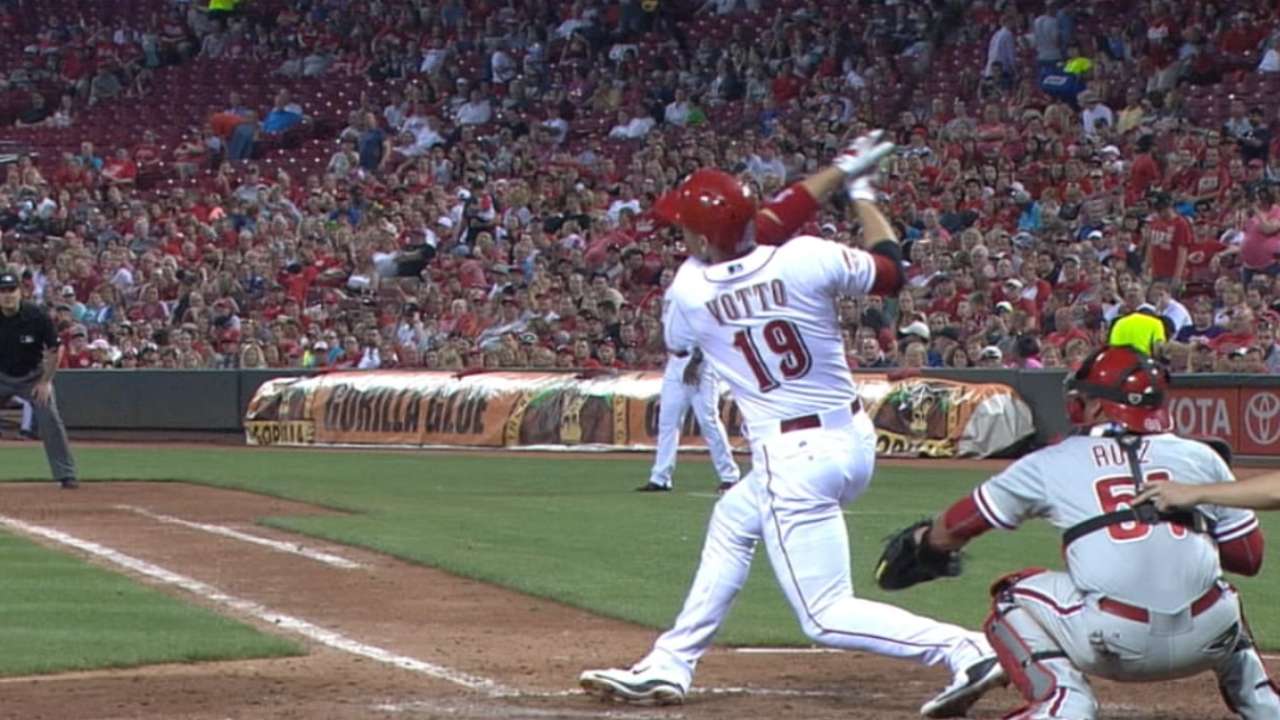 Votto not only played 158 games (two games were missed because of suspensions), his production returned to the elite level the Reds were once accustomed to, as he batted .314/.459/.541 with 29 home runs and 80 RBIs. His 1.000 OPS was third-best in the Majors, leading to a third-place finish in the National League MVP Award balloting.
It was a historical second half that amazed most, as Votto led the Majors in hitting (.362), on-base percentage (.535) and had a .617 slugging percentage. The only players to produce those numbers in a half-season were Ted Williams in the second half of the 1941 season and Barry Bonds in the first half of 2004.
Of course, Votto's renaissance came as the Reds endured a second-half free fall.
"It's really very frustrating, because it's not part of important wins carrying us down the stretch," Votto said in September. "It's like I've paired my best play with our most losses, which is doubly frustrating."
Mark Sheldon is a reporter for MLB.com. Read his blog, Mark My Word, follow him on Twitter @m_sheldon and Facebook and listen to his podcast. This story was not subject to the approval of Major League Baseball or its clubs.