Papelbon reportedly updates no-trade list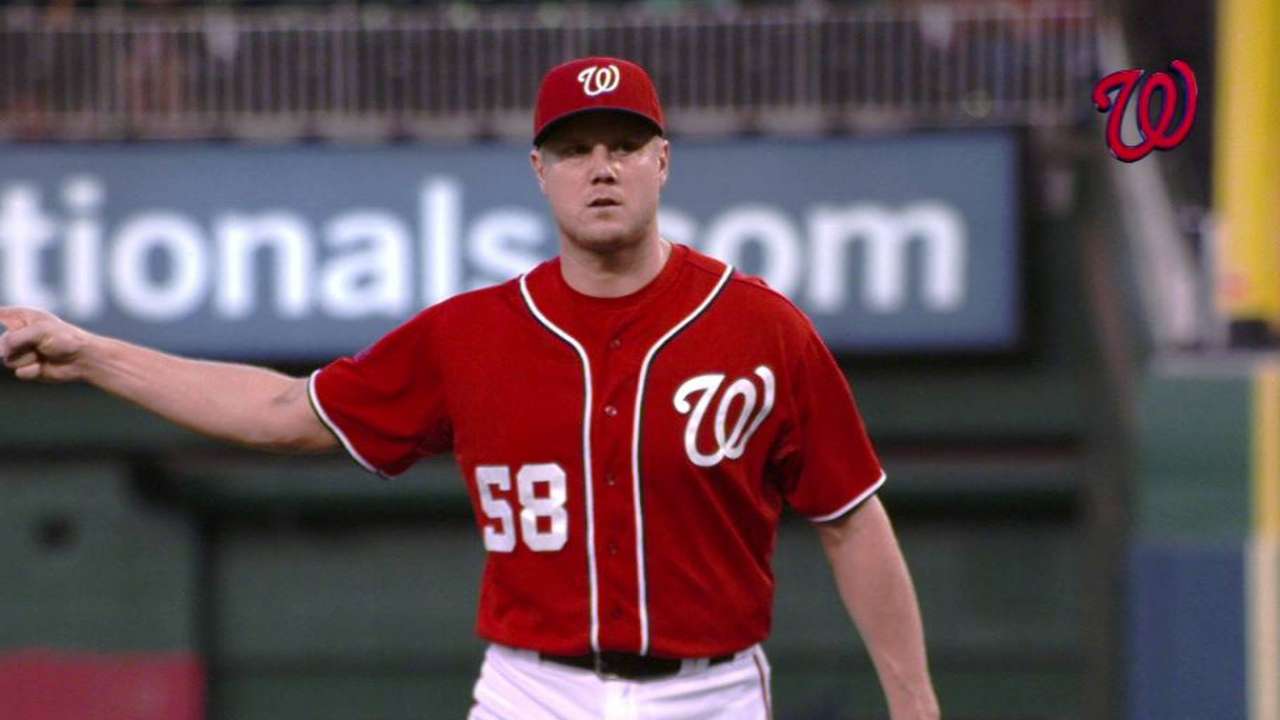 Nationals reliever Jonathan Papelbon has reportedly updated his no-trade list for the 2016 season, according to ESPN.com's Jerry Crasnick.
Papelbon's new list of teams to which he can block a deal are: the D-backs, Braves, Orioles, Reds, Rockies, White Sox, Astros, Royals, Dodgers, Marlins, Brewers, Twins, A's, Pirates, Mariners, Rangers and Blue Jays.
And the teams he can be traded to without his permission are: the Red Sox, Cubs, Indians, Tigers, Angels, Mets, Yankees, Phillies, Rays, Cardinals, Padres and Giants.
According to Crasnick's report, the most notable change is that the Yankees have gone from a blocked club to a potential trade destination. Despite Papelbon's change, there have been no clear indications the Yankees have interest.
It's widely believed the Nationals will make a move to alter their bullpen with two bona fide closers -- Papelbon and longtime Nats reliever Drew Storen -- on the depth chart, and with Papelbon's controversial clubhouse presence.
Papelbon's time in Washington in the second half of last season -- he was acquired from Philadelphia at the non-waiver Trade Deadline -- was marred by poorer performance (his ERA in 37 games with the Phillies was 1.59, and it was 3.04 in 22 appearances with the Nats) and the widely discussed dugout spat he had with National League MVP Award winner Bryce Harper as the team's disappointing season spiraled in September.
The Phillies, notably, are also a team that Papelbon can be traded to without his permission. But after ending his three-plus-year tenure in Philadelphia on sour terms, it's an even more unlikely fit than him staying in Washington.
The Giants and Tigers are the other two clubs -- along with the Phillies and Yankees -- that moved into the group of teams to which Papelbon can be freely dealt. On the flip side, the Braves, Reds, Royals, and Mariners have moved into the group of teams to which Papelbon can reject a trade. Of those four clubs, Seattle is the only one that might seem inclined to deal for a big-name closer, though the Mariners just named the newly-acquired Steve Cishek as their closer earlier this week.
Joey Nowak is a reporter for MLB.com. Follow him on Twitter at @joeynowak. This story was not subject to the approval of Major League Baseball or its clubs.