Medlen embraces family, giving spirit at Christmas
KANSAS CITY -- Royals right-hander Kris Medlen loves everything about the Christmas holiday.
He loves the sparkle of the ornaments on Christmas trees, the lights on lawns and houses. He loves the spirit of giving. The only thing missing this time of year at his Augusta, Ga., home is a pretty snow fall -- that's the tradeoff for living in the South, where it can be 70 degrees on Christmas Day.
But one of Medlen's neighbors has a remedy for the lack of snow fall.
"We have a guy in our cul-de-sac who actually has three tons of snow shipped in," Medlen told MLB.com. "The trucks come in and they spread it around his yard and his kids get to play in it. We got invited last year, and I've been told we'll be invited again this year. It's really fun. It melts pretty fast, but the kids have such a great time."
Well, there you go -- a white Christmas in Augusta. At least for a day.
Here's what else Medlen had to say about Christmas:
MLB.com: What's your favorite part about Christmas?
Medlen: I love it all. I just like the way it brings the whole family together in the spirit of giving. It just gives me a lot of joy to see everyone get so close and be happy. It's not just about the presents, but it's about the spirit behind the giving. It just makes you feel good.
MLB.com: Do you remember your favorite Christmas?
Medlen: That's hard to answer. I think it became more meaningful once I had a family. My wife, Nicki, and I were married in 2012. Our son, Max, was born the next year. Our daughter, Penny, just turned 1 last month. It takes on more meaning when you have a family, so I would say the last three have been the most special.
MLB.com: What is the favorite gift you ever received?
Medlen: Oh, gosh, I don't know. I remember when I got my first bike -- it was a black and neon orange Huffy. I think I was about 7 years old. That was pretty special. But I'd have to say, too, that last year, getting a two-year contract from the Royals was a pretty great Christmas present. I mean, for them to take a chance on a guy who had two Tommy John surgeries, that was special. That certainly made the holidays even more enjoyable. And it made me work even harder.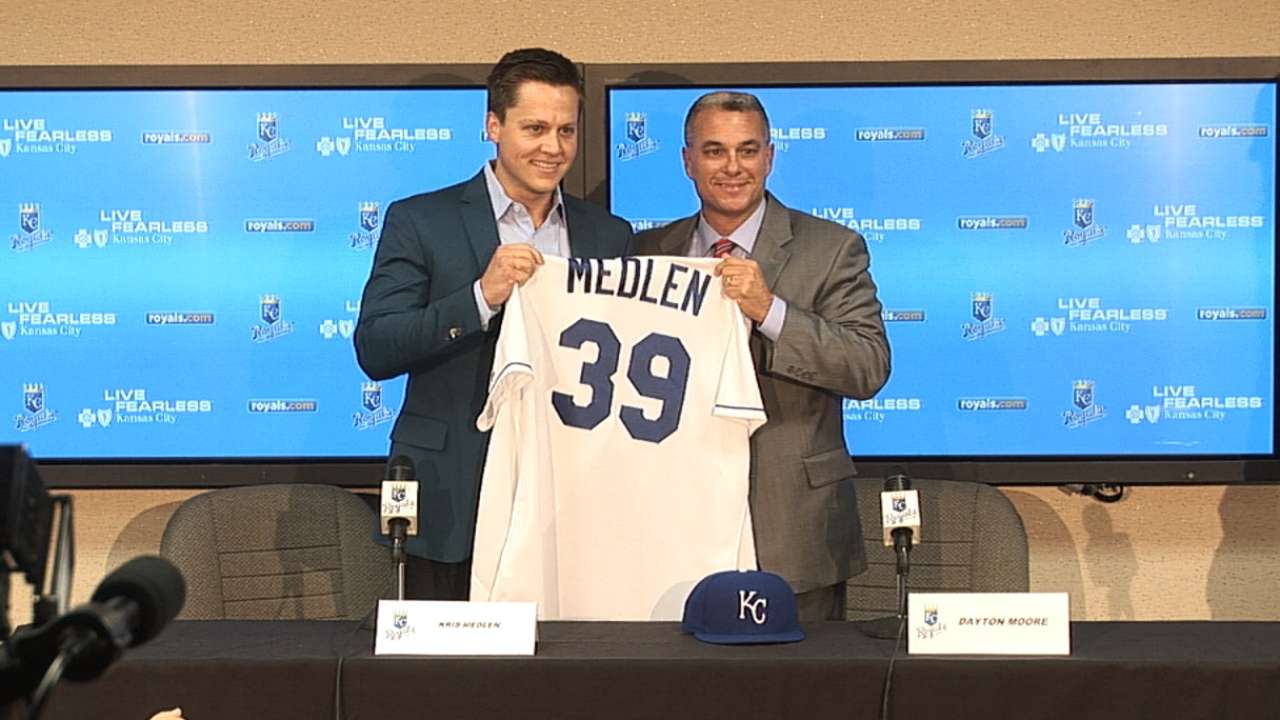 MLB.com: And a World Series championship this year was a pretty nice present?
Medlen: Oh, absolutely. But I knew from Day One it was possible. I remember looking around the locker room in Spring Training and seeing all the guys and thinking, "This team is good!" It was pretty cool to play with this group of guys. I'm grateful for that.
MLB.com: What is the best present you ever gave?
Medlen: Another toughie. I really don't know. I'm one of those people who gives gifts all year long, a lot of times for no reason. I just like doing that sort of thing. I can't think of one specific one.
MLB.com: You lost someone close to you, Tommy Hanson, and that had to be hard, especially this time of year.
Medlen: Yes, it has been hard. We came up through the [Braves'] system together. We were close. It just makes you appreciate everything you have, because you never know when it will be gone. I think about him a lot. And at times it has made it harder to enjoy this time of year. But I have a wonderful family and I'm grateful for that.
Jeffrey Flanagan is a reporter for MLB.com. Follow him on Twitter at @FlannyMLB. This story was not subject to the approval of Major League Baseball or its clubs.