Injuries, instability dampen Marlins' spirits in 2015
Season opens with home rain delay, club loses Alvarez early, Redmond dismissed, Stanton hurt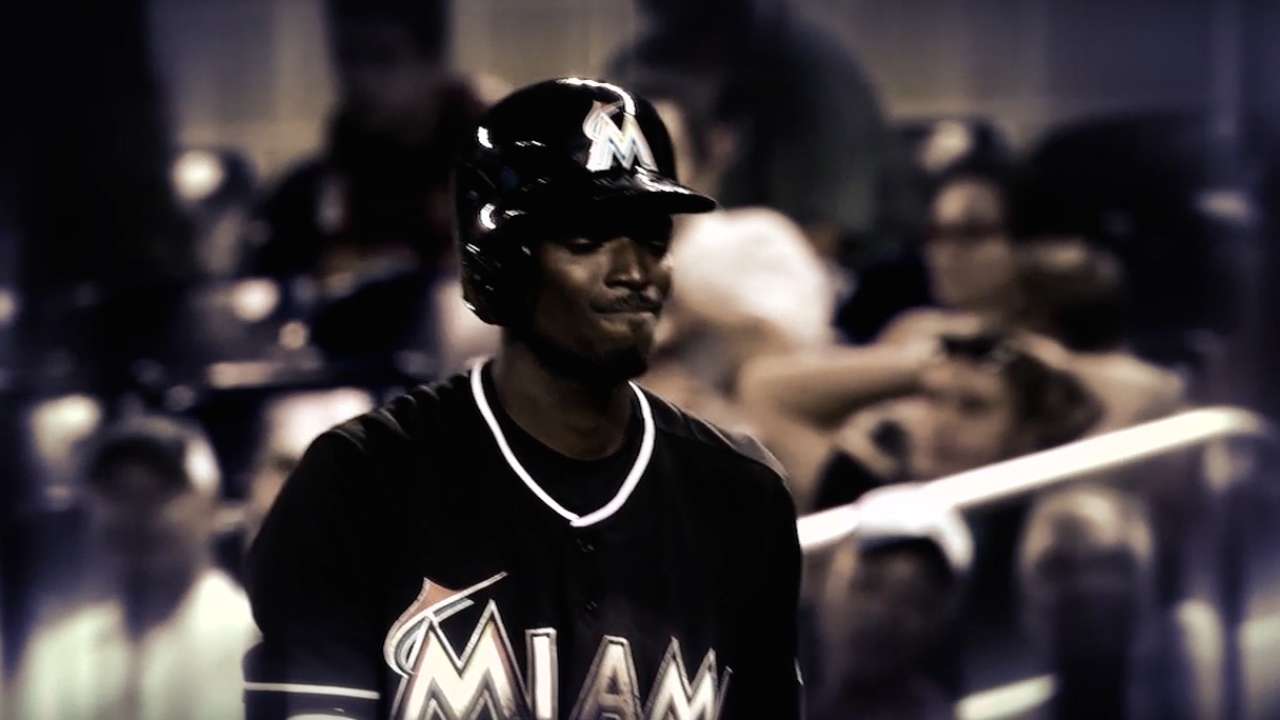 MIAMI -- Whatever could've gone wrong basically did for the Marlins in 2015, a year filled with turmoil and instability. The first sign of trouble came shortly after Michael Buffer, the legendary boxing ring announcer, introduced the lineups on Opening Day.
A couple of innings after Buffer bellowed his trademark, "Let's get ready to rumble!" the sky basically fell on Miami's season. A short rain delay took place at Marlins Park, which has a retractable roof. Perhaps it was a symbol of what was to come, as the season soon turned soggy. There were some brighter spots down the stretch, but by then, any hope of salvaging a winning year was long gone.
There was turmoil from the start, with manager Mike Redmond being dismissed on May 17, and a surprising replacement being named the next day. Dan Jennings transitioned from general manager to manager, which created more confusion to a clubhouse that was wondering what was next.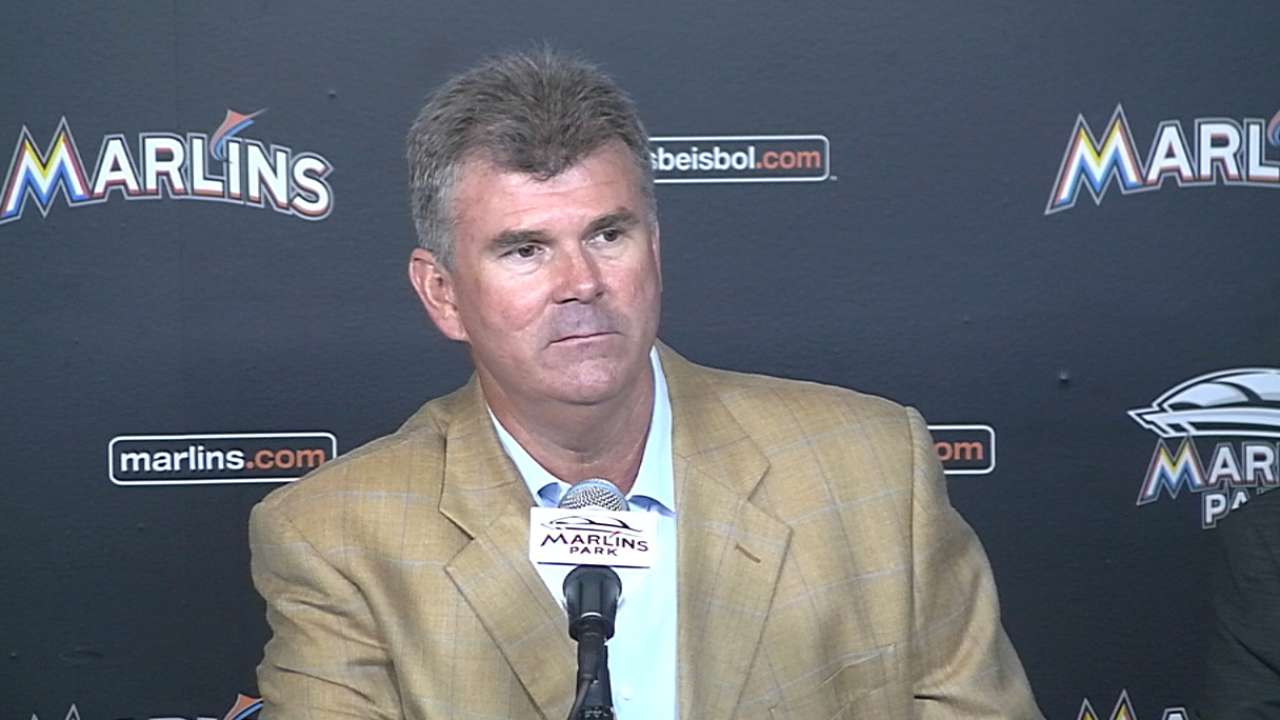 There were also numerous injuries to core players, such as Opening Day starter Henderson Alvarez (right shoulder) and Giancarlo Stanton (broken left hamate bone).
After playing out a 71-91 season, the front office remained confident that the pieces are in place for Miami to be successful in 2016.
"We have an incredibly talented core of young players," president of baseball operations Michael Hill said. "We have pieces in our bullpen. We have starting-rotation pieces. We need to try to create as much depth as we possibly can to allow us to get [to the postseason] in 2016."
Before putting 2015 to rest, here is a look at the top five moments of the year.
5. Who's the boss?
Popular with his players, Redmond appeared to be the right fit for a young core that had been together since losing 100 games in 2013. The club improved by 15 games in '14, and Redmond received a contract extension through '17. But after a 3-11 start, rumbling occurred that his job was in jeopardy. Redmond was let go on May 17, with the team sitting at 16-22, and Jennings became his improbable replacement.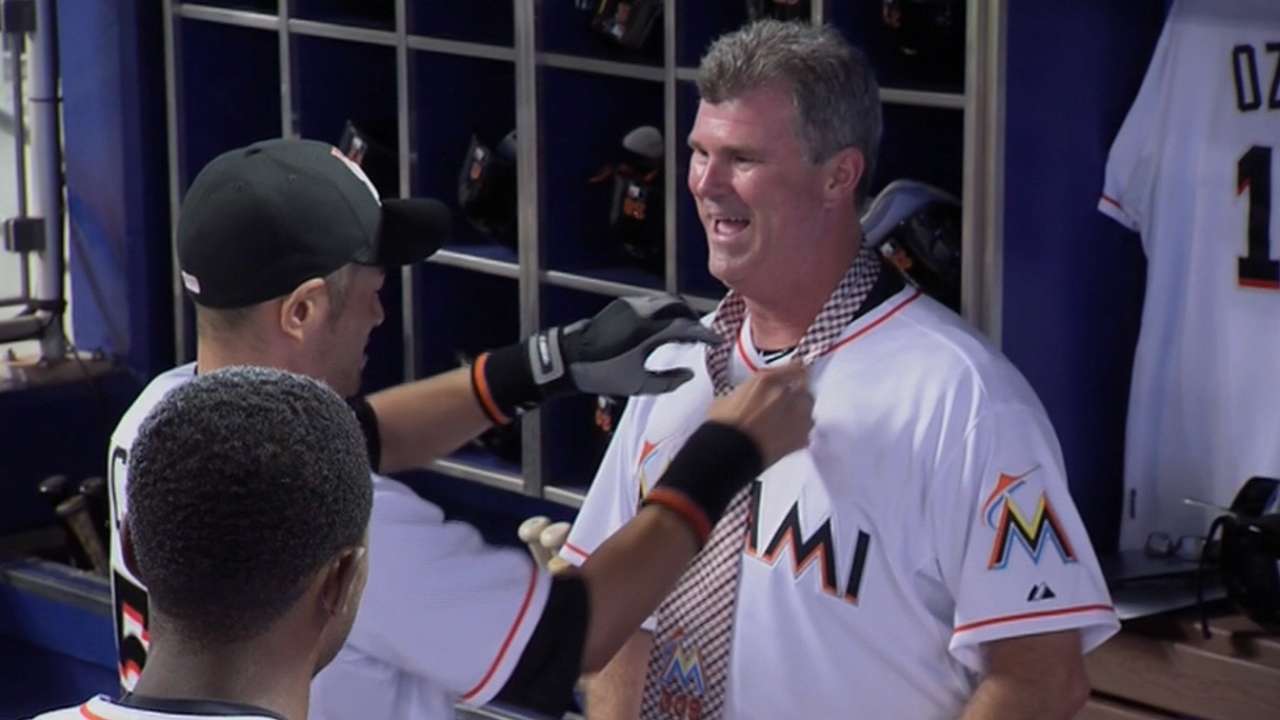 To their credit, the players bonded together late and won 17 of their final 29 games, showing promise. But Jennings ended up being dismissed as manager, and in late October, he was also dismissed as general manager.
4. Setting the tone
Starting pitching generally sets the tone. It did for the Marlins, in reverse.
The club was banking on Alvarez assuming the role of ace until Jose Fernandez returned from Tommy John surgery. Fernandez came back on July 2. By then, Alvarez's season essentially was done. He made just four starts -- all losses -- and in July, he underwent season-ending shoulder surgery.
Mat Latos' tenure in Miami was short-lived, and he was dealt to the Dodgers in late July. Dan Haren showed professionalism and was effective in the first half, but he was traded to the Cubs.
There was constant motion and not much continuity with the rotation.
3. No place like home
No matter what ballpark he's pitching in, you like your chances with Fernandez on the mound. Still, Marlins Park brings out the best in the 23-year-old. On Sept. 25, Fernandez made history in Miami's 12-11 slugfest over the Braves. The win ran Fernandez's record to 17-0 at Marlins Park, which established an MLB record. Since 1900, no pitcher had won as many decisions in a row at home to start a career.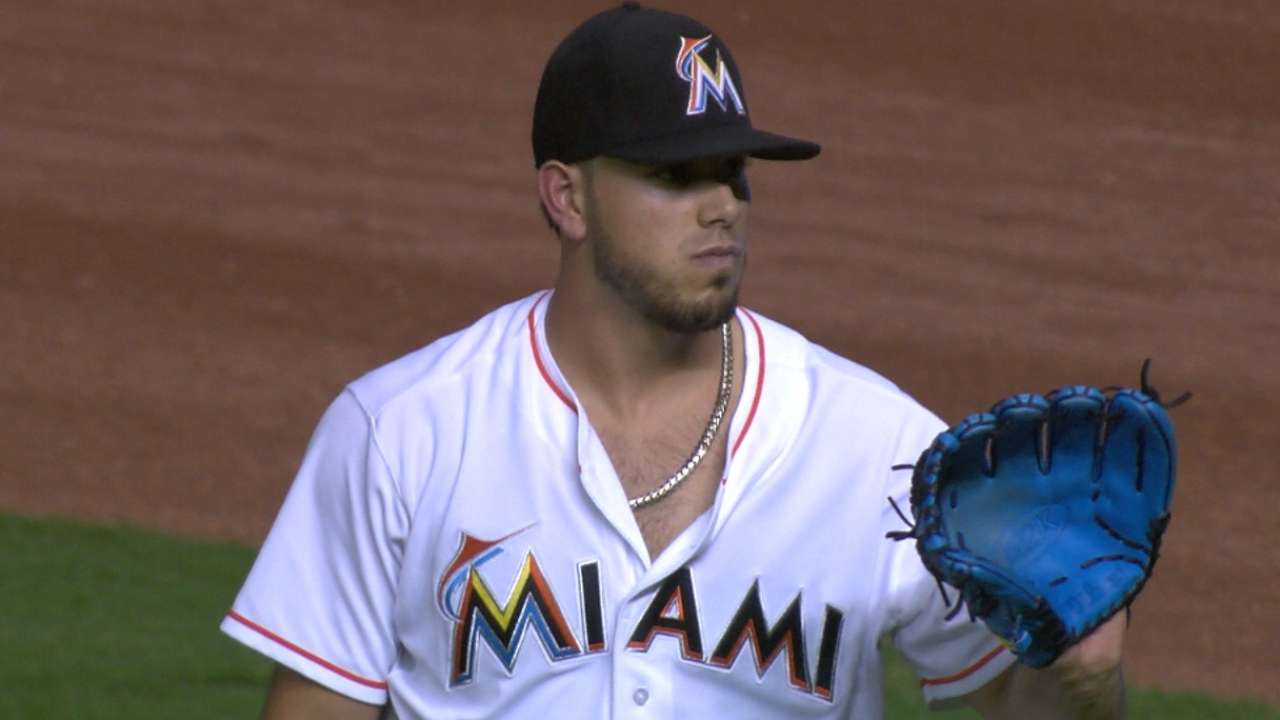 In six home starts, Fernandez was 5-0 with a 2.57 ERA.
2. Brutal break
Baseball has its share of power hitters, but none quite like Stanton. The three-time All-Star mashes baseballs. According to Statcast™, the average exit velocity of every ball the slugger put in play was 99.1 mph, tops in the Majors.
But one mighty swing on June 26 ended up ending Stanton's season. He broke the hamate bone in his left hand, and two days later, he underwent season-ending surgery.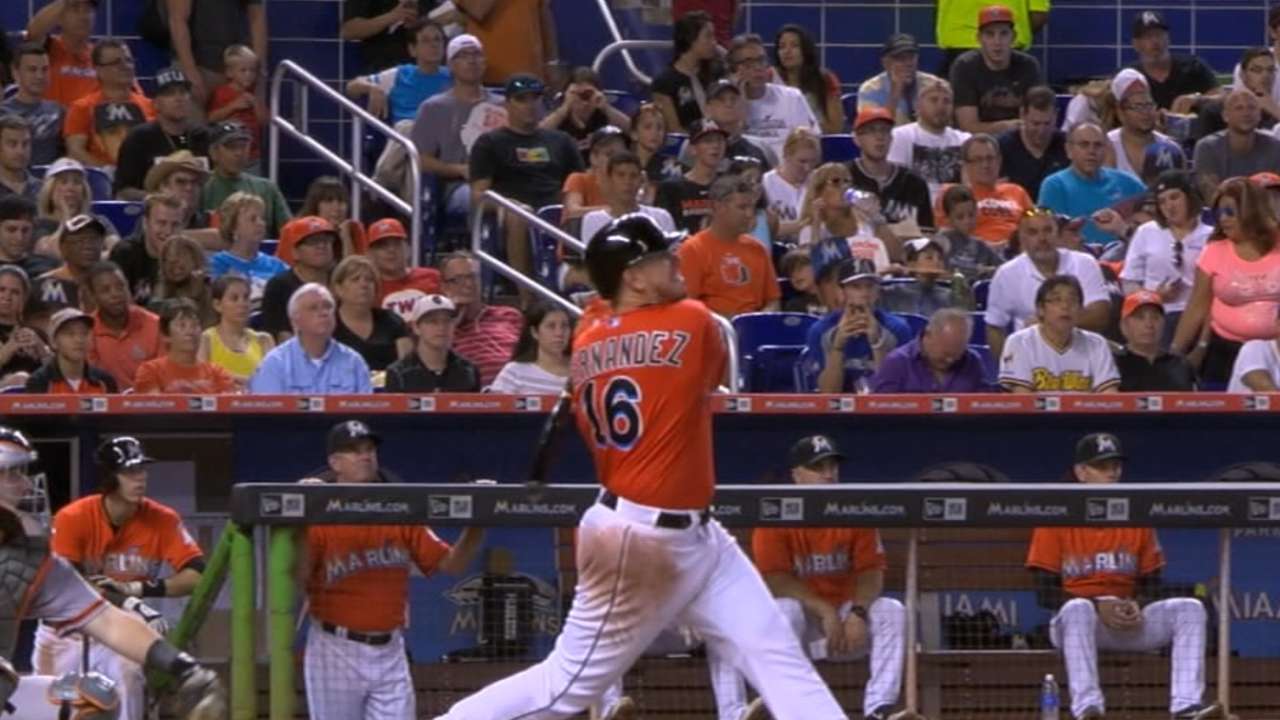 Prior to his injury, Stanton had been on a roll, clubbing 12 homers while driving in 23 runs, which earned him National League Player of the Month for a month he was unable to finish.
1. Dee-pendable
For all that went wrong in 2015, the Marlins' feel-good story was Dee Gordon. The 27-year-old won the NL batting title (.333) and was the MLB leader in stolen bases (58) and hits (205). Voted in by the fans as the NL starting second baseman in the All-Star Game, Gordon was unable to participate due to a dislocated left thumb.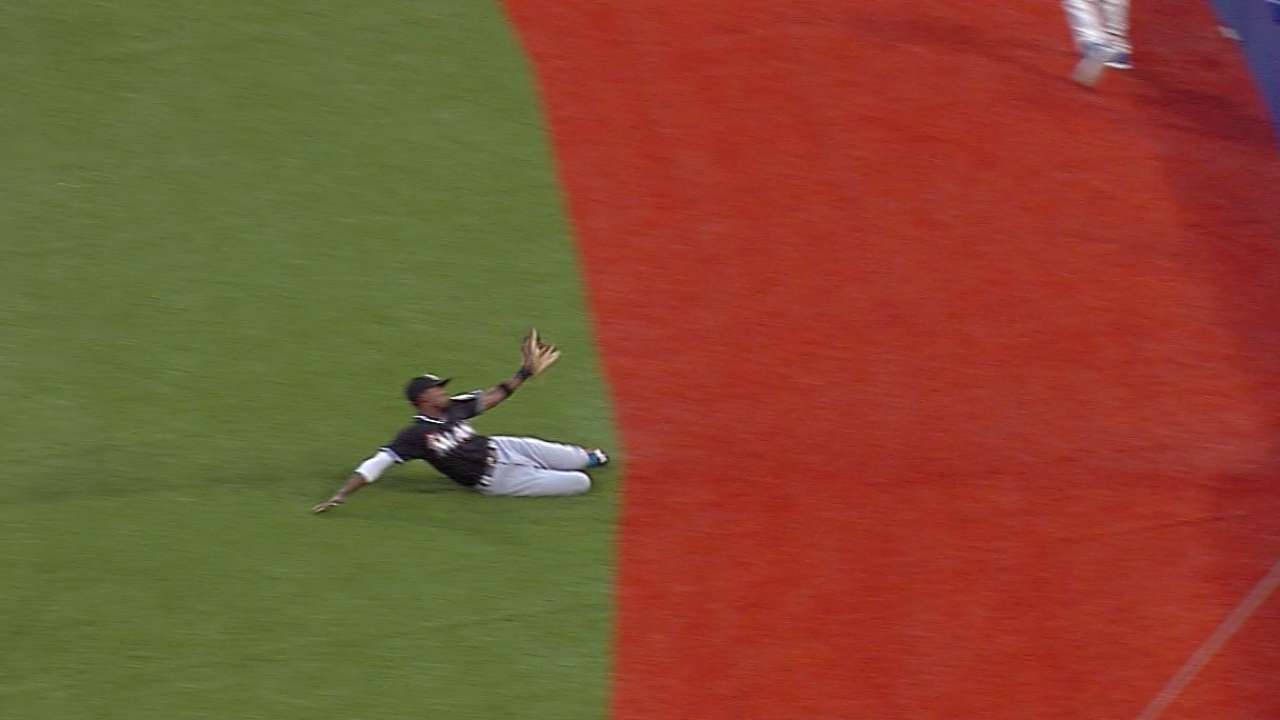 The injury didn't slow him down long, as he ended up enjoying one of the best seasons in Miami history. Capping his year, Gordon racked up an NL Gold Glove Award and NL Silver Slugger Award. He was also Wilson's top defensive second baseman.
When you consider Gordon's breakout year, not all was lost for the Marlins in 2015.
Joe Frisaro is a reporter for MLB.com. He writes a blog, called The Fish Pond. Follow him on Twitter @JoeFrisaro and listen to his podcast. This story was not subject to the approval of Major League Baseball or its clubs.