Jays Care brightens kids' holidays at Snow Ball
TORONTO -- The holiday season came early for lucky participants of the Rookie League, as Jays Care Foundation hosted 400 children from local community housing neighborhoods at the 2015 Snow Ball.
The children were encouraged to visit Rogers Centre earlier this month to take part in a four-hour carnival on field level. There were games, interactive exhibits and plenty of food options as the participants got to experience a Major League ballpark firsthand.
The Rookie League operates in all 10 Canadian provinces and the Yukon Territory with the goal of creating social change for 7,500 children in 137 communities across the country. In Toronto alone, the initiative impacted 1,250 young athletes in 50 unique neighborhoods.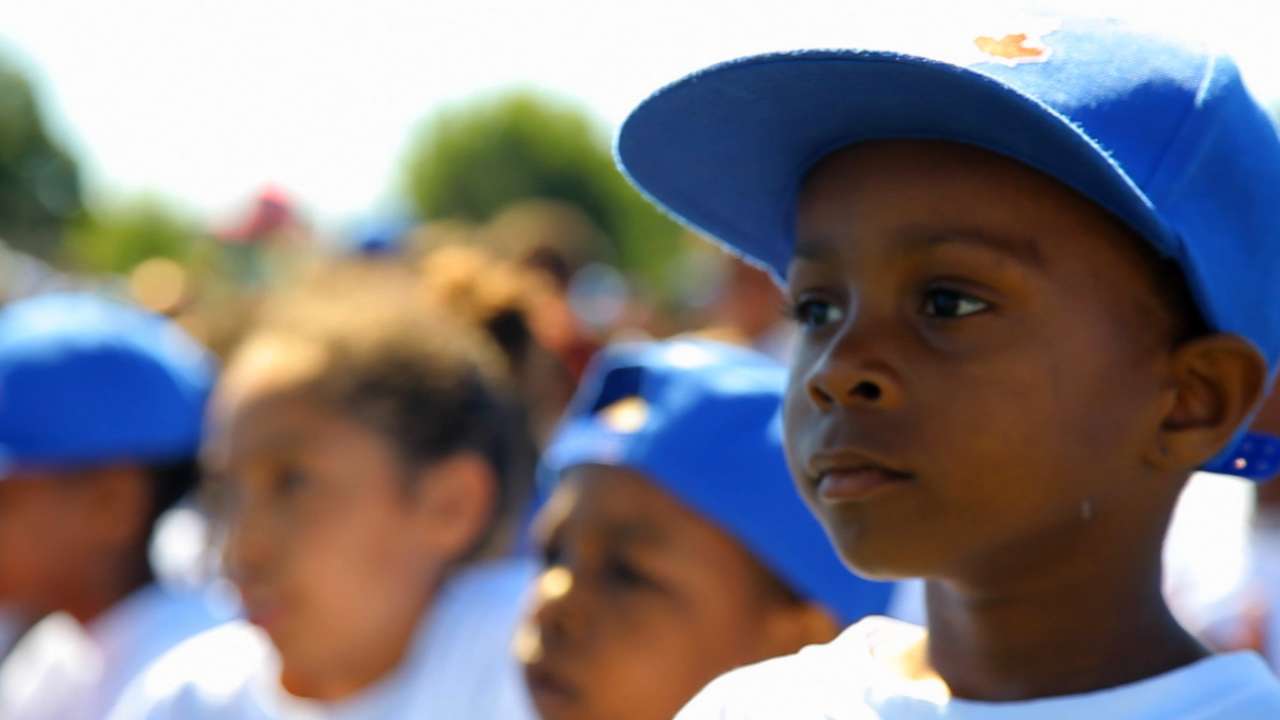 "The feedback we got from the parents were extremely positive," said Sherwin Modeste, who is the manager of sponsorship, grants and development for the Toronto Community Housing Corporation. "Children were ecstatic after the event, as these opportunities don't come very often for them.
"They enjoyed the entire day and were extremely pleased with the activities they took part in. They didn't mind getting up early as they knew the fun-filled day was waiting for them at the Rogers Centre. Parents were very grateful for the opportunity Jays Care Foundation presented to their children and hopeful they can participate in more events like this."
All Rookie League participants left with a Blue Jays toque, a hockey puck and a Christmas book donated by the Rogers family. As an added bonus, Santa and his elves were joined by the mascots from the Blue Jays and Maple Leafs for pictures and interactive exhibits.
Jays Care has been an integral component of the annual Rookie League by providing equipment, T-shirts, hats and baseball resources, in addition to sustainable grants, to each community. The league's mandate is to "teach children the importance of teamwork, cooperation, resiliency and self-esteem."
"It was awesome and I really liked the magicians and seeing them do tricks and levitate," said participant Matthew Hammond, who was showing off some impressive vocabulary.
The Rookie League is run in conjunction with the Toronto Community Housing Corporation, the YMCA of Canada, the Boys & Girls Clubs of Canada and the Pathways to Education Canada. In total, Jays Care has donated more than $13.8 million toward community and charitable groups across Canada.
In 2015 alone, Jays Care invested approximately $3 million across Canada and impacted 62,700 youth. A total of $6.5 million has gone toward the creation of 65 safe-youth spaces, which included the refurbishment or creation of 34 baseball diamonds in the country.
All of that big-picture stuff is essential to helping the next generation of Canadians, but at the annual Snow Ball, it was more about putting all of that aside and letting the children have some fun. Based on the reaction, it seems to have been an overwhelming success.
"The kids had a great time," said youth volunteer Marleka Gittens. "Even though you had to get me out of my bed at the crack of dawn, I am glad I was able to bring them to the Rogers Centre. They were so happy to get their hat, which was a really nice surprise."
Gregor Chisholm is a reporter for MLB.com. Read his blog, North of the Border, follow him on Twitter @gregorMLB and Facebook, and listen to his podcast. This story was not subject to the approval of Major League Baseball or its clubs.