Quirk thrilled to again work with Royals
Former Kansas City player will manage at Class A Advanced Wilmington
KANSAS CITY -- Former Royals player Jamie Quirk remembered riding in the 1985 World Series championship parade and thinking it was the greatest thing he'd ever seen.
Then Quirk, recently hired as the manager at the Royals' Class A Advanced Wilmington affiliate, saw the 2015 championship parade on television from his home in Kansas City and was completely blown away.
"I've lived here a long time and feel a part of this community," Quirk said. "It was unbelievable to see the way Kansas City embraced this team. It made you so proud to be part of this community and this city. Everyone was proud. It was incredible.
"The '85 parade was really cool, too. We had all the confetti come down from the buildings, but there were some problems, too. I remember Willie Wilson's car catching on fire. It was that old, real clumpy confetti, and I guess some of it got stuck in the engine of the convertible that Willie was riding in. It was a great parade, don't get me wrong. But it was nothing like what happened here in November -- 800,000 people all in blue."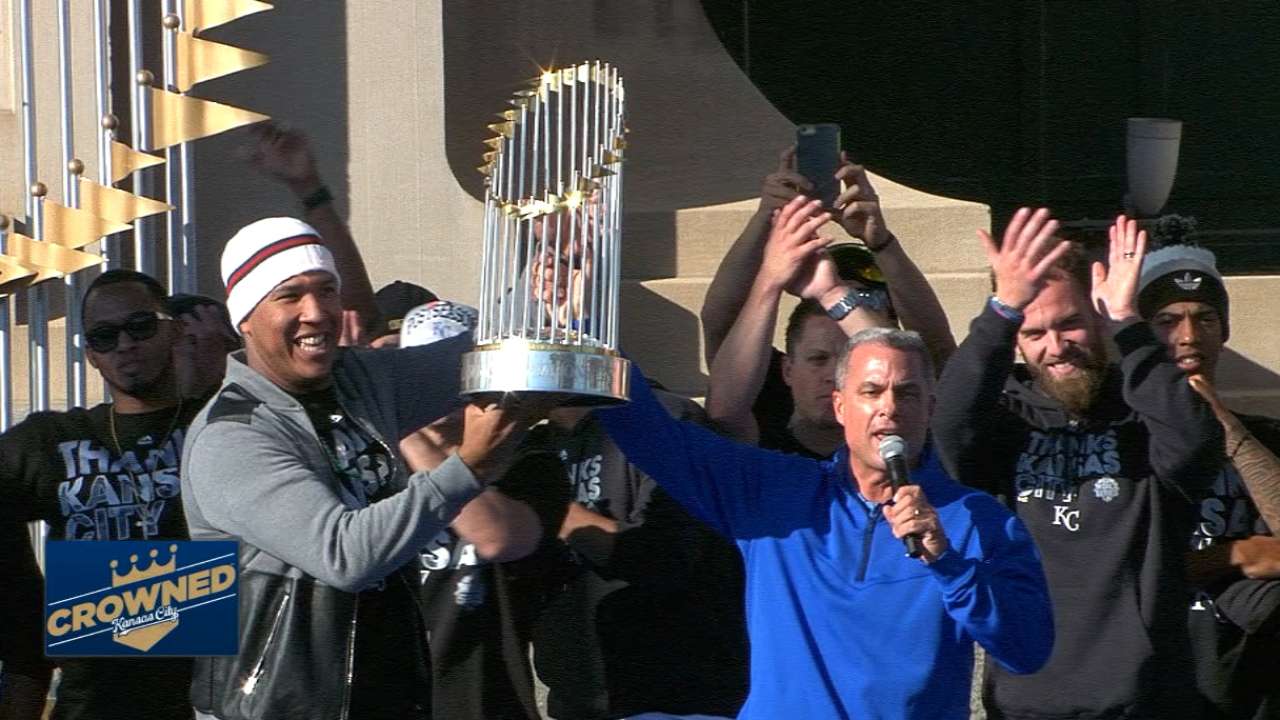 Though Quirk has been away from the Royals for well over a decade, his heart never left the organization. He had three stints as a player with the Royals (1975-76, 1978-82, 1985-88), was the Royals' bullpen coach in 1994-95 and was the bench coach from 1996-2001.
Then Quirk began a journey as a big league coach for the Rangers, Rockies, Astros and Cubs before landing in the Padres' organization as a Minor League manager the past two seasons. And it was with the Padres when he began wondering what it would be like to get back to the Royals.
"I just kept thinking about how nice it would be to finish my career with the Royals," Quirk said. "It's where I live and it's where I really always wanted to be."
And now that has happened.
"I just couldn't be happier," Quirk said.
How it all came to be was quite a coincidence. Quirk, 61, was managing the Padres' Double-A San Antonio team, which was on the road playing the Royals' Northwest Arkansas affiliate last summer.
On hand that weekend was Royals general manager Dayton Moore, who often makes trips to see his affiliates throughout the season.
By chance, Quirk ran into Moore before one of the games.
"I was gone long before Dayton took over the Royals," Quirk said. "But I'd met him several times at functions around Kansas City and obviously was very impressed with him. We had a nice chat that day around the batting cage and I just kind of dropped a hint that, hey, maybe down the road there might be something for me with the Royals.
"At that point, I really didn't think it had to be something in uniform. But I was anxious to get back to the Royals and finish my career with them. He was very nice and said to call him after the season. Well, of course, the season went on all the way to November and I certainly didn't want to bother him during the playoffs. But after the season we talked again, and soon after that I met [assistant general manager] J.J. Picollo for breakfast.
"Then after that they called and said, 'Well, all we've got is a Class A managing job.' And I said, 'Great! I'm all in!'"
One of the first calls Quirk made after that was to his longtime friend, George Brett, the Royals' vice president of baseball operations.
"He was thrilled, of course," Quirk said. "But actually, I never talked to him about it during the process. I just kind of wanted to keep it low-key. But I found out later that he knew, because they told him."
The two of them will be back on the field together come next February at Spring Training.
"I really am just so happy about all of this," Quirk said. "My family is happy, too. Wilmington is a great affiliate, I know that. And the organization has changed so much since I was here last. It has become the model organization in baseball. It reminds me of what we were in the '70s and '80s. Back then we tried to be like the Dodgers, and then we pretty much surpassed them.
"And I know this organization is built like the Braves were, but it has surpassed them, too. I have just heard nothing but great things about Dayton and the way this organization is run. And now I get to be a part of it again."
Jeffrey Flanagan is a reporter for MLB.com. Follow him on Twitter at @FlannyMLB. This story was not subject to the approval of Major League Baseball or its clubs.