Chernoff family finds sun, fun during holidays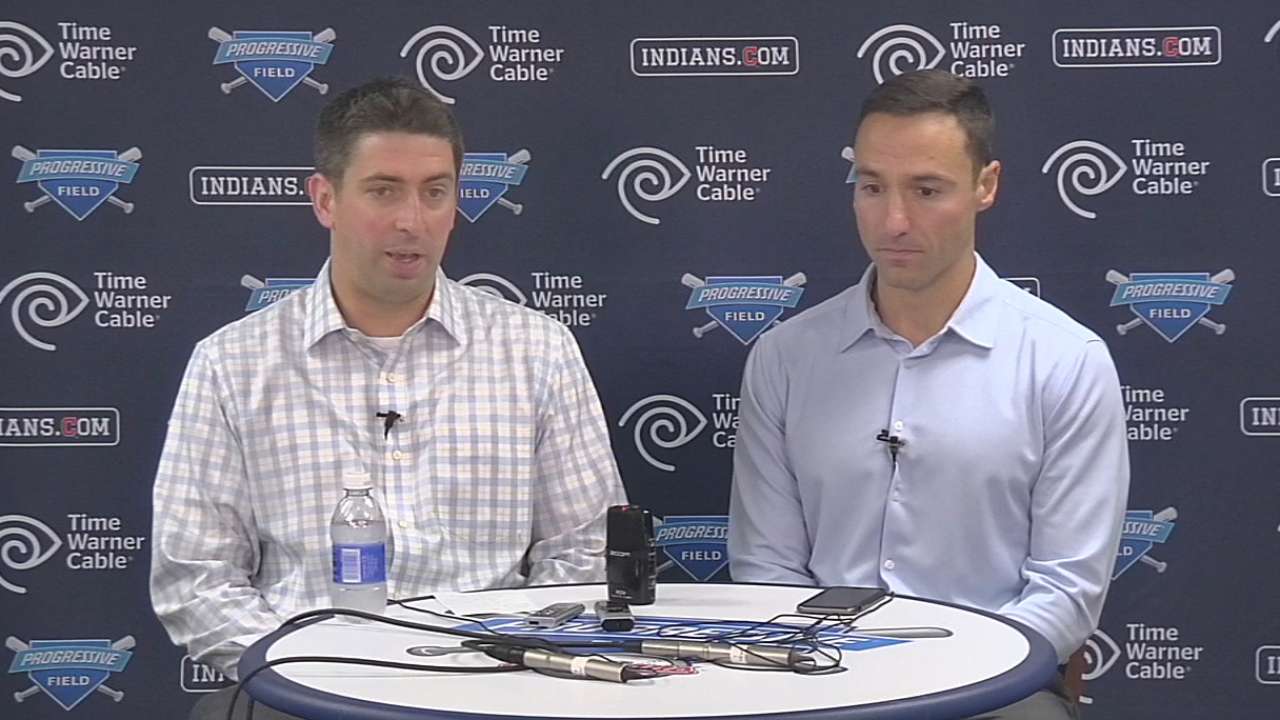 Mike Chernoff already received a big present this offseason: being named the Indians' new general manager. Chernoff took a break from shopping for an impact bat to help Cleveland's lineup in order to discuss the holiday season in a recent interview with MLB.com.
MLB.com What are your plans for the holidays this year?
Chernoff: We are going to go away and get some warmer weather and try to relax. We'll get away, get some sun and spend time with our family. It'll be my immediate family, and my wife's dad and her sister and her sister's family. So, cousins, aunts and uncles and grandpa will all be there. We have fun.
MLB.com So, your version of a "White Christmas" is having white sand?
Chernoff: [laughing] That's exactly right.
MLB.com With two young sons, do you guys have any holiday traditions?
Chernoff: We're Jewish, so we celebrate Hanukkah and we have some fun things we do as a family for that. We decorate our house. That was a big part of my wife's upbringing to do that. So, we decorate the house for Hanukkah, and the big one that my wife's mom used to do is make potato latkes. We did it on a recent weekend. My wife and the boys made potato latkes. Our house still smells like onions from that. But that's one of the big traditions. That's a big thing.
MLB.com: What kind of decorations do you put out?
Chernoff: The kids put up stickers on the windows. They put the dreidels out and they have some menorahs that they put out, things like that. They made all kinds of pictures that we put out, too.
MLB.com One of your personal traditions is to somehow find a way to play catch with your dad once a month. With him living out of state, does the holiday season make it easier to check off December and January?
Chernoff: It makes it easier. He's coming out soon to spend some time with our family. We'll have our catch. It's often in like three feet of snow when we do it in Cleveland in mid-December. If it was this week, it'd be fine. Hopefully, it won't be snowing. Holiday time usually makes it easier. We get to have our Thanksgiving catch. Sometime in December, our Christmas catch, and we can usually find a time in January to get together as well.
MLB.com Do you have a favorite memory from the holidays when you were a kid?
Chernoff: My favorite thing about Hanukkah, my parents were not big on presents, but every year I would get a new baseball glove. That was the big thing. We had fun. When I was a kid, we used to always get Chinese food and go to a movie on Christmas. That's like the north New Jersey thing to do if you're Jewish. Now, we have fun with it, too. We celebrate like our own little silly Christmas on a beach.
MLB.com Do you have a favorite holiday movie?
Chernoff: I'd say, "National Lampoon's Christmas Vacation."
MLB.com: How good would you say you are at wrapping presents?
Chernoff: Horrible. I get tangled up in the wrapping paper any time I try. I leave all that to my wife.
MLB.com: How would your family rate your gift-giving skills?
Chernoff: Thankfully, my wife takes care of that as well. Put it this way, I procrastinate and then I usually do OK, but it's very last-minute.
MLB.com Is there anything on your gift list this year?
Chernoff: A young star player? No, I'm not a big present guy. All I care about is spending time with my family.
Jordan Bastian is a reporter for MLB.com. Read his blog, Major League Bastian, follow him on Twitter @MLBastian and listen to his podcast. This story was not subject to the approval of Major League Baseball or its clubs.