Ramirez makes life-changing trip to Haitian orphanage
Cubs reliever, wife marvel at joy of children despite living conditions in poor country
Cubs pitcher Neil Ramirez and his wife, Tiffany, got married last October and decided to travel to Haiti for their honeymoon. They didn't stay at a luxurious resort, but spent their time helping kids at an orphanage. And meeting the children there changed the couple's lives.
Ramirez found out about the orphanage through Brad Henderson, who handles chapel in Pittsburgh for both the Pirates and Penguins, and is active with the Pittsburgh Kids Foundation. Henderson also guided Cardinals pitchers Adam Wainwright and Kyle McClellan to Haiti to help.
"Kyle kind of challenged me and my wife early in our marriage," said Ramirez, who was a teammate of McClellan's in 2013 on the Rangers' Double-A Frisco team. "He said, 'I'm telling you, when you're young and you're married, it's a whole lot easier to go on these kind of trips and do this kind of mission work than when you have kids.' He challenged us to go."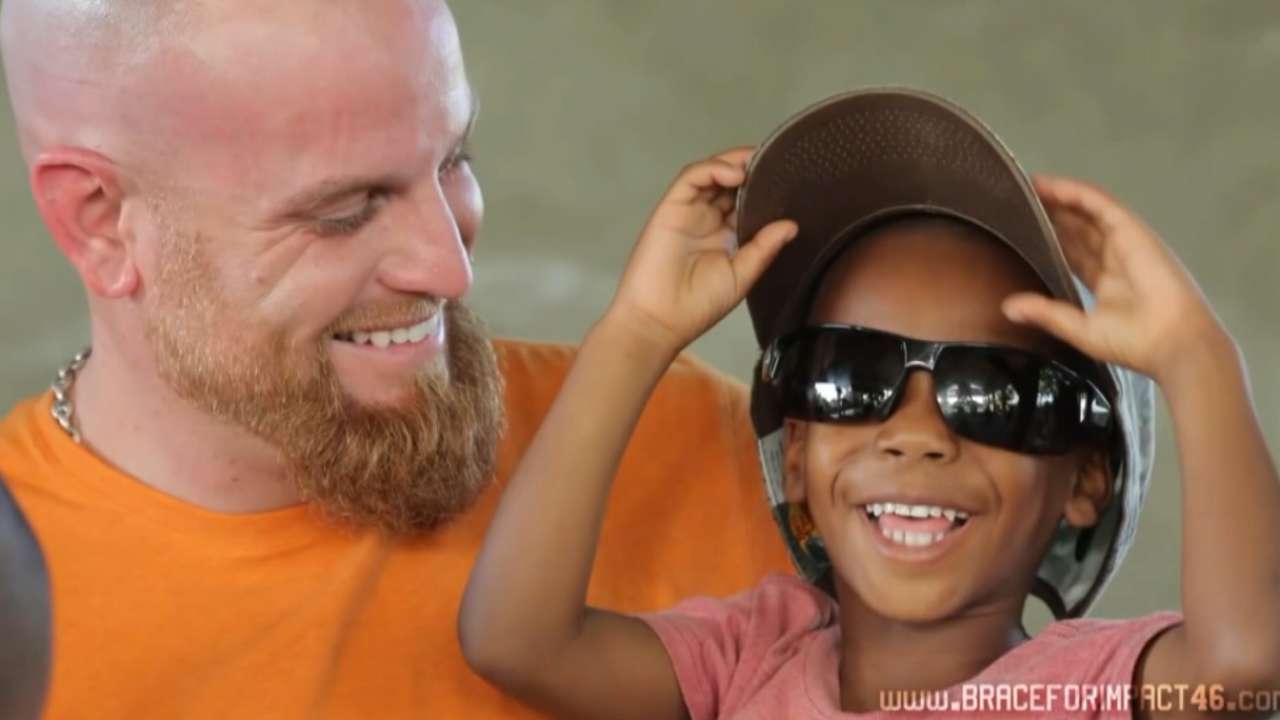 McClellan has hosted fundraising events to help the IDADEE Children's Home in Haiti, a Christian non-profit association. Wainwright has contributed to the facility, as well. Henderson travels to Haiti once a month.
"Neil's a great example of somebody who went down there and was really transformed," Henderson said.
As soon as Neil and Tiffany arrived at IDADEE in Cap-Haitien, the children rushed out to greet them.
"When you show up, they're immediately jumping into your arms," Ramirez said. "We're complete strangers to them. The first time they see us, the younger kids, they were jumping off the steps and into our arms and trusting us to catch them. They had so much joy."
Haiti is one of the world's poorest countries, and it was shaken in January 2010 by a magnitude 7.0 earthquake, which left more than 40,000 people dead and 80,000 homeless. The island is still recovering.
"Seeing those kids and the joy they have in the face of extreme poverty, it's pretty overwhelming," Ramirez said. "You think about our society and all the stuff we have and the stuff we take for granted, like being able to have clean water, to go to the bathroom, to have food -- all these things we don't even think twice about. It's a struggle every day for these people to know whether they're going to get a meal and whether there will be a next meal after that."
The orphanage recently added another floor to house more children. A nurse is on staff full time. They are working on having a doctor and clinic as well, which will help not only the orphanage but others in the area.
"We got to go out into the community, too," Ramirez said of his trip. "These kids are so fortunate to have this orphanage with the food and stuff they get. When you go into the community, you see what it's really like, and it's just amazing to see how much of a struggle it is for these people to just get a meal."
When the orphanage had enough money to build some latrines, the reaction was amazing, Ramirez said.
"[Henderson] said it brought them to tears and you saw these people running into the streets praising God for the ability to have some place to go to the bathroom," Ramirez said.
Ramirez had planned on returning to Haiti this offseason, but the Cubs' postseason push changed his plans.
"I'm not 100 percent sure when we're going back, but I am 100 percent sure that we are going back," the reliever said. "The impact it had on my wife and me, we want to get involved down there with something Brad thinks will help out the community the most."
The orphanage wants to install a clean water system and improve the kitchen accommodations. The goal, Ramirez said, is not just to provide financial help but teach the Haitians how to improve themselves.
"I think a lot of time, the handouts are great and they appreciate them, but these people have to learn how to dig themselves out of this hole, and a lot of it comes from building jobs and the infrastructure," Ramirez said.
Ramirez could have easily written a check and never made the trip to Haiti. But he's glad they did.
"Going down there and seeing it and hanging out with the kids was a huge part of [our involvement]," he said. "As far as being a Christian, God has blessed us with certain things. That doesn't mean we can't enjoy what we've been blessed with, but part of that is also giving back to others who are less fortunate. That's a big part of what we want to start getting involved with. The Haiti trip is the start of where my wife and I want to go with that."
Ramirez isn't ready to start his own foundation. Going to Haiti and seeing the children at IDADEE was a first step, and a huge step.
"We feel God has directed us to this certain area," Ramirez said. "There's a lot of things that need to happen in the United States, and not just overseas. There are a lot of avenues to go, and this is the start of giving back that we've been fortunate to get involved with."
Ramirez and his wife sponsor two children at the orphanage. They want to do more.
"The easiest and best way to get involved down there is to get on the website and sponsor a kid," he said. "The money pays for everything -- 100 percent goes to what the kids need and that orphanage. They want to be able to bring more kids in. They're building a hospital there, a school. It was one of the worst areas in Haiti before they started doing this, and now it's blossomed into one of the better areas in that part of Haiti."
For the few days they were in Haiti, Ramirez and his wife were able to play with the children and help them forget their struggles.
"[Going there] you're actually invested in their lives and they appreciate that so much," Ramirez said. "They appreciate everything they get, but being able to go down there and put a face with what you're helping was an incredible experience.
"It was really life changing. When we came back from that trip, we were just blown away. It's not that you feel sorry for them -- you do feel sorry for them, but it's amazing how much good they have in the little things that they have. They have so much joy in having clothes and the little things that make a huge difference for them."
Think about that this holiday season.
"I feel privileged to have gone there," Ramirez said.
Carrie Muskat is a reporter for MLB.com. She writes a blog, Muskat Ramblings. You can follow her on Twitter @CarrieMuskat and listen to her podcast. This story was not subject to the approval of Major League Baseball or its clubs.