Mattingly lends helping hand at holidays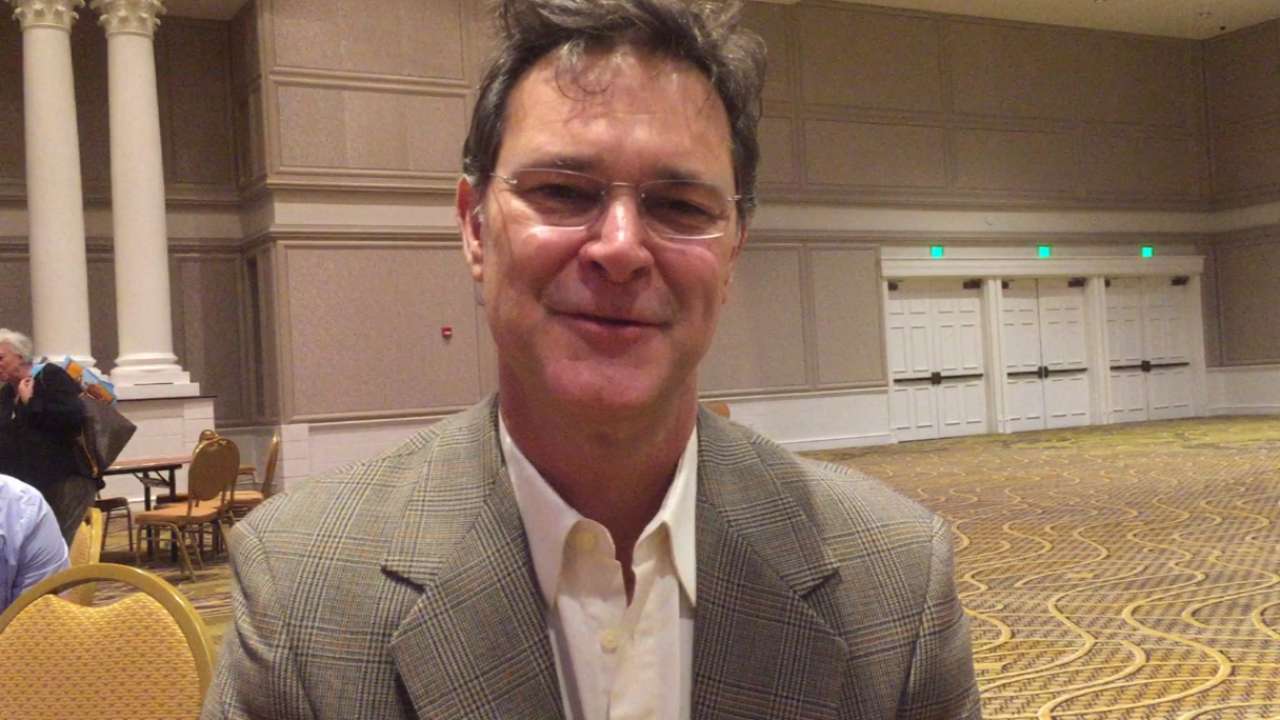 MIAMI -- Life in the big leagues moves at a fastball pace, with teams constantly on the go, cramming 162 games into 182 days. As a player, coach and now manager, Don Mattingly is well accustomed to the grind.
The pedal-to-the-metal lifestyle also is a reason the Marlins' new manager appreciates his down time. For Mattingly, there is nothing like being home for the holidays.
"In baseball, we're grateful that we get Thanksgiving and Christmas off," Mattingly said. "I start thinking that there is always an NBA game on Christmas Day. On Thanksgiving, they're playing NFL football."
A typical Christmas season for Mattingly is being home in Evansville, Ind., spending quality time with family and some neighborhood friends.
"In baseball, we never had Fourth of July off or see the fireworks, because we're playing every Fourth of July," Mattingly said. "I'm always thankful that Christmas and Thanksgiving we're always around. I think we're grateful for those times."
After nearly nine months of baseball bustle, Mattingly moves to a slower gear this time of year.
"We're definitely low-key," he said.
That's not to say the house is completely quiet. This Christmas, there are a few more toys under the tree. Louis Mattingly, Don and his wife Lori's 1-year-old son, is soaking in the holiday spirit.
Louis was not quite a month old for his first Christmas in 2014. The experience is more enhanced now that he is trying to figure out Santa Claus and all the decorations.
"The other day, it was funny to see his first reaction to Santa," Mattingly said. "He started screaming at Santa. With the little one, we're back into decorating more."
Still, many household traditions are the same. Turkey and dressing will be on the dinner table. When it comes to some treats, like Christmas cookies, Mattingly will test his will power.
A movie favorite is "Christmas Vacation," the 1989 hit starring Chevy Chase.
"It's one of my favorite movies," Mattingly said. "I like the funny movies. But more than anything, I like the people coming over."
'Tis also the time of year to give back. Mattingly assists a homeless shelter and has sponsored less-fortunate families.
"You just take like two families or three families -- however many you want to sponsor," Mattingly said. "You actually do the shopping yourself, and pick out stuff for them. They just tell you they have like three kids, and these are their ages and these are their needs."
Another initiative Mattingly is behind is baseball-related. "Donnie Baseball" is assisting in establishing an RBI (Reviving Baseball in Inner Cities) program in Evansville.
"You want to be able to get involved in the community," Mattingly said. "You're worried, 'I'm not reaching enough kids.' But you know what? You've got to think small. Let that thing grow, and do it right.
"That's kind of our thoughts, like, 'Hey, no matter what we do, we're going to try to help kids.' That's our main focus, for the most part, it's usually kids. Help them and make sure they are getting an opportunity to make good decisions. Not necessarily to be big league players, but to be big league people. Give them the opportunity to make good decisions. Give them access to good mentors, good people. That's what we're trying to do."
Joe Frisaro is a reporter for MLB.com. He writes a blog, called The Fish Pond. Follow him on Twitter @JoeFrisaro. This story was not subject to the approval of Major League Baseball or its clubs.