Abreu reunites with his No. 1 fan in Cuba
17-year-old boy with neurological paralysis is thrilled to see hero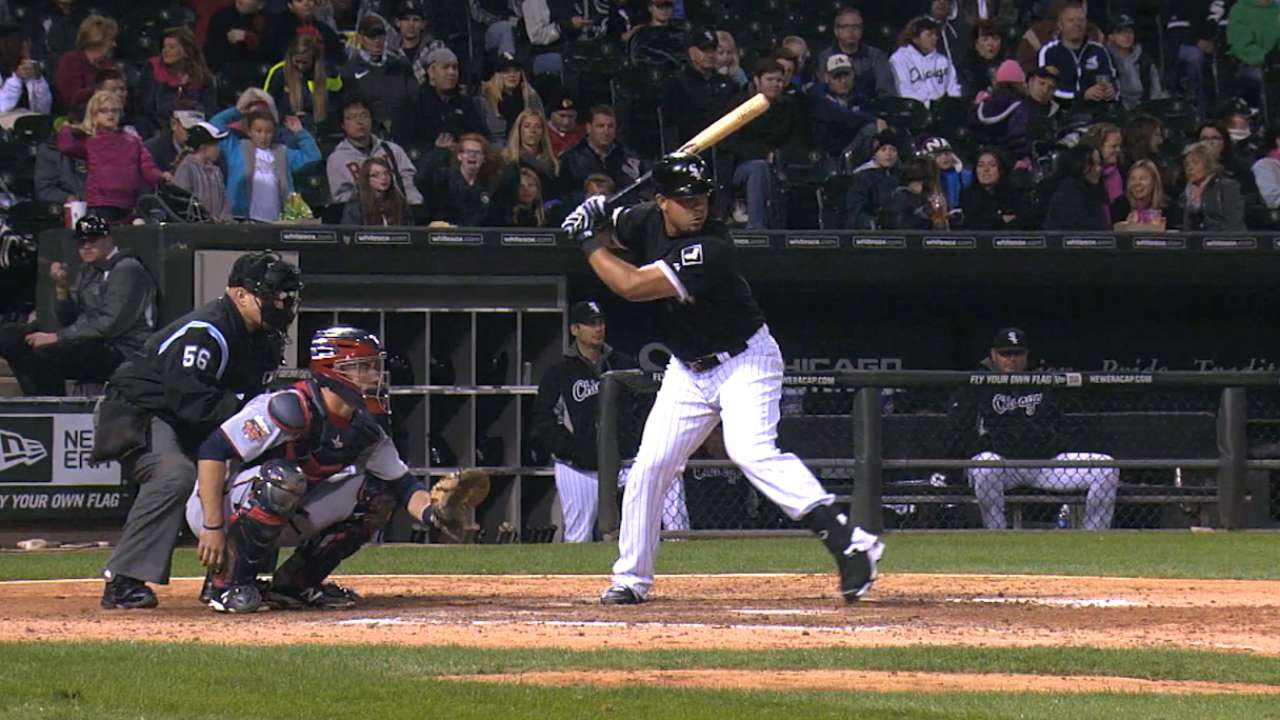 MATANZAS, Cuba -- Peter Aguila Prado didn't want to sleep Wednesday night. He was too anxious, too emotional. He knew that at 5 a.m., he and his mom would wake up and take a four-hour drive east to be reunited with his hero, his mentor, his friend.
Finally, he arrived. It was 10 a.m., and Major League Baseball's shuttle pulled into Victoria de Giron Stadium, site of this goodwill tour's second clinic for local children. Prado stood out front, in the middle of the mob that awaited the eight-player contingent, sporting a White Sox cap and clenching his fists.
And at long last, there he was -- Jose Abreu.
"Pito!" Prado yelled out, uttering the nickname Abreu only hears in this nation, in front of his people.
Abreu smiled, walked over and embraced Prado, a 17-year-old boy who was born with neurological paralysis and has spent the last two-plus years -- 28 months, as he'll tell you -- waiting to see Abreu again.
"You've gotten so big," Abreu told him. "I used to be able to lift you up."
Abreu was the star player for the Cienfuegos Elephants, the team that plays in Prado's hometown. The youngster instantly became a diehard fan, and the two got close thanks to Prado's mom, Idalia, a faculty member at the university where Abreu studied.
Prado became a fixture at the home ballpark, Cinco de Septiembre Stadium. He sat behind home plate and celebrated Abreu's home runs more boisterously than anybody else. And every time Abreu crossed home plate, he pointed in Prado's direction.
"Seeing him again," Prado said in Spanish, "I can't even find the words."
Thursday marked the one-year anniversary of President Barack Obama and Cuba's current leader, Raul Castro, announcing the restoration of diplomatic ties between the countries, which have been embroiled in hostility for about half a century. To mark the occasion, and symbolize the altering dynamics, the countries' flags flew side-by-side atop the scoreboard of Victoria de Giron Stadium, where another 150 Cuban children took lessons from Major League players.
Antonio Castro -- brother of Fidel, uncle of Raul and vice president of the Cuban Baseball Federation -- talked about how "through baseball, we're uniting countries."
"We're experiencing an era with a new relationship with Major League Baseball and the Players Association, one where we want the baseball players to play baseball, and where they live in a normal world and they have the same rights," Castro said during a Spanish interview, choosing his words carefully in a rare session with American reporters.
"This is just the beginning. I hope to one day be able to say, 'Well done.'"
Castro, a self-described baseball enthusiast, was instrumental in bringing MLB back to Cuba for the first time in 16 years and made his presence felt when they finally showed, mingling with officials and players at every turn. He became fast friends with MLB's chief baseball officer Joe Torre, was often seen chatting with chief labor officer Dan Halem and, most notably, interacted frequently with Abreu and Yasiel Puig -- two players who recently defected, and even more recently were deemed traitors by the Cuban government.
"We're working on a new relationship, one based on respect, where baseball is the language spoken," said Castro.
Halem said Tuesday he remains "cautiously optimistic" that Spring Training games will be played here, but reiterated Thursday that "it's way too early" to talk about a potential posting system for Cuban players striving to display their talents in the U.S. The relationship is too young and too much still has to happen between the governments.
"But I think with baseball," Torre said, "at least we can find a platform that gives us a chance of at least breaking the ice."
Cuban defectors are frequently banned from returning to their home country for eight years, but exceptions were made for Puig and Abreu. Castro wouldn't say whether Puig and Abreu could come and go more frequently, but he also didn't rule it out.
"Hopefully," Abreu said of players in his situation continuing to get involved with young kids in Cuba. "Hopefully life can give us that opportunity. All we can do right now is keep trying to help. That's the most important thing for us, and for Cuba."
Of the eight players who traveled to this baseball-rich island, Abreu was the most impassioned. On Tuesday, he was reunited with his 5-year-old son, Dariel Eduardo. On Thursday -- after arriving for a day of activity in loafers and pants because he gave away his workout clothes -- he reconvened with his No. 1 fan.
Prado has hardly been able to watch Abreu's games since he defected in 2013. Cable is illegal for most Cuban citizens, and fans who want to watch Major League games are usually limited to whatever is aired on Sundays. It's never a live game, and they rarely feature prominent Cuban defectors.
So White Sox games weren't available, and Prado spent his days scouring for Abreu's interview clips and highlight reels.
The home runs, though, are still dedicated to him.
"I always did it, and now that I'm in the United States, we do it a different way," Abreu said. "But he's always in my heart."
Alden Gonzalez is a reporter for MLB.com. Follow him on Twitter @Alden_Gonzalez and Facebook , and listen to his podcast. This story was not subject to the approval of Major League Baseball or its clubs.