Inbox: Do the A's expect to contend in 2016?
Beat reporter Jane Lee answers fans' questions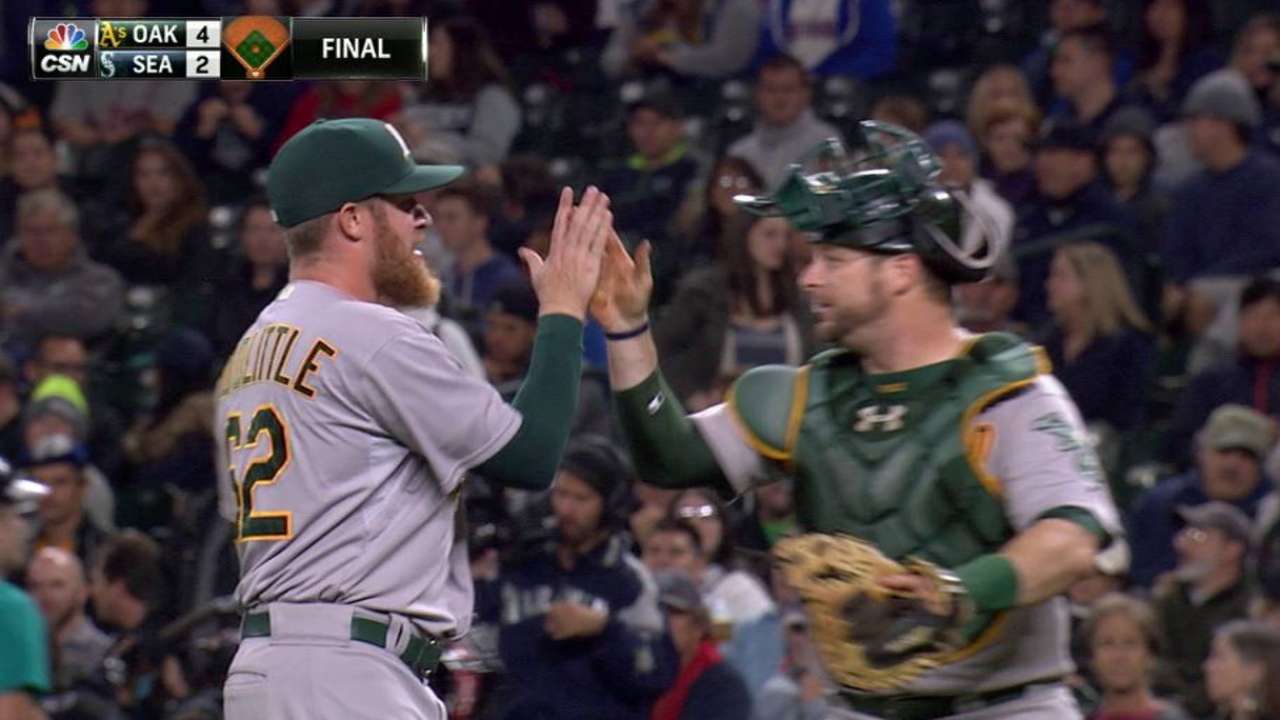 The A's said the next few seasons will be rebuilding years, but their team already looks better than it did last year, on paper at least. Do the A's expect to make a run at the playoffs?
-- Segun G., Fremont, Calif.
The A's have mostly steered clear of the "R" word during Billy Beane's tenure at the helm, and they hope to continue that trend by balancing their desire for sustained long-term success with intentions of fielding a competitive team in the present. This isn't easy, but the A's have attempted to do this by improving their current roster without sacrificing their top prospects, instead giving them time to develop in the Minors. That being said, the A's do expect to contend with an improved group.
With five spots in the bullpen being filled by Sean Doolittle and the new acquisitions, who do you see filling the other two?
-- Drake S., Sacramento, Calif.
Doolittle and the newbies -- Ryan Madson, John Axford, Liam Hendriks and Marc Rzepczynski -- are expected to be joined in the bullpen by right-handers Ryan Dull and Fernando Rodriguez. Lefty Felix Doubront, also a rotation candidate, will presumably be considered for a long-relief role, and the A's depth here extends to Sean Nolin, should he not make the rotation, R.J. Alvarez and Arnold Leon.
• Submit a question to the A's Inbox
At the All-Star break in 2014, the A's were arguably the best team in baseball. The Yoenis Cespedes trade began what is spoken of in hushed tones as the end of the team chemistry. I know he'd be expensive, but what are the chances of plugging him back into a pretty solid core? Or was he part of the chemistry problem all along?
-- Peter K., San Francisco
Cespedes' presence only added to the close-knit, cohesive clubhouse of 2014, which is why his midseason departure was met with shock by other players, who loved having him around. Unfortunately, a reunion is not in the cards, though, since Cespedes' next contract will surpass the $100 million mark -- dollars the A's simply don't have. They could end up seeing him quite a bit, however, if he lands with one of their division foes. The Rangers have been among his many rumored suitors.
Any chance Joey Wendle breaks camp with the A's this spring?
-- Richard D., Tucson, Ariz.
I wouldn't rule it out, since a lot can happen between now and then, including injuries to any one of the A's projected starting infielders. Eric Sogard remains ahead of Wendle on the depth chart and is expected to begin the season in a bench role, but Wendle would be next in line, making it probable that we see him in the big leagues at some point this season, given the ever-changing nature of a Major League roster.
I was wondering if the A's would consider a six-man rotation? With a young rotation and how the A's always seem to have injuries in the rotation, why wouldn't you try a six-man rotation to save the arms and give them plenty of rest?
-- Kurt F., Oroville, Calif.
I fully understand this thinking, but six-man rotations still typically bring about more cons than pros. First, they don't allow your ace to pitch as often as he normally would, and the A's, of course, want Sonny Gray on the mound every fifth day. Moreover, starters are accustomed to the routine of a normal four days' rest, and carrying a sixth starter would obviously force the A's to carry one fewer reliever or bench player -- which is not ideal, particularly with a club that tends to utilize every piece of its puzzle on a near-daily basis.
Jane Lee is a reporter for MLB.com. This story was not subject to the approval of Major League Baseball or its clubs.