Touki aims to get ahead of the curve with Braves
Toussaint, 19, among prospects called to Atlanta development camp
ATLANTA -- When the Braves acquired Touki Toussaint from the D-backs in June, they knew they had gained a top-flight pitching prospect who possessed great athleticism and a strong character. Over the past few months, they have gained an even greater appreciation for that latter quality.
Toussaint is one of the top prospects the Braves brought to Atlanta this week to participate in a Winter Elite Development Camp aimed toward teaching young players about strength training, nutrition, financial matters and media responsibilities.
As Toussaint stood in the Braves' clubhouse at Turner Field late Thursday afternoon, he was asked if he exited this past season satisfied. Instead of providing the typical "I'm just trying to improve every day" response, the 19-year-old right-hander responded with a succinct, "No, sir."
The refreshingly honest answer was likely a product of some of the frustration Toussaint experienced as he posted a 4.83 ERA over 17 starts for Arizona and Atlanta at the Class A level. He certainly didn't achieve the results he was seeking during his first full pro season, surrounded by expectations placed on him when he was taken with the 16th overall pick in the 2014 Draft.
"I feel like I could have done better," Toussaint said. "There's room for improvement."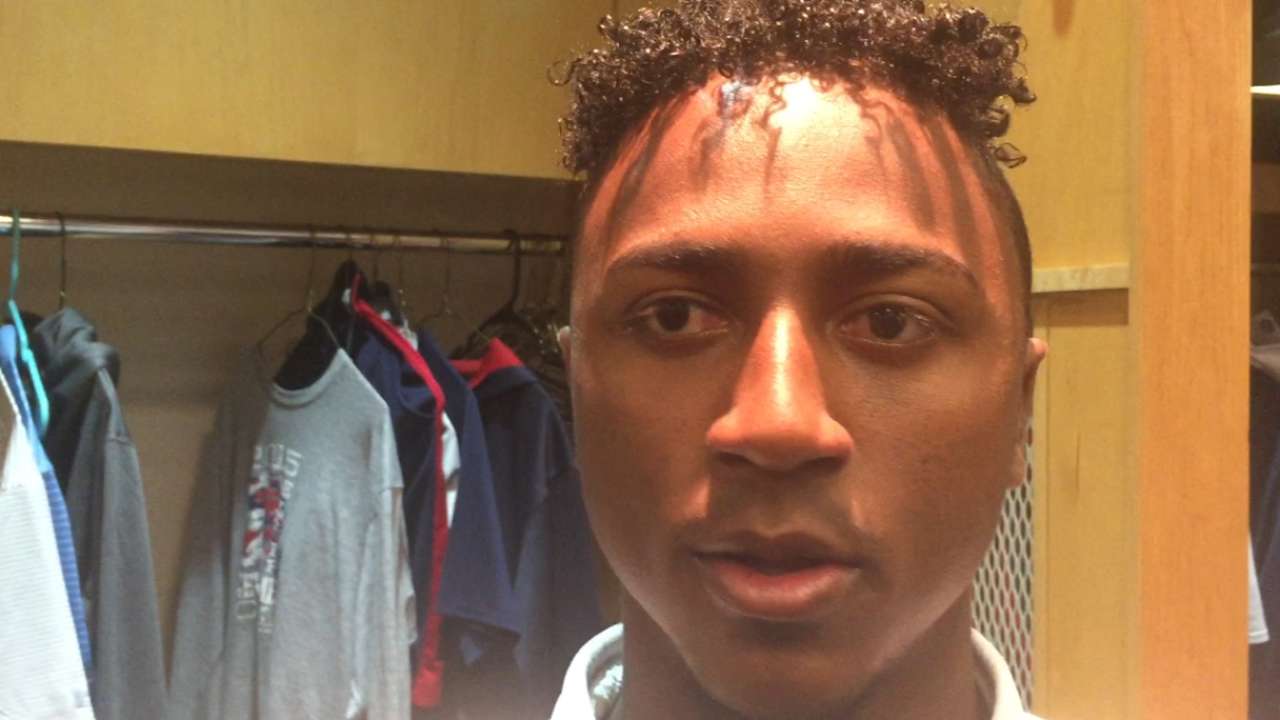 The D-backs protected Toussaint by keeping him at extended spring camp workouts until the middle of May, then limiting the amount of curveballs he threw after he joined their Kane County affiliate. This seemingly created a lingering effect, as Toussaint struggled to command both his big looping curveball and fastball while producing a 5.73 ERA in 10 starts for the Rome Braves.
Toussaint surrendered at least five earned runs in three of those starts. But he also produced a few gems, allowing one earned run or none in four starts after the trade. Toussaint ended the season on a positive note, as he scattered five hits and allowed just one earned run over six innings against Charleston.
"I kind of lost [the curveball] at the beginning of the year, because the Diamondbacks weren't letting me throw it," Toussaint said. "But I got the feel for it again and then just started letting it go."
Toussaint ranks as MLB.com's 69th-best prospect and the fifth-best Braves prospect. He spent a portion of his early childhood living in Haiti, but he primarily grew up in Florida. Though Toussaint's birth name is Dany, he has always been called Touki -- a combination of his last name and his mother's maiden name (Kity).
"Ever since I was born, the name just stuck with me," he said.
Now, as Toussaint prepares for his first full season in the Braves' organization, he will look to build upon the experience he gained this year and attempt to establish himself among the many elite pitching prospects Atlanta has compiled over the past year.
"I just look at [the trade] like, it was another team giving me an opportunity," Toussaint said. "So I'm going to go out there and perform like I should and help them win."
Mark Bowman is a reporter for MLB.com. This story was not subject to the approval of Major League Baseball or its clubs.