Casali dishes on Christmas memories, traditions
Following breakout rookie campaign, Rays catcher sits down for Q&A with MLB.com
ST. PETERSBURG -- Curt Casali enjoyed a breakout season in 2015 when he emerged as the Rays' starting catcher before sustaining a season-ending left hamstring strain.
From the time of his callup from Triple-A Durham on June 13 until his injury on Aug. 25, he led the Rays with 10 home runs, which ranked third among Major League catchers during that span.
Included among the highlights of Casali's season were back-to-back two-homer games on July 27-28 against Detroit. According to the Elias Sports Bureau, he became the first rookie catcher in Major League history with multiple home runs in back-to-back team games.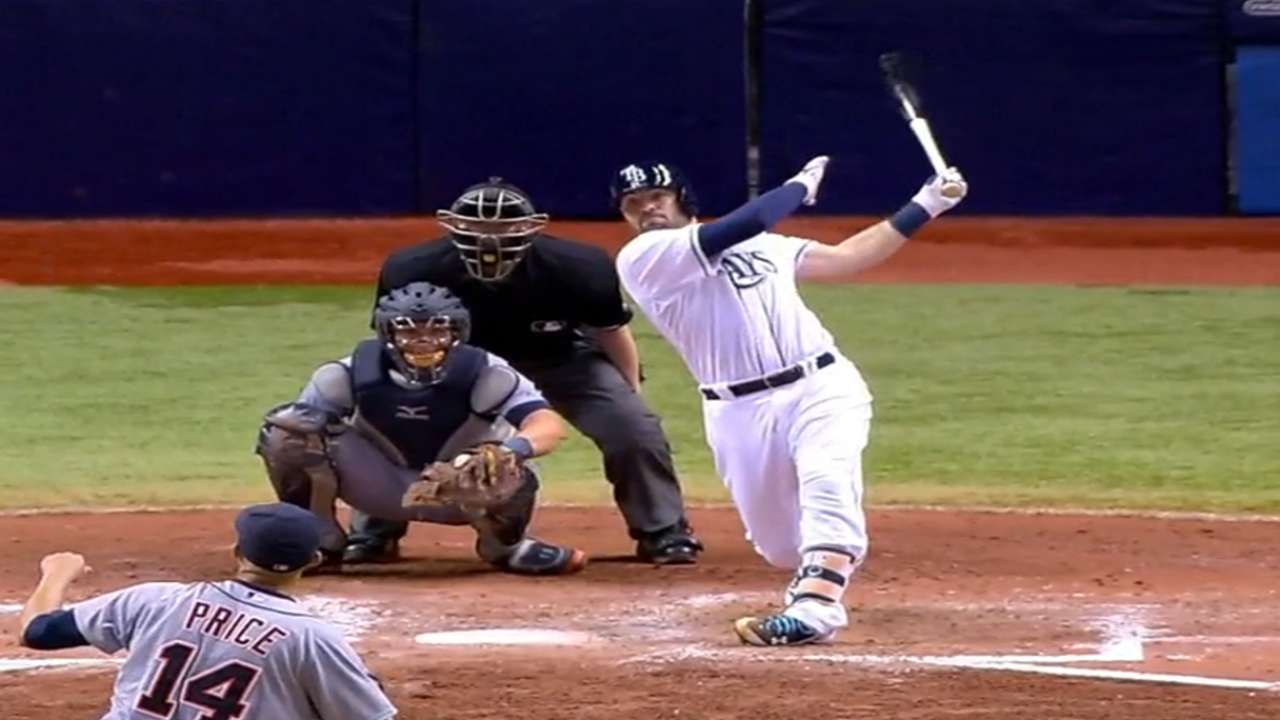 With the holidays upon us, Casali shared some of what makes this time of year special for his family and him in this Holiday Q&A with MLB.com.
MLB.com: What's your favorite Christmas memory?
Casali: I think my favorite Christmas memory would be, me and a couple of buddies, and my two younger brothers, would go over to a family friend's house on Christmas Eve and have a big basketball game outside. And we'd always play video games. There would always be really good food. I definitely miss that part of Christmas.
MLB.com: Your family lives in New Canaan, Conn. Do you normally experience a white Christmas?
Casali: It's usually about 50-50. It's actually been pretty nice the last couple of years. I definitely don't mind having a white Christmas, but at the same time, I don't mind when it doesn't snow, either.
MLB.com: Are you going to celebrate the holidays with your family this year?
Casali: I haven't missed a Christmas with my family yet. Obviously, I realize that's going to change someday, but I'm going to keep doing it for as long as I can. Get up here and hang out with them.
MLB.com: Who is in your immediate family?
Casali: My mom, dad and two younger brothers, Andrew and Chase.
MLB.com: Any Christmas traditions?
Casali: We don't really have any big traditions. We always had the presents from Santa on Christmas morning. Those were sitting in front of the fireplace unwrapped, so we knew they came from Santa. The rest of the presents would be wrapped. We'd always have a big breakfast before we opened the presents. Christmas morning is probably the only time we bust out cinnamon rolls in the Casali household. It's always a good time when we do that.
MLB.com: Looking back, do you have a favorite Christmas present?
Casali: I'd probably have to go back to when I was 9 years old and we were still living in California. My parents got me a pair of K-2 roller blades. That's when the movie "Brink" came out and everybody was doing inline roller skating. That made my day. It was so fun.
MLB.com: Any favorite Christmas movies or songs?
Casali: We're not a big movie and song tradition family. But recently we started going to a movie on Christmas night. We've done that the past couple of years. I think that's pretty cool. So hopefully there will be a good movie out on the 25th and we can see it with a couple of friends. The movie theater in town is pretty packed on Christmas.
MLB.com: What do you eat on Christmas?
Casali: Normally my parents make a ham. We always go turkey on Thanksgiving and ham on Christmas. And my grandparents, they live 20 minutes away in New Rochelle, and they come up and have dinner with us. My grandma is still a phenomenal cook, so she'll always bring in a little Italian mix, too. So I wouldn't be surprised if we have sausage and meatballs again this year, too. Along with the ham.
Bill Chastain is a reporter for MLB.com. This story was not subject to the approval of Major League Baseball or its clubs.