Rockies peg Reynolds to platoon at first base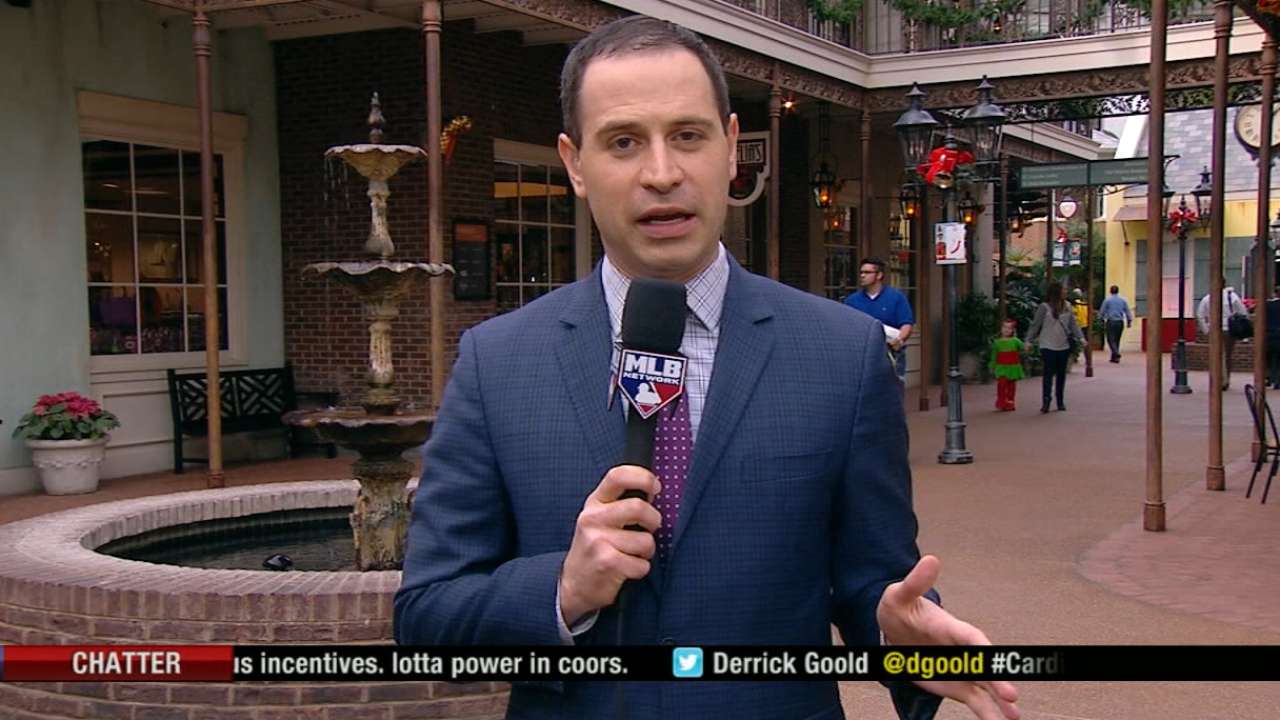 DENVER -- Rockies manager Walt Weiss sees newly signed Mark Reynolds as offering an option at first base, plus versatility and power.
Reynolds, who officially signed a one-year, $2.6 million deal -- with another $1.1 million available in incentives -- on Wednesday, gives Weiss a right-handed alternative to lefty-hitting Ben Paulsen, who has shown promise over parts of two seasons.
• Rockies agree to deal with Reynolds
"I see them sharing time," Weiss said. "The fact that we are very left-handed, Reynolds' right-handed bat makes him a good fit for us. Plus, the fact he can play multiple positions fits in with the way we design a roster. He can go to the outfield on the corners and play third base, although Nolan [Arenado] doesn't miss much time.
The move re-creates the left-right situation the Rockies had in 2015 with Justin Morneau and Wilin Rosario, but at a much lower cost. Morneau made $9 million and Rosario $2.8 million; Reynolds could make $3.7 million, while Paulsen has slightly more than one year's service time, which puts him in the $512,000 range.
And there is home-field power potential. Reynolds, 32, who hit .230 with 13 home runs and 48 RBIs in 140 games with the Cardinals last season, is a career .287 hitter with eight home runs and 23 RBIs in 37 games at Coors Field.
This move doesn't reduce the role of Paulsen, who has hit .284 with 15 homers, while 42 of his 110 hits went for extra bases in parts of two seasons. He has, according to Weiss, "created an opportunity for himself." Weiss said it won't be a strict platoon, but playing decisions will be based on the hot hand, specific pitching matchups and schedule-induced needs to rest one of them.
Reynolds has had issues with strikeouts throughout his career, having led his league four times. Some analysts found the signing curious, given the fact Colorado hitters struck out in bunches at times last season. But overall, the Rockies finished eighth in the National League in strikeouts. They finished third in road strikeouts, but, in perspective, they led the league in the category in their last playoff season (2009) and were third in their only World Series season (2007).
"I pay attention to when the strikeouts come as opposed to how many," Weiss said. "If you have a choice, you want the ball in play. Don't get me wrong. But I'm more focused on whether they are coming when you need productive outs, situationally. Reynolds did cut down on strikeouts a bit last year [121 in 432 plate appearances], and I do like him hitting in our park. He hits the ball in the air and it goes a long way. It's a good fit."
The Associated Press reported that Reynolds' incentives will kick in at $100,000 for 100 plate appearances, followed by $200,000 each for reaching 200 and 300, and $300,000 each at 400 and 500.
Thomas Harding is a reporter for MLB.com. Follow him on Twitter @harding_at_mlb, listen to Podcasts and like his Facebook page. This story was not subject to the approval of Major League Baseball or its clubs.