Pirates hoping Morse can be their first option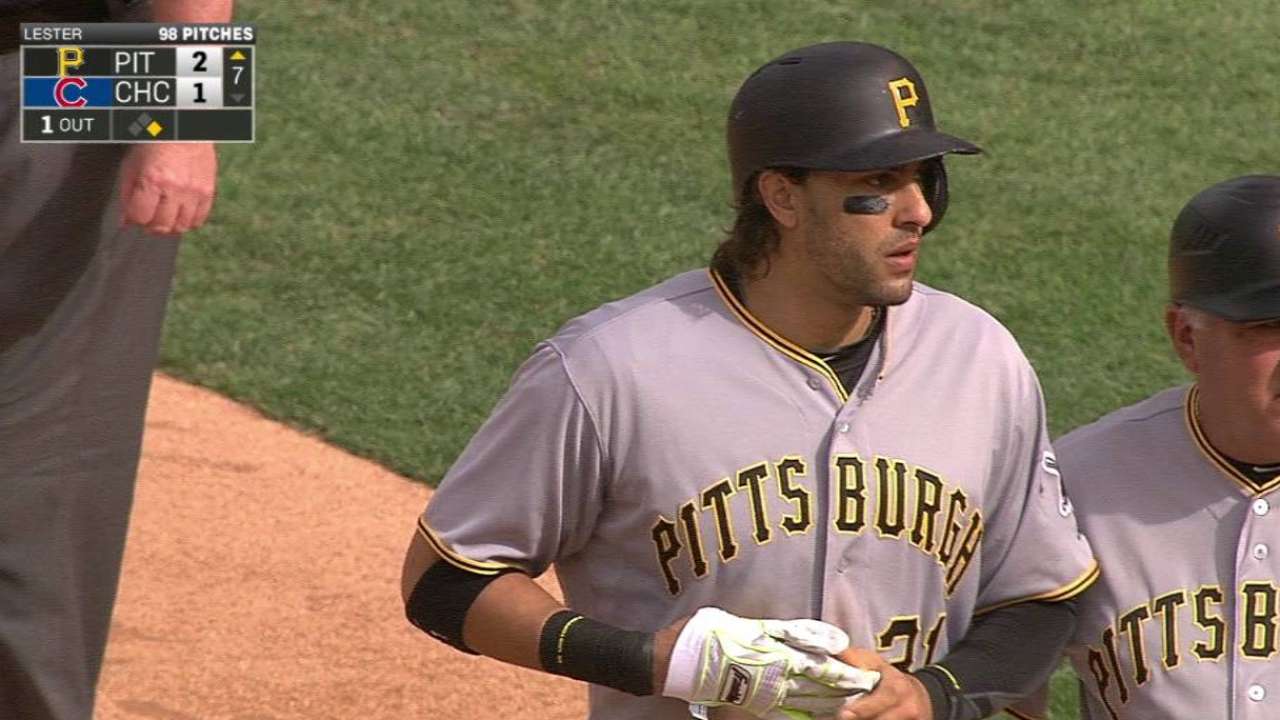 PITTSBURGH -- When asked about the Pirates' plans at first base next season, general manager Neal Huntington has often brought up Michael Morse's 2014 season. Morse played a significant role for the World Series champion Giants, and he earned a two-year contract the following offseason.
The good news for Pittsburgh, then, is that Morse's first taste of the Pirates last season reminded him of the atmosphere in which he thrived for San Francisco. With that in mind, Morse believes he can bounce back to his 2014 form next year -- and the Bucs might need him to do just that.
Morse batted .279/.336/.475 with 16 home runs and 61 RBIs in 131 games for the Giants in 2014. He signed a two-year deal with the Marlins, serving as their Opening Day first baseman and cleanup hitter, but he struggled out of the gate.
Morse called his time in Miami a "learning experience." On July 30, Morse was sent to the Dodgers as part of a three-team trade. A day later, before he could even join his new team, Morse was flipped to the Pirates in exchange for Jose Tabata.
Morse played a complementary role with the Bucs, logging 82 plate appearances in 45 games, but his numbers climbed back in the right direction. After batting just .213 with a .588 OPS for the Marlins, Morse hit .275 with a .782 OPS for the Pirates.
"When I came to the Pirates, the atmosphere, the feel, the chemistry was so much better," Morse said. "It made me feel more like myself. I was able to play and play to win, and my ability came out. I want to plan to keep doing that."
Pirates manager Clint Hurdle said last week the club is searching for a left-handed hitter who can split time with Morse at first base. With Pedro Alvarez out of the picture, Morse likely will be thrust into a more prominent role next season regardless of who else the Bucs acquire.
Morse, for his part, isn't too concerned about how many at-bats or starts he'll see in 2016. He proved that at PirateFest on Saturday, when he was asked what the club has told him about his role.
"I just heard that they're going to bring dinner to the room right there. That's about it," Morse said, smiling. "Just like when I came into this situation, when I got to the Pirates last year, whenever I get to play, I'm going to play and I'm going to try to do my best."
As he showed two seasons ago, Morse can be a productive hitter when he's at his best. His 130 OPS-plus -- a figure adjusted for the player's ballpark -- was his best since he slugged 31 homers for the Nationals in 2011.
Having cut ties with two sources of power in Alvarez and Neil Walker, the Pirates would benefit greatly from sending that version of Morse out to first base on a regular basis. Can he reach that level again?
"I would hope so. We all hope so," Morse said with a grin. "That year, I went out and just played. I played to try to win, to help the team. There was no thinking about numbers or nothing like that. Just go out there to try to win and help the team in any way possible. That was the same feeling I had when I joined the Pirates.
"Is that possible? Absolutely."
Adam Berry is a reporter for MLB.com. Follow him on Twitter at @adamdberry. This story was not subject to the approval of Major League Baseball or its clubs.