D-backs host annual holiday party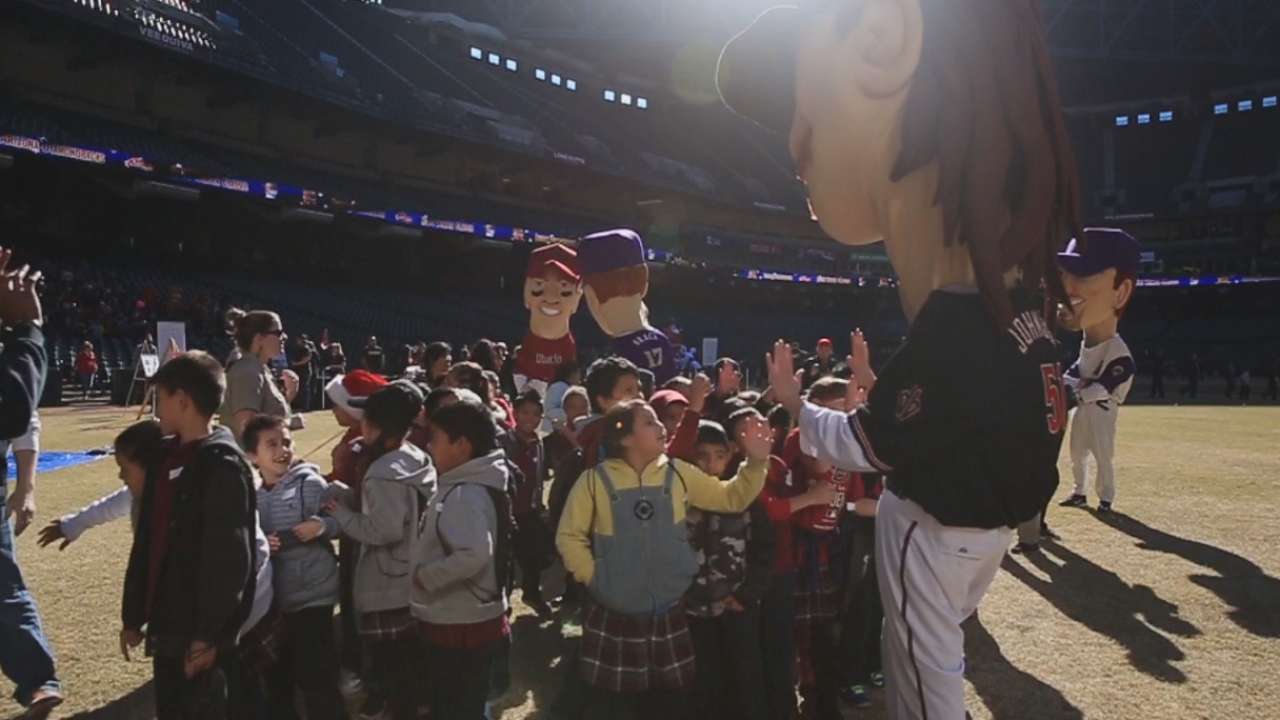 PHOENIX -- Chase Field was a little cooler than usual for an Arizona afternoon, but the smiles of the more than 500 kids running around on the grass certainly warmed things up as the D-backs hosted their 18th annual Winter Classic Holiday Party on Wednesday.
More than 550 children who live near Chase Field received gifts that included a new pair of shoes, a D-backs sweatshirt, a backpack and some books.
"For a lot of them, it's the first pair of new shoes that they've ever gotten, so it's emotional," team president/CEO Derrick Hall said. "They also get socks, backpacks, sweatshirts. It's great, but it's so much more than that. What they are getting is a little chance, a little hope and a chance to interact with their idols and to get out on the actual field. It's an experience that they're going to remember for the rest of their life."
The event, which was sponsored by University of Phoenix, included D-backs players and coaches giving baseball tips and pitching to kids on a small Wiffle ball field set up in left field.
Strength and conditioning coach Nate Shaw took the kids through calisthenics and talked to them about fitness. The Phoenix Herpetological Society provided a petting zoo that included a large snake, and the Phoenix Symphony contributed an "instrument petting zoo" where kids could get hands-on experience with symphony instruments.
"This is my first offseason living here, so I feel like I'm actually a part of this community instead of just a part of this team," former first-round pick Archie Bradley said while taking a break from tossing Wiffle balls. "To be able to interact with these kids like this is really awesome."
The D-backs Racing Legends made their way around the field, posing for pictures, as did the team's mascot, Baxter.
"It's great to see the smiles on these kids' faces and take their minds off of any worries or fears they may have," Hall said. "They all live within the shadows of our ballpark, and for us to bring them in here to give them gifts and instruction on fitness and baseball and nutrition and allow them to see Santa, Baxter, our coaches, our players -- this is what it's all about when it comes to being active and interactive members of the community with our neighbors."
Steve Gilbert is a reporter for MLB.com. Follow him on Twitter @SteveGilbertMLB. This story was not subject to the approval of Major League Baseball or its clubs.