Rangers sign OF Ruggiano to 1-year deal
Texas native looking forward to playing for hometown team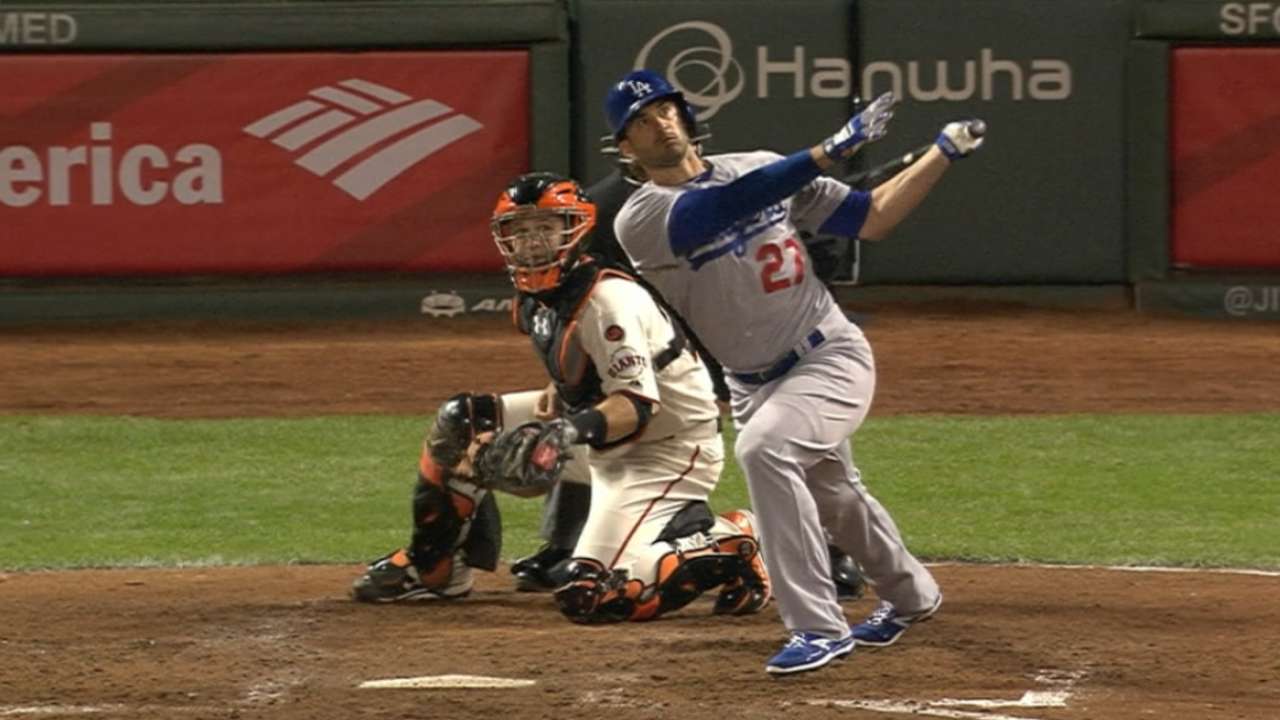 Well-traveled outfielder Justin Ruggiano's route has finally taken him to the hometown Rangers, who had a need for his right-handed bat.
Ruggiano and the Rangers completed a one-year, $1.65 million contract with incentives on Thursday. The plan is for Ruggiano to balance out what has been a heavily left-handed-hitting lineup. There should be playing time for him in the American League West, which offers heavily left-handed opposing pitching rotations.
Ruggiano, who turns 34 on April 12 and whose .856 career OPS against lefty pitchers is 10th among active outfielders with 500 or more plate appearances, gives the Rangers the ability to spell left-handed-hitting outfielder Josh Hamilton, who had left knee issues last year, and back up Delino DeShields in center. Texas also could use Ruggiano at first base.
Ruggiano was born in Austin, Texas, grew up watching the Rangers and played collegiately at Blinn (Texas) College and Texas A&M. His offseason home is in the Dallas area. He has played in the Majors for the Rays, Marlins, Cubs, Mariners and Dodgers.
"My family and I couldn't be happier about it," Ruggiano said. "My son is starting kindergarten this year. I think he's lived in 13 different states or cities since he was born. It's nice to have some normalcy and also get a chance for the team I grew up watching."
Last season, Ruggiano batted a combined .248 with six home runs and 15 RBIs with the Mariners and Dodgers. He appeared in 36 games with the Mariners and played 49 games at Triple-A Tacoma before being traded, with cash considerations, to the Dodgers for a player to be named. Ruggiano thrived with the Dodgers, hitting .291 with four home runs and 12 RBIs in 21 games and appearing in three postseason contests.
"Donnie [Mattingly, then the Dodgers' manager] and the rest of the staff communicated really well with me what my playing time would be, when to be ready, even a day or two ahead. In games, there was very good communication, too, and it really helped me adjust to my role."
Rangers general manager Jon Daniels said the frequency of lefty opposing pitchers will mean playing time for Ruggiano, but he is even more important given the issues Hamilton experienced last year.
"We were still going to be looking for a quality right-handed hitter," Daniels said. "But the reality is Josh has had two knee surgeries since toward the end of the year. As for rehabbing it, there is some unknown for us. We want to be protected, and we want to protect him by giving him strategic days off. If Josh goes down or isn't swinging the bat well, we have a veteran hitter with some pop."
Thomas Harding is a reporter for MLB.com. Follow him on Twitter @harding_at_mlb, listen to podcasts and like his Facebook page. This story was not subject to the approval of Major League Baseball or its clubs.