Rangers brighten kids' day at hospital visit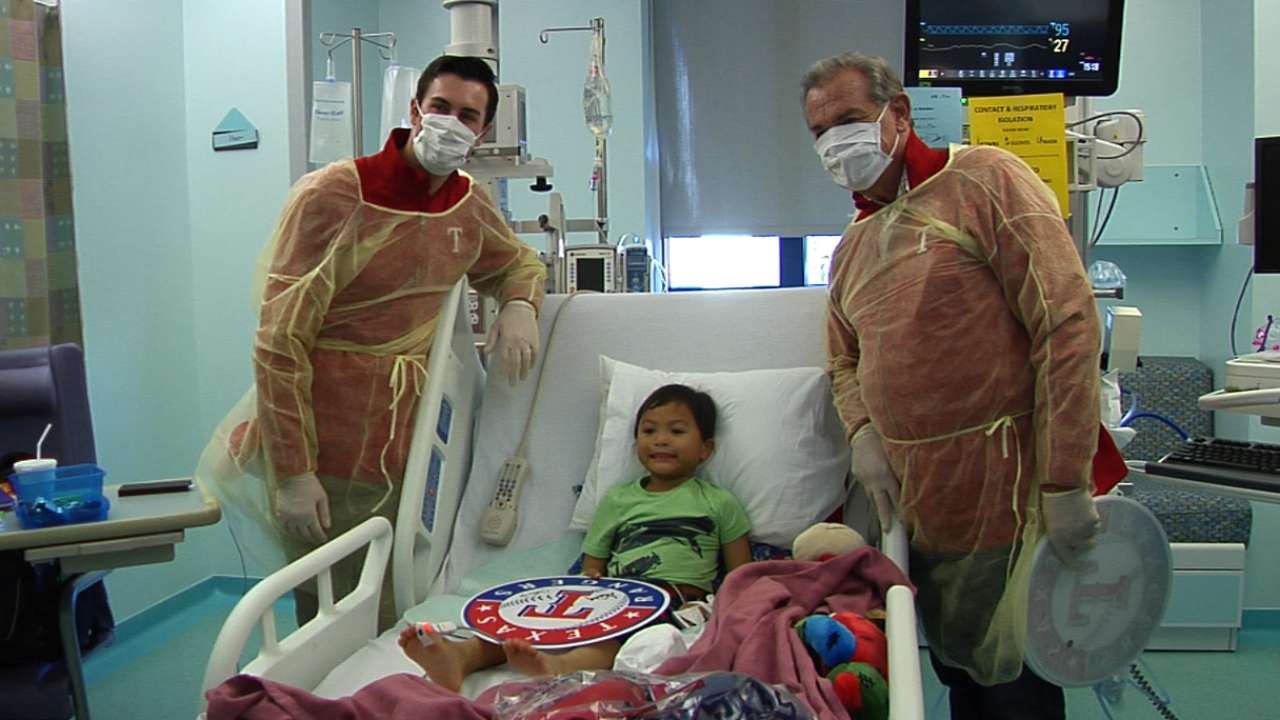 FORT WORTH, Texas -- Clutching a Rangers jersey covered in autographs, 11-year-old Aaron Saldivar wore a Michael Young shirt and a persistent smile when he said his 43rd day in the hospital was "the best day of my life."
Saldivar has undergone surgery and battled meningitis at Cook Children's Medical Center in his hometown of Fort Worth. He and dozens of children like him experienced an unforgettable afternoon Wednesday when about 25 representatives from the Rangers organization stopped by for one of their annual holiday hospital visits.
"It's amazing," said Saldivar's mom, Santana. "They bring joy. When we're going through all of this, it lifts our spirits to have this kind of excitement."
From former Rangers star Young to current players including Cole Hamels, Derek Holland, Elvis Andrus, Robinson Chirinos and Delino DeShields, the red-clad Rangers contingent met with the kids and parents, signed autographs and did their best to take the patients' and their families' minds off their struggles for a while. Owner Ray Davis, general manager Jon Daniels, manager Jeff Banister and even the horse-headed mascot, Rangers Captain, were there, too.
Hamels and his wife, Heidi, have helped countless children since 2008, when they created the Hamels Foundation with the mission of improving schools in low-income areas both in the United States and globally. He said on Wednesday that he was happy to be able to interact personally with some kids who could benefit from his and his teammates' presence.
"They can see you on a baseball field, but to actually see you ... it makes it a lot more real for them and shows that we really do care and we're thinking about them," Hamels said.
Visiting children's hospitals before Christmas every year is a longstanding tradition for the Rangers since the early 1990s. They also stopped by Children's Medical Center of Dallas on Tuesday.
"We know a lot of these kids here are going through some hard times, and the platform that we have, we're role models in the community," DeShields said. "To put a smile on their face, even if it's for a little bit, to make their day, it's something that we enjoy doing. A lot of them can be a little star-struck at times, but once we start interacting with them, the whole stardom thing kind of goes out the window. We're superstars in their mind, but we're people, too."
Banister, the 2015 American League Manager of the Year Award winner, survived bone cancer, a broken neck and 10 surgeries as a teenager, so the hospital visits remind him of his ordeal and its effect on his family.
"There are a lot of tough days of not knowing, a lot of tough days of pain and fear, some dark days," Banister said. "For us to let these kids and these parents escape. ... When we leave, this stays with these guys for a long time. It's really what's important. Baseball and what we do becomes secondary."
Dave Sessions is a contributor to MLB.com. This story was not subject to the approval of Major League Baseball or its clubs.