Trip to D.R. gives Tigers chance to give back
Players visit orphanage near club's academy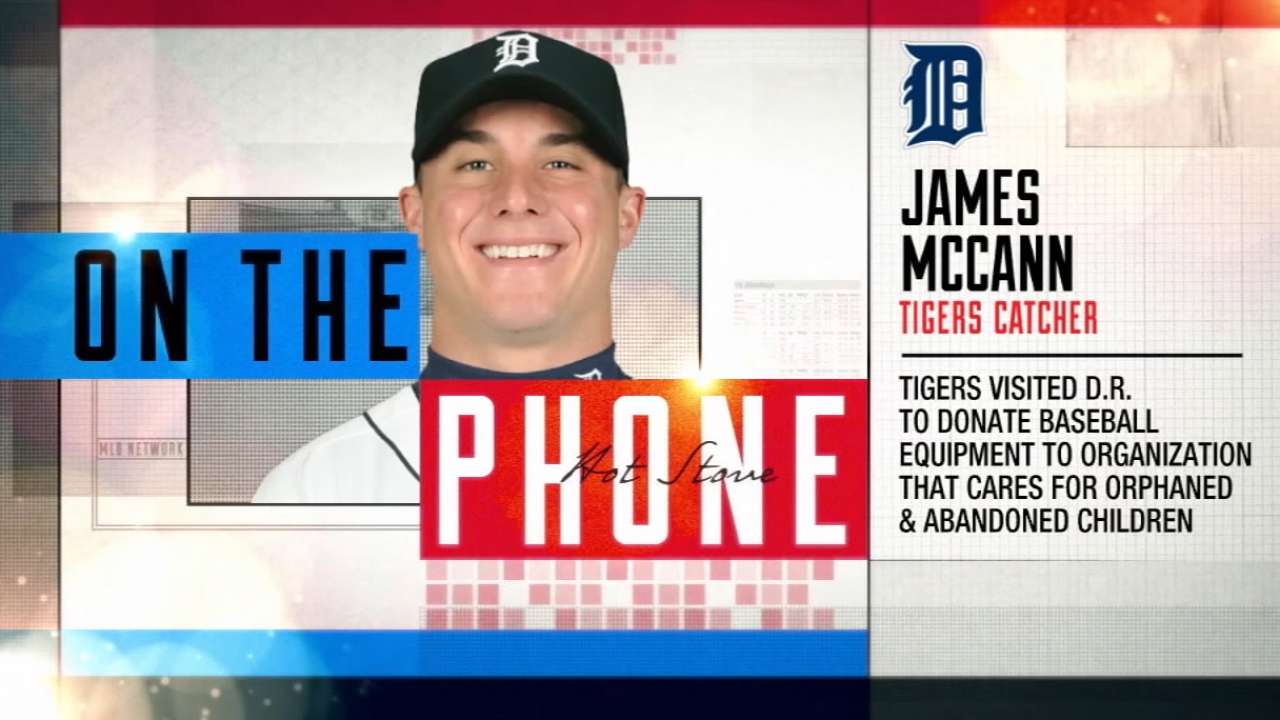 James McCann played winter ball in the Dominican Republic a couple of years ago. He hadn't seen the country like he saw it last week.
As he and Tigers teammates Anthony Gose, Kyle Lobstein, Jefry Marte and Jose Valdez visited an orphanage about a mile away from the Tigers' academy in San Pedro de Macoris, one older kid introduced himself. He, too, was a catcher for the school's baseball team, and hopes to try out for a professional team one day.
He was one of more than 200 kids living in the orphanage, one of several run by Nuestros Pequenos Hermanos, a Christian mission to help orphaned and abandoned children across Latin America and the Caribbean. As McCann toured the campus-like facility, seeing houses where the kids live, and heard about the chore list, schooling and athletic activities each day, he got an appreciation for what their lives are like. He wasn't far from the resort area of Punta Cana, where he and his teammates stayed, and was within driving distance of the capital city of Santo Domingo, where McCann played winter ball for Escogido in 2013, but it felt like a different world.
"It was definitely eye-opening," McCann said in a phone conversation earlier this week. "I actually developed a really good relationship with this young boy in such a short time. We gave him some catching gear, and I gave him my jersey, signed it and personalized it for him. We developed a good little relationship, and I hope to see him again one day."
The trip was a venture on the part of the Detroit Tigers Foundation, an affiliate of Ilitch Charities, to give back to areas where the club has a footprint internationally. The Tigers do plenty in Detroit, but they began to reach out to the area around their Dominican academy last year. J.D. Martinez, Nick Castellanos and Bryan Holaday visited last offseason, and kids from the orphanage met the players at the academy, with Martinez giving one child his own shoes. This year, they took the players to the orphanage to give them a look at all they're doing.
"We wanted to find the right way to give back to the community and care for people there," said Jordan Field, director of the Detroit Tigers Foundation. "We learned they didn't really have great baseball equipment."
Some kids lost their parents. Others attend classes while a parent works all day to provide for the family. Education is a big part of their days, but so are sports, with a baseball field and basketball court on the grounds.
"It was an unbelievable setup," McCann said. "I was kind of expecting just a big building that housed a bunch of kids, but it was actually on 40 acres of land. There were different houses on the property that kids lived in."
The Tigers saw an opportunity to help.
"I'm always looking to give back, whether it's working with one kid back home or going on a trip like this," McCann said. "I feel like I've been blessed and that God has provided me such a platform that I'm looking to give back to those less fortunate. So when this trip presented itself, it was kind of a no-brainer to me to go. If I can have an impact, I feel like it's been a success."
The players were joined by former Tigers infielder Ramon Santiago, who was born and raised in the Dominican. Together, they toured the team's Dominican academy, where young players spend their days working out and taking classes, hoping to earn a chance to make it big.
Then they went to the orphanage. Together, they brought more than 300 pieces of baseball equipment, from catching gear to cleats, T-shirts, shoes, bats and balls.
"You see some of the stuff that you give them -- especially in the big leagues, you're getting new cleats and new gear on a daily basis -- and you see the smiles on the faces when they get cleats," McCann said. "Even though they've been game-worn, it's almost like Christmas to them. You could just see them say, 'I've got so-and-so's gear now.' It was fun to see how excited they got."
The players and their wives got in a brief vacation, too, enjoying the beaches of Punta Cana and going deep-sea fishing. But it's the smiles on the kids' faces, McCann said, that will stick with him.
"That's what was special about going to the academy and the village is you get into the other aspects of the country," McCann said. "If you're going on vacation, you don't really get that. It was a good trip."
Jason Beck is a reporter for MLB.com. Read Beck's Blog, follow him on Twitter @beckjason and listen to his podcast. This story was not subject to the approval of Major League Baseball or its clubs.