Year of experience makes difference for Cash
Rays manager has better idea of what to expect after first season on the job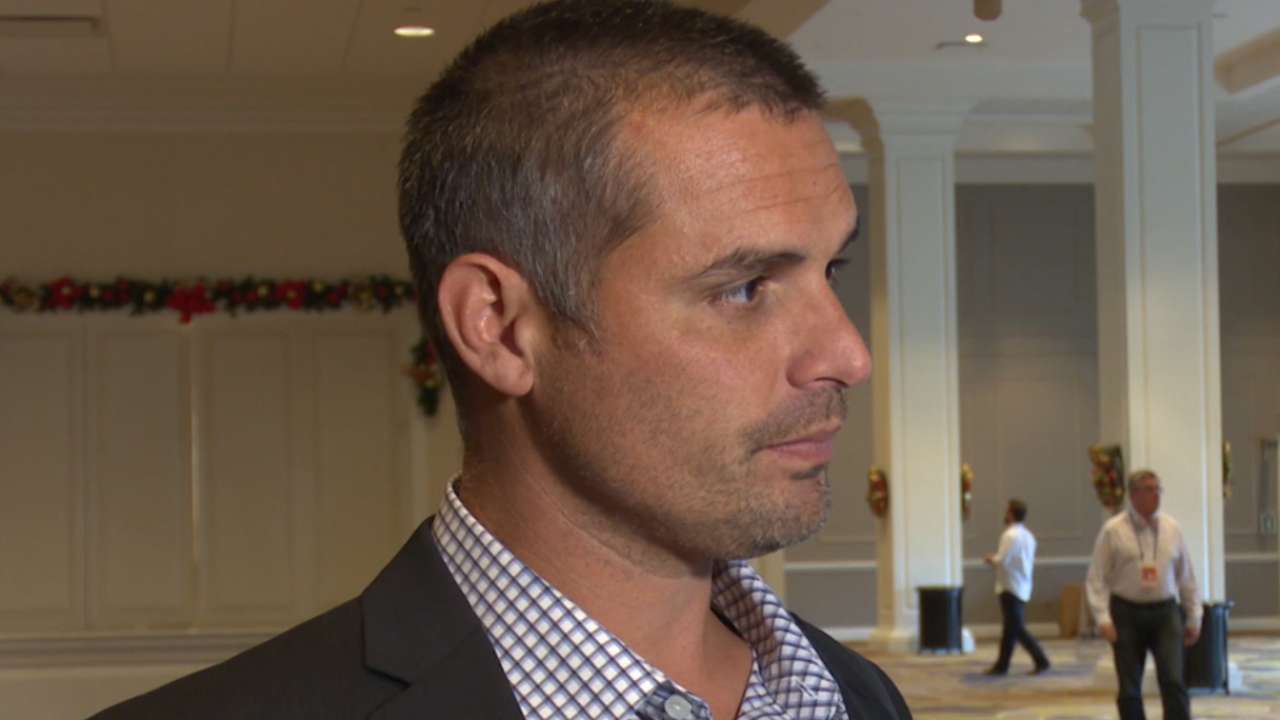 ST. PETERSBURG -- Kevin Cash is getting more comfortable.
Heading into his second year on the job as manager of the Rays, Cash already cuts a different figure than he did a year ago.
For any manager, dealing with the media is a growing part of the job and for Cash, it was initially a tough part of the day. He has a good personality and is friendly, but he just wasn't comfortable in the spotlight.
Fast forward to last week in Nashville, Tenn. Cash could be seen joking with Red Sox writers about the team's acquisition of David Price: "Did they get David Price?" he quipped. And he proved engaging with Yankees writers when asked his views on the team they covered.
All the while, Cash struck a calmer figure. When asked about the free-agent shopping of American League East teams -- in particular the Red Sox after picking up Price -- he went with the company line.
"[The Red Sox] are doing everything they can to go out and compete," Cash said. "We all know the American League East is a very competitive division, and it looks like they are just adding more to that competition with the signings that they have made and the acquisitions.
"... Inside the organization, I don't think it affects us at all. We know that the structure that we have in place -- what works, will work -- and we'll continue to compete really well against the other teams that are out there."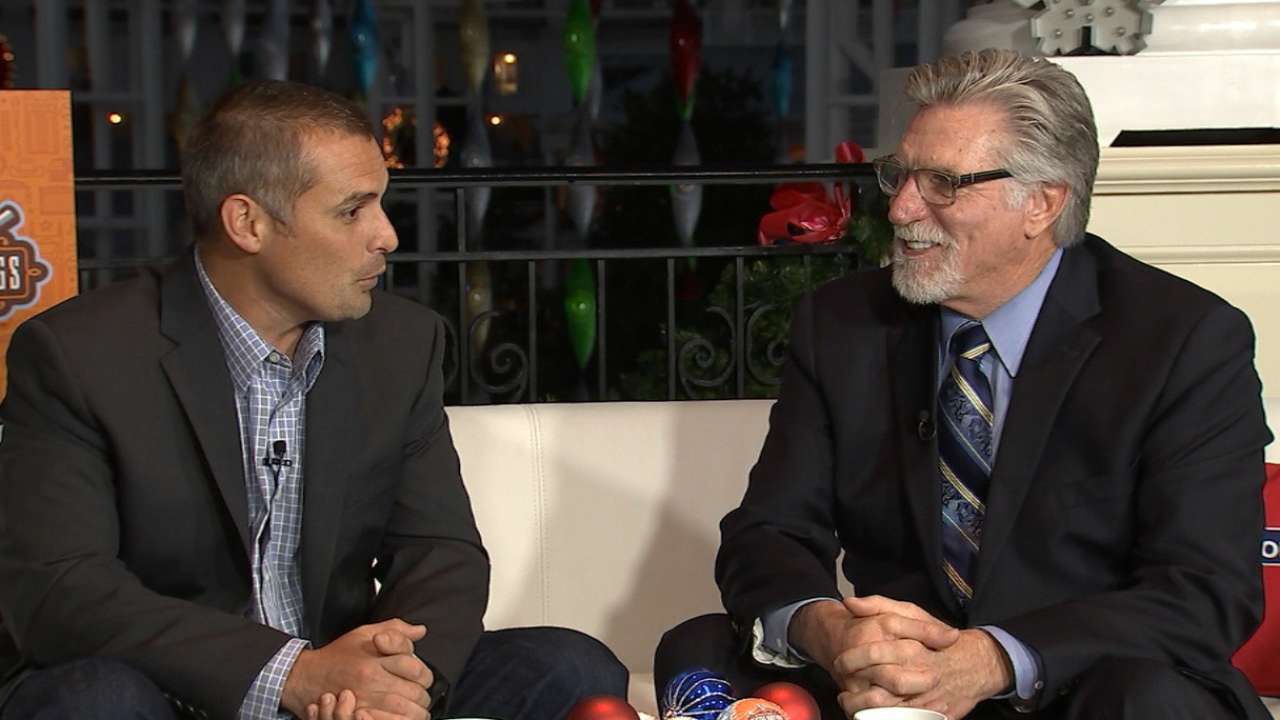 A comfort factor comes with having a year on the job under his belt. Cash allowed that a lot of that ease will come in better knowing his players and having relationships in place.
"I mean, last year, there wasn't much that we could fall back on or I could personally fall back on and say, 'Well, you know, 10 ballgames ago, this happened, this scenario played out,' I didn't really have that," Cash said. "This upcoming year, I will have experiences built up that I can maybe fall back on, and when we're making decisions in game with [bench coach] Tom Foley and I and discussing things as it's playing out, we'll have a little history to fall back on."
Cash noted that "ultimately we are in a better place as far as our relationships with the players."
"There were a lot of unknowns [last year]," Cash said. "I think we all did a really good job of kind of coming together. But it's going to be exciting to get back in there come Spring Training and see everybody, and much more high-fiving and hugging and seeing how everybody is -- how they did, their families -- rather than shaking your hand and introducing yourself."
Cash elaborated on the importance of knowing the individuals on his team and knowing their capabilities.
"Basically you have a pretty good sense for [what a player can do against certain matchups, etc.] fairly quickly," Cash said. "A lot of times, the season is a little bit of a roller coaster. There were certain guys that would get as hot as they could be, and then the next month, they are not that hot.
"I don't think you can say, 'Oh, I know this guy and when that is going to happen,' but maybe you might know their mentality and how they are able to handle it when they do have those ups and downs."
Cash will have familiarity with the players on last year's team, but there will also be an influx of new players on this year's roster, whether they are acquisitions or coming up from within the Rays' system.
"I think we always think, you know, we like the young guys, we like the new guys, they always seem to provide a lot of good energy," Cash said. "But the guys that will be back, they provide such a positive vibe in the clubhouse that I think they are very equipped to handle anybody that we bring in new or new addition.
"It's a welcoming group and very quickly with the leaders on our staff or on our team, it will kind of show the way, and we get a lot of buy-in because it's such a good culture and such a good atmosphere."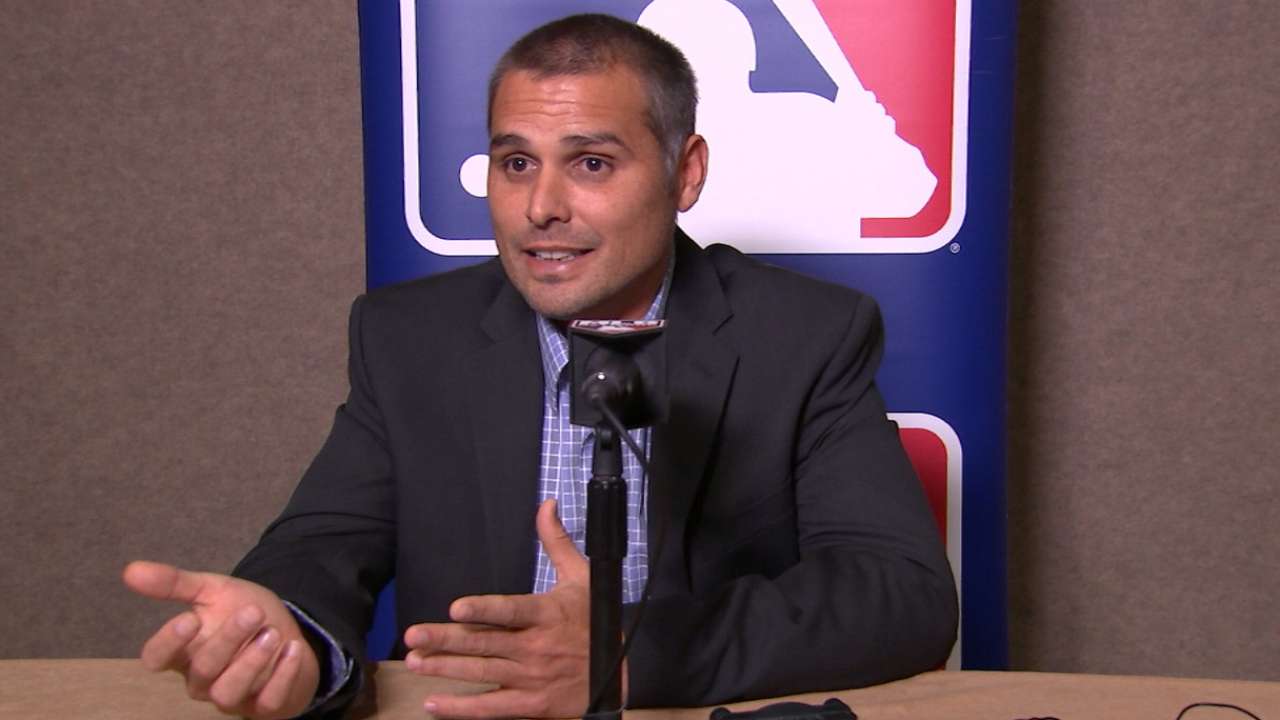 Cash noted that he "didn't have a very good sense for the running game when we were on offense" in his first year.
"We made way too many outs on the bases, and that was due in large part to poor decision-making by me," Cash said. "Hopefully, it was a negative then, but we will turn it into a positive, and [we are] learning from it. When to go and when not to go. I enjoyed watching that in the playoffs, even though it seems to be more magnified or different in the playoffs.
"We know we have to utilize our team speed and we have to get buy-in from our players, and along with [first-base coach] Rocco [Baldelli] and myself, to communicate those best times."
Bill Chastain is a reporter for MLB.com. This story was not subject to the approval of Major League Baseball or its clubs.