Unusual delivery paved Smith's path to Boston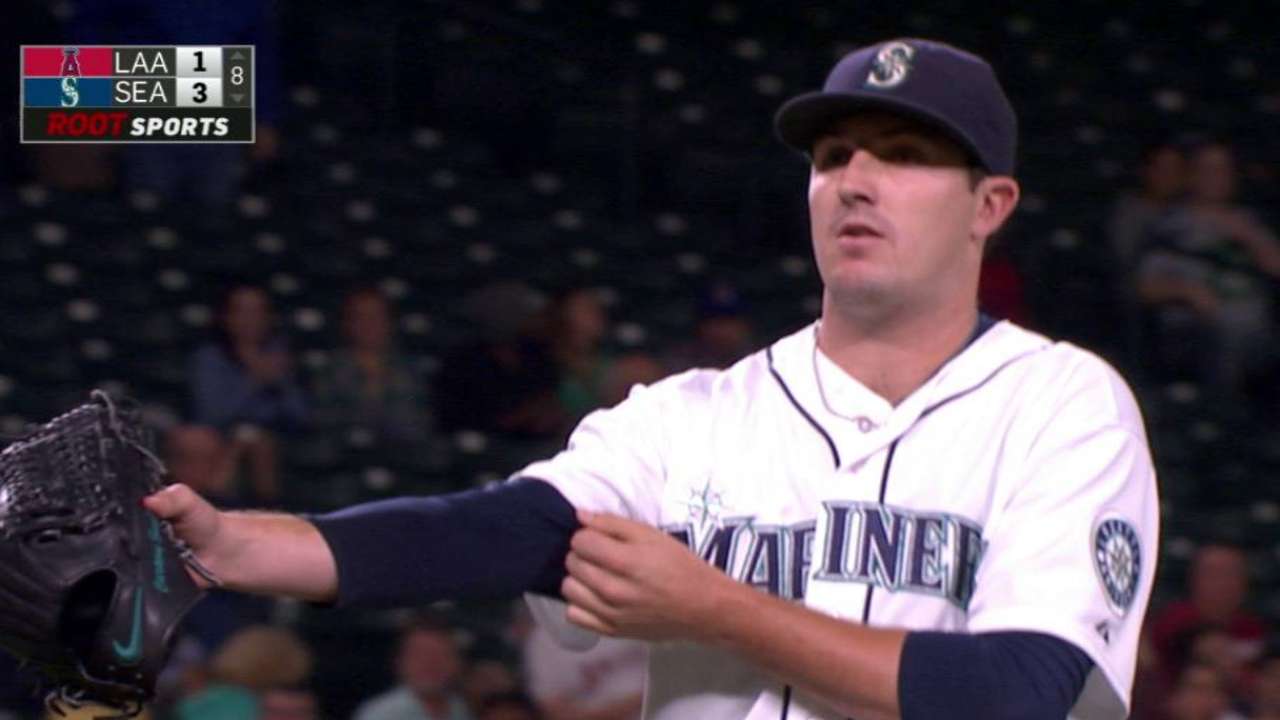 BOSTON -- Carson Smith went for a hike with his family in Costa Rica on Dec. 7, and when he returned from the excursion, he learned that his career had shifted 3,000 miles to the east.
"I get back to my phone, and right as I look down to my phone -- and I noticed I had 30 text messages or so -- my dad yells, 'Carson, you just got traded.' I opened up the text messages, assuming there would be something involving that. I don't come back to my phone with 30 text messages often," Smith said by phone earlier this week.
"Everybody was congratulating me on the trade to Boston and wishing me well. It was pretty exciting. Obviously I was already on vacation, so I was in a good mood -- and it definitely got better from that point out."
After a standout rookie season with the Seattle Mariners in 2015, the righty reliever is ready to embrace the Boston baseball experience. And he will do so with the distinctive sidearm motion that has gotten him to this point.
Smith has never had much luck throwing over the top. Even back in Little League, his arm was dipping down. The only reason his coaches let him throw that way was because he was getting batters out.
"I was always one of the better pitchers on my team," Smith said. "I don't think they were questioning so much my arm angles but questioning how in the world I was doing what I was doing throwing underhand at the age of 13."
Back in those days, Smith would change his delivery by the day.
"Growing up, I'd always thrown from different angles, and even down to submarine," Smith said. "This is probably ages 12 throughout high school. I always developed different arm slots pretty consistently."
Initially, it was enough to get Smith to Grayson College in Denison, Texas .
"My freshman year in college, I tried to stick just over the top [delivery], being a tall guy and trying to use the leverage of my body, trying to create velocity and a downward plane," said Smith. "It just didn't work out that well."
Then Smith transferred to Texas State and got back to his comfort zone.
• Sox acquire Smith, Elias from M's for Miley
"During my sophomore year in college, I kind of just went back to what I was doing in high school," Smith said.
The breakthrough came shortly after the transfer, when Smith huddled with pitching coach Derek Matlock.
Together, they came up with one arm angle -- the one Smith used in 2015, when he put up terrific numbers (2.31 ERA, 92 strikeouts in 70 innings) for the Mariners.
"I sat down with my pitching coach, and we got it all blended into one arm slot. And it so happened that the movement and velocity and accuracy from the arm slot I'm in now is kind of what's gotten me to where I am today," Smith said. "I've kind of just stuck with that and ran with it."
And unlike many sidewinders, Smith has strong success against hitters from both sides of the plate. In 2015, the righty held righties to a .169 average, while lefties hit .227 off him.
"I'm trying to mix in the changeup with the lefties," said Smith. "If I have control of that pitch, knowing I can throw it at any count, it always adds a little bit of flexibility with the pitch calling. Also with slider location, being able to put the slider on the back foot or the back door, that's been really key for me. I've learned that over the past few years, really how to throw a true back-foot slider and try to entice some swing and misses."
Smith's velocity dipped down the stretch in 2015, but he said it was nothing more than a rookie reliever learning what it takes to get through a full season.
"I think there was a time there probably in July, after the All-Star break, where I was thrown out there quite often, it was the abundance in a short amount of time," Smith said. "I think I went five times in seven days two different times. That's something I've got to get better at. Your name is going to get called that often in the big leagues. That's part of it. And just being my first full year, I think I've learned from that and learned how to treat my body and really gain strength and consistency."
In Seattle, Smith was surrounded mainly by fellow young relievers. In Boston, he will be work alongside two of the best in the game in Craig Kimbrel and Koji Uehara.
"Those are two very established closers in the league," Smith said. "The way they go about their business, obviously I'm young and have a lot to learn. I've only been around the game for one-plus years. I'm trying to pick up things every day. Whether that's the mentality of preparation or physical preparation, I'm just going to follow closely and try to follow in their footsteps."
Ian Browne is a reporter for MLB.com. This story was not subject to the approval of Major League Baseball or its clubs.