Top 10 upgrades so far this offseason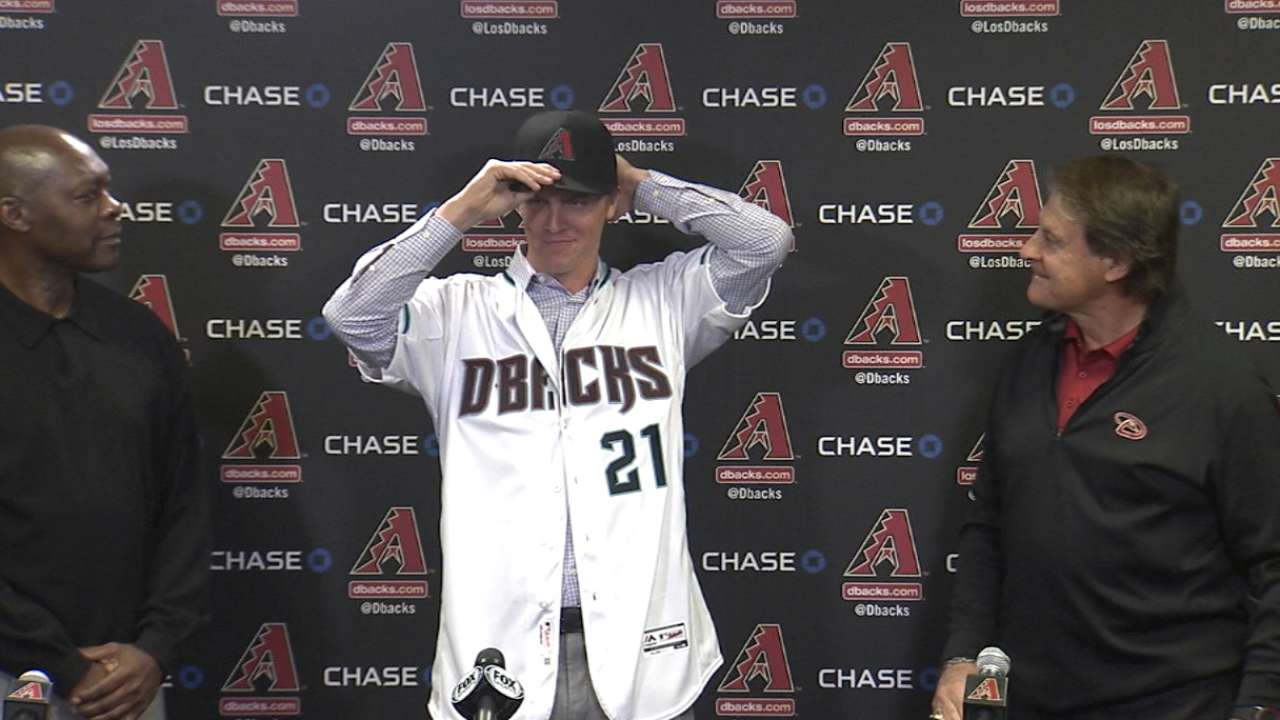 It's easy to point out which teams have spent the most money, signed the most high-profile free agents or landed the biggest names on the trade market so far this offseason.
Yet what about finding the teams that have made the best actual improvements from a season ago?
Take, for instance, the Cubs signing prized free-agent outfielder Jason Heyward. On its own, the deal is one of the best additions of the offseason, with Heyward projected to rack up a 4.8 WAR next year, according to Steamer's 2016 projections on Fangraphs. That said, Heyward was signed to take the place of current free agent Dexter Fowler, who posted a respectable 3.2 WAR for the Cubs last season.
Thus, while it was certainly a positive move for the Cubs, it falls just outside the 10 best upgrades so far this offseason, despite the fact that Heyward has the second-highest projected WAR out of any player that has changed teams since the season ended.
With that in mind, let's take a look at the 10 best upgrades so far this offseason, based solely on a newcomer's 2016 projected WAR compared with the 2015 WAR of the player who filled that same position for that team last year.
10. Adam Lind, Mariners
Projected WAR: 1.5
Change: +1.7
The Mariners acquired Lind from the Brewers earlier this month in exchange for a trio of teenage prospects. Although Steamer projects Lind to take a step back from his 2.2 WAR in Milwaukee last season, he still figures to provide a significant upgrade at first base for Seattle. Logan Morrison turned in a -0.2 WAR last year while starting 115 games at first base for the Mariners.
9. John Lackey, Cubs
Projected WAR: 2.9
Change: +2.0
The Cubs helped solidify their rotation by signing Lackey away from the rival Cardinals this offseason. The veteran right-hander, who slots into the rotation for the retired Dan Haren (0.9 WAR in 2015), combines with reigning National League Cy Young Award winner Jake Arrieta to give Chicago one of the league's most formidable one-two punches atop the rotation.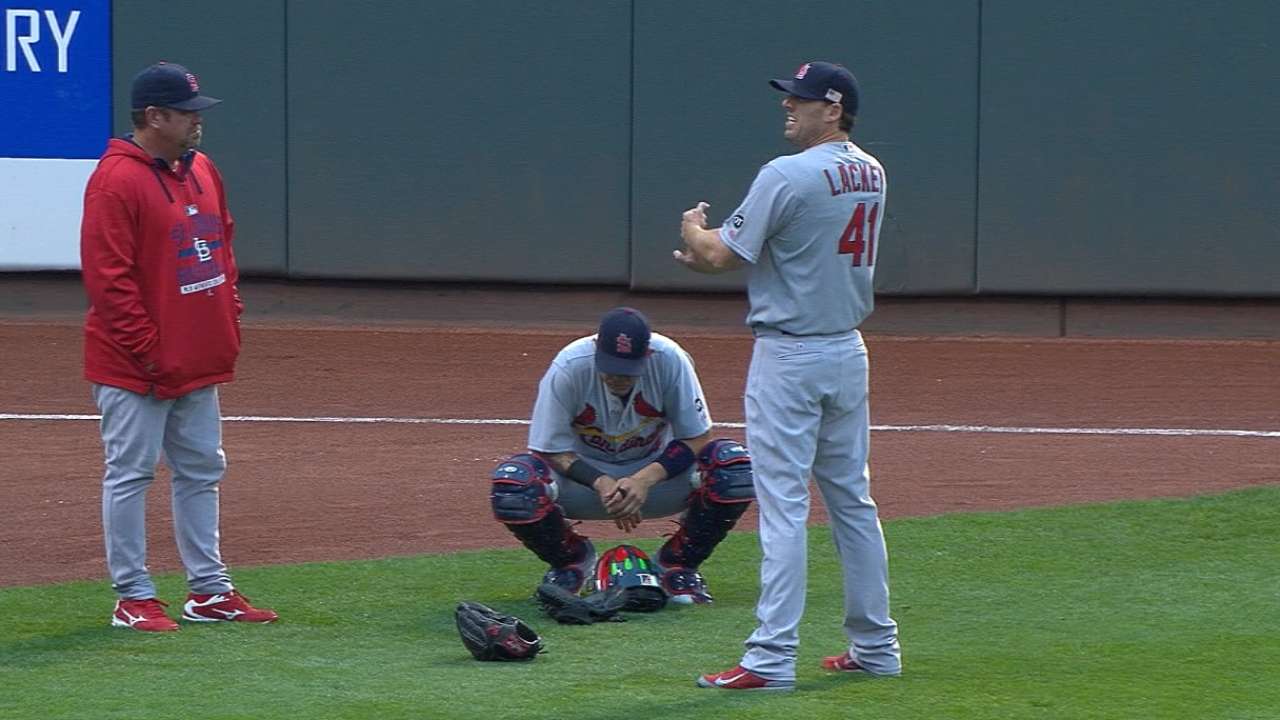 8. Craig Kimbrel, Red Sox
Projected WAR: 1.2
Change: +2.1
The Red Sox set the tone for their busy offseason when they acquired shutdown closer Kimbrel from the Padres in November. His acquisition moves Koji Uehara, the club's closer for the past three years, to a setup role and bumps Junichi Tazawa to seventh-inning duties. Thus, Kimbrel seems to have technically replaced Alexi Ogando, who posted a -0.9 WAR over 64 appearances last year in Boston's bullpen.
7. Chris Iannetta, Mariners
Projected WAR: 1.7
Change: +2.2
Iannetta is coming off a disappointing campaign with the Angels in which he posted a 0.5 WAR, just one year after racking up a 3.0 WAR for the Halos in 2014. Steamer expects the backstop to settle somewhere in between in his debut season for the Mariners next year, which would be a welcome treat for Seattle after Mike Zunino's struggles last season. The promising young catcher hit just .174/.230/.300 over 112 games on his way to finishing the season with a -0.5 WAR.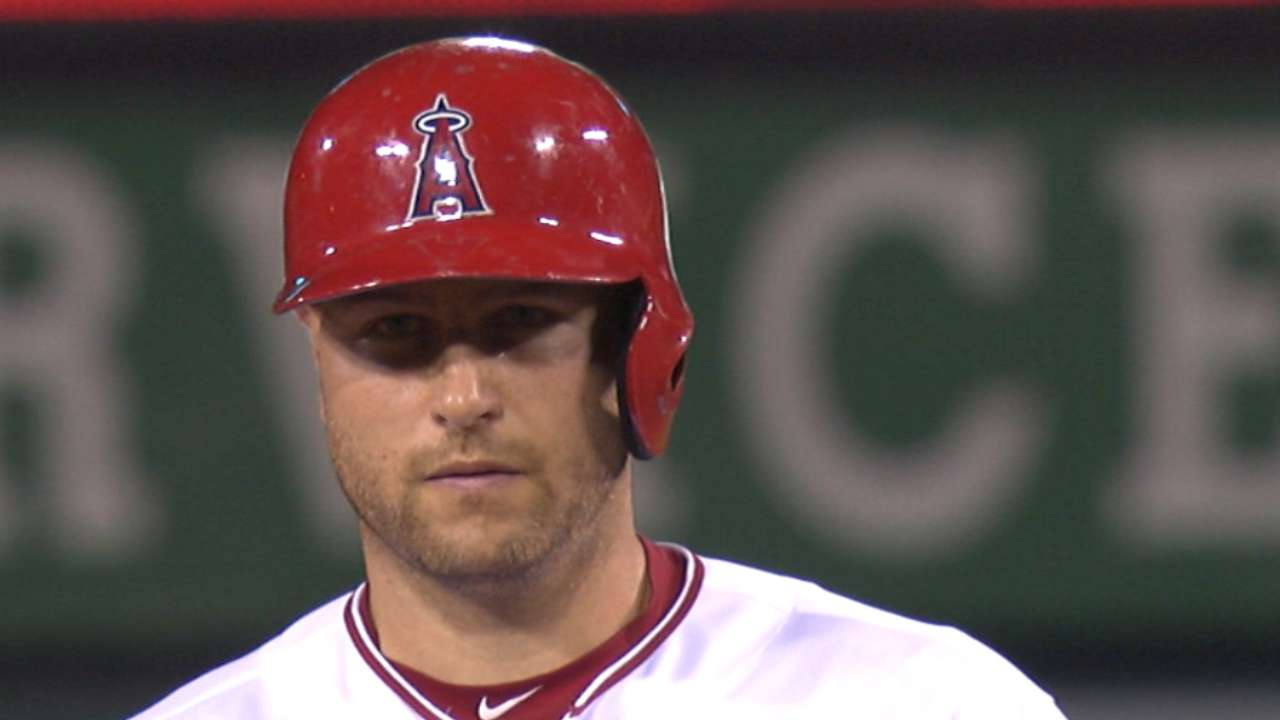 6. David Price, Red Sox
Projected WAR: 5.0
Change: +2.4
After solidifying their bullpen in November, the Red Sox turned their focus toward the starting rotation. Despite having a number of viable starting pitching options, Boston wanted to add a true ace, something it eventually found in Price. The Sox signed Price to a record seven-year, $217 million deal, then turned around and traded Wade Miley, who finished last season with a 2.6 WAR, to the Mariners.
5. Ben Zobrist, Cubs
Projected WAR: 3.3
Change: +2.5
Here's the third Cubs newcomer to crack the top 10. Similar to the race to land Heyward, Chicago beat out some of its main NL competitors in the Zobrist sweepstakes. To secure a spot for Zobrist in the infield, the Cubs proceeded to trade Starlin Castro to the Yankees in exchange for pitcher Adam Warren. Though Castro hit the ball well down the stretch after transitioning to second base, he finished the season, as a whole, with a 0.8 WAR.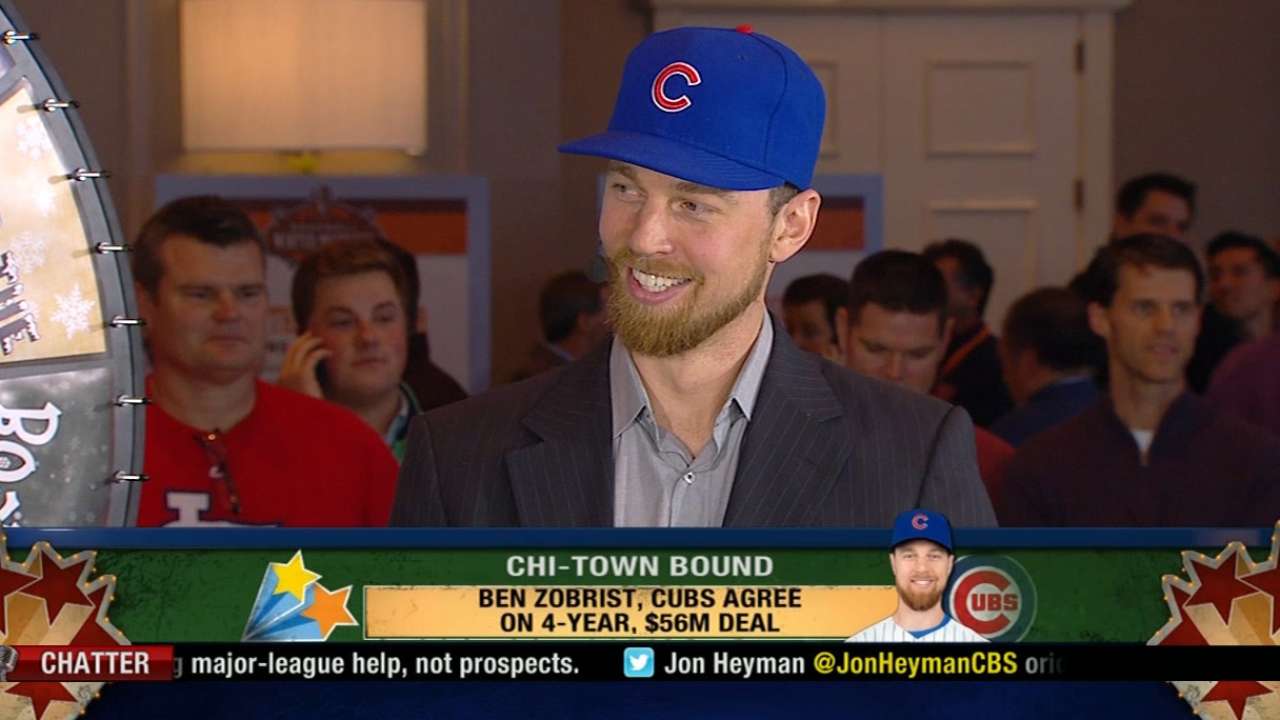 4. Jeff Samardzija, Giants
Projected WAR: 2.7
Change: +2.6
The Giants are banking on a bounceback campaign from Samardzija following his disastrous season with the White Sox. Steamer, however, projects Samardzija to finish with a 2.7 WAR, which would be identical to the mark he put up in Chicago last season -- and well below his career-high 4.1 WAR from 2014. Either number would be a marked improvement for San Francisco, which needed to find replacements for both a retired Tim Hudson (0.1 WAR) and free agent Ryan Vogelsong (0.0 WAR).
3. Todd Frazier, White Sox
Projected WAR: 3.3
Change: +3.1
No team in the American League hit fewer home runs last season than the White Sox, who hit 136. A lack of pop at the hot corner certainly contributed to the problem, as the Sox received only 13 combined homers from their assortment of third basemen -- and no one player hit more than five while playing the position. Frazier, who hit 35 homers for the Reds in 2015 and is averaging 26 per season over the last four years, figures to help in that area. For added context, Jose Abreu (30) was the only White Sox player to hit at least 15 homers last year.
2. Johnny Cueto, Giants
Projected WAR: 3.2
Change: +3.2
As mentioned in the Samardzija breakdown, the Giants had multiple vacancies to fill in their starting rotation. Regardless of whether Cueto is considered a replacement for Hudson and Samardzija for Vogelsong, or vice versa, the two San Francisco hurlers would check in at Nos. 2 and 3 on this list. Vogelsong and Hudson combined for a 0.1 WAR over 57 total appearances last year, while Steamer projects the new Giants duo to rack up a 5.9 cumulative WAR in 2016.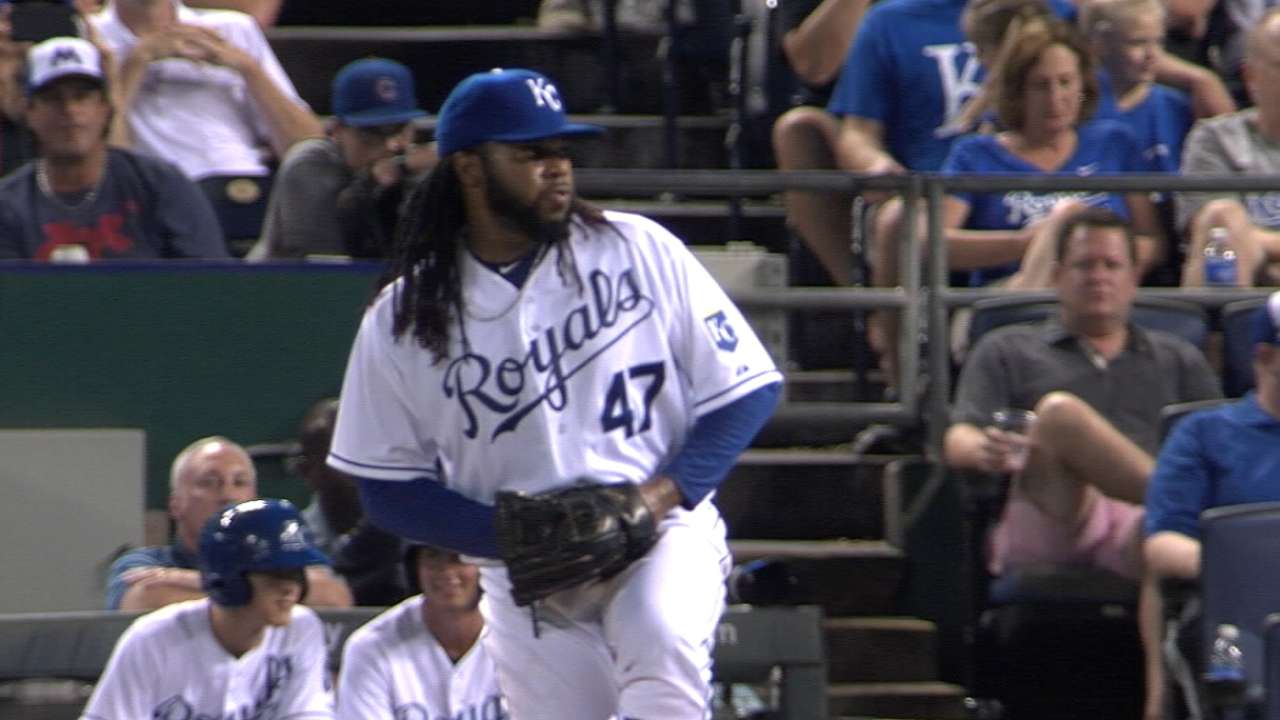 1. Zack Greinke, D-backs
Projected WAR: 4.2
Change: +3.4
Though it shocked many in the baseball world when the D-backs swooped in to sign Greinke, it should come as no surprise to anyone that Greinke finishes atop this list. After all, the veteran right-hander racked up a 1.66 ERA last season -- the lowest in 20 years -- all while Arizona's starters combined for a 4.37 ERA, ranked 23rd in the Majors. Steamer certainly isn't projecting a repeat performance from Greinke's 5.9-WAR season in 2015, but he should still be a sizable upgrade over Jeremy Hellickson (0.8 WAR), who was traded to the Phillies weeks before the team landed Greinke.
Paul Casella is a reporter for MLB.com. This story was not subject to the approval of Major League Baseball or its clubs.