Duquette: O's stance on Davis unchanged
Club seeking pitching, outfield help and lefty hitting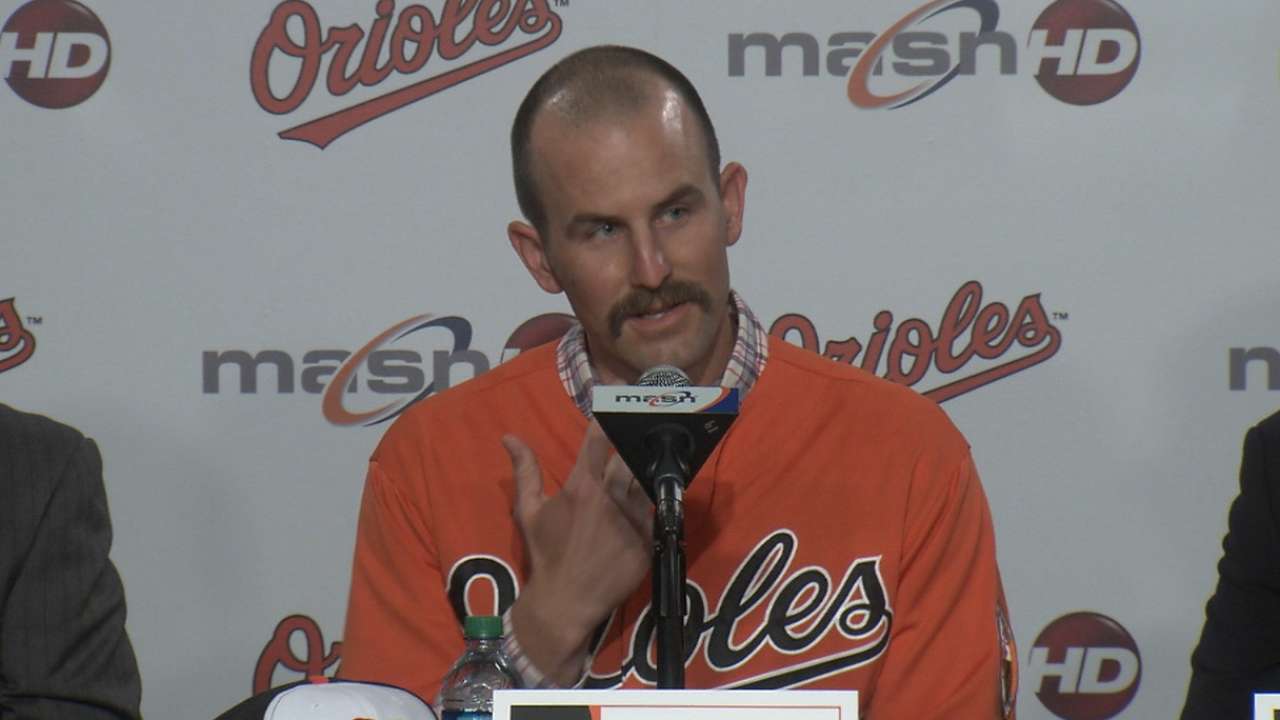 BALTIMORE -- The Orioles checked one item off their shopping list when they re-signed setup reliever Darren O'Day to a four-year contract Monday. Following a news conference with O'Day on Tuesday at Camden Yards, Baltimore executive vice president of baseball operations Dan Duquette said the club is continuing to look for ways to bolster its roster before the Christmas break.
"We're going to continue to work this week and into the first part of next week," Duquette said. "I think [next] Wednesday's the last day, and then the industry shuts down until Jan. 2. So between now and next Wednesday, we're going to try to add to the ballclub."
In particular, Duquette is searching for pitching, outfield help and left-handed hitting.
One such left-handed bat belongs to free-agent slugger Chris Davis, who hit 126 home runs for the Orioles over the past three seasons. But Duquette said nothing has changed with regard to Davis since Saturday, when he told reporters at the team's FanFest that the O's had pulled their latest offer from the table.
Duquette: Offer to Davis off the table
Another former Oriole, left-hander Wei-Yin Chen, is one of the leaders of the remaining class of free-agent pitchers, with many of the bigger names already signed. Duquette called some of the prices he has seen, particularly for pitching, "absolutely staggering."
Asked if he would consider trading from the team's depth in the bullpen instead, Duquette called that strategy "a possibility" but said the club is more focused on adding through free agency.
"We've been trying to get the best value we can get on the pitching market, and signing Darren was a big help towards us maintaining one of the strengths of our team, in the bullpen," Duquette said. "So we'll continue to try to build on that strength."
Andrew Simon is a reporter for MLB.com. Follow him on Twitter @AndrewSimonMLB. This story was not subject to the approval of Major League Baseball or its clubs.