'Easy choice' for O'Day to stick with Orioles
Setup reliever hoping to convince Davis to return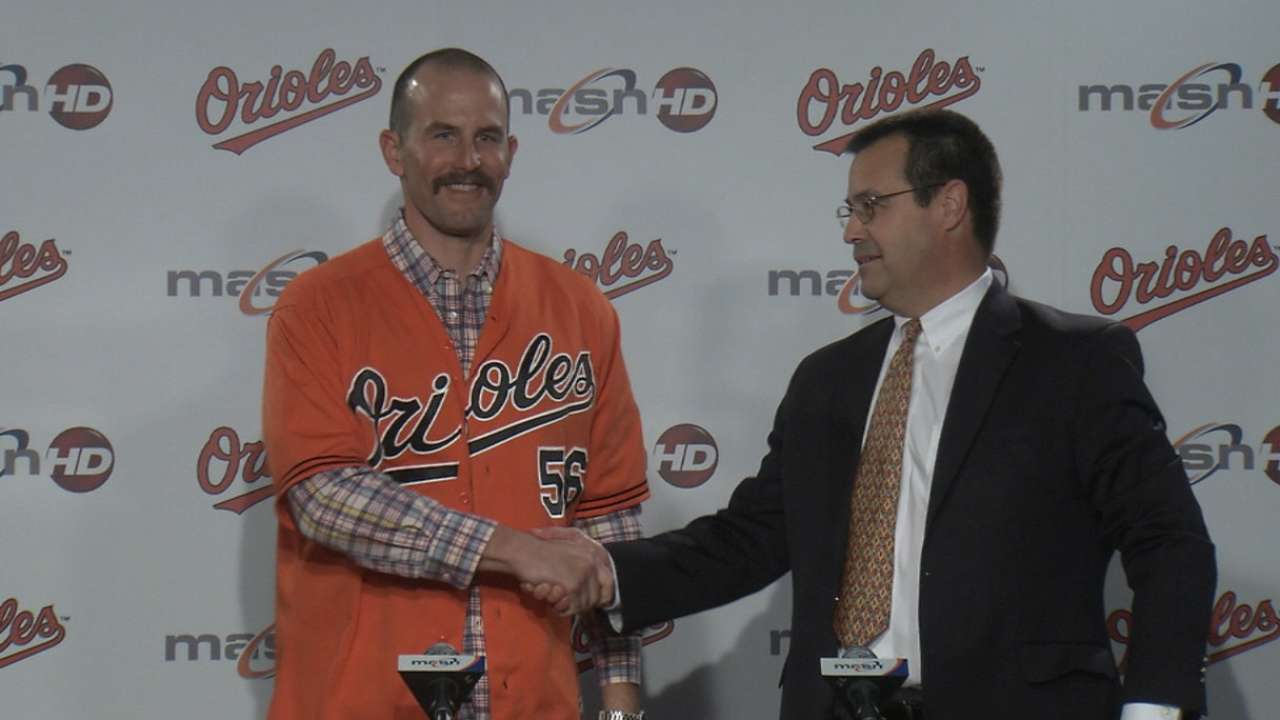 BALTIMORE -- Darren O'Day was, in his words, "lightly recruited" out of high school, and he was cut as an overhand-throwing freshman walk-on at the University of Florida. He reinvented himself as a sidearm pitcher, went undrafted, then made it to the Majors anyway, bouncing around before finding a home in Baltimore.
On Tuesday, the Orioles held a news conference to reintroduce O'Day, who on Monday officially signed a four-year, $31 million contract to return to the team that helped him take his career to the next level.
"I didn't think I'd get a chance to play professionally, been designated [for assignment], changed teams four times without being traded," O'Day said. "It's been an interesting ride, it really has. Baseball's about being ready for opportunities and taking advantage of them when they're presented. I've been lucky enough to do that. I've been lucky enough to have some great help along the way."
Accompanied by his wife, Elizabeth Prann, and young daughter Claire, O'Day -- sporting a new mustache -- called it an "easy choice" to come back.
"I think in my heart of hearts, I hoped that would come true," he said. "I've had such a wonderful four years here. The work we've done over the past four years to bring this proud franchise back to where it should be, with a lot of wins, really means a lot to me."
But after speaking with the Orioles at the beginning of the offseason, the two sides didn't communicate much for a while, O'Day said. Then, at the end, "they made it obvious" they wanted him.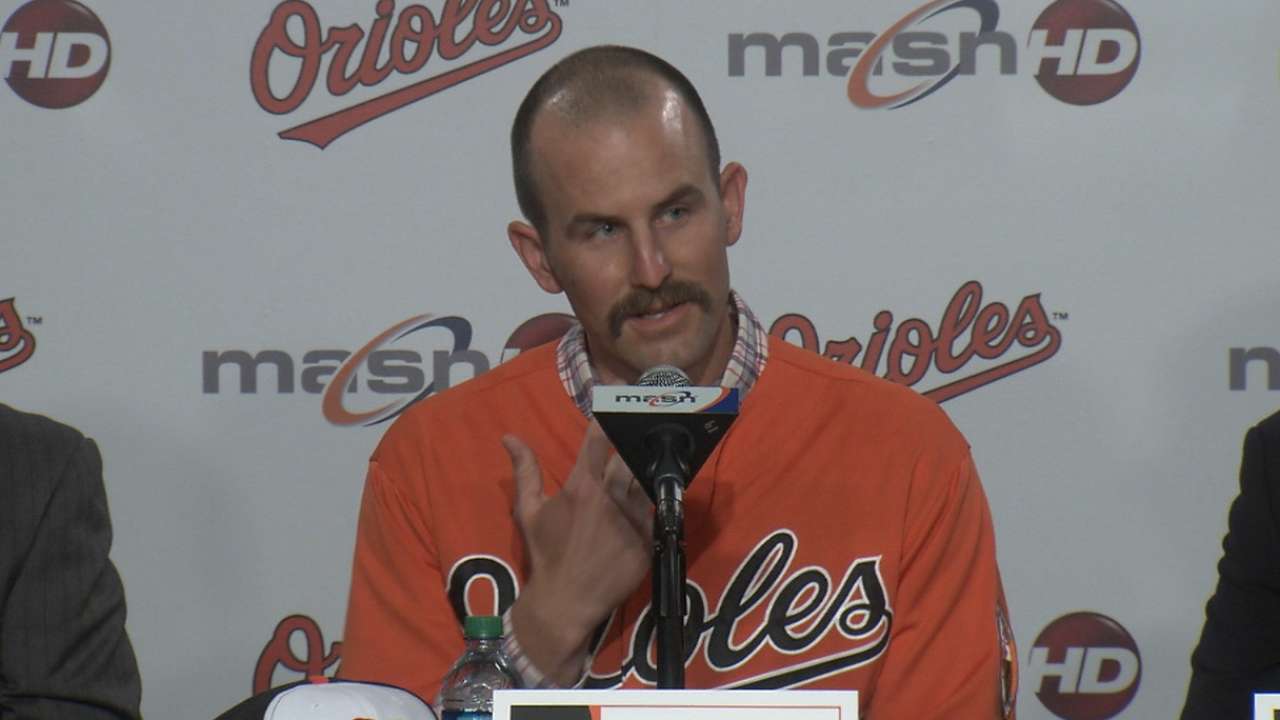 Baltimore executive vice president of baseball operations Dan Duquette said the market for O'Day required the team to add the fourth year to its offer. O'Day's dependability over the past four years, plus his unorthodox pitching style and leadership abilities, made the O's comfortable enough to do so, even though he will be 36 at the end of the contract.
The Orioles claimed O'Day off waivers from the Rangers in November 2011. He has made either 68 or 69 appearances in each of his four seasons in Baltimore, always pitching between 62 and 68 2/3 innings. His ERA has dropped each year, from 2.28 in 2012 to 1.52 this season, when he made his first All-Star team and set career bests with 11.3 strikeouts per nine innings and a 5.9 strikeout-to-walk ratio.
"Since Darren joined the Orioles, he's put up four years almost as good as any other relief pitcher in Major League Baseball," Duquette said. "When you look in the book for consistency for relief pitchers, you don't find very many that can put up the numbers Darren has been able to put up in Baltimore over a four-year period."
O'Day (273 games) now hopes to become the second Orioles pitcher to reach the 500-game mark, challenging Jim Palmer's team record of 558.
A more immediate goal is to help convince free-agent first baseman Chris Davis to rejoin him in Baltimore.
"No. 19, he's actually a mustache enthusiast, so I'm hoping maybe he'll see a picture of this and think that he couldn't stand not seeing it for a while," O'Day joked. "Chris is a good friend of mine, and every free-agency situation is different. He's got to do what's right for his family, but that being said, I'm going to do everything I can to get him to come back, because he's a difference-maker."
Andrew Simon is a reporter for MLB.com. Follow him on Twitter @AndrewSimonMLB. This story was not subject to the approval of Major League Baseball or its clubs.