J-Hey officially joins Cubs' young core
After signing 8-year deal, outfielder introduced in Chicago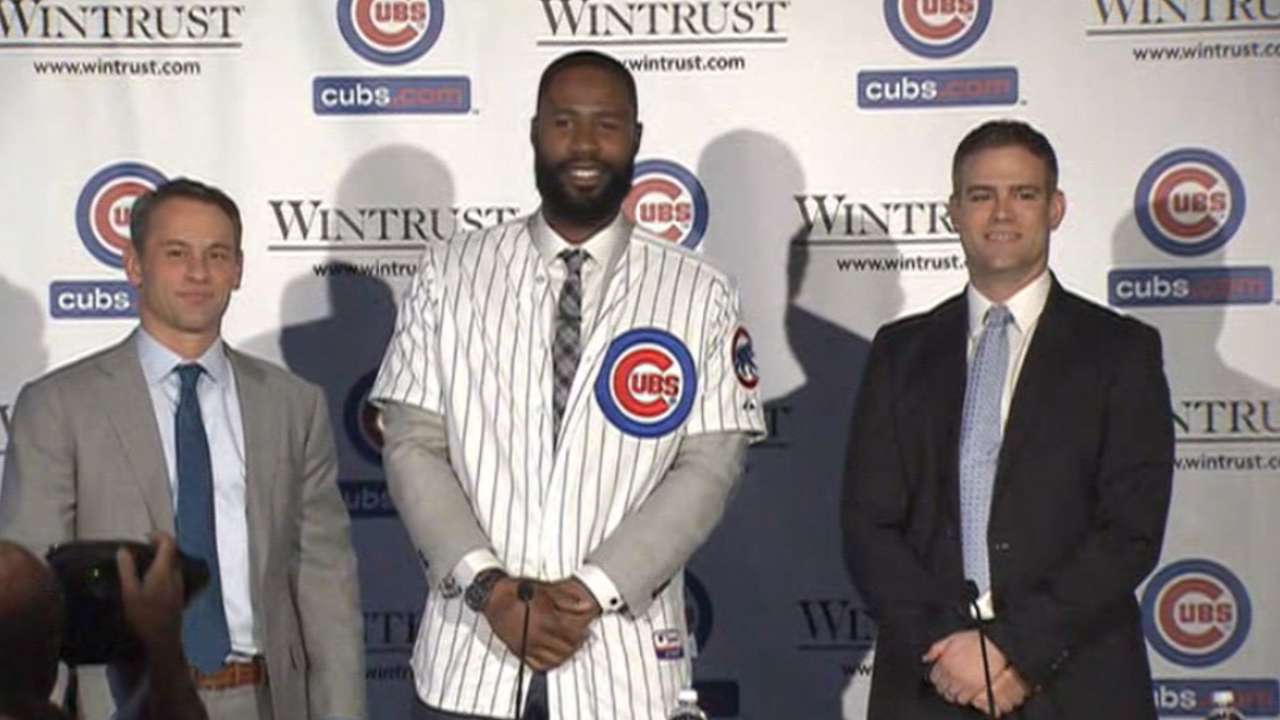 CHICAGO -- At 26 years old and with six Major League seasons under his belt, Jason Heyward was in an unprecedented position this offseason as he hit the free-agent market with a beefy resume and his best years likely ahead.
With a young core of talented position players, two top pitchers and a National League Championship Series appearance coming a year earlier than expected, the Cubs were looking to add to a team that has not yet fully realized its potential.
That created and encouraged the Cubs to seek, and eventually seize, what president of baseball operations Theo Epstein called a "rare opportunity" Tuesday, when the Cubs officially announced the signing of Heyward to an eight-year deal.
"Usually when you're in our situation … you have to build up a core of young players and then you complement it with free agents who are usually older," Epstein said. "In Jason's case, a day younger than Anthony Rizzo, he just really fits perfectly with this young core that we're developing and we couldn't be happier to develop this process with him right in the middle of it."
The contract is worth $184 million and includes two opt-outs, the first being after the 2018 season, according to multiple reports last week. Heyward can reportedly opt out of his deal after the third year or the fourth year if he exceeds certain plate-appearance thresholds.
"The Cubs being so young, having a great core of guys and the intelligence of everyone involved saying they want to be able to put that kind of group going forward," Heyward said.
"That sold me."
"I am blessed to be here and play the game I love for a living." - @JasonHeyward pic.twitter.com/K8cClKJnlK

— Chicago Cubs (@Cubs) December 15, 2015
Heyward figures to slot into center field, with the Cubs losing Dexter Fowler to free agency. Although Heyward has primarily played right field, scouts say he could easily transition to center at Wrigley.
Heyward's age is just one reason he was highly sought after on the open market. Although not a big power threat (13 home runs last season) or run producer (60 RBIs), he sports a .353 career on-base percentage, three Gold Glove Awards and is widely regarded as the game's best defensive right fielder and an above-average baserunner.
"He just does all the little things that go into winning baseball games and he impacts the game in a lot of obvious ways, but in a lot of subtle ways, as well," Epstein said.
The Cubs are well aware of what Heyward can do, watching him hit .311 (28-for-90) with four homers, five doubles and 13 RBIs in 25 career games at Wrigley Field. They got an even more up-close look at him last year with the Cardinals.
"I think every game after we played the Cardinals I'd go down and talk to [manager Joe Maddon] after the game and Joe was always buzzing about Jason," general manager Jed Hoyer said. "About how much he impacted the game. And every time you looked at something on the field, Jason was a part of it."
Added Epstein: "Joe called Jason a 'beautiful man' from time to time this year. So when he drops that on someone, you know he thinks he's a really good player."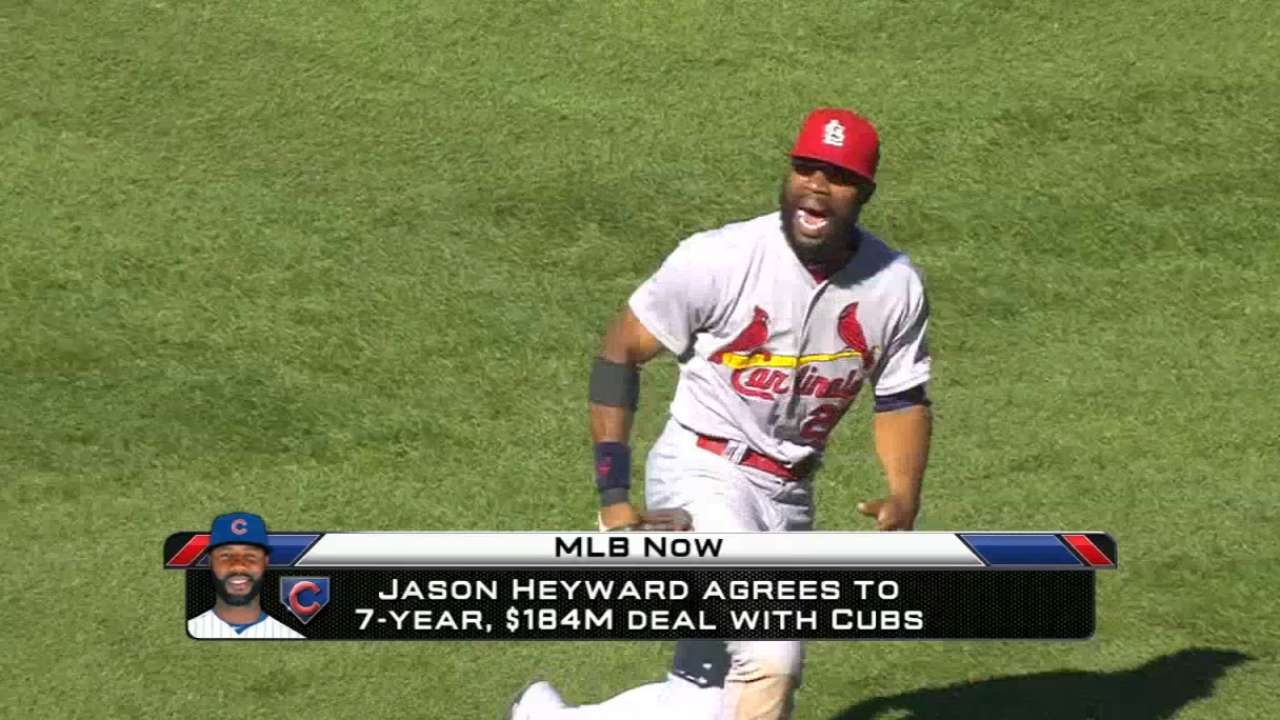 Heyward also is the latest in an offseason full of moves that have been much different than the first part of Epstein and Hoyer's time in Chicago. After the lean years of waiting for the "sustained success" Epstein sought, there's no question that is the period where the Cubs now find themselves.
The 2015 NLCS appearance and young core are part of what prompted Heyward and fellow free agents -- right-hander John Lackey and second baseman Ben Zobrist -- to join the Cubs. In fact, those factors were so intriguing that Heyward -- who had interest from the Cardinals, Nationals and Angels -- passed on more dollars to chase a World Series title with the Cubs.
"I didn't take the highest offer," Heyward said. "For me, a winning attitude and culture and the fact that this group is such a young group and I could grow myself with it. And to be 26 years old and look throughout my, hopefully, eight years here that I was able to grow up with a group of guys and make them family and to be able to cherish that the rest of the way without feeling I had to restart."
Fantasy spin | Fred Zinkie (@FredZinkieMLB)
Heyward was not an elite fantasy outfielder during his single season with St. Louis, but he did post the highest batting average (.293) and stolen-base total (23) of his six-year career. As part of a suddenly scary Cubs lineup, the 26-year-old should be a strong five-category contributor in 2016. He might score 90 runs if he bats near the top of the lineup, with 80-plus RBIs also possible if he hits behind superstars Rizzo and Kris Bryant. But to become a top-tier fantasy hitter, Heyward will need to top the 20-homer mark for the first time since 2012. In order to rip more round-trippers, Heyward must alter an approach that led to a career-high ground-ball rate last season.
Cash Kruth is a reporter for MLB.com. Follow him on Twitter at @cashkruth. This story was not subject to the approval of Major League Baseball or its clubs.