Pirates bring back Rodriguez on 1-year deal
Versatile veteran primarily played first base for Bucs in 2015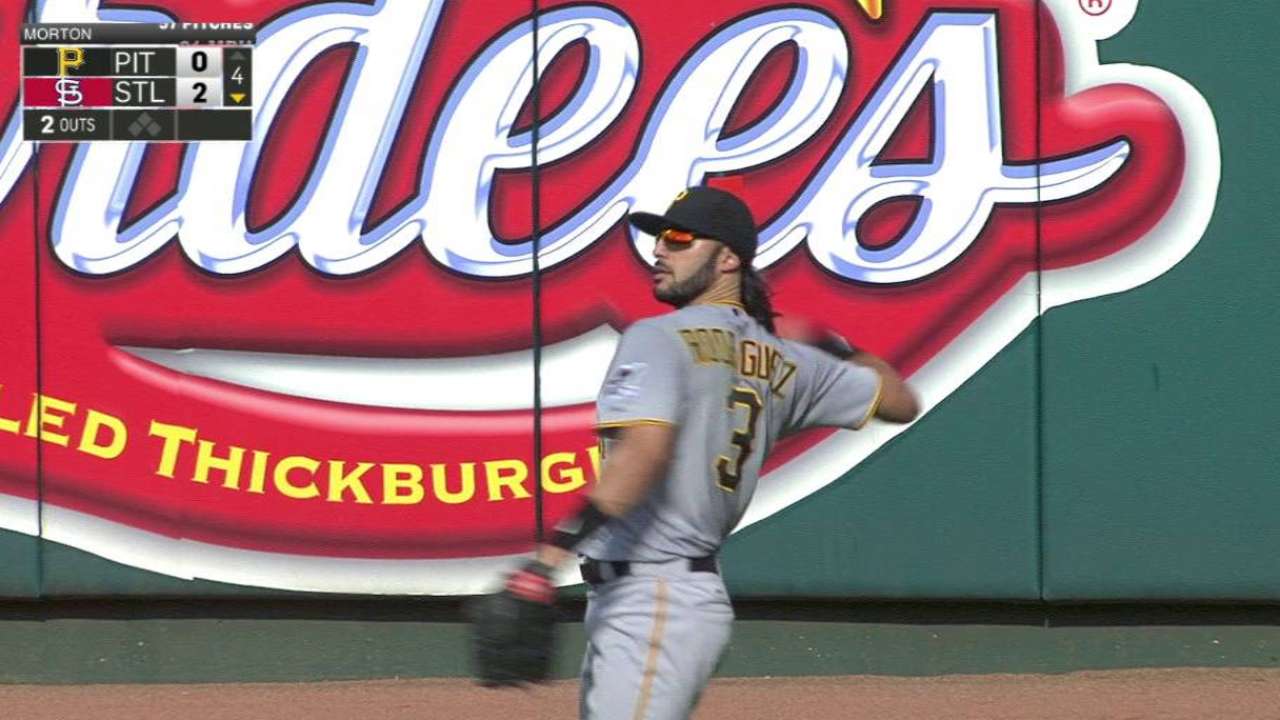 PITTSBURGH -- When the offseason began, the Pirates started searching for a player who could fill the role they initially had in mind for Sean Rodriguez last season. They wanted a versatile defender, a true utility man. In other words, they wanted Rodriguez back.
The Bucs made it happen, agreeing to a one-year deal with Rodriguez earlier this week and officially announcing the signing on Thursday. Though financial terms were not disclosed, an industry source confirmed to MLB.com that his contract is worth $2.5 million.
Rodriguez, 30, joined the Pirates last winter in a trade with the Rays. He hit .246/.281/.362 with four home runs and 17 RBIs in 240 plate appearances, playing in a career-high 139 games. A middle infielder by trade, Rodriguez spent most of the year backing up Pedro Alvarez at first base, where his defense drew rave reviews from manager Clint Hurdle.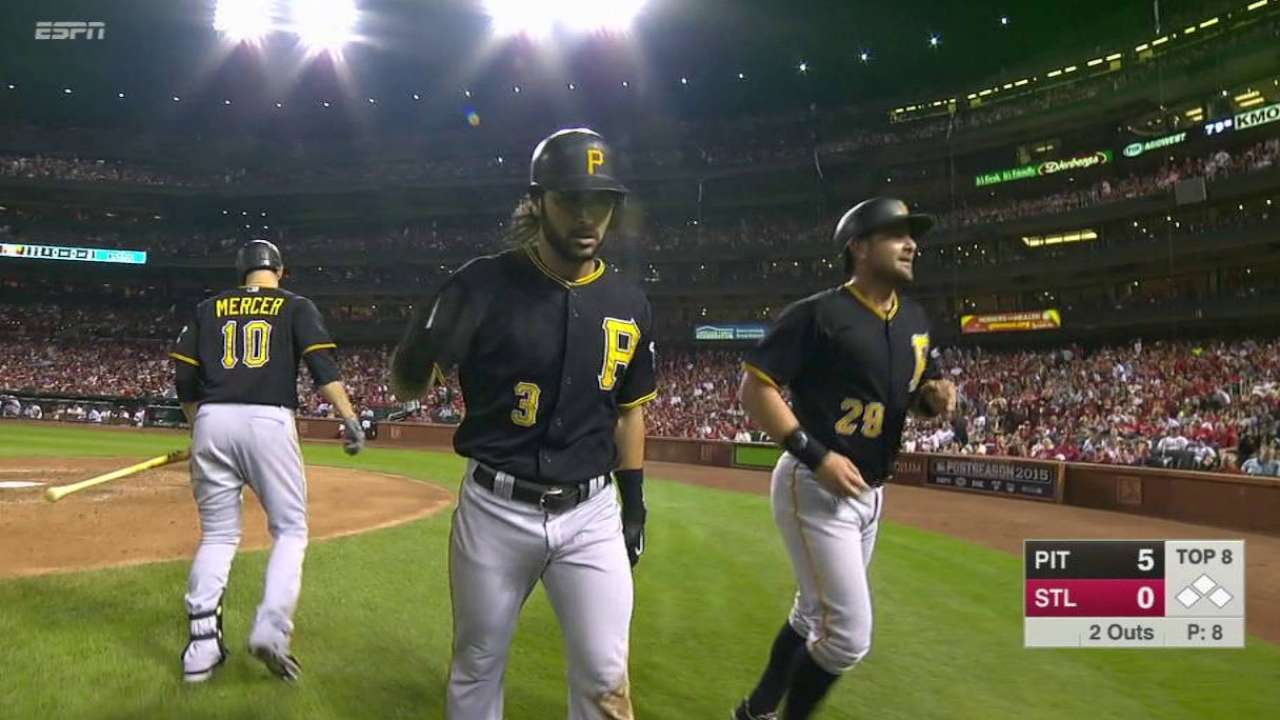 As Alvarez struggled to make the transition from third, Rodriguez started at first base in the Pirates' loss to the Cubs in the National League Wild Card Game.
Rodriguez's role is expected to change next year, however. The Pirates initially acquired him with the idea that he would move around the diamond, playing virtually every position to utilize the versatility he displayed with the Rays earlier in his career.
"That was our goal when we traded for him. Our club was deep enough and our need was strong enough that we maximized his defensive ability at first base," Pirates general manager Neal Huntington said. "The idea of re-signing him this year was that he would become that versatile defender with some upside to the bat that can bounce around the field and give Clint versatility, whether it's within a game or it allows him to rest the starters at various positions as he feels necessary."
Rodriguez's role could be particularly important if third baseman Jung Ho Kang, who underwent surgery on his left leg Sept. 17, is not ready to play until mid-to-late April. In that case, Rodriguez could be the Opening Day starter at second or third base, depending on where the Pirates think he and Josh Harrison make the most sense.
"[Prospect] Alen Hanson could change our mind, but we'd absolutely feel comfortable with Sean, whether it's at second or third," Huntington said. "That was also part of the thought process, [that] Sean could step in if Jung Ho's not quite ready to go Opening Day."
Rodriguez has played every position but pitcher and catcher over the course of his eight-year career, and he was at his best offensively down the stretch last season, batting .346 in August and hitting .333 in his final 52 games. While the Pirates were obviously pleased with his performance at first base, Huntington said Rodriguez also turned out to be a better defensive outfielder than they anticipated.
Rodriguez appeared in 102 games at first base, 29 in the corner-outfield spots, eight at third base, seven at second and three at shortstop last season. Next season, those totals could be more evenly distributed as Rodriguez settles into the role the Bucs always had in mind for him.
"We feel very strongly about the energy that he brings every day, his passion to win, his passion to compete. We like him in the clubhouse and what he brings there as well as defensively," Huntington said. "And he has hit in the past. There are some things we like. ... Maybe playing in more of a regular role this year will help the offense play closer to what it had in the past than what it did last year."
Adam Berry is a reporter for MLB.com. Follow him on Twitter at @adamdberry. This story was not subject to the approval of Major League Baseball or its clubs.