Inbox: Why did Yanks deal Wilson to Tigers?
Beat reporter Bryan Hoch answers fans' questions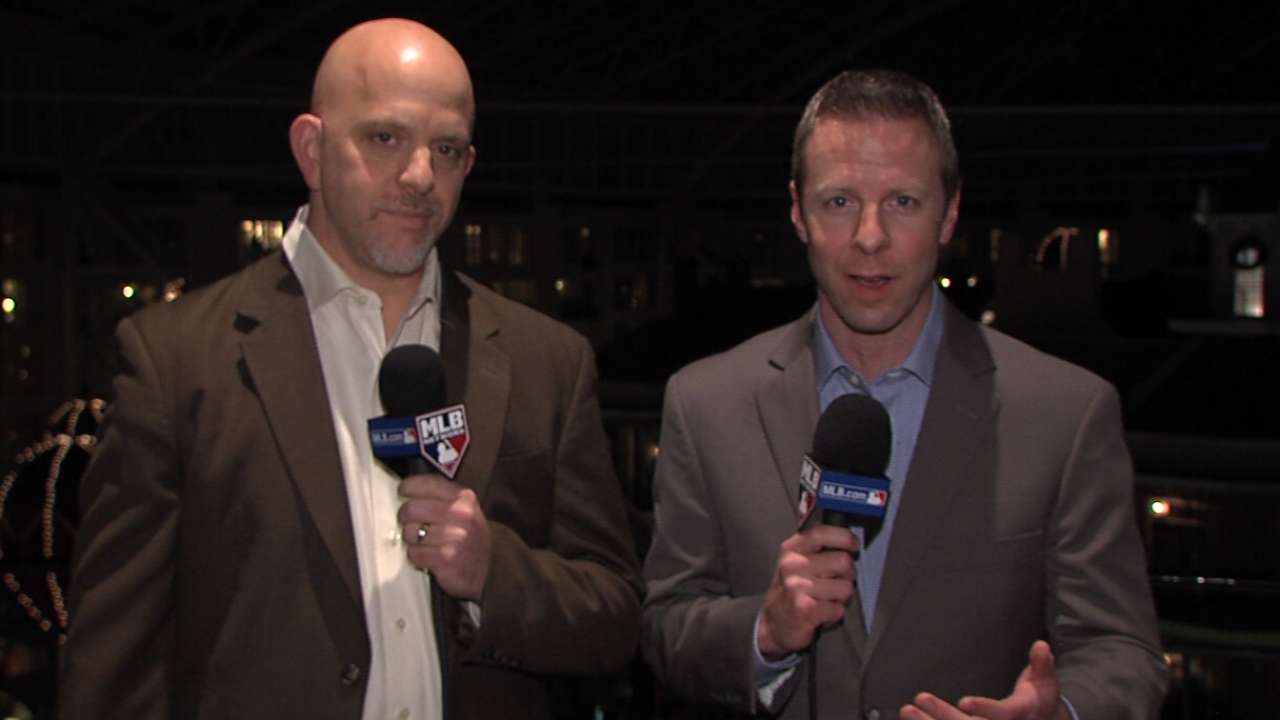 Could you explain the logic behind trading Justin Wilson to the Tigers? Did the Yankees just need to clear salary after getting Starlin Castro from the Cubs?
-- William T., Paramus, N.J.
We've been talking all offseason about how the Yankees were thinking about trading a left-handed reliever, but Andrew Miller is still in pinstripes while Wilson is off to the Motor City. The move caught quite a few people by surprise, and general manager Brian Cashman said that the deal was an opportunity to shore up an organizational weakness in the starting pitching department.
• Submit a question to the Yankees Inbox
Right-handers Luis Cessa and Chad Green were the No. 6 and No. 19 prospects in the Tigers' system, according to MLB Pipeline, but it was still a head-scratcher that seemed to suggest there might be another shoe to drop. Cashman said that he remains open to anything and that he's active in trade talks, but he is not necessarily looking to flip Cessa and Green, who project to begin the year at Triple-A.
Wilson is expected to earn about $1.6 million next season, so Cashman said that his salary wasn't enough to present an issue, though he did note that the lefty is heading into his money-making years. It seemed not to be so much about saving Wilson's salary as it was what they would have to spend to get a decent back-end starting option in a marketplace where a journeyman like Rich Hill warrants a one-year, $6 million deal from the Athletics.
With almost a week having passed to think about it, the Yanks have significant concerns about the durability of their rotation, and quite correctly. After promoting Luis Severino and trading Adam Warren, they didn't think a farm system paced by Bryan Mitchell and Rookie Davis would be enough to absorb a worst-case blow of multiple injuries.
That's where Cessa and Green come in. Now Cashman needs to find a way to plug that seventh-inning void, and they do have some interesting choices from within the organization in Jacob Lindgren, James Pazos and Chasen Shreve.
Rob Refsnyder had a great debut in the Majors. Is the acquisition of Castro an example of the Yankees not willing to give a rookie a chance at a starting job?
-- Chris J., Mesa, Ariz.
Refsnyder played well when finally given an opportunity in September, but it seemed clear that the Yankees had reservations about him, particularly on the defensive side. That's no fault of Refsnyder's; he is a converted outfielder, and there is a lot that goes into handling the middle infield in today's game -- particularly the increased shifting that players are expected to perform.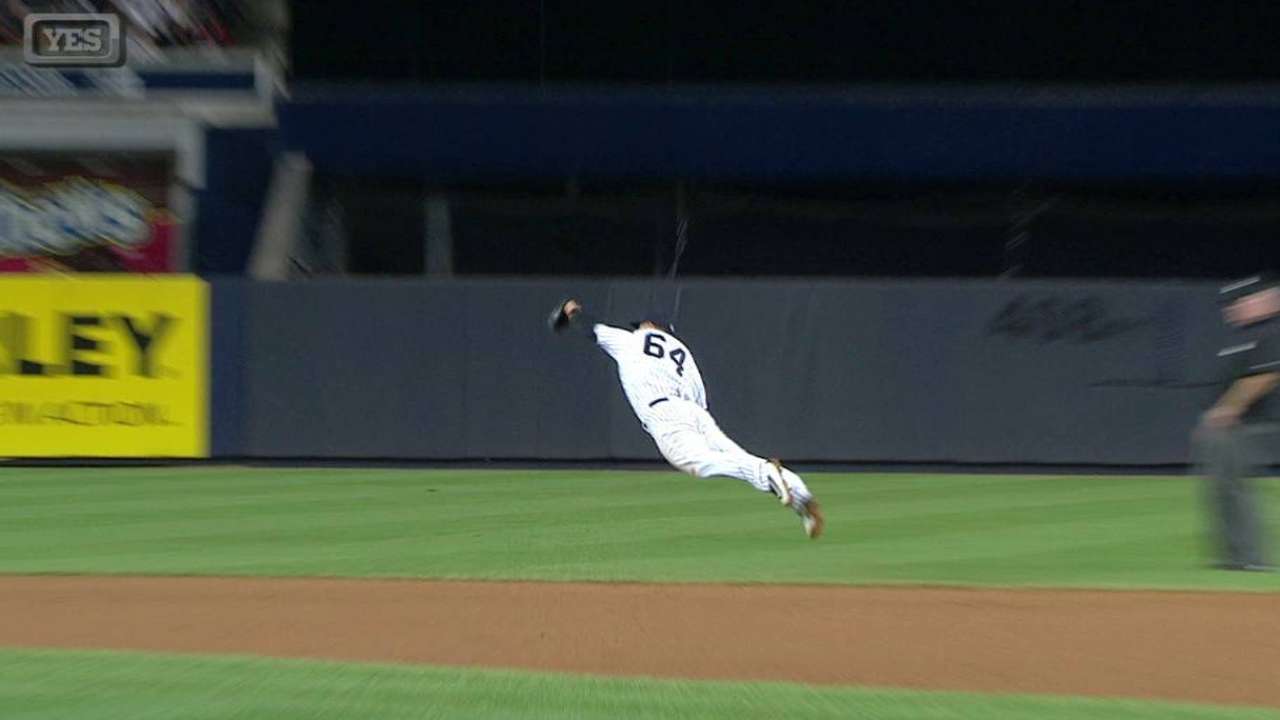 Had the Yanks not made last week's trade, they would have seen a fair amount of offensive production from a platoon of Refsnyder and Dustin Ackley. With Castro, you're getting a three-time All-Star heading into his age-26 season. The upside is higher, the Cubs were motivated sellers after signing Ben Zobrist and Hal Steinbrenner was able to make the dollars work.
The Yankees have historically preferred to trust veteran track records, that much we all know, but they do believe that Greg Bird, Aaron Judge and perhaps Gary Sanchez will play significant roles in years to come. Fewer elite free agents are making it to the open market because they're being locked up early, so you're seeing a shift in the way the Yanks are trying to do business.
As for Refsnyder, he projects to be a depth option at Triple-A or a potential trade chip. He could still force his way into the big league conversation this spring.
There have been rumors that the Yankees are interested in a trade with the Marlins for Jose Fernandez. Surely, the cost would be very high if they were to pursue him. Do you think the risk would be worth the reward?
-- Efrain R., Brooklyn, N.Y.
The Yankees indeed did check with Miami about Fernandez, as he fits the mold of what they are trying to accomplish -- get younger, cheaper and better as an organization. File it under "due diligence." The Marlins have denied that Fernandez is on the block, but there was a report during the Winter Meetings that the Marlins asked the Dodgers for a package that includes stud prospects Corey Seager and Julio Urias, which at least passes the sniff test.
Fernandez would be an incredible fit for any rotation, a 23-year-old ace who -- in the Yanks' case -- would help calm concerns about the health of Masahiro Tanaka, Michael Pineda, CC Sabathia and company. But let's remember the names that Cashman refused to part with at last year's non-waiver Trade Deadline: Bird, Judge, Severino and infield prospect Jorge Mateo. Now let's say the Marlins insist upon three of those four, or maybe two plus Sanchez. Would you do it?
I think the price is too steep, but I'm glad it's not my call. For what it's worth, Cashman said that the Yankees have not offered Bird, Judge or Severino in any trade proposal this offseason.
What role will Slade Heathcott have with the Yankees in the future?
-- Howard L., Anchorage, Alaska
It's difficult to forecast because Heathcott has had so many issues staying on the field. This year fell into that category again, though you could at least call it a success in that he finally made it to the big leagues and showed that he can play at that level.
As of today, there's no room at the inn when you scan the outfield left to right, so you're probably looking at a best-case scenario where Heathcott competes to make the Opening Day roster as a reserve. One interesting thing about the Castro trade is that it may have opened up a roster spot for someone like Heathcott, in that they otherwise would have been locked into carrying both Ackley and Refsnyder.
Bryan Hoch is a reporter for MLB.com. Follow him on Twitter @bryanhoch, on Facebook and read his MLBlog, Bombers Beat. This story was not subject to the approval of Major League Baseball or its clubs.