Appel could lead intriguing Triple-A rotation
Klentak believes in former No. 1 pick's talent, thinks 'change of scenery' might help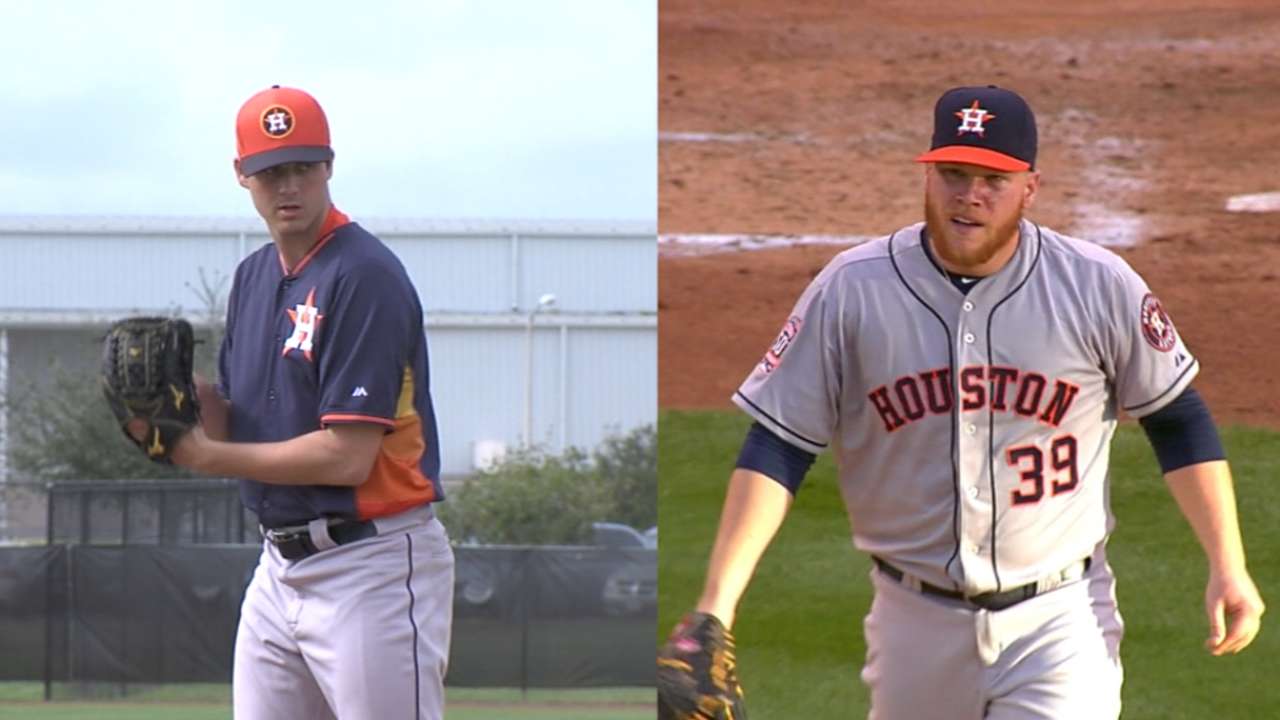 The Phillies acquired each in a trade. Philadelphia got Appel on Saturday in the Ken Giles trade with Houston. It acquired Thompson in the Cole Hamels trade with Texas in July. And the Phils nabbed Elfin in the Jimmy Rollins trade with the Dodgers in December 2014.
Appel, 24, is getting plenty of buzz in Philadelphia because he just arrived and because he is a former No. 1 pick and is ranked 43rd in MLBPipline.com's Top 100 Prospects list. He has excellent stuff, but his Minor League results have not backed that up.
Appel has a 5.12 ERA in 54 appearances (53 starts) in the Minors, including a 4.48 ERA in 12 starts last season with Triple-A Fresno. But his repertoire is why some still think Appel can be a front-line starter.
"We still believe in the player's talent," Phillies general manager Matt Klentak said Monday. "We still believe in his makeup and his competitiveness. We believe Mark Appel is going to fit right in with what we're trying to do. I would expect he'll be in Major League camp and have the ability to showcase himself there and hopefully make a contribution in 2016 and for a long time. The biggest thing that we still believe in is that Mark Appel has great stuff. He's had great stuff since he was at Stanford, and he still does. Players develop at different rates. And there are different factors for that for everybody."
Perhaps Appel leaving his hometown of Houston, where he had the pressure to succeed as the first overall pick in the 2013 Draft, will help him.
"I think that's certainly a possibility," Klentak said. "I don't know the person all that well yet. I spoke with him on Saturday, and he seems like a terrific kid. I was really excited, and more importantly, he was really excited. I think there's something to that. Expectations in this game are real, and pressures in this game are real, and sometimes there are good reasons for it and sometimes not.
"Sometimes, a change of scenery can really help players. Now we have to do our part [in] helping him change that scenery as well. It's not a matter of just changing uniforms. We are going to have to put him in a good environment and help him do things that will have him reach his ceiling, as we would do with any player. I do think what is encouraging to us is the physical stuff that allowed him to be drafted 1-1 is still there, and that's what's exciting to us."
Todd Zolecki is a reporter for MLB.com. Read his Phillies blog The Zo Zone, follow him on Twitter and listen to his podcast. This story was not subject to the approval of Major League Baseball or its clubs.