Braves' organizational overhaul shows growth
Comparing top 20 prospects from 2014 and now demonstrates how far farm system has come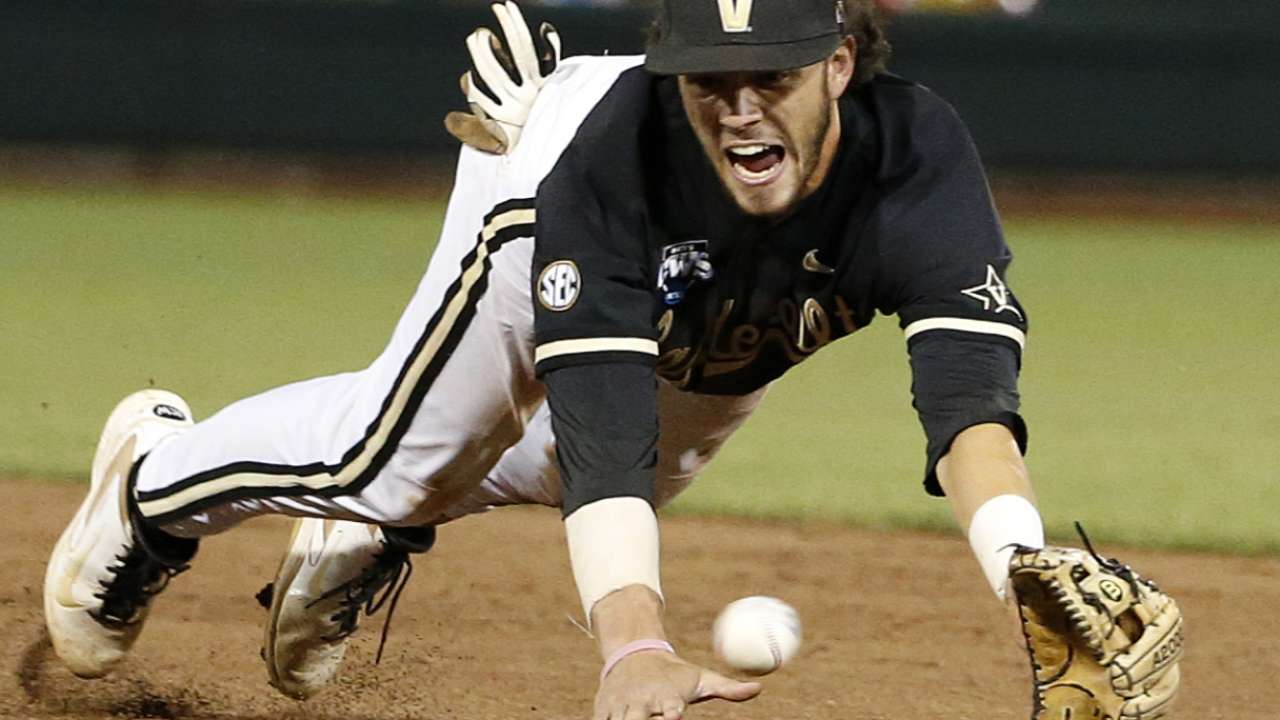 ATLANTA -- Shortly after assuming an influential advisory role after Frank Wren was dismissed as Atlanta's general manager and before accepting his current role as the Braves' president of baseball operations, John Hart analyzed the club's farm system and gained even more reason to continue serving as an MLB Network analyst.
"I almost turned around and left," Hart said. "It was really tough."
But instead of sticking with the cushy television gig that afforded him an opportunity to continue golfing on a regular basis near his Orlando, Fla., home, Hart accepted the challenge and then issued one to John Coppolella, whose rise to general manager was significantly influenced by his ability to turn what was one of baseball's worst farm systems into one of the best within the span of one year.
"I told Coppy, 'Within three to five years, I want us to have the best farm system,'" Hart said. "I don't know where we are after one year. It's been painful, and it's been Mr. Toad's wild ride for our fans and everybody else, but after all of it, you look up and say, 'If we don't have the best farm system, we have one of the top five.' There is no doubt about it."
Within a span of a year filled with trades and solid Draft selections, the Braves have undoubtedly gone from having one of the five worst farm systems to one of the five best. They currently have six prospects in MLB's Top 100, while in 2014 (before the Trade Deadline), they had two. Courtesy of the recent trades of Andrelton Simmons and Shelby Miller, Atlanta might indeed possess the game's best farm system.
The Braves gained three of their top four prospects (and three of MLB.com's top 61 overall prospects) via these deals. In exchange for Miller, they received their top prospect, shortstop Dansby Swanson (ranked as MLB.com's 10th-best prospect), and their fourth-best prospect, right-handed pitcher Aaron Blair (MLB.com's 61st-best prospect). For Simmons, they received their second-rated prospect, left-handed pitcher Sean Newcomb (MLB.com's 19th-best prospect), and their 11th-rated prospect, right-handed pitcher Chris Ellis.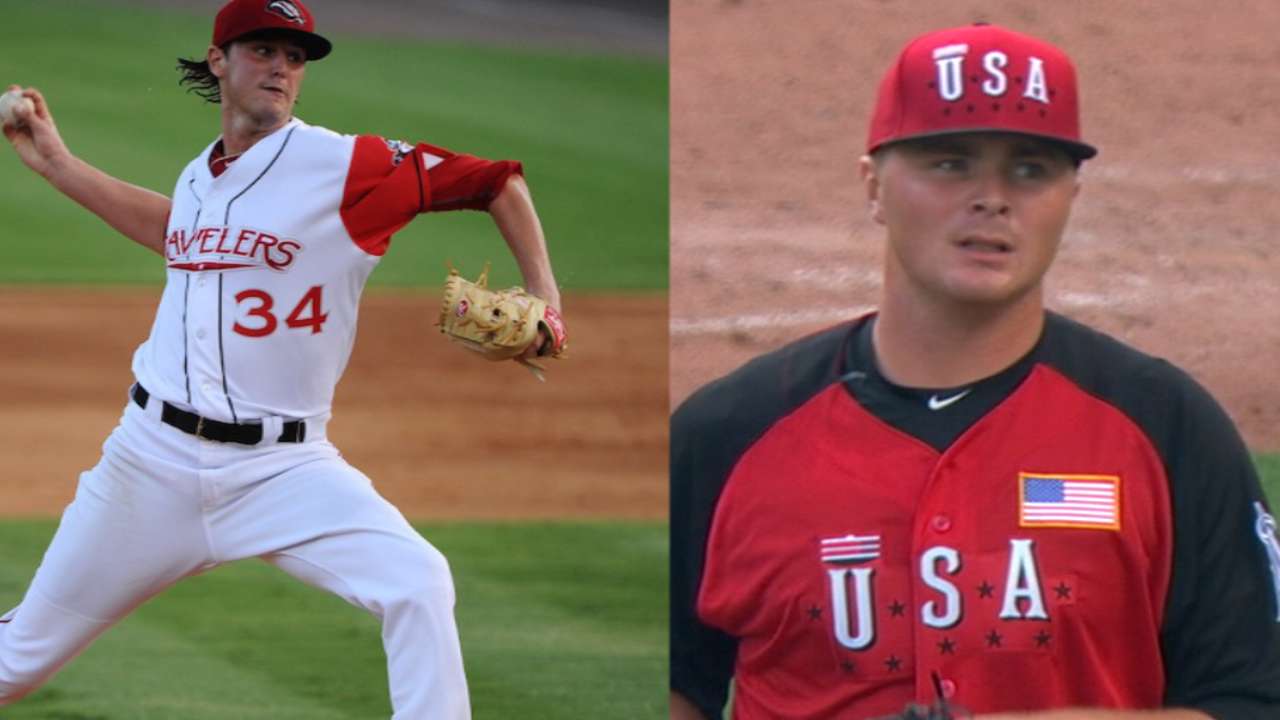 To see how dramatically Atlanta's farm system has changed over the past year, one only has to look the difference between MLB.com's current Braves Top Prospects list and the one that existed just before the 2014 Trade Deadline. Below is a comparison of these two lists.
2014
1. Lucas Sims
2. Christian Bethancourt
3. Jason Hursh
4. Jose Peraza
5. Mauricio Cabrera
6. J.R. Graham
7. Tommy La Stella
8. Victor Caratini
9. David Hale
10. Cody Martin
11. Kyle Kubitza
12. Ian Thomas
13. Johan Camargo
14. Carlos Salazar
15. Edward Salcedo
16. Aaron Northcraft
17. Todd Cunningham
18. Kyle Wren
19. Shae Simmons
20. Alec Grosser
2015
1. Dansby Swanson
2. Sean Newcomb
3. Ozhaino Albies
4. Aaron Blair
5. Touki Toussaint
6. Kolby Allard
7. Tyrell Jenkins
8. Manny Banuelos
9. Max Fried
10. Lucas Sims
11. Chris Ellis
12. Rio Ruiz
13. Braxton Davidson
14. Ricardo Sanchez
15. Mike Soroka
16. Zachary Bird
17. Mallex Smith
18. Lucas Herbert
19. Dustin Peterson
20. Austin Riley
The Braves have acquired 17 of their top 20 prospects, including eight of their top 10, via trades or Draft selections that have occurred since the conclusion of the 2014 season. Hursh, a first-round selection in 2013, has fallen from third to 21st on the Top 30 Braves Prospects list. Cabrera, a strong-armed pitcher with control issues, has fallen from fifth to 25th.
It should also be noted that since the end of the 2014 season, the Braves have also acquired Matt Wisler, Mike Foltynewicz and Arodys Vizcaino, who all ranked among the club's top 10 prospects before graduating from prospect status.
Sims stands as the only player included on both of these lists. While he showed enough promise this year to make himself a legitimate candidate for Atlanta's 2017 rotation, the depth of talent added over the past year has dropped him from heading this list to rounding out the top 10.
In fairness, shortstop Albies' rise from unranked status to the third spot seems to be a product of an oversight that occurred as he was making quite an impression during the 2014 season, his first at the professional level. He now ranks as the MLB.com's 30th-best overall prospect, and over the next year, there will be great debate as to whether he or Swanson might make the switch to second base.
Like Albies made a significant rise in prospect status over the past year, Riley could do the same this year. He currently ranks as the Braves' 20th-best prospect. The third baseman has drawn wide praise from Bobby Cox and many others since he was taken with the 41st pick (acquired from the Padres in the Craig Kimbrel /Melvin Upton Jr. trade) in the 2015 Draft.
Of the six Braves players listed among MLB.com's Top 100 Prospect list, Albies is the only one that was in Atlanta's system at the end of the 2014 season. Swanson, Newcomb, Blair, Toussaint (ranked 69th) and Allard (ranked 88th) have all been acquired over the past year. Former Braves top prospect Jose Peraza, who highlighted the scrutinized trade that brought Hector Olivera to Atlanta, ranks as MLB.com's 24th-best overall prospect and the fourth best within the Dodgers' system.
To gain a sense of just how much the depth of talent has changed in Atlanta's system, one would only have to recognize that a little over a year ago, Hale and Martin ranked ninth and 10th on the Braves' prospect list. Those positions are now held by Fried and Sims, a pair of pitchers who possess a level of upside that was never remotely associated with either Hale or Martin, who have both been traded elsewhere as part of relatively minor trades.
"When you build a skyscraper, you build it from the bottom up," Coppolella said. "We aren't building for one year and then have it all fall apart. We want to be good for a long time."
Mark Bowman is a reporter for MLB.com. This story was not subject to the approval of Major League Baseball or its clubs.