After hard work, Bettis ready to lead rotation
Rockies right-hander ended 2015 with 2.97 ERA in final seven starts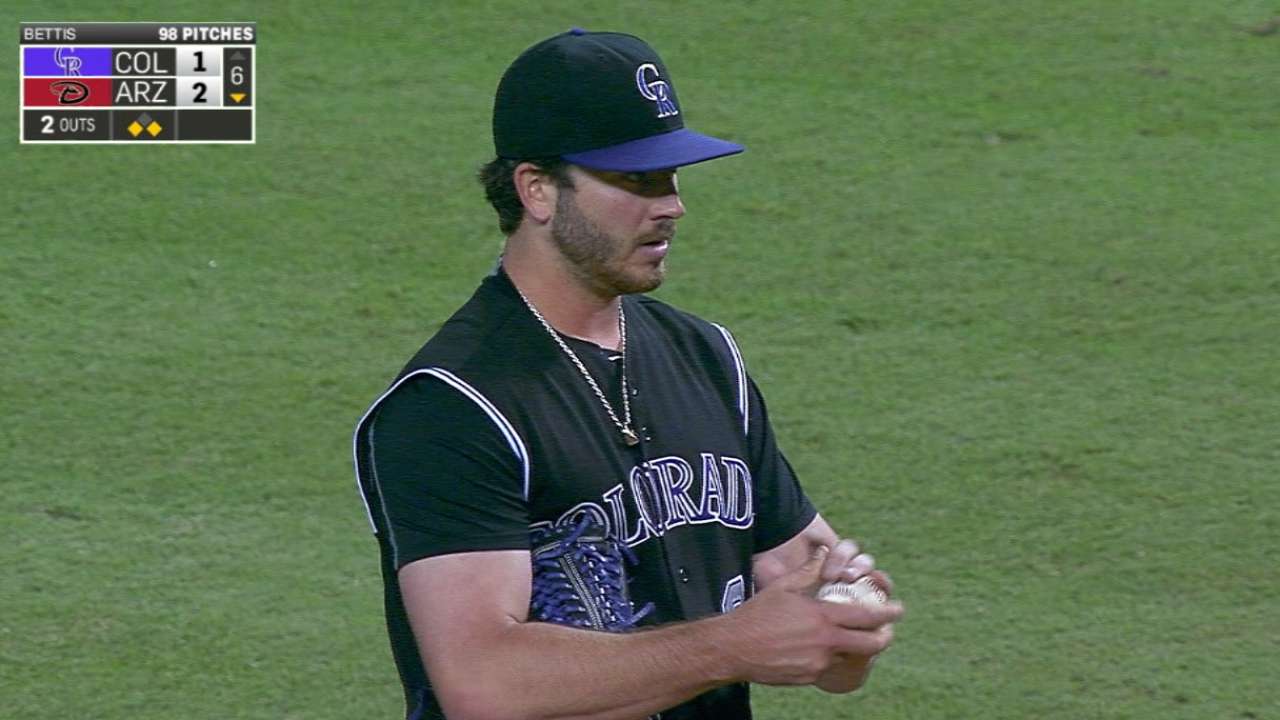 DENVER -- Rockies pitcher Chad Bettis had more to say to manager Walt Weiss than goodbye.
Of course, when Weiss called Bettis into his office July 29, 2014, Bettis knew his 9.12 ERA in 21 relief appearances screamed for a demotion to Triple-A. But Bettis needed to speak up.
"I was a little more proactive about wanting to be a starter," Bettis said. "It was hard. There was some anxiety about that because I didn't know how he would take it. But at the same time it was something that I needed to do."
Bettis received his wish, although it meant he had to finish 2014 and start '15 in Triple-A. He made it pay off by going 8-6 with a 4.23 ERA in 20 starts. Bettis had consecutive starts when he held the Giants to two runs in 8 1/3 innings at home on May 24 and went 7 1/3 hitless innings in a win at Philadelphia on May 29. He went 3-2 with a 2.97 ERA in his final seven starts.
Now it's Bettis' turn to fulfill the Rockies' desire -- for a rotation leader.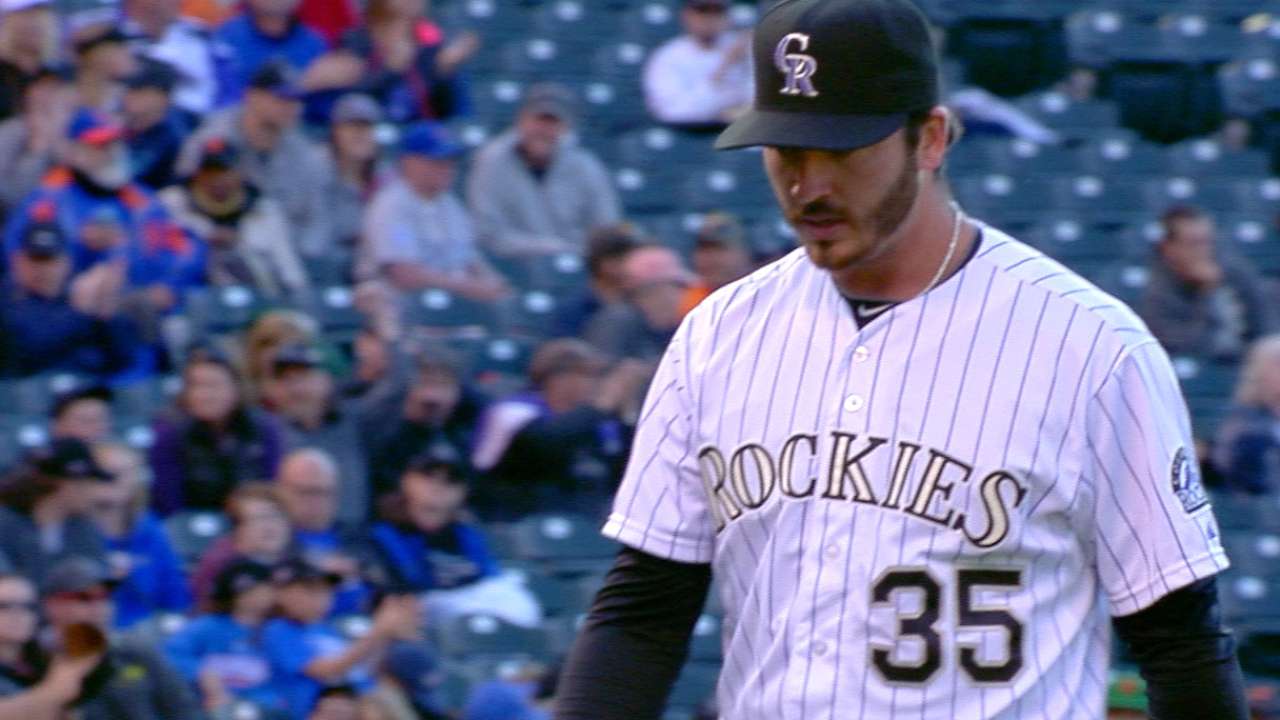 Whether it's spending power, desire to spend or interest from star pitchers, Colorado doesn't have enough to land a star via free agency. The trade market looks as if it won't bring an established star, but more like what it has produced in the past -- a solid mid-rotation type, a rising youngster or a top prospect.
During the Rockies' last competitive period, 2007-10, their leaders were homegrown -- Aaron Cook, Jeff Francis and, for a brief but golden period, Ubaldo Jimenez. All, like Bettis today, suffered early before developing the toughness necessary for one to make half his starts at pitcher-unfriendly Coors Field.
If Bettis becomes a key starter, trace it to the tough conversation.
"I didn't want it just to be another situation where you're sending a guy out," Weiss said. "I wanted to go deeper than that, because I was struggling with it. I know what I saw in him. It just wasn't translating."
Bettis made five Triple-A starts to end 2014 and began Spring Training 2015 not in games, but on practice mounds working under pitching coach Steve Foster and bullpen coach Darren Holmes to ensure his momentum went toward the plate. Even with the Rockies barely able to field a rotation by Opening Day, Bettis began the regular year at Triple-A Albuquerque, where he made five starts.
"Initially it was a little bit frustrating, but I knew that I had to get this done to be successful," said Bettis, a starter and reliever at Texas Tech before Colorado made him a second-round pick in 2010. "I knew that it was my turn. Honestly, it's an opportunity you don't get a lot."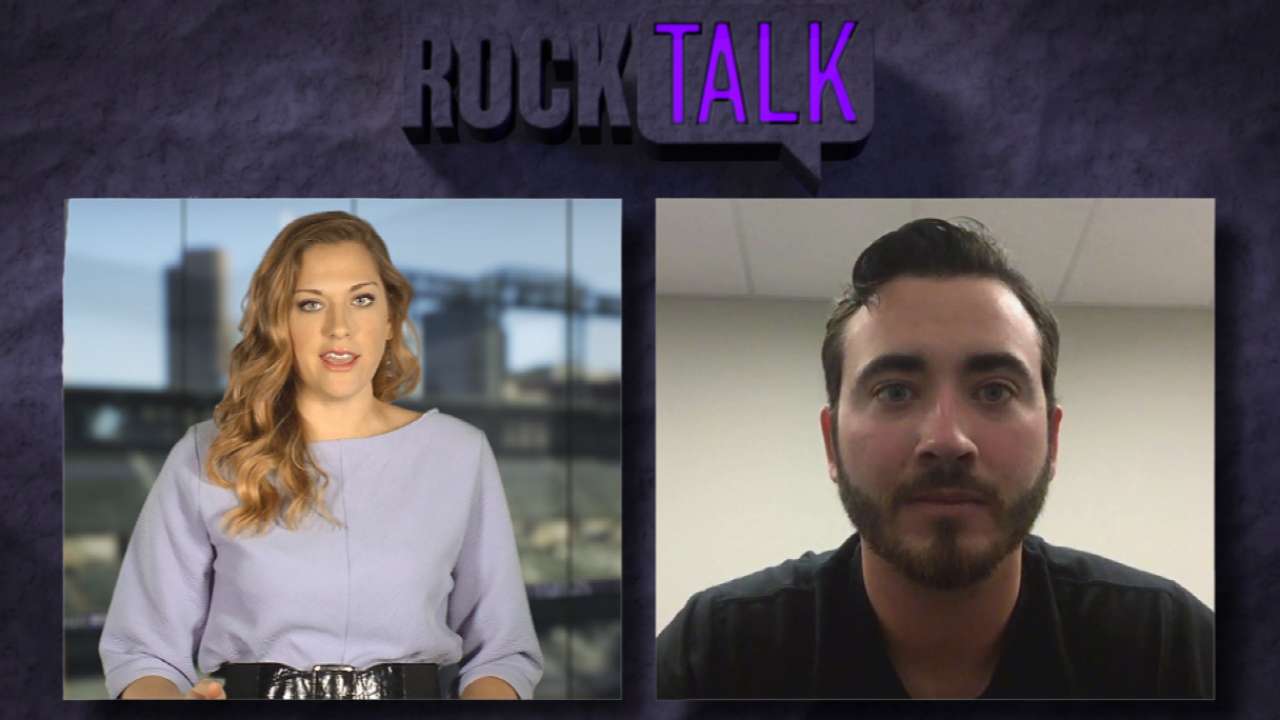 The cleaner delivery helped his fastball command, which set up a curveball and changeup that work the bottom of the strike zone and lower. Areas to improve are glove-side effectiveness (he was mixing a slider and cutter by season's end) and right-on-right efficiency (righties hit .284 with an .806 OPS, as opposed to .252 and .737 for lefties).
But the Rockies say once Bettis nails the basics, the intangibles will shine.
"We have that guy in this room -- it is Chad Bettis, who has had success here, has thrown quality games, knows how to get himself ready," catcher Nick Hundley said. "I don't think you have to have a guy with 10 years."
Rockies general manager Jeff Bridich said, "He's got a chance to be part of a leadership group. He's got an adult mentality and seriousness about his craft, and a desire to be part of something bigger than himself."
Whether the Rockies are right depends on Bettis, who must dissect his 2015 and show in Spring Training that he has prepared for 2016 accordingly.
"It started showing up later in the season when the younger guys were up," Foster said. "He already started doing, 'Follow my actions and my words.' That's important."
Bettis embraces the task.
"That's something that we need, and I'm not afraid to stick my neck out there for any one of these guys," he said. "It's just that you must get to a point where you earn the respect of your players and you start to build a foundation off of that. Then, when you speak, it's heard."
Thomas Harding is a reporter for MLB.com. Follow him on Twitter @harding_at_mlb, and like his Facebook page. This story was not subject to the approval of Major League Baseball or its clubs.