Angels optimistic on Pujols production
Slugger could see more time at DH to keep bat in lineup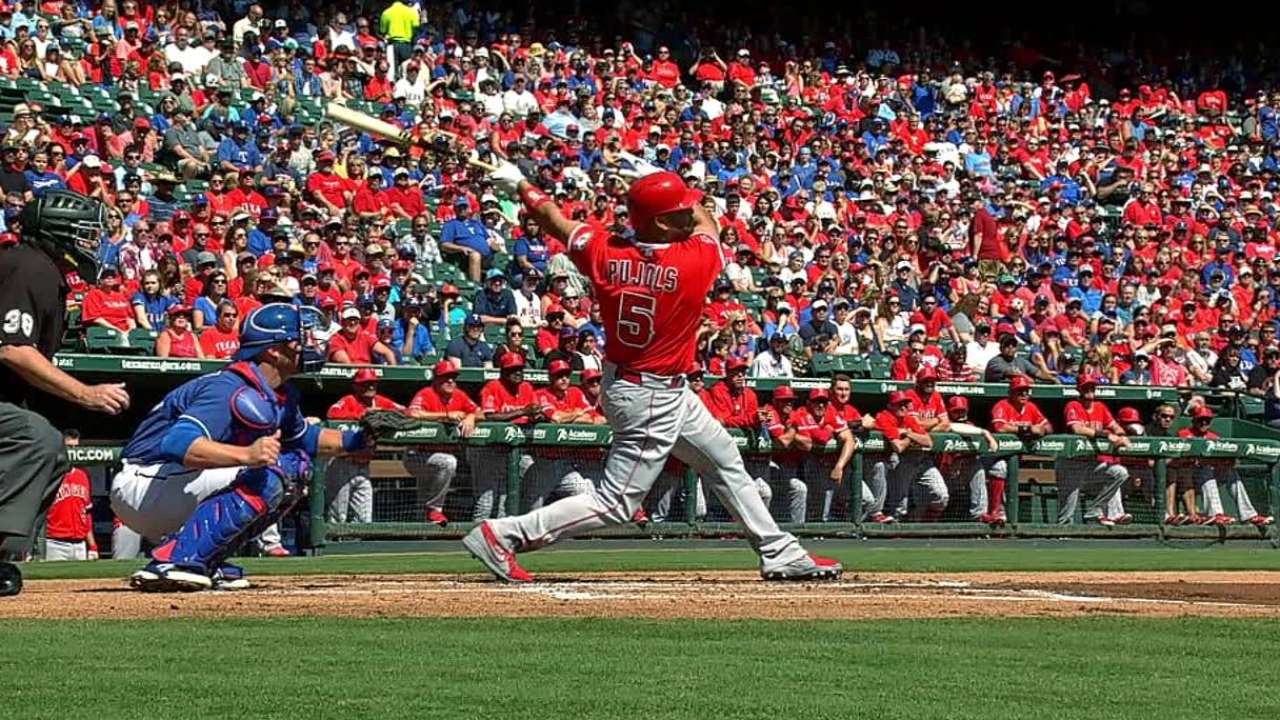 ANAHEIM -- Albert Pujols "seems to be feeling good" in his recovery from foot surgery in early November, Angels general manager Billy Eppler said Friday, a day after speaking with his first baseman personally. But nobody will truly know how much Pujols can provide until his season begins, be it on Opening Day or shortly thereafter.
At that point, Angels manager Mike Scioscia will begin the delicate daily balance of weighing how frequently Pujols makes starts at first base as opposed to resting his legs as a designated hitter.
"The most we need from Albert is his 650 plate appearances and hitting in the middle of our lineup and being as productive as he is," Scioscia said during last week's Winter Meetings in Nashville, Tenn. "And if we can do that with him playing the Gold Glove-caliber first base that he can bring, great. But we definitely don't want to jeopardize his ability in the batter's box with what he does at first base."
Pujols' first 11 years, with the Cardinals, were played mostly under National League rules, requiring him to start at first base to be in the lineup. He managed to average 155 games per season. But since signing a 10-year, $240 million contract with the Angels, the ability to DH has been a lifeline for Pujols, an invaluable tool to keep him in the lineup.
Pujols started 34 games at DH in 2012, then 65 in '13 -- a season that ended in late July because of a partial tear in his plantar fascia -- and 43 in '14. This past season, Pujols made 62 of his 157 starts at DH, including each of his last 28, while nursing the pain that ultimately led to surgery to repair the plantar plate in his right foot.
Pujols' defense is still Gold Glove-caliber when he's feeling right, far better than that of C.J. Cron, who should continue to start at first base on the days Pujols can't.
"If Albert comes in and he's healthy in the spring and can get out there and play first base during the season with us, we're a better team," Scioscia said. "There's no doubt about that."
But Pujols is also a month away from his 36th birthday, in the middle of yet another offseason in which he won't be able to strengthen his lower half. So expect the veteran slugger to see plenty of time as the Angels' designated hitter next season.
"That conversation is a little premature, because we don't know where he is," Scioscia said when asked if Pujols will DH more frequently this coming season. "If I know Albert, he's always ahead of schedule when he has injuries and surgeries."
Pujols could still be ready by Opening Day -- "We're not ruling out that he's not going to be ready at the start of the season," Scioscia said -- but may have to start the year on the disabled list.
Pujols' success at DH is difficult to interpret. He thrived in that role in 2014, posting a .943 OPS in 180 plate appearances. But Pujols' OPS at DH was .731 in '12, .761 in 13 and .766 this past season -- all significantly lower than what he put up in games he started at first base.
Some players, especially veterans, struggle to get into the flow of the game when they sit down between plate appearances. They don't warm up enough, so they are stiff when they get to the batter's box. Or they warm up too much and their legs get weak. Finding a proper routine can often be daunting.
"You have to train your body for that, and my body's not ready for it," Pujols said toward the end of the 2015 season. "Maybe when I become a full-time DH, I can go into Spring Training, adapt it to that, take it into the season."
Will that happen next season?
Probably not. Pujols will fight it off for as long as possible. But the Angels' priority is to get him in the lineup, in whatever capacity. Pujols is owed $165 million over the next six years, so the Angels will do whatever it takes to protect their investment.
"If it comes to where he can swing the bat and isn't able to play first base, so be it," Scioscia said. "We'll cross that bridge when we get to it."
Alden Gonzalez is a reporter for MLB.com. Follow him on Twitter @Alden_Gonzalez and Facebook , and listen to his podcast. This story was not subject to the approval of Major League Baseball or its clubs.