MLB.com Columnist
Mike Petriello
Despite FA misses, Nats packing power
Washington ranks fourth in projected WAR for next season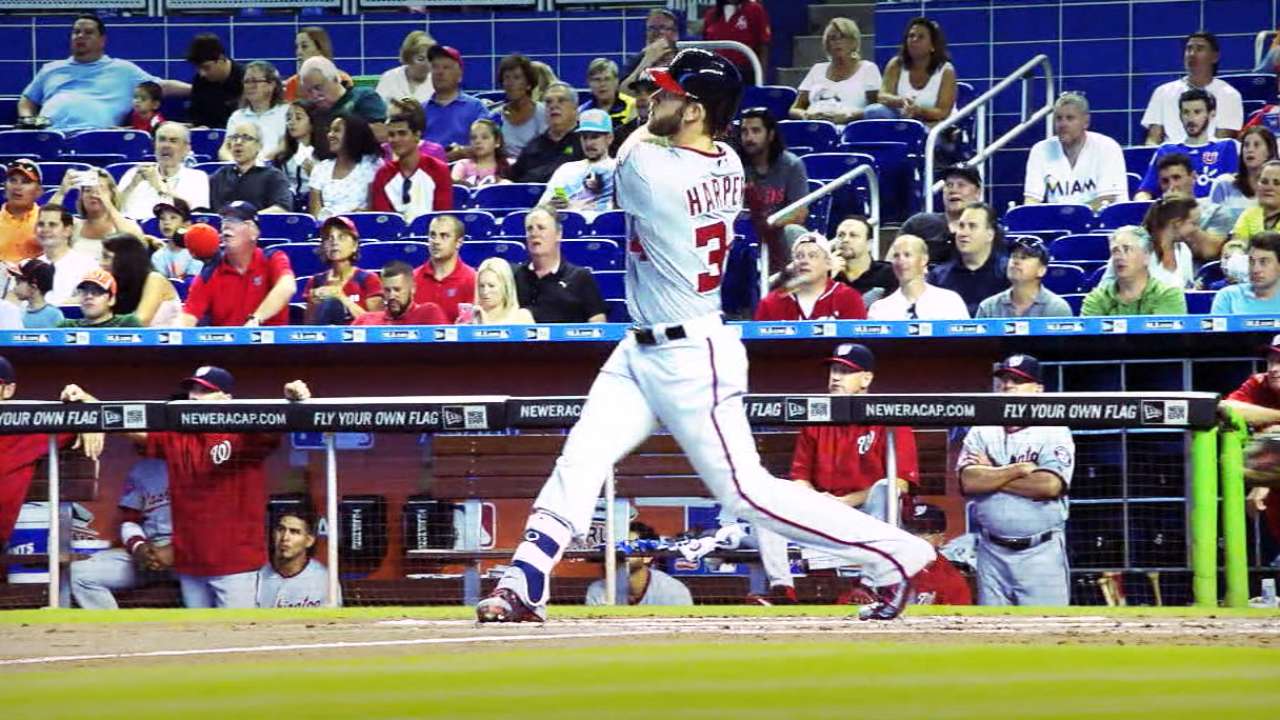 As the Nationals head into the first of what may be their final three seasons with Bryce Harper, they've watched a longtime star (Jordan Zimmermann) depart, have three unsigned key pieces of their recent teams likely moving on to new cities (Ian Desmond, Denard Span and Doug Fister) and have missed out on three highly public free-agent pursuits (Jason Heyward, Darren O'Day and Ben Zobrist). They've even made a reported offer to Mike Leake, which has so far gone unaccepted.
It's fair to say that it's been a disappointing offseason so far in Washington, which wouldn't be so bad, except that it comes on the heels of a what was a tremendously disappointing regular season. That being the case, the obvious question is, can the Nats still turn this around? If so, how?
While the mood may be a bit doom and gloom, things are a lot better than they look at Nationals Park. The Nationals have made four key additions to what could be a quite good bullpen (Shawn Kelley, Yusmeiro Petit, Oliver Perez and Trevor Gott, joining Felipe Rivero, Blake Treinen, Jonathan Papelbon and Drew Storen, at least until one of the last two gets traded), they have plenty of nearly ready pitching depth to fill in for Zimmermann, and they're still one of baseball's most talented teams.
That's a pretty loaded statement to make without quantifying it, so let's do exactly that, using the Wins Above Replacement projections at FanGraphs. WAR projections aren't perfect and aren't presented as such, but when the top three teams are the Cubs, Dodgers and Red Sox, while the bottom three are the Rockies, Braves and Phillies, that's a high-level overview that more than passes the sniff test. Check out how well the Nats rank:
That's fourth overall, despite the unfulfilling offseason, and it's not hard to see why. Harper is projected to be the second-best hitter in baseball behind only Mike Trout, Max Scherzer is coming off an outstanding debut, and the underrated Stephen Strasburg put up video-game numbers after coming off the DL last year. (In 66 1/3 innings, he struck out 92 while walking only eight, with a 1.90 ERA and a .206 OBP against.) With Gio Gonzalez, Tanner Roark and Joe Ross behind them, and A.J. Cole, Taylor Hill and Lucas Giolito ready now or soon, the Nationals don't necessarily need a starter, though there's certainly an argument for adding a Scott Kazmir type.
So that's a pretty good place to be starting from. And yet: There are at least two holes that need to be filled in the lineup. Clearly, they have money to spend. Let's spend it for them.
A left-handed bat for the outfield, preferably one who can handle center
The team's interest in the lefty-swinging Heyward and Zobrist wasn't a coincidence, because the only Nationals in the current 2016 lineup who don't swing exclusively from the right side are Harper and the switch-hitting Danny Espinosa, a plus defender who had two brutal offensive seasons in 2013-14 before bouncing back last year. They also need another outfielder to supplement Harper, since Jayson Werth is 36 and coming off the worst year of his career and Michael Taylor, while an excellent defender, hit only .229/.282/.358 last year.
It's a real need, because of the 15 Nats who had at least 50 plate appearances against righties last year, only five were even league-average hitters. One was Harper, two are gone (Yunel Escobar and Span), and two were bench players (Clint Robinson and Matt den Dekker).
That's not good enough. So we looked at the players who had at least 200 plate appearances as a lefty against a righty over the past two seasons, and there were 84 names. Many of them (Heyward, Kyle Schwarber, etc.) aren't available for a variety of reasons, but four interesting names show up in the 10 top list of offensive production: Corey Dickerson (49 percent better than average), Josh Reddick and Carlos Gonzalez (each 33 percent better) and Span (30 percent better).
Maybe it's as simple as bringing back Span, who we advocated for in this space to receive a qualifying offer. The Nationals have been connected to both Dickerson and Gonzalez, fits as lefties who can handle some center, though neither would come cheaply and have the expected home/road issues most Colorado hitters do. Reddick is heading into the final year of his contract and would be a nice single-year fit, sliding Harper over to center for a season.
We've not seen Washington connected to Alex Gordon, but that doesn't mean he wouldn't work here. Or there's Dexter Fowler, a switch-hitting center fielder who's been an above-average hitter for five straight years. Perhaps there's even Ender Inciarte, who is an outstanding defender who crushed righty pitching last year, and might be someone the Braves would flip for younger talent. It's well-known that veteran lefties Jacoby Ellsbury, Brett Gardner, Carl Crawford and Andre Ethier could be had from the Yankees and Dodgers, respectively, though they are varying levels of desirable.
The point here is that there are tons of options, even without Heyward. This shouldn't be a difficult hole to fill.
Middle-infield depth
With Desmond likely to sign elsewhere, the current Washington middle infield is shortstop Trea Turner (44 big league plate appearances) and second baseman Espinosa, who's on the record as preferring to play shortstop anyway. Turner tore up three levels of the Minors last season (.322/.370/.458), and he made his debut with the Nationals in September and is probably ready to take the job right now.
The inconsistent Espinosa profiles better as a backup, however, which is part of why Zobrist made so much sense. Unfortunately for the Nats, the market here is a lot more barren. Daniel Murphy actually makes some sense, particularly since he can play some first if and when Ryan Zimmerman gets injured, but he would cost a first-round pick -- though that might not be as much of an issue since they'll collect two for Desmond and Zimmermann.
This is actually where it would behoove the team to get creative. One idea: Storen to the Dodgers in a trade to bring back well-regarded ready-now middle infielder Jose Peraza, MLB.com's No. 24 overall prospect? Another: With Zobrist and Addison Russell blocking Javier Baez in Chicago, perhaps use prospects like Wilmer Difo or Reynaldo Lopez to bring Baez east. A final one: Brandon Phillips isn't what he once was, but the Reds are motivated sellers, and he's a solid enough second baseman with a long history with Dusty Baker.
It hasn't been a good offseason, but the Nationals are still a good team. It won't take much tweaking around the edges to make them a very good one, one that should head into 2016 neck-and-neck with the Mets in the National League East.
Mike Petriello is an analyst for MLB.com and the host of the Statcast podcast. He has previously written for ESPN Insider and FanGraphs.
This story was not subject to the approval of Major League Baseball or its clubs.