Bucs eager to see moves come to fruition
Players have bid farewell to longtime teammates this offseason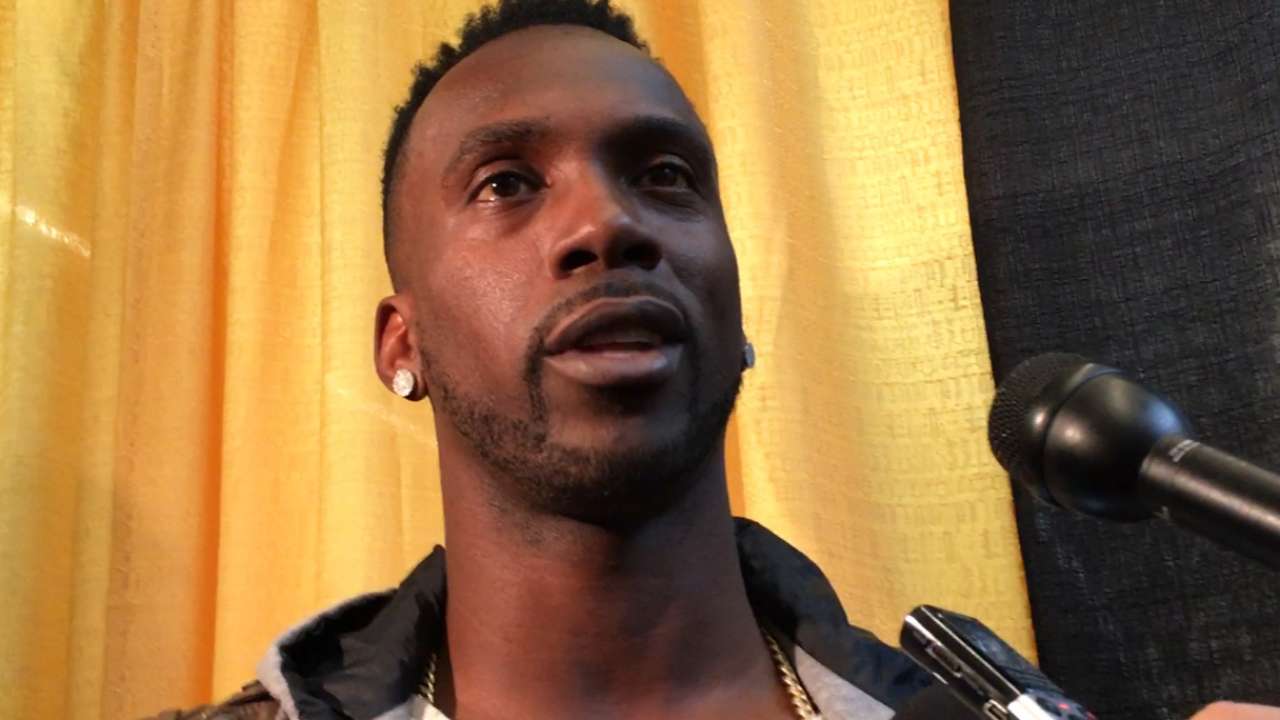 PITTSBURGH -- Over the next several months, the Pirates may upgrade their roster to form a better club than the group that won 98 games last season. But twice over the past few weeks, and once again Saturday morning, the Pirates bid farewell to a longtime teammate and friend.
As players, coaches and team officials were preparing for PirateFest on Saturday morning, news came that right-hander Charlie Morton had been traded to the Phillies for Minor League pitcher David Whitehead. Morton joins Pedro Alvarez (non-tendered) and Neil Walker (traded to the Mets) as the third veteran the Pirates have shipped out this offseason. For now, all the Bucs can do is wait to watch the front office's full offseason plan come into focus.
• Pirates acquire Whitehead in Morton trade
"That's their job, to make the team better. I don't always understand what's going to happen or what moves we're making and why. That's not my job," Andrew McCutchen said during PirateFest at the David L. Lawrence Convention Center. "Even though there may be things I don't really understand, honestly, it's not for me to understand. It's for me to do my job, and that's to make myself better and make my team better."
McCutchen's reaction reflected that of his teammates, sad to see some of the changes yet curious to see what happens to the Pirates' roster before they report to Spring Training in mid-February.
GM Neal Huntington has made it clear the Bucs intend to contend for a National League Central championship in 2016. So far, however, most of Pittsburgh's offseason moves have been more notable for who left (Alvarez, Walker, Morton) than who returned.
Each move can be justified. Alvarez was a defensive liability and could be inconsistent at the plate. Walker was a pending free agent with an in-house replacement in Josh Harrison, and the Pirates were pleased to add Jon Niese to their rotation. Morton has been inconsistent, and he was due $8 million in the final year of his contract.
Still, it's been difficult for some Pirates to watch three of their longest-tenured players, and three of their friends, sent out in such a short time.
"You build relationships with those guys over the years through their families, their wives, their kids. It's not just baseball that we're attached to. We're attached to them as human beings," Tony Watson said. "It's tough, but it's a business, too. We all know that. We're going to miss them, but like we were saying up there on the [PirateFest] stage, this is an opportunity for some guys to step up, next man up and try to win a World Series."
Walker was especially tough to part with. The Pittsburgh native came up through the Pirates' farm system with McCutchen. Gregory Polanco said he learned a great deal from Walker. Even Michael Morse, who spent a little more than two months with the Bucs last season, recognized Walker's importance to the club.
"To me, he was the glue of the team. Neil was definitely one of the leaders in the clubhouse, on the field," Morse said. "I definitely liked him. I liked how he played. I remember telling him one day, 'Neil, you are the man on this team.' He definitely will be missed."
At the same time, the Pirates recognize that Huntington and his staff aren't done adding to the club. They need another starter, a complement to Morse at first base and at least one more bench player.
As hard as it may have been to say goodbye to their longtime teammates, the Pirates are eager to see who they'll greet with a hello come Spring Training.
"You've got to think of the bigger picture, that the GM and the manager have a plan for this team," Morse said. "And that plan is to get better."
Adam Berry is a reporter for MLB.com. Follow him on Twitter at @adamdberry. This story was not subject to the approval of Major League Baseball or its clubs.