Wright has designs on being everyday player in '16
Third baseman may ramp up offseason routine after visit to specialist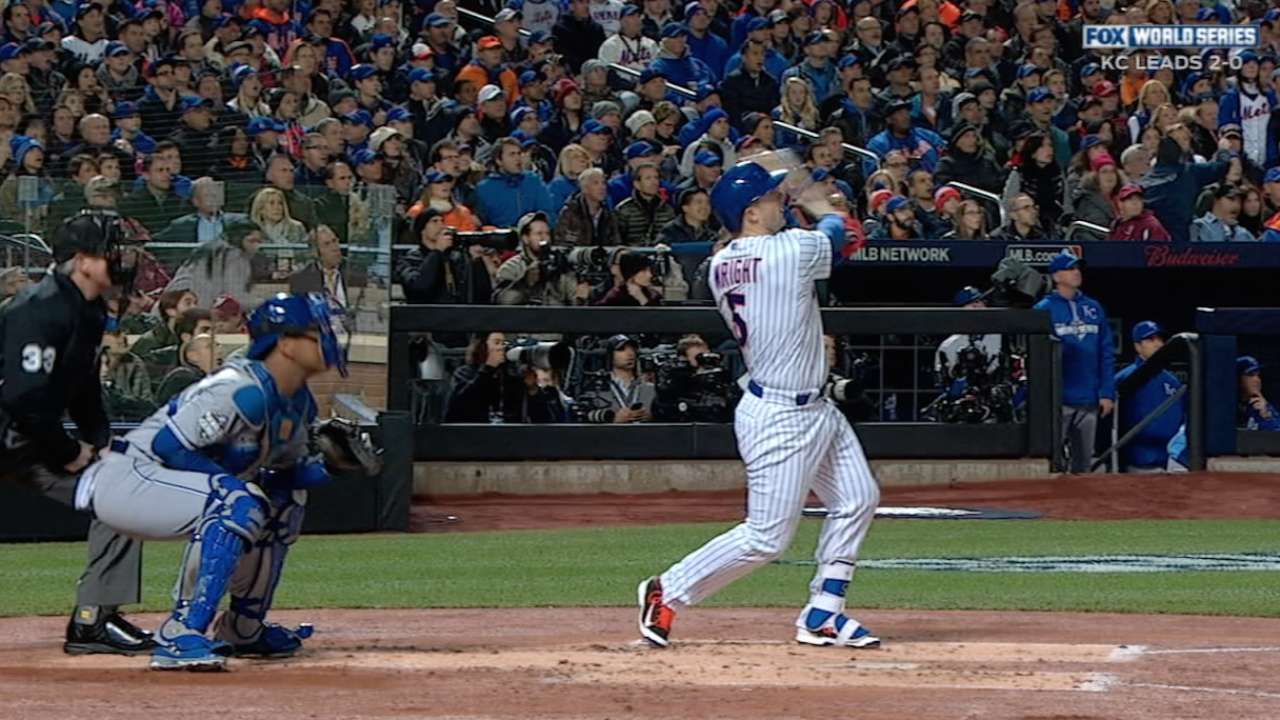 NEW YORK -- The days of Mets third baseman David Wright playing in 150-plus games, as he did in each of his first four seasons and six of his first eight, may be long gone. But Wright, who may ramp up his offseason activity following a visit to back specialist Dr. Robert Watkins on Monday, still plans to play something approaching every day in 2016.
"My mindset is: I want to play as much as possible, as much as I'm continuing to help the team," Wright said Saturday in a telephone interview. "If … I think I can benefit from having an off day with my back, then that's something that will be discussed. But my mindset moving forward is, the goal is to play as much as possible. For me, that's being an everyday player and contributing on a daily basis -- that's for sure."
Outside of a regular strengthening and stretching routine, Wright has not done much activity since his season ended Nov. 1. The third baseman's physical therapists recommended time off to help his entire body heal, and Wright obliged.
The question is how much Wright will be able to endure in the future, once baseball activities begin anew. Watkins, who drew up the blueprints last summer for Wright's rehabilitation from spinal stenosis, will again help him outline a strategy for 2016. And the Mets have their own ideas as well, with manager Terry Collins recently saying, "I have a plan in the back of my mind."
But everything will ultimately depend on Wright, who played in 30 of the Mets' final 38 games after returning from the disabled list in late August, plus every inning of their 14 postseason games. At first, Wright started three out of every four games. Team off-days eventually allowed him to go longer stretches without missing games, as in October.
Wright wound up hitting .277 with four home runs and an .818 OPS after his return, though his average and OPS shrunk to .185 and .590 in the postseason. Wright's defense, and particularly his range, graded out well below his career norms.
Even with those experiences -- the good and the bad, the foam rollers and resistance bands -- neither Wright nor Collins will know quite what to expect until springtime hits in Port St. Lucie, Fla. Wright, who currently lives full-time in Southern California with his wife, plans to set up shop in Florida the first week in January.
"I haven't sat with David and talked about it," Collins said. "So until we see how he is in Spring Training, then we'll get together. Until we see how he shows up and how he handles Spring Training, and how the back's handling the workload in Spring Training, we'll decide then."
For now, Wright's goal is to work with Watkins in an attempt to streamline his pregame routine, which last year had him arriving at the ballpark as many as seven or eight hours before first pitch.
"It's just an adjustment of trying to balance the preparation for the game with trying to be as fresh as possible," Wright said. "It was new to me, having to put so much time and work on my back on top of trying to prepare baseball-wise for a game. I think there are some things that I can do better this coming year. There are some things that I probably could have done differently preparation-wise.
"It was a learning process, because I had never been through anything like this before. So I think that I have that experience under my belt -- what it takes to get ready for a game, what are the necessities, what are things I can kind of do away with? For me, it was about making adjustments on the fly, and now I have a better understanding heading into this year."
Anthony DiComo is a reporter for MLB.com. Follow him on Twitter @AnthonyDiComo and Facebook, and listen to his podcast. This story was not subject to the approval of Major League Baseball or its clubs.