Royals monitoring Gordon's market value
GM Moore confident in options, if outfielder signs elsewhere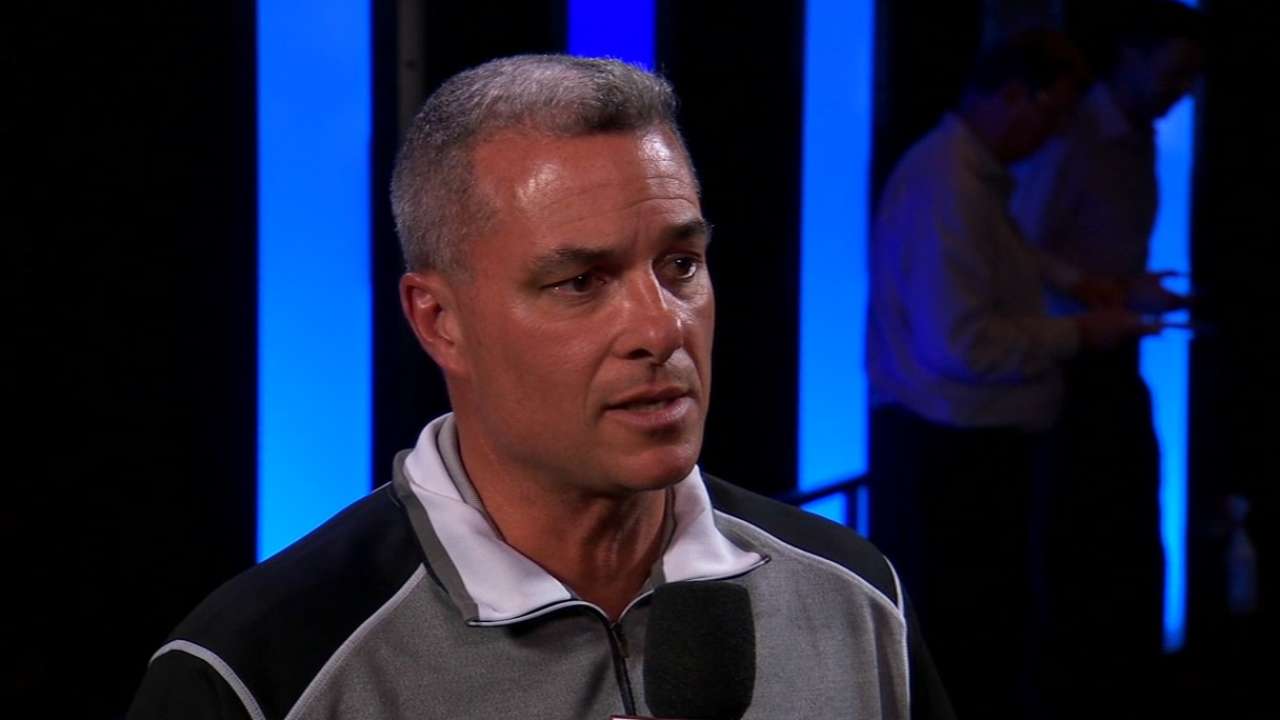 KANSAS CITY -- Alex Gordon in Cardinals red?
With news that outfielder Jason Heyward agreed to terms with the Cubs, and that the spurned Cardinals are hot in pursuit of free agent and former Royal Alex Gordon, Royals fans reacted predictably to the notion of their face of the franchise joining the rival Cardinals.
If the Cardinals get Alex Gordon I'll cry for 1738 years

— Jordan Wolf (@AirJordanWolf) December 11, 2015
Of course, not every Royals fan felt that way.
I can't imagine any scenario -- St. Louis, White Sox, Giants -- that could leave me cursing Alex Gordon. I'll just be thankful I had him

— Ross Martin (@PCBearcat) December 11, 2015
Whether or not Gordon will make his baseball home across the state doesn't change the fact that the Royals do not appear to be active in the Gordon sweepstakes.
Royals general manager Dayton Moore said he and his staff simply are monitoring the Gordon situation for now.
Asked if Gordon is even within their financial reach, Moore said, "I don't know. We'll see. I don't know the answer to that.
"I don't know because I don't know what [the asking price] will ultimately be. We're still in the market for an outfield bat. But we also know this: If we do nothing in the outfield, we'll still be very good defensively at the corner outfield -- we'll have speed and upside with Jarrod Dyson, Paulo Orlando and Brett Eibner and Reymond Fuentes. Jose Martinez isn't the defender those guys are but has offense. We'll see."
If Gordon's price is in the range of five years and $90 million-$100 million, as industry experts expect, the Royals seemingly would have next to no chance at bringing him back, just based on payroll calculations.
Moore indicated at the Winter Meetings that the Royals' 2016 payroll would not rise significantly from the 2015 payroll, which was about $113 million.
With the signings of pitchers Chris Young and Joakim Soria, and the expected salary projections of the Royals' eight arbitration-eligible players, the payroll might near $107 million.
• Meetings just the beginning for champions
The Royals also are in need of another starting pitcher, which would add to the payroll as well and would appear to be the priority based on Moore's philosophy of pitching and defense first.
Trying to squeeze a Gordon average salary into those payroll limitations would seem near impossible.
But it's also possible that owner David Glass could increase the payroll from earlier projections.
"No matter what, Alex will always be a Royal in our eyes," Glass told MLB.com last month. "He is everything you want in a ballplayer. But in the end, Alex needs to do what is best for him, and Dayton needs to do what is best for the Kansas City Royals."
Jeffrey Flanagan is a reporter for MLB.com. Follow him on Twitter at @FlannyMLB. This story was not subject to the approval of Major League Baseball or its clubs.