MLB.com Columnist
Bill Ladson
Baker getting good early impression of Nats
At Winterfest, new manager gets look at fans, meets some players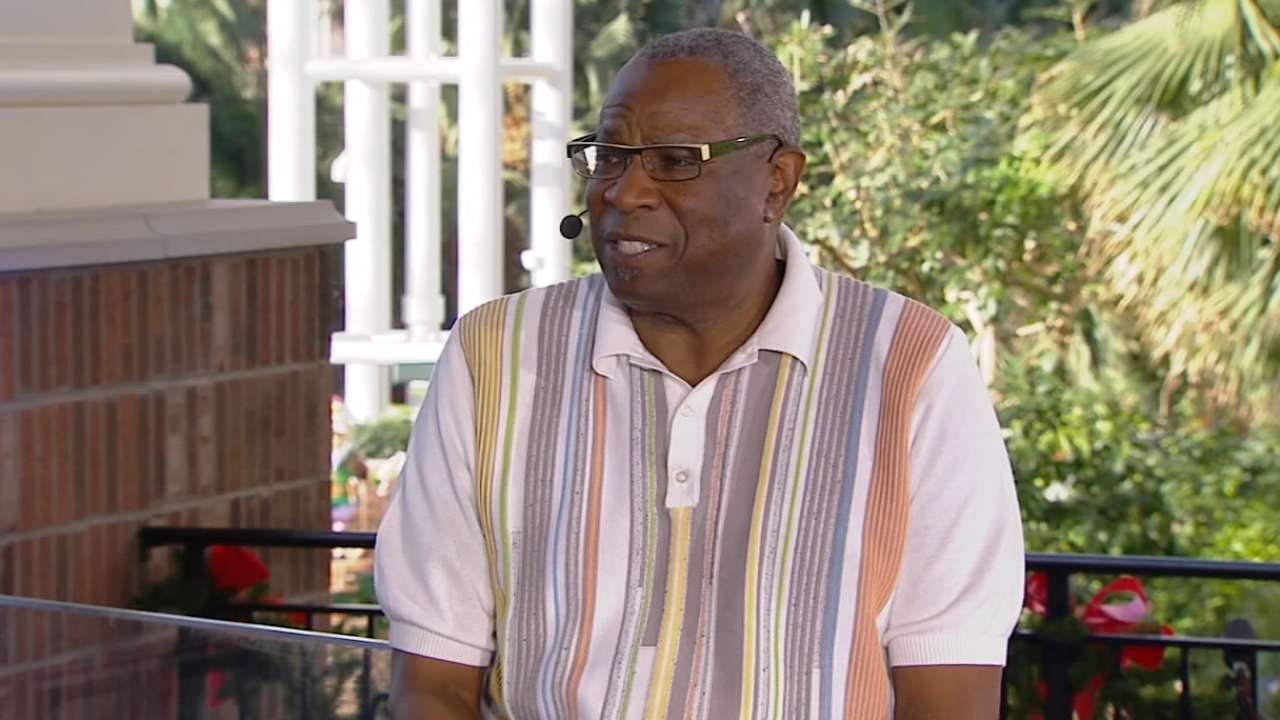 WASHINGTON -- Dusty Baker has been in D.C. for a couple of days, and he is already impressed by the Nationals fans at Winterfest. They are positive and excited about the 2016 team, according to him.
Baker is trying to temper the excitement because -- as he pointed out -- there are eight more weeks before Spring Training.
"These are real fans that come out here this early," Baker said. "The weather is nice. I didn't know how to dress. I have wool pants, top hat, everything, and I overdressed. I'll tell you I'm glad to be here."
The season has already started in Baker's first year as manager of the Nationals. In the past couple of days, he has met some of the players such as Ryan Zimmerman and Trea Turner. And the one thing Baker took notice of was that his players are in great shape.
"These have been working," Baker said. "You can fool somebody, but you can't fool me regarding whether you have been working or not. I'll grab them by the arm, pat them on the stomach. I go, 'Oh, you have been working.' That's the key right there. You have to be prepared and work."
Baker reiterated that the Nationals needed more speed and athleticism, though. He also wants to make sure the Nationals have a capable bench. Baker looked at the schedule and noticed that the Nationals play 20 straight games in May and August. That means the club needs to give some of its regulars a day off.
"We need some backups to give the guys some rest, or else we are going to break them down," Baker said. "We need some depth. We also are trying to get some depth in Triple-A. It takes an entire organization. It takes more than 25 guys that are here."
So far, Baker is off to a good start with his players.
"All the guys I know that have played for him have nothing but great things to say about him," infielder Danny Espinosa said. "I'm excited about it. He seems like an old school manager. Just go out there and grind and let's go. As a person, he seems like a nice person."
Outfielder Jayson Werth said, "I always enjoyed playing against him. He is a worthy adversary, you could say. To have him on our side, it's going to be a lot of fun, and bringing in Davey Lopes as well. I'm looking forward to the season as well."
After an uproar over comments he made to the media at the Winter Meetings on Tuesday about domestic violence, Baker clarified his comments even on Saturday.
Baker acknowledged that he was thinking about Darryl Hamilton, who passed away tragically last June in a murder-suicide. Asked if he was he caught off guard by the reaction about the things he said in Nashville, Baker said, "Not really caught off guard -- just sort of surprised that it had the magnitude [that it did]. … I could have clarified it a little better, especially in the domestic violence situation. It was fresh on my mind that Father's Day [regarding] Darryl Hamilton. I carry him in my heart and in my briefcase every day. I gave that eulogy. His sons were crying. That really touched me. That's why I didn't want to go too deep into what I was saying because I've seen it firsthand. So that's OK. I'm a big person. My conscience and my heart [are] clear. I know what my intent is."
Bill Ladson is a reporter for MLB.com and writes an MLBlog, All Nats All the Time. He also can be found on Twitter @WashingNats. This story was not subject to the approval of Major League Baseball or its clubs.